Bringing the Super Bowl to his hometown and designing cutting-edge apartments are part of the job for Camden Property Trust's Ric Campo.
01/20/2015 | by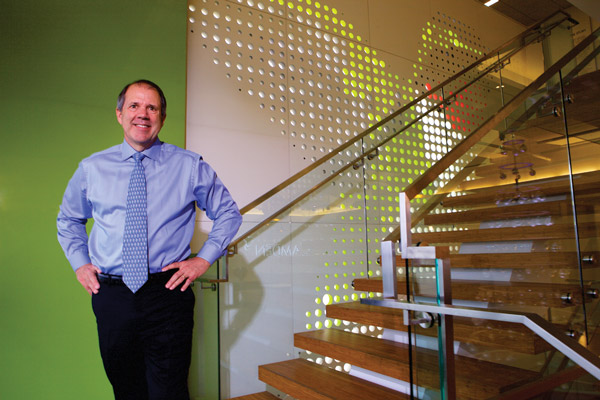 With three millennial-age children of his own, Ric Campo, chairman and CEO of Camden Property Trust (NYSE: CPT), knows firsthand about the driving force behind the current strength in the multifamily market. Campo has made understanding and anticipating the preferences of this demographic a key focus for Camden, now in its 21st year as a stock exchange-listed REIT.
Campo has led Camden since its 1993 initial public offering. The REIT has grown from a Texas-based real estate firm with assets valued at $200 million to an industry leader with a national footprint and assets valued at more than $8 billion.
Campo recently spoke with REIT magazine about the state of the multifamily market, the new shape of apartment living, Camden's lauded corporate culture and what it's like being in charge of running a Super Bowl for a city.
REIT: How would you describe the current state of the multifamily market?
Ric Campo: The multifamily market has been enjoying strong fundamentals for quite a while. I think it's surprising people. Demand has continued to be very robust for the sector in spite of growing supply. The surprise has been fundamental in the sense that it's really been about changing demographics and the market underestimating that change.
When you look at the employment growth we've had, the millennials are the ones getting most of the jobs. Millennials are shaping up to be very interesting consumers. They are marrying later, forming households later. They are more apt to rent than own and they are also more apt to live in urban settings. All of those factors have helped multifamily pretty dramatically since the downturn.
The good news for our business is that the number of millennials in the population base will continue to grow through 2020. Even with the robust job growth, there's still about 1.8 million young households that are doubled up in roommate situations or living with parents. So, we have still a fair number of millennials to provide demand as the economy improves.
REIT: What does Camden have on its development agenda, and which geographic markets are you expecting to be most active in?
Campo: We really believe in development long term because it refreshes our portfolio and allows us to have current-market-style apartments. 
Today, we have, under construction or in lease up, 4,435 apartment homes for a total cost of about $1.1 billion. Those are spread across most of our markets: Washington, D.C.; Austin, Texas; Houston; Charlotte, N.C.; Denver; Atlanta; Boca Raton, Fla.; Phoenix; and Southern California. These are growth markets that Camden has been in for a long time. Given the market supply and demand picture, it looks like we should be able to add $300 million to $400 million in development annually.
In the last couple of years, we've also done a lot of refurbishment. This year, we have spent about $50 million to date renovating our existing properties and last year we spent about the same. We're earning about 10 to 11 percent cash-on-cash return to the increase in the rent, so it's one of the best investments that you can make.  
REIT: So does this mean Camden has dialed back on acquisitions?
Campo: When you look at the investment alternatives out there, it's very difficult for us to justify doing a lot of acquisitions. In development, we can make higher returns than we can with acquisitions, given that the market is so liquid for multifamily.
The challenge with multifamily acquisitions today is that it's a very highly sought-after asset, so prices are very high and yields very low. We find that we can make better capital allocation decisions through development and make better yields, even though we take more risks by developing versus acquiring. This year, we'll be a net seller of properties: We'll sell around $300 million of existing property and we'll buy, maybe, $75 million of new properties. That net differential will be reinvested in development. 
REIT: How would you describe the balance between supply and demand right now?
Campo: Supply and demand are in pretty good balance. It's still a landlord's market in that we continue to raise rents on an average of 4 percent to 5 percent annually, which is above trend. Demand continues to be robust because of the millennials.
The multifamily business was not a culprit in oversupplying during the downturn. When the market collapsed in 2008 to 2009, everything stopped, even construction of multifamily, which wasn't oversupplied to begin with. From 2009 to 2011, we actually had a negative supply of multifamily. When the market started to recover in 2010, we couldn't build properties fast enough for the demand.
Right about now, we're starting to get enough supply in to meet the demand and fill some of the hole that was created in the market. 
Supply today is about in balance with demand, but demand is still robust enough to allow us to grow at about 100 to 200 basis points above the long-term trend from a revenue perspective. Supply and demand are pretty much in balance, but still demand keeps growing. 
Up Close

Age: 60

Education: B.S. in Accounting - Oregon State University

Family: Married with three children

Hobbies: Skiing, golf, wakeboarding, fly-fishing

Favorite Vacation Spot: Lake Tahoe

Professional/Community Activities: NAREIT Advisory Board of Governors; NMHC; ULI; Chairman, Super Bowl LI Host Committee; Chairman, Houston First; Chairman, Central Houston

Currently Reading: "Stranger in a Strange Land" by Robert Heinlein
REIT: What is the biggest influence on the design trends Camden is implementing?
Campo: Millennials. Most millennials all had their own room growing up, so they tend to want to live alone, which means that from a design perspective, we are making our apartments smaller, more compact. On the flip side, they are very technology savvy and use social media to the max, so the properties are very high tech. Millennials also want to socialize and tend not to cook, so we have a lot more hotel-type features. 
In our new development in Hollywood, Calif., for example, we will have a sound recording studio, an open-air art studio and communal cooking areas—so smaller spaces for the actual living and larger, more robust social gathering spaces. It's also more transit-orientated development. These millennials don't want to be 25 miles from downtown, sitting in a suburban environment. 
REIT: To this point, what was the biggest challenge you've faced in your tenure as CEO?
Campo:  Definitely the financial crisis. At the end of 2007, we had about $1 billion of development underway, and we had to make some really tough decisions and pivot pretty hard. The biggest challenge was making sure I kept an optimistic view in communicating with my people while making tough decisions.
We laid off about 125 people from our development group. The biggest challenge was to make sure I communicated with the rest of the team. We had 1,900 people and had to resize our development program during that period. We had to communicate very effectively and make sure I didn't look like a deer in the headlights. The other piece of it was making sure that people understood that while this was a difficult decision, it was a decision that had to be made for the greater good of the company. We had a communication strategy that was simple and specific–focus on what you can control and don't worry about anything else. 
REIT: Was there a silver lining to the financial crisis for Camden?
Campo: It was the most challenging time I've ever faced, but it was really a positive outcome because when we surveyed our employees, they were very happy that we told them the truth, were honest and did one round of layoffs. We over-communicated, and they loved us for it. In fact, in 2008, Camden became the first multifamily company to make Fortune magazine's list of the top 100 places to work (a list it continues to appear on).
We lost $4 billion of market cap on our stock price, laid off 125 people. Our construction group went from 7,000 employees on our subcontracting base to about 500. And yet, our employees thought it was a better place to work. That list is really the gold standard of whether your employees like working for Camden.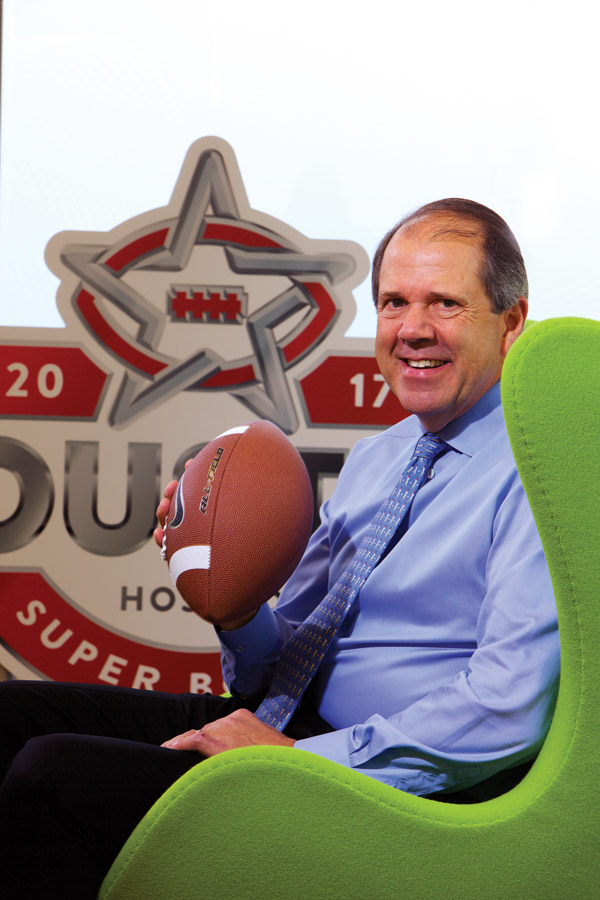 REIT: With more than three decades of experience in the real estate industry, what advice would you give to those starting out in the business today?
Campo: My advice would be that in the real estate business we focus on assets and are very deal oriented. You have to be deal oriented, but you really need to start by finding out what your culture is going to be, and then realize that properties are the equipment and people are the assets. A lot of real estate people don't think that way. They lose sight that it's really a people business. It's really thinking about the people, fairness, trust and respect. If you do that, then the deal-making, the financing and all the other stuff gets done in the normal course of business. 
REIT: You successfully led Houston's bid to host the 2017 Super Bowl. What motivated you to take such an active role in this effort?
Campo: The Super Bowl is just another part of my community service for Houston. I have a fundamental view: Learn, earn and serve. It's really important to give back to the community.
Houston has been good to Camden and to me and my family. The Super Bowl is a lot of fun, and for me, it's about creating a quality of life for my community, it's about economic development and it's about quality of place. If you think about Camden, we're about quality of place, big time, and quality of life. And we're about economic development, as well. It really fits in with our values. 
If somebody had asked me a few years ago whether I'd run the Super Bowl in 2017, I wouldn't have believed it. Now I'm chairing the Super Bowl host committee. It's going to be a great event. Last year, even though it was a terrible game, 115 million people watched it. There's about $500 million of local economic impact from the Super Bowl. It also creates massive deadlines for everyone–civic projects, transportation projects, buildings, et cetera.
Being involved in that is an honor, but also a big responsibility to make sure we don't drop the ball, so to speak.