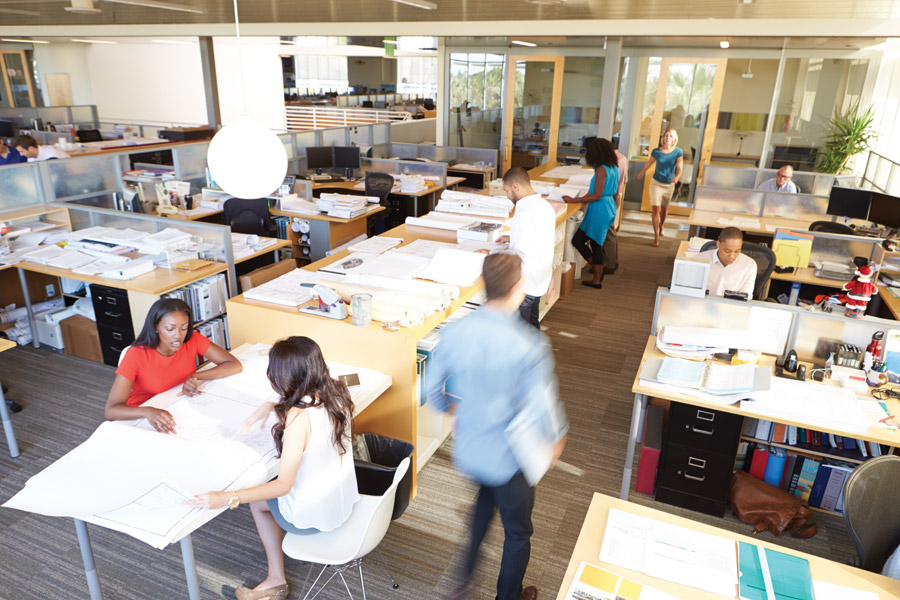 When the global law firm Greenberg Traurig moved its Atlanta office in 2012, the leadership of the firm took the opportunity to design flexible space to meet the need for both collaboration and confidential conversations. 
"Efficiency was a motivating factor in the move because we all want to make more out of less," says Terry Weiss, a partner at Greenberg Traurig in Atlanta. "For a minimal additional expense, we created offices that can easily be reconfigured as our practice groups change. We wanted the flexibility to take on new attorneys and to create a space that our staff and our clients want to be in."
While creative office design is often associated with technology or media companies, the way all customers use space has changed dramatically, says Jayson Lipsey, chief operating officer of office REIT Parkway Properties (NYSE: PKY). 
"Our tenants look at office space as a strategic choice to increase collaboration, productivity and profitability, instead of just as a commodity," Lipsey says. "Our customers want flexibility because they want to achieve the right balance between collaboration and focus."
Less "Me" Space, More "We Space"
Technology is significantly impacting most real estate sectors, including the office sector, says David Toti, a senior managing director and REIT analyst with Cantor Fitzgerald.
"In the office sector, there are three main changes that are impacting REITs: an increased desire to be in the [central business district], rather than in the suburbs; densification, with offices shrinking the amount of space allocated per employee; and a shift in what's considered a class-A building to include more high-tech features and LEED certification," says Toti.
Technology has changed the way everyone works; employees can do business in multiple spaces inside and outside their office buildings. Individual offices are often shrinking. Companies no longer need libraries, file rooms and copy rooms. Workers can benefit from more spacious and attractive break rooms. There are casual workspaces in the lobby or on the roof. 
As Ed Fritsch, president and CEO of office REIT Highwoods Properties (NYSE: HIW), explains it, companies have contracted their "me space" and expanded their "we space" for meetings and team work.
Mike Sanford, a senior vice president with office REIT Kilroy Realty Corp. (NYSE: KRC), says millennials are particularly interested in collaborative workspace, and they expect the highest level of technology and sustainability. 
"Kids in school today have grown up with all this technology, so they'll demand it as well once they enter the workforce," Sanford says.
Bob O'Brien, a partner and global and U.S. real estate services leader with Deloitte, says mobility is also driving office designs, with more people spending time away from the office.
"In our San Francisco office, we created a space that's almost like an airline club room for drop-ins who need to have a quick meeting with someone, plug-in their devices and maybe print something before they head back out to off-site meetings," O'Brien says.
Beyond Traditional Offices
Creating new floor plans is only one way in which office REITs are appealing to the new generation of tenants. They're also adding unique features to their properties.
Kilroy has invested about $1 billion in Southern California, particularly in Hollywood, says David Simon, an executive vice president with Kilroy Realty. That includes developing a "vertical campus" in a renovated Hollywood high rise. It boasts an expansive hospitality area on the ground level with WiFi. The site also has extensive seating areas indoors and a patio where tenants work and meet during the day and after hours, Simon says.
 "The traditional 10-by-12-foot break room with vending machines has been transformed into a full-blown café," Fritsch says. "Millennials in particular like what we call 'The Verve:' a space in the building with WiFi where they can get out of their office for 30 minutes in the middle of the day."
Paramount Launches Largest REIT IPO Ever

In November, Paramount Group Inc. (NYSE: PGRE), which owns office properties in New York, San Francisco and Washington, held the largest initial public offering by a U.S. REIT in history.

The $2.3 billion raised in the Paramount IPO eclipsed the previous record of $1.6 billion raised when Douglas Emmett, Inc. went public in 2006.
Lipsey says their tenants ask for fitness centers and healthy food options that provide a holistic approach to the health of their employees, which serves to boost productivity. In addition, tenants appreciate concierge services and amenities such as dry cleaning pick-up and delivery/package services and shoe repair facilities that make life easier for their employees. 
At Greenberg Traurig, the office is designed with a multipurpose room that can hold 100 people, but it can also be reconfigured with the flip of a switch for smaller meetings. The firm's top floor includes traditional conference rooms for client meetings. It also features small, casual rooms for intimate meetings and a roof terrace with gardens and seating.
"The important thing to realize is that offices are not one size fits all," says Ryan Severino, a senior economist and associate director of research for Reis. "Legal firms and financial services firms still require more privacy than more other types of companies."
Shrinking Space Demands
Office vacancy rates in the third quarter of 2014 were approximately 17 percent, which Severino says is relatively high historically. While those rates are closely tied to job growth, an ongoing driver has also been the move to increase density in offices.
According to Lipsey, office space per employee has fallen from around 600 square feet per person in the 1970s to between 175 and 225 square feet today. The move toward densification has other consequences for building designers.
"Whether you're doing new construction or renovating a building, you have to match the infrastructure to the number of people working there," Simon says. "You have to upgrade the parking, the elevators and the restrooms to accommodate a larger number of employees and make spaces more efficient."
Some tenants are not happy with downsizing office spaces, arguing that employees are less comfortable and tend to get sick more often if they are constantly working in close proximity to their coworkers. 
"There's a fairly vocal group saying that the pendulum has swung too far and that having people working too closely together is bad for morale and productivity," Fritsch says. "Even though millennials work in different ways than previous generations, people still like some peace and quiet in their own space sometimes."
Depending on the industry, Severino says some companies are pushing back on office size.
"In expensive markets, tenants are looking for their work spaces to shrink to save money, but you can eliminate things like libraries and file rooms because so many things can be digitized and stored offsite," says Severino. "That makes it look like tenants are using less space per person, but actually some of the shrinkage is in non-office spaces."