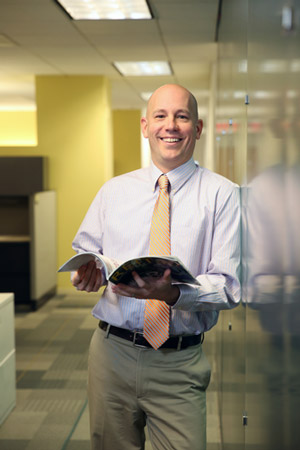 "Life moves pretty fast. If you don't stop and look around once in a while, you could miss it."
–Ferris Bueller
That quote struck me recently while planning for the new year. I realized that for more than a third of my life, I have been the editor of this magazine. That translates to nearly 100 issues and roughly 2 million words about REITs and real estate investment that have crossed my desk.  
Over those 15 years, the changes to the publication and the industry (not to mention my hairline) have been significant. We've transitioned from the broader focused Real Estate Portfolio magazine to the higher level of discourse about the REIT approach to real estate investment in each issue of REIT magazine. And as you'll see in this issue, we continue to improve the content with your feedback and modernize design of the publication.
At the same time, the REIT industry has seen its total equity market capitalization soar from less than $140 billion at the start of 2001 to nearly $1 trillion now. That speaks to the transition of REITs from a lesser-known alternative asset class to a core allocation in millions of American's retirement and savings plans.
But in looking back at those first few issues I edited, a couple of interesting parallels emerged. First, Standard & Poor's landmark decision to include REITs in its U.S. indices for the first time forever altered the profile and awareness of stock exchange-listed REITs. Ultimately, it helped broaden the industry's investor base tremendously. 
Another landmark moment in the industry's evolution will take place this August when Real Estate, made up largely of listed Equity REITs, becomes the 11th Headline Sector in the Global Industry Classification Standard (GICS), maintained by S&P Dow Jones Indices and MSCI. GICS helps guide the development of investment products, research and news coverage around the world. Not only does this remove Equity REITs from being mislabeled alongside financial stocks, but it once again raises the industry's visibility among investors of all stripes. 
The other parallel centered on an early cover story all about a demographic tidal wave of young adults and the tremendous impact they were going to have on the real estate market, especially the apartment market. Those were the echo boomers and in this issue's "Sector Spotlight" column those same issues are being explored regarding the way current apartment owners are looking at millennials.
I concluded my first "Editor's Desk" column encouraging reader feedback. That feedback, and the countless number of industry leaders who have taken time to be interviewed, has been essential in helping us deliver the best magazine possible. So, I will echo that request to help ensure that as life flies by, we don't miss a thing.

Matthew Bechard
Editor in Chief