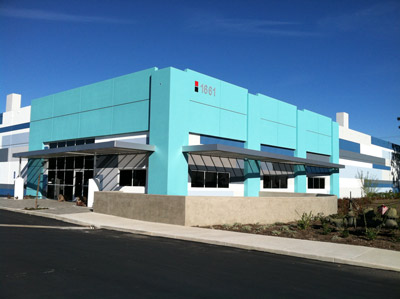 To the untrained eye, 2535 Midway Drive in central San Diego is easy to overlook as just a bland-hued throwback to the U.S. Postal Service's more robust days. For Rexford Industrial Realty Inc. (NYSE: REXR), the pair of buildings on approximately 16 acres represented a diamond in the rough that was worth the $19.3 million the company paid for the facility in late 2015.
When it comes to industrial space, brand-new, sparkling, supersized buildings with ceilings of staggering heights command headlines and plenty of attention. Consider Rexford's strategy to be precisely the opposite.
The Los Angeles-based company searches for modern buildings – who doesn't? However, it doesn't overlook the potential of seemingly outdated industrial spaces in prime Southern California markets that it can reconstruct, curing what's known as "functional obsolescence." Rexford can then charge market-leading rents from one or multiple tenants competing for space in markets with notoriously low supply. 
Rexford eschews suburban sprawl in favor of the vast urban areas across Southern California, where a lack of land limits new construction and developers tend to favor more trendy uses. The company also has a tight focus. Instead of blanketing the nation with its name and logo, Rexford focuses on just five counties, with most of its properties located in Los Angeles and Orange counties.
At A Glance
Address: 11620 Wilshire Boulevard, Suite 1000, Los Angeles, CA
Phone: 310-966-1680
Website: www.rexfordindustrial.com
Management Team:
Richard Ziman, Chairman
Michael S. Frankel, Co-CEO & Director
Howard Schwimmer, Co-CEO & Director
This small geography has a big impact. Southern California, according to Rexford, is the fourth-largest industrial market in the world and the largest in the United States, easily surpassing Chicago, Philadelphia and Dallas. Rexford generally caters to small-to-midsized businesses, many of them local players whose names won't ring bells (though it did recently ink a lease with e-commerce powerhouse Amazon.com). Rexford's tenants use an average of just under 10,000 square feet. The idea is that no single tenant's exit will adversely and overwhelmingly weigh on the portfolio and depress results.
"Rexford is a Southern California local sharpshooter, almost entirely concentrated in what happens to be the best industrial market in the country," real estate research firm Green Street Advisors wrote ahead of the REIT's mid-2013 IPO.
Strong Industry Performance
Real estate industry observers are taking a positive outlook on the industrial sector at present. Green Street recently wrote in a client note that REITs will be helped by "structurally high occupancy rates." REIS economist Barbara Byrne Denham says she is bullish that the industry will continue to expand.
"Domestic demand for industrial space should more than offset the headwinds stemming from global economic forces," she says.
Research firm CBRE also paints a rosy picture for the industrial sector: In the third quarter of 2015—the latest batch of statistics available—the sector experienced positive net absorption for the 22nd consecutive quarter. Meanwhile, the rate of available industrial space nationwide was 9.6 percent, a new cycle low. The lowest availability can be found in Orange and Los Angeles counties, which is great for Rexford.
What's more, the smaller tenants to which Rexford caters have not yet fully participated in the economic upturn, says Brendan C. Maiorana, who covers Rexford for Wells Fargo Securities LLC.
"The recovery is starting to filter out more to the smaller users," he says. "They've got a little more runway in terms of rent growth in their facilities because we haven't seen small-spaced rents improve as quickly as larger industrial buildings."
Indeed, at the end of 2015, Rexford upped its full-year 2015 FFO guidance range of $0.79 to $0.81 per diluted share, same-property net operating growth of 6 percent to 7 percent and occupancy of 93 percent to 94 percent. Rexford says it can be selective about the quality of its tenants because it has more demand than it can meet.
"It's good to be a landlord now," says Howard Schwimmer, a co-CEO of the industrial REIT, contrasting the current market with the dark days of the recession just a few years ago.
Tough Construction Market
To be sure, such a limited geography can hurt an operator if the local market sours. "Generally speaking, I'm not as much of a fan of companies that are a pure play in one market. If that market goes bad, everything you own goes bad," says Craig Kucera, a research analyst covering the company with Wunderlich Securities Inc. But "I don't see that for the foreseeable future." 
Developers of real estate also know that California is a tough construction market: There are an ocean and mountains limiting expansion, and in the desirable, well-located, urban areas, little land remains undeveloped. Furthermore, government regulations do not make construction easy, and environmentalists can make it harder.
Despite robust and growing industrial space demand, particularly in Los Angeles and Orange counties, buildings are routinely razed or converted to alternative uses. In the past 15 years, the two counties have lost a combined 60 million square feet of industrial product.
"We see an accelerated conversion to multifamily, creative offices. In the east side of Los Angeles, entire city blocks are being taken down and converted to nightclubs, restaurants, retail," says Michael Frankel, Rexford's other co-CEO.   
 "The best use of land sites as you get closer and closer to the coast is not industrial," Maiorana says. "The land has become so valuable that the structure can be knocked down and something else can be put in its place. That's a lot different from many of the industrial markets where, in general, it's not that difficult to put up a new industrial warehouse building." 
Rexford works to identify sites worth the investment. Take the San Diego Postal Site as a case study. It includes two buildings with 373,000 rentable square feet. The repositioning strategy should take 18 months, and it will include reconfiguring the space for multiple occupants that can take advantage of abundant dock-level loading, new office areas, and plenty of parking, according to the company. When announcing the deal in an area with a vacancy rate with just 5.3 percent, the company pointed out the heavily trafficked areas near the sports arena, airport and shipping port. It also has direct access to downtown and key major freeways.
Strong Local Ties
Rexford may be a REIT newcomer, but it has already earned fans in the analyst community.
"They're very good at what they do," Kucera says. "The business is good. They're smart guys."
By "smart guys," the analyst is referring to Schwimmer and Frankel, the duo who hold the unique title of co-CEOs. While Rexford is a young operator in its current public-entity form, the dual CEOs and chairman Richard Ziman have worked together for more than a decade. That included time spent with predecessor company, Rexford Industrial Realty & Management Inc.
Unlike many new REITs, the company doesn't credit the financial crisis' aftermath with its founding. Ziman was CEO of Arden Realty Inc., a significant owner of Southern California office properties that was sold to GE Real Estate in 2006 at a price that would have earned original investors a return of 338 percent.
Why start again? The executives say the growth opportunity was too compelling and they genuinely enjoy the commercial real estate brand they created.
"The company was founded with the idea that, in this heavily populated economic zone and the largest industrial base in the nation, we could create a lot of value executing our well-proven investment strategy," says Schwimmer, who is a licensed real estate broker in California. "We're able to grow a sizable business in our own backyard and don't need to be in multiple markets to do so, which seems to be the strategy that many of our peers follow in order to grow their industrial base and penetrate the market."
In addition to the company's internal research, Rexford taps its strong network of local brokers—the database supposedly includes some 3,000 contacts – to help Rexford facilitate off-market and lightly marketed deals that curbs overwhelming competition. (In the third quarter, Rexford acquired six industrial properties, with four of the deals off market.) They know the markets well, and in-house research utilizes a wide variety of metrics to identify sites worth pursuing.
With that said, it could be hard for an outsider to have similar success. The operationally intensive model requires on-the-ground players with strong local ties and connections, industry watchers point out.