After Uncle Bob's retirement, Life Storage has new plans for the future.
01/24/2018 | by
For many people, renting a storage unit involves safeguarding cherished possessions and the memories attached to them. While Life Storage (NYSE: LSI) is a relatively new name among self-storage REITs, the managers of the Buffalo, New York-based company, formerly known as Sovran Self Storage, spent decades building tenants' trust under a different moniker.
Sovran was created as a privately held company in 1985. It went public in 1995, and up until 2016, operated storage facilities under the Uncle Bob's Self Storage brand. Sovran bought Life Storage that year and assumed the name of its acquisition.
"We spent three years researching different brand names, and when we acquired Life Storage in 2016, we recognized that their name was a great fit for our company," says David Rogers, the self-storage REIT's CEO since 2012. "We realized that while the [Uncle Bob's brand] was well-respected in many of our markets, it was hurting us in some places, particularly when we wanted to offer our management services to other owners. We had people tell us they loved everything about us, but they just didn't want their stores to carry the Uncle Bob's name."
Rebranding to Life Storage was an "absolutely great long-term decision," says Ryan Burke, a REIT analyst with Green Street Advisors, "although the expense of the endeavor weighed on their earnings initially." 
With Uncle Bob's retirement now in the rearview mirror, Life Storage is looking ahead at the future of the self-storage business.
Westward expansion
Growing supply of storage space in recent years has become a major storyline for companies such as Life Storage.
"The golden age for us and the other self-storage REITs was 2011 to 2015, but then the secret about self-storage got out and more companies began to build facilities and invest in self-storage," says Rogers.
Indeed, the self-storage sector enjoyed annual total returns between 9.5 percent and 40.7 percent from 2010 to 2015, beating the S&P 500 in five of six years. The sector's total returns dropped 8.1 percent in 2016, while the S&P 500 gained 12 percent.
"There is concern about oversupply in about half of the markets across the country," says Matt Kopsky, a REIT analyst with Edward Jones who covers the self-storage sector.
Life Storage's strategy for combating the supply concerns rests on geographic diversification. Integrating the Sovran and Life Storage property portfolios in 2016 expanded the combined company's geographic scope, with holdings stretching to the West Coast.
"We think the peak of new deliveries will be in mid-2018," says Rogers. "But we're geographically diverse, so the good markets where supply is still constrained balance out the other markets.
Texas, Florida and California are of particular interest to Life Storage, according to Rogers. He says the lack of basements and attics in most of the housing stock in those states adds to the demand for storage.
"Those are the places that have a growing, transient population and where people have already developed the habit of using self-storage. In the Northeast, commercial use of storage units is a lot more common than residential use."
As the concerns about new supply have weighed on the self-storage sector in the investment markets, some observers suggest the fears are overblown.

"New supply is creating some competition, but it will work through the system," says Kopsky. "New development is tapering off now and demand is still there."
Chris Pike, portfolio manager for the Real Estate Income Fund at Shelton Capital Management, says about 700 to 900 new self-storage facilities will be built over the next couple of years. Seeing as 40,000 storage facilities already exist nationwide, he points out that the new supply works out to an overall increase of only about 2 percent.
"Folks have been a little over-sensitive to new supply," Pike says. "There is an impact on initial rents for the units, but this business is built on the idea of getting customers in the door and then pushing up the rate, since no one wants to move their stuff to save a little money."
Technological changes
While Life Storage has focused on its geographical footprint, company leaders have kept another eye on the sweeping technological innovations that have transformed the storage business.
"Up until the mid-2000s, we used to build a store, put an apartment upstairs for the manager and take out an ad in the Yellow Pages," says Rogers.
In 2002, adding a call center to allow property managers to zero in on facilities and customer service was seen as a major change. Now, employees study algorithms to manage web advertising, calibrate occupancy expectations and decide when to adjust rents. The company maintains a history of move-in and move-out activity for every storage unit size so they can anticipate seasonal use. In addition, Life Storage tracks competitors so they know when to lower rates or offer incentives such as a free month of storage.
Meanwhile, the company is dedicating more attention to attracting commercial users. Traditionally, about 70 percent of self-storage customers are using the space for personal reasons, according to Kopsky. Business customers occupy the remaining 30 percent of space—tenants such as landscape companies and home improvement contractors that need space for their equipment, says Kopsky.

Life Storage is pioneering a "warehouse anywhere" outreach program to tech and pharmaceutical companies in need of storage space in multiple markets. This group would include businesses that might need quick access to parts to repair equipment such as MRI machines or cash registers.
"We offer storage units in 60 markets and we also have a network of preferred providers everywhere," says Rogers. "For instance, if a company needs 150 spaces, we can provide 60 of them and then we find the other 90 spaces and combine all of this into one bill with a handling fee. This provides us with stronger corporate accounts and generates fee income from the other storage facilities."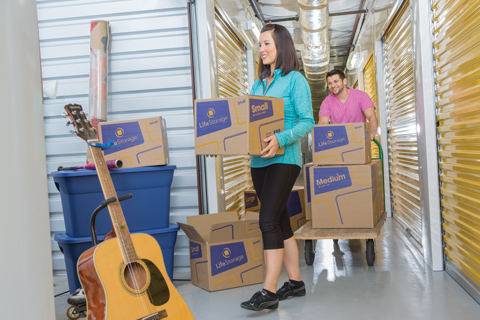 Third-party management is another growing source of business for Life Storage. The self-storage REIT grew its management business roughly four times over from 2016 to 2017. In addition to the 130 facilities it now manages, Life Storage is looking to add about 75 new management contracts with stores per year. 
Self-driving cars and valet storage
Peering even farther into the future of the self-storage sector, some industry analysts speculate that self-driving cars could have a negative impact on the self-storage sector by creating more available space for homeowners in their garages. "It's possible that this could reduce demand in the long run, but certainly not for three to five years or more," says Kopsky.
For his part, Rogers scoffs at the suggestion that self-driving cars will have a major impact on self-storage.
"First, I think their widespread use will be a long time coming," he says. "And I think it's more likely that people will turn their empty garages into a 'man cave' or a 'she shed' or some other use rather than storage."
(Pike sides with Rogers' assessment: "The biggest competition for storage units is a dumpster, not a garage.")
Life Storage and other self-storage REITs also could face competition from "valet self-storage" services, which provide pick-up and delivery services for customers. Kopsky says that while this is a small percentage of the self-storage market now, it could become more popular in cities, where it's difficult to build additional storage units close to major population areas.
Again, Rogers downplays any potential problems caused by these budding competitors. He notes that Life Storage has few facilities in large cities such as New York. He also points out that valet services are expensive relative to the do-it-yourself model.
"We just don't see it as a measurable threat to any of our business," he says.
In the short run, Rogers acknowledges that Life Storage will feel pressure from the supply issues in some of Life Storage's markets in 2018. However, he anticipates that the company will regain full pricing power in 2019.
In the meantime, Rogers expects Life Storage's growth to come from its ongoing emphasis on web marketing, the expansion of the company's third-party management services and greater outreach to potential corporate tenants.
"There's plenty of potential growth in demand for self-storage, particularly among businesses," says Rogers.