In June, New York's Lower Manhattan celebrated the return of a neighborhood staple with the reopening of the World Trade Center farmers market. Known as the Greenmarket at Oculus Plaza, it's located just outside the light-filled architectural centerpiece of the World Trade Center Transportation Hub.
"This is an amenity that the community has been looking forward to for 16 years," says Michael Hurwitz, director of GrowNYC, which provides New Yorkers access to sustainability resources and education, as well as fresh, local food through its network of Greenmarkets. The original farmers market at the World Trade Center opened in 1984.
The homecoming represents one of the latest community collaborations and milestones in Westfield World Trade Center's (WWTC) continued development and the rise of the fastest-growing residential district in New York.
"We are proud to be part of the spectacular rebirth of this site and believe that Westfield World Trade Center will become one of the world's most recognizable retail landmarks," said Westfield Corporation (ASX: WFD) Chairman and Co-CEO Frank Lowy at the retail center's grand opening on Aug. 16, 2016. A year after completing Phase I, Westfield World Trade Center—like Lower Manhattan itself—continues to grow as a destination intersecting community, culture, and commerce.
Honoring a Legacy
"This development has been totally different than any other Westfield has undertaken," explains Peter Lowy, Westfield's co-CEO. "We initially agreed to become part of the World Trade Center site in July 2001 and have been intimately involved with the rebuilding and revitalization for the past 16 years."
The Australian-based REIT previously owned the Mall at the World Trade Center. It had signed an agreement with the Port Authority of New York and New Jersey to redevelop the retail area less than two months prior to the attacks of Sept. 11, 2001. The Port Authority approved the latest joint venture in 2012. Westfield invested an initial $612.5 million for a 50 percent stake in the retail site, but the company assumed full ownership in 2013 when it acquired the remaining stake for an additional $800 million. The company went through some reorganization as well. Formerly the Westfield Group, it became two independent companies, Westfield Corporation, focused on the U.S. and European portfolios, and Scentre Group, operating the Australian and New Zealand portfolios in 2014.
A founding donor of the National September 11 Memorial & Museum, Westfield has demonstrated its commitment to honoring the memories of the victims in its redevelopment and revitalization of the area. "We have sought to respect and honor what occurred on this site in 2001 while demonstrating the importance of its renewal," says Peter Lowy.
Designed by Spanish architect Santiago Calatrava, the Oculus serves as a permanent tribute to victims and was inspired by the image of a dove released from a child's hands. It's situated at a precise angle to surrounding buildings and the New York City grid to allow a beam of sunlight to shine directly into the center of the space at 10:28 a.m. each Sept. 11, the time at which the North Tower of the World Trade Center collapsed.
For Westfield, this legacy is also deeply personal. Bruce Eagleson, its then-East Coast vice president of management, died after coordinating the emergency evacuation of Westfield employees during the Sept. 11 attacks and returning to the buildings to help others.
WWTC held its 2016 grand opening in collaboration with the 9/11 Tribute Center, HEART 9/11, and with support from the National September 11 Memorial & Museum. Westfield participated in the U.S. Chamber of Commerce Foundation's Hiring our Heroes (HOH) initiative and hosted a public job fair promoting opportunities for military veterans and families.
Diverse Partnerships
Beyond its primary public partnership with the Port Authority, Westfield worked with diverse public and private local entities—large and small—focusing on the area's revitalization.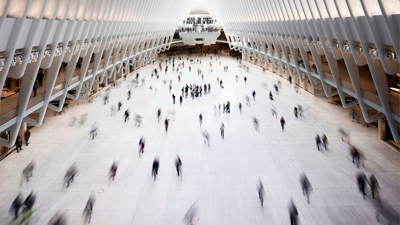 Additional collaboration has occurred between Westfield and Manhattan Borough President Gale A. Brewer, as well as with the Alliance for Downtown New York, which provides services and advocacy for the area and manages the Downtown-Lower Manhattan Business Improvement District (BID.) "Since the outset of the project's development, Westfield has been an open and collaborative partner," says Andrew Breslau, senior vice president of communications and marketing for Downtown Alliance.
"[Westfield] has been a partner who has been keen to understand the role the development would play in the larger community and equally keen to understand how it could serve the community beyond the four walls of the center," adds Breslau.
The role of community partnership expanded to earmarking space for the return of community staples like the farmers market. "We're a nonprofit with limited resources, and Westfield has been incredibly generous and helpful, particularly around promotion and publicity of the market, as well as with operations such as security and sanitation," says GrowNYC's Hurwitz.
As with any high-profile, high-traffic public site, Westfield actively works with the NYPD, Port Authority, and public safety and law enforcement at all levels, employing state-of-the-art technology and security expertise to ensure the safety of the WTC campus.
Transportation Hub
Widespread transportation improvements have been one of the many far-reaching community benefits resulting from these joint efforts. The Oculus is the face of a major transport interchange that serves 250,000 Port Authority Trans-Hudson (PATH) daily commuters and millions of annual visitors from around the world.
Prior to the development, Lower Manhattan was "a warren of unconnected underground spaces," according to Breslau. It has turned into one of the most connected parts of the city.
"Westfield World Trade is not only a hub of much of that connectivity, it has helped rationalize and order the array of transit options," explains Breslau. "It helps tie the inherent locational advantages of the area together in ways that the community has longed for for decades."
That connectivity benefits commuters and tenants alike. "It may be hard to imagine us operating a farmers market with gorgeous produce in all the colors of the rainbow on display next to what people think of when they think of a NYC subway station, but the Oculus really transforms that experience," Hurwitz explains. "This is crucial because it's such an important transportation hub, and natural foot traffic is so important to the success of any farmers market."
The accessibility of the large-scale redevelopment generated further economic and employment opportunities. "One of the things that is reinforced by its fantastic status as a transit center is that employment at Westfield comes from all over the city, from all five boroughs and from neighborhoods where direct access to employment is critical to their future prosperity," explains Breslau. WWTC created 5,000 permanent retail jobs and roughly 2,000 construction jobs. Westfield expects to add 1,000 more permanent retail jobs upon completion of the remaining retail areas.
Retail Reimagined
Westfield World Trade Center currently incorporates 290,000 square feet of state-of-the-art retail and dining space. Its multiple levels have more than 80 stores, featuring retailers such as Apple, Bose, Under Armour, Sephora, Kate Spade, and Stuart Weitzman.
According to Breslau, WWTC "represented a sea change in the retail environment of Lower Manhattan." Part of that change included reimagining traditional shopping by offering a place for community and culture along with commerce. "Westfield World Trade Center sets a new global benchmark. It has a distinctive New York feel about it, but it also has a truly international flavor —a mix of the best in delicious food, beautiful fashion and exciting entertainment and technology," Peter Lowy says. "It's fantastic that many retailers who were here before 9/11 have returned – bigger and stronger than ever."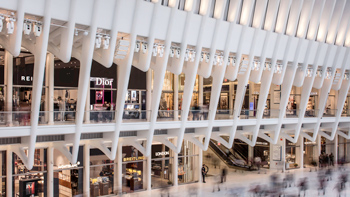 Part of this reimagining involves adapting to widespread changes to the retail industry and the growth of e-commerce. Westfield has embraced technology through new social media and digital shopping initiatives. Along with collaborations with Facebook and Snapchat, it has long-term advertising partnerships with Pepsi, JPMorgan Chase and Ford to provide 360-degree sensory engagement with products and interactive brand experiences.
The focus on creating a 24/7 community also led to artistic and cultural collaborations. Its first year has already seen live performances from musicians such as John Legend, Jordan Smith, and Leslie Odom Jr. of "Hamilton." WWTC also played host to the wellness-meets-nightlife experience "Daybreaker" and a free summer-long outdoor film series in partnership with the Tribeca Film Festival.
In honor of its fallen colleague, Westfield created the The Bruce Eagleson Arts Education Program, a multi-year partnership with the New Museum supporting local artists, increasing exposure to the arts, and fostering arts and cultural education for Lower Manhattan public school students. Its recent immersive exhibit "Up Close: Michelangelo's Sistine Chapel" offered visitors the chance to view museum-quality, life-sized reproductions of the Sistine Chapel's frescoes. The space also hosted "1612 Dots," a free public participatory art installation headed by artist Jonathan Horowitz.
Looking Upward
"A retail project of this size has outsized impacts. From direct economic development benefits in terms of jobs and tax revenues to a new sense of vitality and possibility to providing consumers a wide array of retail products that they had to travel for previously," says Breslau.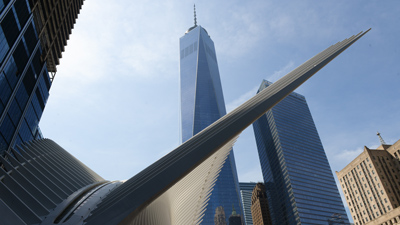 According to Westfield, the retail center is projected to register up to $1 billion in annual sales and serve more than 100 million visitors each year upon its full completion and stabilization. "Westfield World Trade Center opened well–and is already among the most productive assets in our portfolio," says Peter Lowy.
The REIT is looking forward to the completion of the remaining 75,000 square feet of retail space at Tower 3 to comprise a total of 365,000 square feet of retail space across the site. Upcoming additions include the London steakhouse Hawksmoor and a new 7,000-square-foot restaurant overlooking the now-iconic Oculus in 2018.
More than just commercial growth, the World Trade Center's return symbolizes the rebirth of a community center. "It's an immediately recognizable destination, a meeting point, a crossroads, a market and much more. It plays a wide variety of roles for a complex collection of stakeholders and does so wonderfully. It's already a part of many routines," says Breslau.
"There is no more soaring example of New York's resiliency than this place," Peter Lowy says.