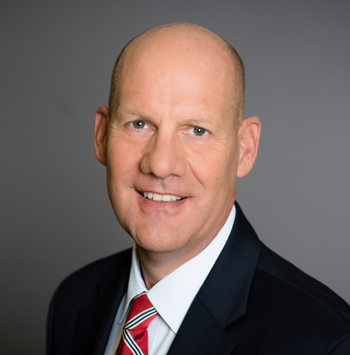 Robert Pflieger, executive vice president of communications at Nareit, passed away on Nov. 29, 2019 after a year-long battle with cancer. Rob joined Nareit in 2014 to oversee all communications efforts, including media relations, marketing, advertising, editorial services, and social media. He also contributed to Nareit's external communications related to its advocacy efforts.
Rob came to Nareit from the National Association of Home Builders, where he held the position of senior vice president, communications. In his 14 years with NAHB, he helped build awareness of housing as an industry and key component of the national economy. Prior to joining NAHB, Rob was a senior executive at Golin/Harris International, a global public relations firm. He started his career working as a political appointee in the Reagan Administration, first at the U.S. Trade Representative's Office and later for the Department of Labor. He later joined the Construction Information Group at McGraw-Hill. He graduated from Georgetown University in Washington, D.C.
Adam Wyll was appointed to the position of executive vice president and COO at American Assets Trust, Inc. (NYSE: AAT). Wyll also serves as the company's general counsel and secretary. He has served as senior vice president, general counsel, and secretary since the company's initial public offering in January 2011.
Duke Realty Corp. (NYSE: DRE) promoted Chris Burns to executive vice president of its West and Central regions. Burns joined Duke Realty in 2004, working in the company's financial analysis department before transferring to positions in leasing and capital transactions.
Equity Residential (NYSE: EQR) announced the appointment of T. Zia Huque to its board of trustees. Huque, who will serve as a member of the REIT's audit committee, served as the president and CEO of Deutsche Bank Securities Inc., the U.S. Broker Dealer of Deutsche Bank, until his departure in mid-2019.
Griffin Capital Essential Asset REIT, Inc. named David Congdon as managing director, corporate strategy; Craig Phillips, as managing director, industrial properties; and Nina Momtazee Sitzer, as executive vice president and general counsel.
Healthpeak Properties, Inc. (NYSE: PEAK) announced that Scott Brinker, in addition to his role as chief investment officer, has been promoted to president; Jeff Miller has been promoted to executive vice president—senior housing; and Lisa Alonso has been promoted to executive vice president and chief human resources officer. Healthpeak also named Sara Grootwassink Lewis as an independent director to its board. Lewis founded and serves as the CEO of Lewis Corporate Advisors, a board and capital markets advisory firm.
The Howard Hughes Corp. (NYSE: HHC) named Paul Layne, president of HHC's central region, as CEO. He has been a senior executive at HHC since 2012. David O'Reilly, CFO, will have an enhanced role at the company, partnering with Layne to execute on its new transformation plan.
Phillips Edison & Company, Inc. announced the promotion of Dawn Stamper to senior vice president of customer experience. She will lead the company's ongoing efforts to continuously enhance the superior customer experience PECO has cultivated for retailers across its national portfolio.
SITE Centers (NYSE: SITC) announced the resignation of executive vice president, CFO, and treasurer Matthew Ostrower to pursue a new opportunity. He was replaced by Conor Fennerty, who joined SITE Centers in April 2017, serving since then as senior vice president of capital markets.
Uniti Group Inc. (Nasdaq: UNIT) appointed Carmen Perez-Carlton to its board of directors. She most recently served as an independent advisor to Crown Castle International Corp. (NYSE: CCI). Prior to her role at Crown Castle, Perez-Carlton served as president of FPL FiberNet, LLC.