At nearly 90 years old, Vornado's  theMART in Chicago is as relevant and culturally significant as ever. 
02/03/2020 | by
"Everyone knows theMART, this mammoth Art Deco structure facing the river," says Mark Kelly, commissioner of the City of Chicago's department of cultural affairs and special events. "It's a muscular building—a working building—that's always played with the imagination of the city."
One of the largest office buildings in the United States, theMART stands tall along two blocks adjacent to the Chicago River in the heart of River North, one of the city's most dynamic submarkets. Completed in 1930 and purchased by Vornado Realty Trust (NYSE: VNO) in 1998, theMART's history has been intertwined with Chicago's retail, business, media, and cultural landscape for nearly 90 years.
"theMART is one of the most iconic buildings in the country and since its inception it's been continually reinventing itself," says David Greenbaum, vice chairman of Vornado. 
The Merchandise Mart, as the building was known until recent years, was designed by Alfred P. Shaw of the architectural firm Graham, Anderson, Probst & White, and features decorative chevrons and distinctive towers. Built by Marshall Field as a wholesale warehouse with rentable space for other wholesalers, the Merchandise Mart functioned as the "Midwest Pentagon" during World War II, says Greenbaum. The building was acquired by Joseph Kennedy in 1946. The Kennedy family sold it to Vornado more than 50 years later.
"When Joe Kennedy bought it in 1946, he anticipated the post-war growth in suburbia and in retail," says Myron Maurer, chief operating officer of theMART. "He started the convention business in Chicago that's still going strong today."
From the 1950s through the 1970s, the Merchandise Mart mostly sold furniture and home decorating items, eventually adding apparel and gifts. 
"NBC radio and TV were also based in theMART and the first all-color TV studio in the country was here," Maurer says. "A building of that size could never be entirely wholesale/showroom tenants and the location appealed to many other businesses. Quaker Oats, Bankers Life and Casualty, and Canteen Corp. were all headquartered here at one time, among many other companies."
Into the Next Generation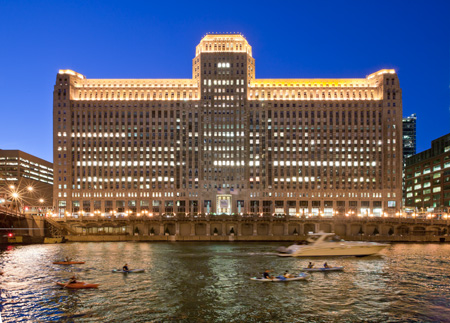 In 1998, Vornado saw the opportunity in acquiring the large-scale property with its mix of office, interior design showrooms, and tradeshow spaces.
"Most important to us was the fact that we were able to acquire a totally unique and iconic asset," Greenbaum says.
While theMART was always the anchor of the River North area, Maurer says the neighborhood transitioned from industrial brick buildings into a dynamic community with art galleries and street-level retail beginning in the late 1990s. Vornado, and theMART, were central to that transition.
"We've been the beneficiary of gentrification and we've significantly accelerated it because we've shepherded theMART into the next generation with great food offerings and abundant communal spaces," Maurer says.  
Vornado undertook a major, $40 million renovation and rebranding of theMART, which was completed in 2017. This work included the creation of a new lobby and the Grand Stair, a 50-foot wide marble staircase and special event venue featuring a massive projection screen. Meanwhile, the debut of Marshall's Landing, a lounge with river views at the top of the Grand Stair, has contributed to theMART and River North functioning like an "urban Silicon Valley," Greenbaum says. 
theMART now includes 23 food offerings, a bar overlooking the Chicago River, a fitness center, a hair and nail salon, a post office, and Amazon package lockers. A 12,000- square-foot park that runs between the river and theMART is under construction and will contain a variety of outdoor furnishings and accommodate food trucks.  
"The area has evolved over the past 20 years to become the hottest place to live in Chicago, with high-rise, high-end residential buildings, and some of the city's best restaurants," Greenbaum says.
Neighborhood Anchor and Economic Catalyst
Throughout its existence, theMART has played an outsized role in Chicago, the River North neighborhood, and in many Chicagoans' lives. "I literally grew up riding motorized carts up and down the hallways in the Mart," says Howard Tullman, a serial entrepreneur and former CEO of 1871, a Chicago tech incubator. "My father had a showroom there."
As an adult, Tullman chose theMART as headquarters for one of his first businesses, a database business called CCC Information Services, and later he was instrumental in helping to develop theMART's reputation—and Chicago's—as a tech hub.
"When we opened 1871 in 2012, technology was 2% to 3% of Chicago's economy and now it's 12% to 13% or more of the city's economy," Tullman says. "What was important to us about locating in theMART was that when we took our 160,000 square feet, we became an anchor for all the other tech companies and big businesses that wanted to be close to digital workers, tech workers, and creative workers."
Entire floors that were formerly showroom spaces have transitioned into space for tech companies, Tullman says, including Google's Motorola Mobility unit, which leased 600,000 square feet of office space in 2012.
"The prototypical pattern has been that a company like Allstate will work out of the 1871 space for a while and then decide to take its own space in theMART," Tullman says. "We're seeing a migration of companies that need tech workers and can't find them or can't convince them to commute to the suburbs, so they'll establish an outpost or even headquarters in theMART."
Companies like Braintree, a division of PayPal, started with 60,000 square feet in theMART and now occupies 148,000 square feet, says Paul Heinen, a senior vice president for leasing with Vornado. Others that have increased their space include Yelp, which went from 50,000 square feet to 132,000 square feet, and Allstate, which expanded from 45,000 square feet to 120,000 square feet, Heinen says. theMart's uniquely large 200,000 square foot floorplates attract companies across industry sectors who want to use their real estate to foster collaboration among employees and create a sense of community.
theMART's central urban location and easy access from the suburbs is also part of its attraction for many major corporations, such as ConAgra Foods.
"Our headquarters had been in Omaha for 100 years, but about four years ago we decided to move about 500 to 600 employees to a new headquarters in Chicago," says Jon Harris, chief communications officer for ConAgra Foods. "It makes sense for us to be in a food-centric city. We also knew we could find and attract the talent we needed, especially in sales and marketing, in Chicago."
Harris says theMART is the premier building in the premier location for their company headquarters as well as numerous other companies.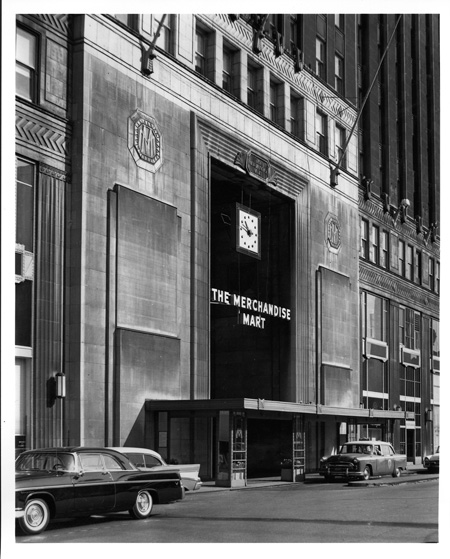 "It's like 30 Rock for Chicago, with the history and the heritage of the building acting like a lightning rod to attract talent," he says. "The neighborhood itself is also a huge draw."
Harris credits Vornado's efforts to enhance theMART's presence with adding to the vitality of the River North neighborhood, where he says the restaurants, hotels and nightlife within walking distance add to the draw of working there.
"An address in theMART helps put you on the map," Harris says. "Everything you need is inside the building or in the surrounding area. You can entertain clients, attract talent, and have a front seat to innovation in the food industry. We like to keep our mouths to the fork of what's trending in food to keep us competitive." 
Among other companies with a substantial presence in theMART are Kellogg's, Conde Nast, Bosch, and ANGI Home Services. 
Showroom Powerhouse
theMART's continued importance to America's retail economy is demonstrated by 40% of the building continuing to be devoted to wholesale showrooms and tradeshows.
"We have luxury kitchen and bathroom businesses, commercial office furniture, luxury residential furnishings for designers and casual outdoor furniture spaces," says Maurer. NeoCon, the largest commercial design event in the country, attracts about 58,000 people to theMART each year. 
 "People love the bones of this building, the loft look of the building, the high ceilings, the history, and the patina," says Greenbaum. "It's just built better than buildings from the 1950s and the 1960s. At the same time, we've been careful to keep current with the tech needs of our tenants with lots of fiber feeds. We've worked on the elevators, upgraded the HVAC systems, and we've been LEED certified three times now."
With stewardship like that, theMART will likely continue its history as a resilient Chicago landmark leading the way into the city's future.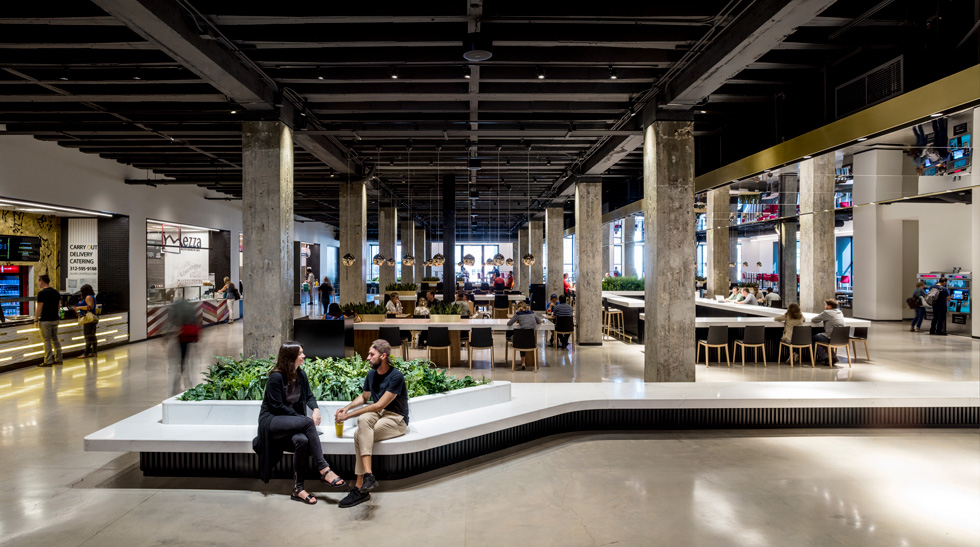 Tech Company Magnet
The architecture of theMART, which functions so well for retailers who need large showrooms and for tradeshows, offers a big benefit to collaborative workspaces that are particularly popular with tech companies.
"Tech companies were able to take advantage of the huge floor plans so they could have common spaces instead of being on multiple floors," Howard Tullman, former CEO of 1871, a Chicago tech incubator, says. "This meant you could have serendipitous meetings, which is great for start-ups, tech workers, and venture capitalists."
Vornado's transformation of theMART into a tech company magnet began nearly a decade ago.
"From 2010 to today, theMART went from being a white elephant with non-economic space to a transformative tech hub," Tullman says. 
In 2011, Google, which was acquiring Motorola Mobility at the time, was looking for 600,000 square feet in downtown Chicago, Myron Maurer, chief operating officer of theMART, says.
"theMART's office space was substantially full, but some of the showrooms were underperforming," he says, due to a contraction in the furniture business in 2008-2009 which resulted in some tenants being scattered on numerous floors. "We wanted to lease the top four floors to Motorola Mobility, so over 11 months we worked with 142 tenants to either move their showrooms or terminate their leases. Some were ready to vacate, and some wanted to downsize, so it was a win-win because they were able to reinvigorate their businesses and we got the space we needed."
Relocating showrooms so they are contiguous helped revitalize the businesses while making the space more efficient.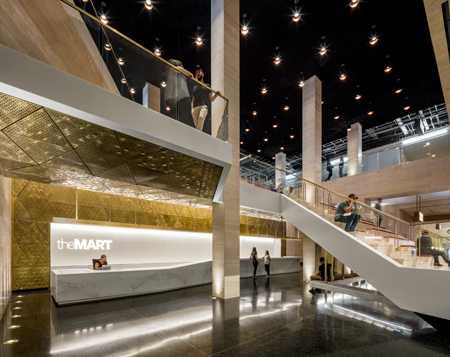 Tullman also credits Vornado with being willing to keep the building open 24 hours a day, which is well-suited to tech workers.
"When J.B. Pritzker [founder of 1871 and now Illinois governor] had the idea for the tech incubator, no one had heard of 24/7 offices, flex space, or co-working," David Greenbaum, vice chairman of Vornado, says. "They were visionaries and saw how important it was to have space to congregate and to think of new ways to grow the economy and create jobs. theMART and 1871 became an example of what an urban area like Chicago could do to attract business to the city."
Cultural Icon
Since its earliest days as a wholesale warehouse, furniture center, and tradeshow center, theMART has been connected with art and design. In September 2018, Art on theMART introduced a new element of culture to the building and the neighborhood: the world's largest video projection art installation.
"In a city filled with great art, this has captured the imagination of the city," says Mark Kelly, commissioner of the City of Chicago's department of cultural affairs and special events. "Former mayor Rahm Emanuel and Vornado started talking about lighting the front of the building and then I brought in more specific ideas about turning it into public art in the form of video mapping."
Kelly credits Vornado with recognizing the value of the project.
"They jumped on the idea and immediately said it couldn't be about branding or marketing, it had to be pure art," Kelly says. "Vornado and the City of Chicago made a 30-year commitment to the project and we needed agreement to build space for the projectors above River Walk, which is city-owned property."
2019 was the first full year of nightly projections, which include a variety of installations from Andy Warhol images to a lifelike safari in which giraffes appeared to walk across the building, says Greenbaum. About 32,000 people attended the opening night of Art on theMART and an average of 500 people are there nightly.
Thirty-four projectors are housed on the opposite side of the Chicago River and the images are a mix of new art and digitized existing art, says Maurer. 
"theMART looks like the most alluring, attractive building in the city even though it's been around since 1930," Kelly says. "This new public art installation makes the river come to life. It's just spectacular at night and now everyone wants to be on the river in this new vital urban space."