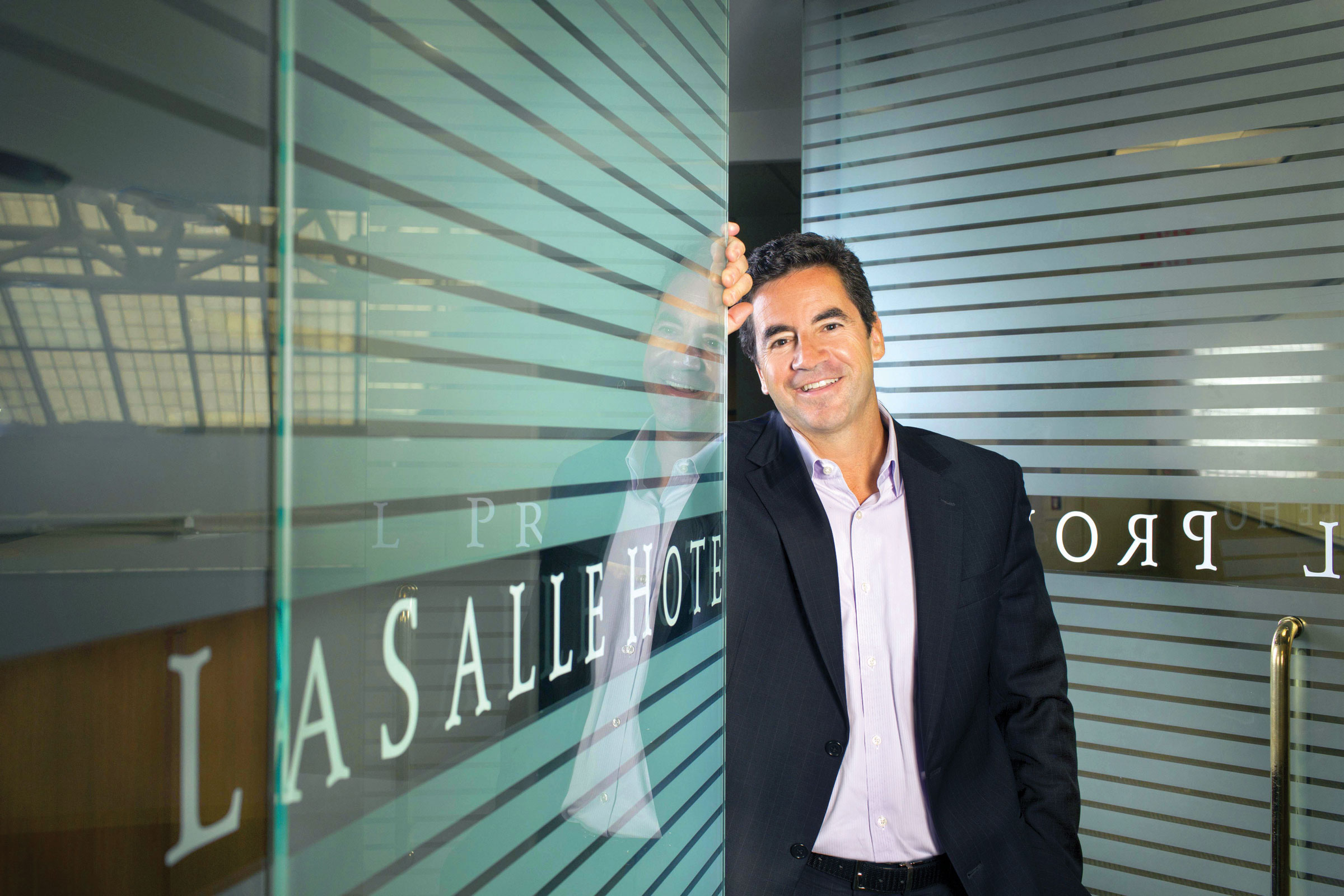 Michael Barnello began his studies at Cornell University with plans to become an engineer. However, it wasn't long before Cartesian coordinates and descriptive geometry gave way to average daily room rates and chain scales. By his second semester, he had transferred into the school's noted hotel administration program and started his career in hotel management that would eventually lead him to his current role as president and CEO of LaSalle Hotel Properties (NYSE: LHO).
Barnello has been with the Maryland-based REIT since its formation almost 15 years ago and has witnessed a wealth of changes in the industry. He says if his experience has taught him anything it is that while planning is crucial, flexibility is key.
Barnello took the time to speak with REIT magazine about guests' evolving expectations, the company's simple expansion strategy and how LaSalle cut costs and maintained guest satisfaction during the Great Recession.
REIT: You've been with LaSalle since its formation. How have customers' expectations changed with regard to a full-service hotel experience?
Barnello: With full-service hotels I would say that customers are generally expecting more overall in terms of amenities. The reality is that people are looking for amenities such as business centers, health clubs and fitness centers, and sometimes spas. They also want comfortable places to meet, whether it's private meeting rooms or a couple of places in the lobby or pre-function areas.
There's also a more stylized sense of design that we think many of our consumers are attracted to. A lot of our consumers are not as interested in the big cookie-cutter design with the same hotel from market to market wherever they travel. So, if you look at our portfolio, 28 of our 38 hotels are independent. We try to balance the amenities and necessities you need on the road with some individual style and make it interesting and comfortable for the guest.
Guests are wiser, more demanding and they're willing to pay for those things. But they want what they want.
REIT: How would you describe the overall trend in fundamentals for the hotel sector so far in 2012? Have you seen a particular bump or increase in business or leisure travel?
Barnello: Fundamental improvement has been steady and strong.
The supply increase has been very low this year and demand has been strong so far. First quarter demand in the U.S. was up about 4 percent—that's great. The demand in our market has really been at peak levels and has been since the end of 2010. There have been more hotel rooms sold in our markets than ever before, and that's obviously a good trend.
REIT: We've seen other sectors start new construction again. Do you expect hotel development activity to pick up anytime soon?
Barnello: It will when a couple of things happen. As our hotels consistently do better, that will incite folks to think harder and harder about building new hotels.
But the other part, and I really think the most critical part, is there needs to be some sort of debt financing. Thankfully, we have not seen that come back too much yet, but it doesn't mean that there aren't places where you can get it done.  It's just not as robust as it was in 2006, 2007 and 2008 when folks were still doing deals on the development side for hotels that they planned to open in 2009, 2010 and 2011.
REIT: What would you say have been the greatest lessons learned in the hotel industry during the recent downturn?
Barnello: I would say there are two lessons. One is that everybody learned the more debt you had, the tougher position you were in during a downturn. You just didn't know how bad things were going to get, but you had to certainly pay your debt, whatever the debt service was. But you also had to adhere to your debt covenants.  I suspect many companies became more leery of being too liberal using debt.
The second thing that I think a lot of people, including ourselves, learned was the new meaning of fixed versus variable cost. The downturn was so extreme, and we had to make sacrifices in areas where we thought we could never do without.
Well, not only did we do without, but a lot of times there was nothing that was missed by the guest. I mean our guest satisfaction scores were actually terrific in 2009, and that was the year that a lot of programs that we had in place were eliminated.
Many hotels provide most of the services that they offer to all the guests all the time.  We learned to tailor amenities more specifically to what the guest wants. So if someone wants cookies or turndown service or Wi-Fi, that's what we get them. We don't necessarily give it to everybody for free. Or, if someone wants newspapers or coffee in the room, we have all those things available, but rather than just automatically provide them every morning, we offer them in the lobby. However, we will offer it to someone who requests a certain amenity and it's not a problem.
REIT: What are some of the primary challenges you see still facing your industry going forward?
Barnello: I think you hit the nail on the head earlier with the supply question. Lots of things come and go in our industry that affects us, but the macroeconomic climate affects us most. We can't have a robust hotel economy if the overall economy stinks.
But when you think about one item that affects us more than anything else, it's new supply. When there's a new hotel that opens up next door to you, that affects you more than anything else. To the extent that bankers will lend money to developers who wish to build, that will affect the landscape and that will limit the amount of growth we can have during those periods.
Thankfully, we're in markets where it's just harder and more expensive to do that. But as we know, at some point people will find a way to invest in those markets.
REIT: When LaSalle is evaluating potential acquisition opportunities, what is the company's thought process and what kind of steps is the company taking to potentially take advantage of them?
Barnello: We have a simple way of looking at markets. When there's a hotel for sale in our markets we ask ourselves "why wouldn't we buy that hotel?"  If it's a hotel for sale that is not in one of our markets, the question is "why we should buy the hotel?"
One of the reasons may be that it's not the best physical hotel on the market, but it may have the best views of either an ocean or a park or something that makes it so outrageously special that it's worth buying, even though that market might not be a target market for us. So, to the extent great hotels become available, then we'll expand outside of our eight core markets.
REIT: The hotel business is viewed as one that is highly susceptible to fluctuations in the economy. Does that take a strong stomach as a CEO?
Barnello: Well, our fluctuations are definitely more than other sectors in real estate that have long-term leases. Our leases are nightly.
Lodging is a cyclical business. So, as good as it might be right now—and it's early in the recovery and it will continue to get better—we do know that at some point the tables will turn. At some point, fundamentals will worsen again.
What we don't know is if the next recession will look like 1991, which was fairly mild, or 2001, which we thought was pretty bad at the time, or look like 2009 again, which was 2.5 times worse than 2001.
We remain optimistic about where we are in the cycle, but we maintain a balance sheet that is built to weather a storm should the outlook change.