Jon Bortz's Pebblebrook Hotel Trust continues to make a splash.
09/13/2013 | by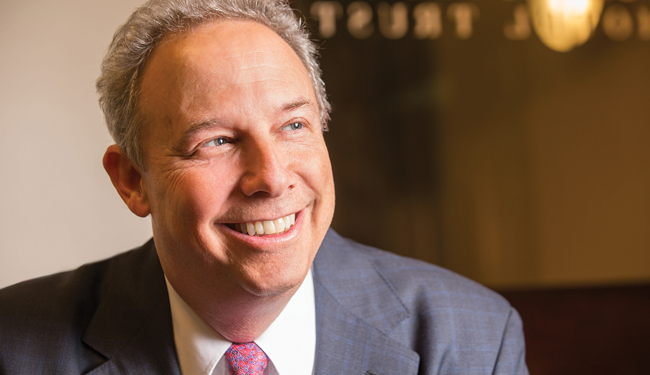 There are fundamentally two ways to enter any body of water. The first is to cautiously ease yourself in by dipping a toe in the water and slowly acclimating to the water below. The second, and more dramatic, is to trust your instincts and just jump right in. For a company entering the public market as a blind pool, it is certainly more of the latter approach.
That was the situation facing Jon Bortz and his colleagues at Pebblebrook Hotel Trust (NYSE: PEB) when it went public in 2009 as a "blind pool" REIT.
The decision to launch an IPO prior to purchasing any assets wasn't a gamble in their minds, however. Bortz and his team trusted their instincts about the market they were watching unfold. Their goal was to take advantage of the downturn in the lodging industry resulting from the financial crisis. Bortz, Pebblebrook's chairman, president and CEO, has close to 30 years of experience in the business and has overseen more than $4 billion of lodging-related transactions. He says he knew the timing was right to capitalize on an industry in desperate need of a capital infusion.
What we really want to do is create something that's unique compared to the typical box offered from many hotels.
With a successful track record as the former CEO of LaSalle Hotel Properties (NYSE: LHO), Bortz says he was committed to finding attractively priced properties for the new REIT, renovating them and then reaping the rewards. Pebblebrook, based in the Washington, D.C. suburb of Bethesda, Md., focuses on upper-scale, full-service hotels located in major urban markets.
Since the IPO, Pebblebrook has acquired 26 hotels with a total of 4,952 guest rooms. The company also holds a 49 percent interest in a joint venture in six hotels with 1,733 guest rooms.
REIT magazine recently spoke with Bortz about why the current environment has been prosperous for the hotel sector, the benefits of starting a company with a blank canvas and how he first got involved in the lodging industry.
REIT.com: Looking back on your nearly three decades in this industry, what originally attracted you to a career in real estate and lodging in particular?
Jon Bortz: Well that's a good question. For some reason, from when I was young, I wanted to be a real estate developer. This goes back to when I was 8 or 10 years old.
There are certain aspects about real estate development that attracted my interest. I like to create things, so real estate development is a substantive tangible. It is bricks and mortar. It's real.
It's an industry or business that requires an understanding of lots of different functions. When I was overseeing the redevelopment of Union Station here in Washington, which is why I came to D.C. originally, I needed to understand finance, construction, design, management, retail, office and transportation—lots of moving pieces. That, to me, was of interest. It's one of these funny things that the more complicated something is and the harder it is, the more I have an interest in it.
We're in a period where the fundamentals probably have never been better.
Then, I got into the lodging industry by happenstance. But what I like about it is, again, it's complicated and it's difficult. It's got a lot of businesses in it. You can really differentiate yourself and create an experience that's unique in the business.
REIT.com: What would you say are some of the main ingredients needed to be successful in the lodging business?
Bortz: To me, there are a number of things that are important. From my own and from my company's perspective, our objective is not just to be successful, but to actually be the most successful.
We start with a number of strategies that we developed over time, based on experience that provided the best returns, and do it at the lowest risk. There's an incredible amount of detail that's required in this business—even more so than other kinds of real estate. But it is also an investment business. Investment businesses have risks, so it's really important to understand the risk in the business and how to mitigate that. Managing risk is something I focused my efforts on over the years, having gone through five downturns in real estate.
We like to say risk actualizes in the long term, so everything you can do to lower risk ultimately increases your returns. Also, lodging is clearly a business where you need to like people. You need to be able to work with people; you need to be able to work in a team. It's also very helpful to be creative.
Up Close
Education: The Wharton School of the University of Pennsylvania- B.S. in Economics
Family: Wife, Ellen; Sons Adam (26) and Marc (23)
Hobbies: Golf, fantasy football and watching movies
Last Book Read: "Steve Jobs" by Walter Isaacson
Favorite Vacation Spot: Any place with great golf courses.
REIT.com: How would you describe current fundamentals in the lodging sector?
Bortz: I would describe them as terrific. We're in a period where the fundamentals probably have never been better.
We're coming off of the worst downturn in the industry in my lifetime. That is what drove the creation of Pebblebrook, to take advantage of that opportunity. What we see now is an environment where demand growth continues to exceed very minimal supply growth. This is allowing occupancies in the industry to increase. It allows more pricing power and an increase in rates.
While the lodging industry in the United States is a mature industry, it really grows with the population and overall economic growth. It is benefiting here from a secular trend from what is a fairly dramatic growth in global travel, particularly coming from the developing countries around the world. You're seeing a middle class and an upper class get created, and those people want to travel. They want to see the world, and clearly the U.S. is one of the primary destinations.
REIT.com: How has going public as a blind pool changed the way you have operated the company compared to taking an existing company public?
Bortz: That really created a unique opportunity for us, particularly because we don't have any legacy issues, whether it be about balance sheet issues or whether it be assets that have already been maximized in terms of their operational efficiencies or market performance.
What we see now is an environment where demand growth continues to exceed very minimal supply growth.
So, we really focus on not only taking advantage of the cycle, but buying assets at the beginning of the cycle that have performed very poorly in recent years and are in need of renovation. Most everything that we bought has that opportunity for growth built in, and that's why we've gone through the cycle of renovating and repositioning all our hotels.
These assets were deprived of capital. We stepped in and were able to benefit from growth that relates to recovering prior competitive performance that was so poor. One of the things that we did at LaSalle was we developed and implemented a set of best practices related to operating efficiencies. We are in the process of identifying and implementing those at Pebblebrook, and it allows for a dramatic improvement in margins, which should go on for several years.
REIT.com:  What challenges does a lodging REIT face that may be different than companies in other sectors?
Bortz:  One is obviously the nature of lodging itself. We're a highly cyclical business. So we're very much at risk to changes in the economy, travel behavior, weather and events. All of those things impact our business, and we have higher risks in our operating business.
As a result, we need to do other things to help reduce our risks for our shareholders. That's a big focus of why we outperformed when I was leading LaSalle, and why I think we can do it again with Pebblebrook.
REIT.com: The bulk of your portfolio has recently been renovated. What type of improvements have you been focusing on in your hotels?
Bortz: One of the things that we're focused on is really creating a unique experience for the guests—whether that guest is just using a guest room, a restaurant or having a meeting there. You want a customer who goes up to their room, comes down to meet friends and says, "Hey, look, you need to see this room—it's really cool, it's really different, it's really fun."
It's not about looking like the Museum of Modern Art. It's really about helping somebody have an enjoyable experience out of the drudgery of travel. One of the things we've done at our most recent renovations is put in the technology that allows you to stream content from your mobile devices wirelessly to the television in your room. So, whether it's surfing the internet or movies that you have downloaded or Netflix or whatever it is that you personally enjoy, you bring it with you and enjoy it on a big-screen television in your room.
REIT.com: How have the demands or needs of hotel guests changed over the past decade?
Bortz: You know, it actually goes along with what we try to do from a design basis—this creation of an experience that's unique. So, what we find is people are looking for a much more personal experience. What we really want to do is create something that's unique compared to the typical box offered from many hotels.
We really focus on not only taking advantage of the cycle, but buying assets at the beginning of the cycle that have performed very poorly in recent years and are in need of renovation.
Even when it's in a branded experience, we try to create something that's more unique. Something that'll fit your personality. We do that with design, then we layer into that a much more personal service level. So, the staff who work in the hotel know you by name and know what your interests are. Technology allows us to store that data and provide it and asks you what else we can do for you that will help you have a better experience when you travel.
The other thing technology has done is created efficiencies from an operating standpoint. We've made very large investments in energy conservation, green practices and labor scheduling in giving the consumer more control of their experience. All of those things ultimately help us become more efficient and improve the experience and save money.
REIT.com: Pebblebrook has grown from a blind pool to an equity market cap in excess of $1.5 billion. So, what does the future look like for the company?
Bortz: We have this incredible amount of organic growth that comes from renovating and repositioning these properties, gaining market share, getting them back to where they were performing at their peak and then dramatically reducing costs and improving margins.
Then, on top of that, it continues to be a favorable environment for making new acquisitions, finding more properties in the major cities that we can buy and fix up, improve performance and drive our shareholder returns. We're really excited about the opportunities, we have a terrific team here and we love the business. It's just fascinating.
Carisa Chappell is REIT magazine's associate editor.