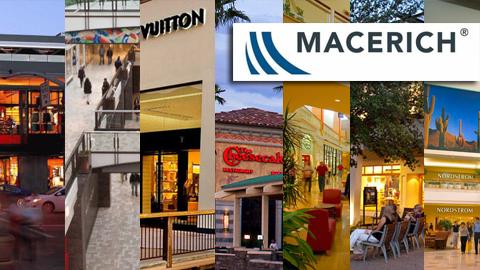 Some say that the rise of e-commerce and the decline of suburban sprawl has put the iconic American mall in danger since the financial crisis. But, for Macerich (NYSE: MAC), one of the nation's largest mall operators, the industry is alive and kicking.
Although technological advances and changing demographics are making tectonic shifts in the mall business and changing shopping habits of consumers, Macerich, based in Santa Monica, Calif., is positioned to capitalize. The REIT has focused on redeveloping its malls in densely populated markets into higher-end and luxury retail centers. Macerich, like many of its publicly traded retail REIT peers, is also investing heavily in social media to attract coveted millennial shoppers, while combating head-on the threat of e-commerce.
Macerich's strategy appears to be paying off. The company reported a sharp boost in occupancy and rental rates in the first quarter as it signed on more permanent tenants.
"Macerich is not doing a whole lot of things different than its high-productivity mall peers, but it is doing them well. The company is focusing on the right things (such as) putting capital in its best assets," said DJ Busch, an analyst at Green Street Advisors.
Most mall REITs are pursuing higher-earning consumers who are relatively immune from the slow economy and the younger professionals planting roots in major metropolitan cities to work and live. Indeed, after the bruising economic downturn, Macerich has aggressively shed its lower-quality malls in secondary markets and redoubled its efforts on expanding and redeveloping properties in densely populated areas tilted toward affluent shoppers.
DEVELOPING STORY
Macerich plans to target about 30 of its top producing malls for redevelopment, including a $525 million expansion of its Tysons Corner Center in Fairfax County, Virginia. This project includes the addition of 1.3 million square feet of office, residential and hotel space. For its Broadway Plaza Center in Walnut Creek, the company is adding a net 235,000 square feet to an existing 776,000-square-foot center.
The company also expects to build a few new outlet malls in the future.
"The business today has really evolved into a consolidation of properties," says Art Coppola, chairman and CEO of Macerich. "The bulk of our development pipeline is either expansion or densification" in markets where there is a high barrier to entry.
Macerich is experiencing sharp growth in Southern California and Arizona where there is a healthy rise in jobs and population. The company is also boosting its efforts to attract millennial shoppers by providing Internet access throughout all of its properties and investing more of its marketing budget into social media.
Millennials "are clearly a very important part of our shopping base," Coppola said.
Macerich, like most REITs, has benefitted from a dearth of new mall supply chiefly as a result of waning demand in suburban areas and tepid wage growth. In addition, store closures and the retrenchment of anchor staples like Sears and JC Penney have hampered productivity, particularly at lower-end malls.
As such, only three traditional enclosed malls have been completed in the last decade, compared with a peak of 19 built in 1990, according to the International Council of Shopping Centers.
"When you take the fact that you don't have suburban sprawl anymore and a shrinking universe of department stores…to anchor a new mall," you understand why there has been so few malls built in the last five to eight years, Coppola said.
Macerich was founded in 1964 in Ames, Iowa, and is celebrating 20 years as a publicly traded REIT on the NYSE this year, as well as being named to the S&P 500. The company now has an equity market capitalization of more than $9 billion and operates roughly 50 properties mostly in California, Arizona, Chicago and Greater New York.
"It's a well-run company and financially disciplined," says Jay Leupp, a senior portfolio manager at Lazard Asset Management. He noted that Macerich built its business primarily by using debt leverage to upgrade its properties and then refinancing them at higher valuations.
"A big part of [Macerich's] growth has been debt-funded at higher leverage," says Leupp, adding that the company's loans usually have low interest rates and longer-term maturities.
Since the financial crisis, Macerich has been aggressively fortifying its balance sheet and improving liquidity by shedding lower-quality malls. The company sold $1 billion in assets in the last 14 months alone and projects to sell $250 million worth of properties this year. As the result of these dispositions, Macerich boasts the highest density population per property among all of the retail REITs.
Macerich's leverage is now "better than average" among mall REITs, according to Green Street's Busch.
"We like the way Macerich management has pruned the lower tier of their portfolio to focus on their higher-end centers, which have more upside and will lead to better potential average rents and higher [net operating income] growth for the remaining portfolio," says T. Ritson Ferguson, CEO and co-CIO of CBRE Clarion Securities. "They have also done an excellent job managing the process to minimize earnings dilution associated with asset sales and to improve the balance sheet by reducing leverage ratios, extending the term of their debt and locking in low interest rates."
MACERICH AT A GLANCE:

401 Wilshire Boulevard, Suite 700
Santa Monica, California 90401
Tel: 310-394-6000
Website: www.macerich.com
Management Team:
Arthur M. Coppola, Chairman & CEO
Edward C. Coppola, President
Thomas E. O'Hern, Senior EVP, CFO & Treasurer
Thomas J. Leanse, Senior EVP, CLO & Secretary
Robert Perlmutter, Executive Vice President, Leasing
Randy Brant, Executive Vice President, Real Estate
Eric Salo, Executive Vice President
TRANSPARENCY BUILDS CREDIBILITY
Investors have grown more keen on Macerich in part because the company has dramatically improved its financial transparency since the beginning of last year.
"Their disclosure is some of the best…in the mall business primarily due to the fact they give sales productivity by property," says Busch. He notes that Westfield Group, LLC (ASX: WDC) is the only other high-productivity mall operator to include such disclosures.
"Management did some soul searching and (embarked on) a listening tour with investors. From that moment forward, the company has become a lot more transparent," says Alexander Goldfarb, an analyst at Sandler O'Neill + Partners.
Macerich is "a lot more focused on how they tell the Macerich story, allocate capital and what people should expect from the company," he adds.
E-COMMERCE THREAT LOSES STEAM
One of the biggest threats facing the mall industry has been the rise of e-commerce. Some investors and analysts fear that as more shoppers purchase their discretionary goods online, there will be less foot traffic in brick-and-mortar stores.
Coppola largely dismisses the e-commerce threat and says that malls can actually complement Internet retail.
"I think the investment community will finally appreciate that e-commerce is not a threat to well-located regional malls," he says. "We're going to be in a world, in a matter of months, if not weeks, where people can order online from a local store and online from a retailer. And then, within one hour, the retailer can deliver their goods from a store located nearby."
In fact, Macerich has partnered with Simon Property, General Growth Properties and Westfield to offer delivery services for their retailers that have customers who purchase products online (see sidebar on page 26).
"Macerich is good at servicing the local customer," says Goldfarb, adding that the e-commerce threat is overblown.
"Where retail gets hurt is when neighborhoods change and the shopping demographic has either moved away or changed (to such a degree) that the retailer no longer meets" the needs of the trade area, he says. Coppola notes that he's received no signs of panic from their tenants about competition from e-commerce.
"There is not a single retailer that I have talked to or has indicated that they would intend to shrink their brick-and-mortar stores in favor of their dot.com presence," he says. "If we can help (retailers) figure out how to service that last mile, then there is no way that Amazon can compete with them in terms of the efficiency or anything else."