Health care REIT Ventas has grown up under the care of CEO Debra Cafaro.
07/21/2016 | by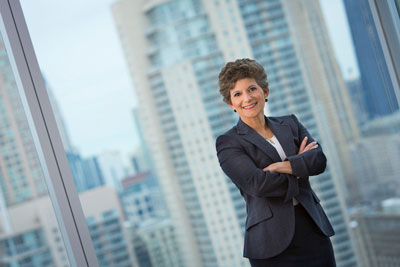 Debra Cafaro took a leap of faith in early 1999 when she signed on to become chief executive officer of a small health care REIT whose largest tenant was in financial distress.
Within months, that tenant filed for bankruptcy, and many believed that it wouldn't be long before Ventas Inc. (NYSE: VTR) followed suit.
A lawyer by training who at the time knew little about health care, Cafaro proved them wrong in a big way. Under her leadership, Ventas defied the odds to become a juggernaut in health care real estate and one of the largest REITs in the U.S.
In less than two decades, its equity market capitalization has swelled to more than $20 billion, up from $200 million in 1999. In 2009, the Chicago-based company was added to the S&P 500 index.
Ventas owns a diverse portfolio of about 1,300 medical office buildings, senior housing communities, specialty and acute-care hospitals, and skilled nursing facilities in the U.S., Canada and the United Kingdom. In July, the company expanded into life sciences real estate with the purchase of a $1.5 billion portfolio of assets from a Blackstone Group LP real estate fund. 
Ventas' funds from operations have risen by 10 percent a year, compounded annually, for the past decade. During that period, the firm increased its dividend by 9 percent a year on a compound annual basis.
Such growth has made Ventas a darling in its sector. On a long-term basis, the company has outperformed the S&P 500 index, posting a total return of 26 percent, compounded annually, since 1999.
The company—which Cafaro calls "a business fairy tale"—has earned a reputation for spotting opportunities early and going after them aggressively. It has also proved adept at detecting risks within the health care market and broader economy.
A Fresh Start
When Cafaro took charge, the company drew on existing credit lines for liquidity and struck an agreement with Vencor Inc.—the source of more than 98 percent of Ventas' revenue—to continue to pay rent while Vencor went through bankruptcy. (Now a leading post-acute care provider, Vencor changed its name to Kindred Healthcare Inc. once it re-emerged.)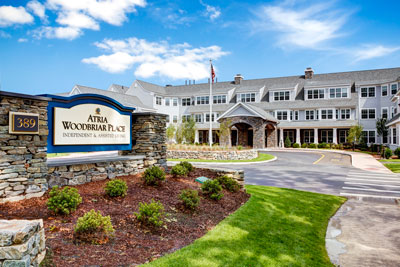 As Cafaro and her newly formed management team worked to put Ventas on solid financial footing, they looked around and liked what they saw in the fragmented, trillion-dollar market for health care real estate. For starters, there was a limited amount of competition among REITs and other big investors for health care real estate. The sector also had demographics on its side. It still does: Each day, an estimated 10,000 baby boomers turn 65 and become eligible for Medicare, according to the Pew Research Center.
All along, Cafaro has been convinced that REITs have a larger role to play in helping health care providers and senior housing companies unlock the value in their real estate holdings through sale-leaseback agreements.
"What I have proselytized for decades is that assets will ultimately flow to their most-efficient owners," says Cafaro, who also serves as chairman of Ventas.
"Over time, that message has really resonated," she adds.
Seeing Red Flags 
In the early 2000s, Ventas set out to gain an early-mover advantage. The company made a spate of deals, mostly in the private-pay senior housing sector. Over time, it acquired a large number of assisted-living and independent-living communities in the U.S. and Canada leased to leading operators, including Brookdale Senior Living.
However, as the decade wore on, Cafaro saw signs of trouble on the economic horizon, namely in the subprime mortgage market. She convinced her management team that Ventas should take its foot off the gas.
The company became "aggressively conservative," according to the CEO, raising equity and refinancing its debt while its stock price remained high. It also minimized acquisitions and pruned its portfolio, selling assets in order to pay down debt.
As a result, Ventas had a solid balance sheet and plenty of cash going into the financial crisis. In fact, the company received an investment-grade credit rating from Standard & Poor's in the midst of the financial crisis.
Throttling Up
As the economy turned a corner, the company "hit the accelerator in terms of external growth," Cafaro says.
In 2010, Ventas became a major player in the medical office buildings market when it acquired privately held Lillibridge Healthcare Services Inc. and interests in 95 medical office buildings and ambulatory facilities. As a wholly owned subsidiary of Ventas, Lillibridge has served as a platform for growth. Ventas now owns 24 million square feet of medical office building space, the largest such portfolio in the country, according to the company.
Stock Synopsis

Ticker: VTR
Equity Market Cap: $23.59 billion
Share Price: $69.12
52-Week High: $70.31
52-Week Low: $46.87
Volume: 2.05 million (three-month avg.)
(*Data as of June 20, 2016)
Last year, the company undertook major deals that "exemplify what Ventas has been able to do over the past 10 years, which is make big, transformative decisions that reflect its view of the trends that impact health care," according to Edward Mui, an equity analyst at Morningstar Inc.
First, the health care REIT orchestrated a complex transaction involving Nashville, 
Tennessee-based Ardent Health Services, one of the 10 largest for-profit hospital companies in the country. Making what it calls a "beachhead investment in the massive hospital space," Ventas acquired Ardent for $1.75 billion and separated its hospital operations from its real estate holdings, folding the latter into its own portfolio. In the end, Ventas added 10 Ardent-run hospitals (with a total of more than 2,000 beds) and related real estate in Texas, Oklahoma and New Mexico.
It also spun Ardent's hospital operations into a separate entity and retained nearly 10 percent of the ownership in the new entity. A majority stake was sold to Sam Zell's Equity Group Investments. Ardent's management team also retained a significant ownership position in the new operating company.
Cafaro expects Ardent and other leading hospital systems to be among the winners in a rapidly consolidating health care market. Hospital systems have been seeking to add heft and scale amid pressures to provide high-quality care more efficiently. They also stand to benefit from expanded health coverage under the Affordable Care Act.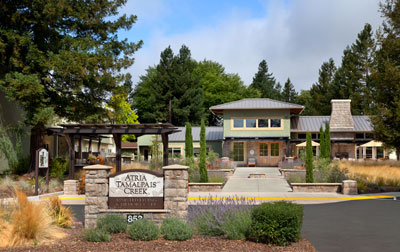 "Health care will continue to evolve," says Cafaro, "and that's why we want to stay ahead of the curve and invest in companies that are likely to be winners over time."
Tilting Further Toward Private Pay
Ventas made another big bet in 2015 when it spun off more than $4 billion in skilled nursing facilities and outpatient recovery centers into a new pure play REIT, Capital Care Properties (NYSE: CCP). The company did so after seeing performance begin to slip in the skilled nursing sector, which now accounts for just 4 percent of its net operating income. Over the last couple years, operators of skilled nursing facilities have seen their profits squeezed as a result of lower occupancy levels and shorter lengths of stay, according to Cafaro.
"The challenges in the sector are really related to overall trends in health care. There is a push underway to make care more cost effective and to treat patients in the most clinically appropriate, lowest-cost settings," she explained.
The spinoff was also the result of a years-long effort by Ventas to skew in favor of so-called private-pay assets—outpatient medical facilities and senior-living communities that largely serve those who pay out of pocket or have private insurance. The skilled nursing sector, which includes post-acute and long-term care facilities, relies heavily on government-funded insurance programs. Thus, it is very sensitive to changes in public policy, commonly known as "stroke of the pen" risk.
Eighty-three percent of Ventas' net operating income (NOI) now comes from private-pay assets, compared to 76 percent prior to the spinoff, according to the company.
"Ventas has done a good job shifting the business to more private pay than in the past and away from Medicare and Medicaid," says Kevin Tyler, an analyst with Green Street Advisors.
Interestingly, skilled nursing has fallen out of favor with many investors since Ventas pulled back from the sector last year. "It is starting to look like Ventas is being somewhat vindicated, considering the weakness that has been reported in the post-acute industry from some of the company's competitors," says Mui of Morningstar.
Senior Housing Outlook 
One area of Ventas' business that bears watching is senior housing. New supply in the segment, according to Green Street, has led to competition among operators over staff, putting pressure on expenses and NOI.
At A Glance

Address: 353 North Clark Street, Suite 3300, Chicago, IL 60654
Phone: 877.4VENTAS
Website: ventasreit.com

Management Team:
Debra A. Cafaro, Chairman and CEO
John D. Cobb, Executive Vice President and CIO
Todd W. Lillibridge, Executive Vice President, Medical Property Operations
President and CEO, Lillibridge Healthcare Services
Robert F. Probst, Executive Vice President and Chief Financial Officer
Yet, Cafaro remains bullish on the outlook for the sector, which accounts for more than half of Ventas' NOI. The company's senior housing portfolio, she notes, is largely concentrated in high-barrier-to-entry coastal markets, including the New York metro area, where development is a difficult proposition.
Noting that the population of Americans age 85 and over is the fastest-growing age cohort in the country, Cafaro adds that the sector is poised to benefit from growing demand starting in 2020. "The wave of demand for health care and senior-living services is gigantic and undeniable," she says.
A Long Runway for Growth 
After 17 years at the helm of Ventas, Cafaro believes the company still has plenty of room for growth. REITs own just 15 percent of the vast health care real estate market, which remains fragmented and ripe for consolidation, noted Cafaro.
"We are in a phase where we are going to see more of the same" from Ventas, she explains. "More growth, more opportunities."
Stock-market sentiment toward health care REITs has cooled a bit during the past year, However, Cafaro believes the company is poised to attract a fresh wave of capital that will help fund its growth, including a greater level of interest among generalist investors when the S&P Dow Jones Indices transitions real estate into a stand-alone sector under its Global Industry Classification Standard, known as GICS.
She aims to rely on her ingenuity and deal-making skills to take Ventas to an even higher level in a more closely watched market. 
Sustainability Leader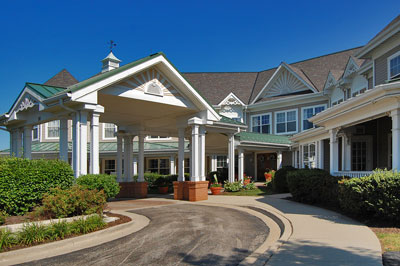 Known for making bold moves in the health care market, Ventas has been no less ambitious when it comes to sustainability. The company has set consumption targets for its portfolio of nearly 1,300 properties in the United States, Canada and the United Kingdom. Within the next 10 years, it aims to reduce electricity and natural gas consumption by 10 percent each, cut water consumption by 5 percent and reduce waste directed to landfills by 4 percent. Each year, it measures its progress against these goals.
"Sustainability is good for the environment, our business and our customers," says Fry, director of asset management at Ventas. "Investing in sustainability is really a sweet spot for us in terms of what we are trying to accomplish with our asset base."
When it comes to reducing energy consumption, Ventas has made lighting upgrades a major priority. The company's medical office buildings and seniors housing portfolios have about 3 million light bulbs each. Incandescent and compact fluorescent lighting at properties within those portfolios are being tossed out in favor of longer-lasting LED technology. The upgrades are expected to be complete within the next few years, resulting in total annual cost savings of about $10 million. Meanwhile, lower levels of electricity consumption also mean less greenhouse gas emissions tied to power-plant production.
Ventas is also focusing on increasing the number of assets in its portfolio certified by the U.S. Environmental Protection Agency's Energy Star program. The designation is awarded to commercial buildings that have an Energy Star score of 75 or higher on a 100-point scale, which means they are in the top 25 percent of similar buildings nationwide in terms of energy performance. Ventas already has nearly 70 certified properties.
LEED (Leadership in Energy and Environmental Design) certification is another area in which Ventas is looking to set itself apart. The LEED rating system devised by the U.S. Green Building Council to evaluate the environmental performance of buildings, is the most widely used green-building measure in the country. Ventas now has 15 LEED-certified properties and some $300 million in development and redevelopment projects that are expected to achieve certification, according to Fry.
The company's accomplishments on the environmental front haven't gone unnoticed. Ventas was named the 2015 Healthcare Sector Global Leader and North American Leader by GRESB, an organization committed to measuring the sustainability performance of real estate portfolios. In 2014, Ventas received NAREIT's Leader in the Light Award for the health care sector in recognition of its sustainability practices. The company is also a member of the FTSE4Good Sustainability Index and the MSCI Global Sustainability Index, widely followed indexes made up of socially responsible firms.