Venerable West Coast industrial player sets up shop in the Lehigh Valley.
07/28/2016 | by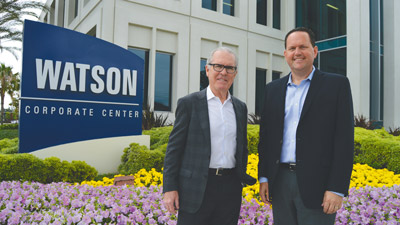 Watson Land Company's roots can be traced back to a land grant more than 200 years ago in what is now California. Its history on the East Coast, however, is just a few months old. 
The private industrial REIT that draws big business from bustling ports in the Los Angeles area recently closed on its first two buildings in the Northeast, marking its first expansion outside of the state. After an exhaustive search, it picked Pennsylvania's Lehigh Valley, a region company executives believe will help the storied company continue its enviable success story. 
Executives say the move was necessary to diversify its portfolio as e-commerce increasingly becomes a global story and companies push to get closer to where consumers live – and receive numerous packages. In this case, the new real estate is within a relatively easy driving distance of 40 percent of the nation's population.
"We're responding to the changing consumer profile. You want to be where the consumers are," says Bruce A. Choate, the chief executive who joined Watson in 1991. 
Watson–which is experienced at managing and developing land, but is relatively new to buying it–is entering a market already discovered by many of the industrial sector's major players. While the Carson, California-based company may not be as well known as some industrial powerhouses, its performance is equally impressive. It has been helped by the sector's transformation from old-fashioned warehouse space to logistical specialists.
"They're a mid-sized company with a big profile," says Steve Bellitti, a senior executive vice president with Colliers International who has worked with Watson for a quarter century. "Watson's reputation is impeccable. They're known as a solid company built on integrity."
Strong Performance
As a private company, Watson maintains a focus that isn't bound by quarterly results. Many of its investors are loyal, long-term holders who have been consistently rewarded, even during the economic crisis that left shareholders of many public companies pained after a period of time. Investors include charities and families who can trace their ownership back to the original grant.
Watson leased nearly 6.1 million square feet in 2015, marking a company record. It boasts a tight 99 percent occupancy rate, showing there's little, if any, available space vacant. That's far superior to the national vacancy rate of 10.6 percent, according to Reis economist Barbara Byrne Denham.
The Advisory and Consulting group of Green Street Advisors, which completes an annual valuation of Watson, calculated that the firm's net asset value grew by $336 million in 2015, while funds from operations climbed by 7.5 percent. Total shareholder return equaled 4.3 percent for the year, compared to an average of 3.3 percent for public industrial REITs and a loss of 1 percent for the S&P 500. 
While the company has no plans to go public, such performance undoubtedly appeals to competitors and large firms, says Eric Frankel, an analyst with Green Street's research team. Watson, however, prefers to be low key.
At A Glance

Address: 22010 Wilmington Ave. Carson, CA 90745
Phone: 310.952.6400
Website: watsonlandcompany.com
Management Team: Robert W. Huston, Chairman
Bruce A. Choate, CEO
Jeffrey Jennison, President
"They don't advertise themselves," he says. "They're not especially flashy."
Watson instead focuses on being a detail-oriented landlord that cares about its space and building lasting relationships with tenants. Watson's tenants generally renew leases, forcing the company to turn down inquiries due to lack of space. According to Bellitti, buildings are built to last with more glass and thicker floor slabs, features that can add about $3 per square foot to the construction cost.
"They don't just plant a tree. They landscape," says Nick Taro, president of Damco Distribution Services, a longtime Watson tenant that leases about 1 million square feet in California. "They have high integrity. If they act and do business the way they do it in Southern California, they will be a great success on the East Coast."
Deep California Roots
The story of Watson's founding is like reading a chapter in a history book. More than two centuries ago, Charles III, then the king of Spain, bequeathed 75,000 acres in what is now southern Los Angeles County to Juan Jose Dominguez. ("You can imagine what our title reports look like," Choate jokes.) The land stayed in that family until 1855, when a female descendant married into the Watson family. Watson Land was first incorporated in 1912 and took its current name in 1927. 
According to Choate, the land's usage is "a reflection of the history of Southern California." There's been natural gas, agriculture and oil production, followed by manufacturing and warehouse uses. In the 1960s, the company developed one of the nation's first master-planned industrial parks with features such as wide streets, building setbacks and monument signs–revolutionary at the time, but now standard across the industry. 
Growth in Baby Steps
Over time, the company began running out of land from the original grant. It could have just maintained its current portfolio, which is constantly being upgraded and modernized, and continued to deliver strong results to its shareholders. Instead, management and the board concluded it made more sense to tap into their proven asset management and development expertise and expand into new markets.
To be sure, the company lacked one crucial skill: Experience buying land. 
The company proved itself in the Inland Empire, where it developed a reputation as a buyer of choice among family landowners who value trust and honesty. Since 2002, Watson has acquired close to 500 acres in the Inland Empire capable of supporting more than 10 million square feet of industrial buildings. Most of the land parcels were never listed on the open market.
While the timing of Watson's expansion into new markets coincided with the housing crisis and financial crash, the company says it didn't feel much pain thanks to a strong balance sheet and its long-term outlook. Last year, it finished the first three buildings in its current development known as Watson Industrial Park Chino, and the 1.42 million square feet was leased before completion. In the next four years, this master-planned park is expected to grow to include 11 buildings with more than 5 million square feet of space.
Go East, Young Man
But Watson's leadership began to realize that its concentration in one market–even a strong one–left it vulnerable to threats such as natural disasters and labor issues. (When West Coast port workers have gone on strike, massive disruption has rippled across the globe.) And, as any developer knows, California's regulatory environment is notoriously difficult.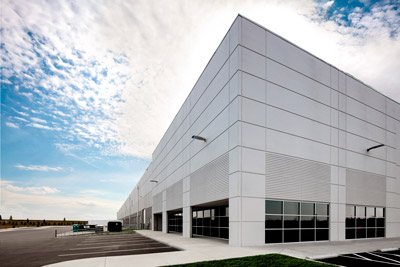 Additionally, the company is serving customers whose operations are not limited to California or the Western U.S.
"Our customers are operating on every continent, and we are negotiating, transacting, and resolving issues on a daily basis with them," says Jeffrey Jennison, who became president in October. "As we began to share our thinking about geographic expansion with our customers, they were enthused." 
The senior management team began exploring the nation's major industrial markets but found them largely built out and expensive to enter. That's why it selected the Lehigh Valley, which has become a hub because of its close proximity to the Port of New York and New Jersey, the East Coast's largest port, according to CBRE Group Inc. Not only is the Lehigh Valley within driving distance of those markets and Boston, strong highway networks make distribution to those markets efficient. It also boasts available land, lower occupancy costs and a strong labor force. 
For its entry, Watson purchased existing buildings that have tenants in place. The first deal was for a newly constructed 435,000-square-foot property being used for the distribution of the popular KIND snack bars. This spring, Watson closed on a 242,000-square-foot building leased for 10 years to BEHR, known for its paint. 
Watson aims to eventually develop its signature product in the area that has seen its square footage soar by 28 percent since the end of the recession, according to CBRE. (Nationwide, inventory has only increased by 4 percent over the same period.)
"There's more demand than there is supply. You can't build it fast enough," says Vincent F. Ranalli, a CBRE senior vice president who works in the region. In addition, "we are seeing a lot of buyers from all over the country who want to buy or develop in the Lehigh Valley market."
Ranalli, who represented the seller in both Watson purchases, has no doubt that Watson will thrive in the Lehigh Valley.
"They're a natural fit for this market," he says. "They're cutting edge and they're willing to put more money into the buildings to have the features their tenants want."