REITs are showing creative ways to incorporate sustainability into daily operations.
07/25/2016 | by
Sustainability has become a firmly established business principle throughout the REIT industry, yet that doesn't mean it is static. Companies are constantly recalibrating what sustainability means and how to pursue it as new environmental issues, regulations and priorities emerge.
REIT magazine has chosen five sustainability projects underway in the REIT industry today that underscore the sector's diversity and creative thinking. Among the projects highlighted are recycling soap, beekeeping and upcycling billboards. If these sound interesting, stay tuned. Chances are, the REIT industry will continue to develop new initiatives in the coming years that expand the boundaries of sustainability.
Hersha Cleans Up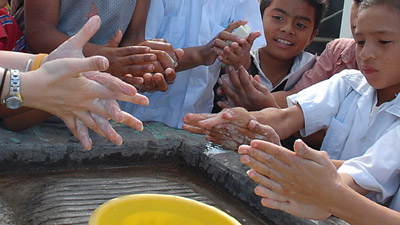 The twin goal of preventing hygiene-related disease in developing countries and keeping left-over soap out of landfills cemented Hersha Hospitality Trust's (NYSE: HT) partnership with the non-profit group Clean the World in 2011.
Two of the top five leading causes of death for children in developing countries are hygiene-related, and simple handwashing with soap can reduce those deaths by as much as 50 percent, according to Bennett Thomas, senior vice president of finance and sustainability at Hersha.
According to Clean the World, more than 2 million bars of partially used hotel soap are thrown away every day across all hotels in the U.S. Instead of throwing the soap away, Hersha housekeepers collect the partially used bars, which are then placed into pre-labeled FedEx bins and shipped to Clean the World facilities. There, the soap is sanitized, packaged and sent to developing countries.
Since the partnership began, Hersha properties have donated enough leftover soap to create 350,000 new bars. 
In 2010, as Hersha was in the process of developing its internal sustainability program, Earthview, it was looking for opportunities in support local and global communities, according to Bennett. "We wanted to help Clean the World gain scale and advance a very innovative and original idea," Bennett said.
Bennett noted that the partnership has been well-received on many levels: "Powerful initiatives like these resonate well with all of our stakeholders, including our customers, our team members and our investors." 
Lamar Cycles Through its Billboards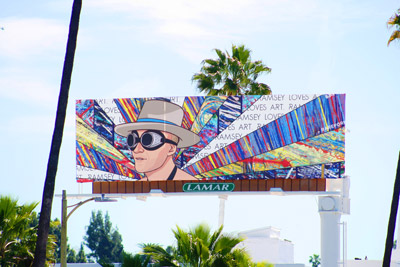 Upcycling, the process of creating new products out of discarded items, has been taken to new heights by Lamar Advertising Co. (NASDAQ: LAMR).
Since 2012, Lamar has partnered with outdoor gear manufacturer RAREFORM, a Los Angeles-based company that repurposes used billboards into backpacks, tote bags, surf bags and other accessories.
Lamar donates approximately 10,000 pounds of used billboard material per month to RAREFORM. The material is carefully cleaned, cut and sorted before it is sewn together into a one-of-a-kind RAREFORM product.
Last year, Lamar and RAREFORM initiated their Art Lives campaign, in which a traditional Lamar billboard is temporarily replaced with an original piece of artwork. The artwork is later donated to RAREFORM. The second installment of the campaign, which ran in Los Angeles earlier this year, featured artwork from local artist Tyler Ramsey. RAREFORM will create 10 surfboard bags and 25 backpacks from the billboard.
"The Lamar/RAREFORM partnership is a beautiful example of how two businesses can work together to create a net zero waste impact on the environment, and we hope that it inspires people to do more," said Allie McAlpin, Lamar communications director.
In addition to donating billboard material to RAREFORM, Lamar extends the life of old billboards by donating them to the community. They have been used as temporary roofs for storm victims and canvases for art projects, among other uses.
Boston Properties Creates a Buzz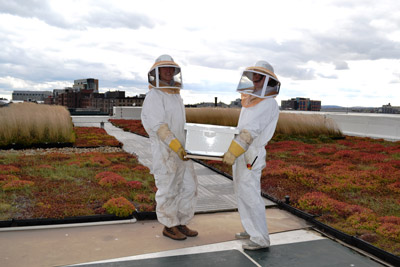 For Boston Properties (NYSE: BXP), maximizing the value of real estate assets goes hand-in-hand with environmental sustainability.
In 2013, Boston Properties began its partnership with Best Bees, a Boston-based beekeeping operation. Since that time, hives have been installed at six Boston Properties rooftop locations, turning areas that were previously underutilized into active honey production zones.
"The commercial rooftop aspires to provide more than shelter and a location for mechanical equipment. We're finding opportunities to transform existing rooftops into outdoor amenities, renewable energy plants, green roofs and urban agricultural sites. Beekeeping aligns with our objective to optimize the performance of our existing assets," said Ben Myers, sustainability manager at Boston Properties.
"We understand the importance of bees to the health of urban ecological systems. By creating new bee habitats, we're contributing to the regeneration of urban ecosystems by pollinating flora and improving air quality," Myers added.
Rooftops provide ideal habitats for bees, which prefer ecologically-diverse open spaces with sunshine and minimal tree cover. Urban bees have a higher winter survival rate. As a result, they produce more honey than their suburban or rural counterparts.
In partnership with Best Bees, Boston Properties is producing more than 100 liquid pounds of honey per year. A restaurant at the company's Atlantic Wharf property utilizes the honey; in other locations, Boston Properties distributes the honey as gifts designed to raise awareness for this important program.
Myers said Boston Properties continues to assess other sites to see where beekeeping might be feasible.
Equity Residential Tenants Zip Around Town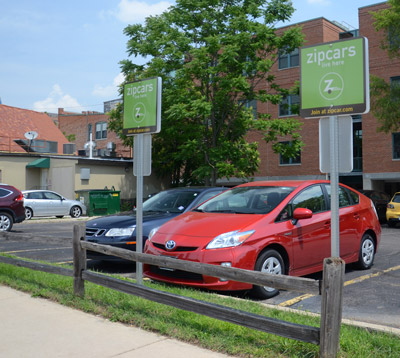 In 2011, Equity Residential (NYSE: EQR) became the first apartment company to partner with car-sharing business Zipcar.
The alliance made sense, according to Louis Schotsky, first vice president of investments and sustainability at Equity Residential, given the company's focus on high-density urban markets.
"A lot of people choose to live in our apartments because they don't have to have a car. Zipcar is a really practical, gap-filling tool for them," he said.
Equity Residential provides on-site car-sharing at 38 properties in its portfolio. In conjunction with Zipcar, the company tweaks the locations and numbers of cars at each property on an ongoing basis to ensure availability and efficient utilization of the cars, Schotsky noted. Boston is Equity Residential's most active market for Zipcar use, with 36 cars at nine properties.
"The nice thing about Zipcar is that for us, the opportunity cost is really a couple of parking spaces," Schotsky said. Zipcar has worked best at properties near, but not at, the high end of the Walk Score scale. (Walk Score, owned by real estate firm Redfin, is an index that assesses the walking distance of a property to amenities.) Residents at properties with a lower Walk Score tend to own cars, while residents of properties with the very highest scores have the least need for a car.
"We constantly calibrate the program to really find the sweet spot, making sure cars are in supply at properties with the most demand," Schotsky said. 
Although alternatives to Zipcar have emerged (think Uber) since the partnership started, Schotsky stressed that there are properties where Zipcar continues to have very consistent and regular usage. In fact, during the past year, Equity Residential tenants reserved almost 250,000 hours with Zipcar. "We're thrilled that the average car gets eight hours of use per day. These cars, which are shared by hundreds of people a year, reduce the carbon footprint of our communities by reducing demand for new cars to be made," Schotsky said.
Simon Saves its Leftovers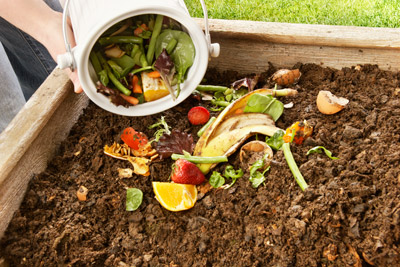 Keeping food waste out of landfills is a sustainability priority for Simon Property Group, Inc. (NYSE: SPG), given that organic waste produces methane, a greenhouse gas with 21 times the global warming potential of carbon dioxide.
Food recycling programs are "fairly widespread" at Simon properties in California and Massachusetts and are in more of a piloting phase in other states, according to Mona Benisi, senior director of sustainability at Simon.
"We are piloting a lot of different approaches to find the right technologies to be able to scale even more," she said. "I do not see food waste as a problem, but more as an opportunity to recycle and be more efficient in our operations of waste handling."
Simon's restaurant and fast food tenants are becoming more focused with regard to reducing their food waste, according to Benisi. At the same time, Simon is investigating a variety of food waste technologies, including digesters, dehydrators and composters, as it decides which process works best for a specific location. "A system that works for one mall may not work for another," she said.
At Simon's The Shops at Mission Viejo in California, leftovers from food prep and guest plates are collected, transported to the local recycling facility and converted into engineered bio slurry. The slurry is then trucked to a county plant, where it is used to create electricity to power the facilities.
In Massachusetts, Simon's Emerald Square and Southshore Plaza centers both have composting programs in place that divert about a ton of food waste weekly, according to Benisi. Massachusetts imposed a ban in 2014 on the disposal of commercial organic wastes by businesses and institutions that dispose of one ton or more of materials per week.
Simon is concentrating on pre-consumer food waste that occurs at the preparation stage. The company plans to expand its efforts to customer food court waste, Benisi said.