Back in 2005, the view from the Assembly Square area of Somerville, Massachusetts, left much to be desired – decaying industrial buildings and brownfields, an obstructed view of the Mystic River, a Massachusetts Bay Transportation Authority (MBTA) Orange Line train that rode directly by but didn't stop.
"To say it was underutilized and forgotten is being kind," says Somerville Mayor Joe Curtatone.
Named for the site's former Ford Motor Company plant that closed in 1958, Assembly Square's 143 acres of land are bordered by Interstate highway 93, Boston's Charlestown neighborhood and the Mystic River.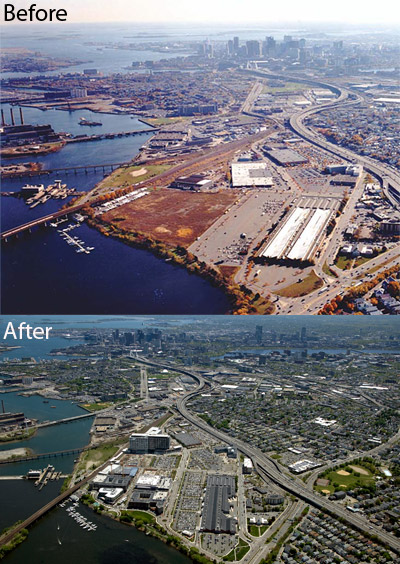 Federal Realty Investment Trust (NYSE: FRT) purchased a portion of the land, it saw untapped potential "that sat three miles outside of the financial district" of downtown Boston, says Don Briggs, executive vice president of development for Federal Realty.
Curtatone, now in his 18th year as a public official, says the area was "one of the few frontiers we have in the city of Somerville," which at only 4.1 square miles is the most-densely populated city in New England. According to the mayor, the community was looking for "transformative development that could bring a local sustainable economy, jobs, and new tax revenues."
Before anything could be built on the site, Federal Realty had to spend $6.3 million for environmental remediation and make significant investment in infrastructure to serve the site. But that and other challenges along the way didn't stop Federal Realty and Somerville from working together to create that transformation through Assembly Row.
Partnership and "Patient Capital"
To unlock the natural and geographic potential Federal Realty saw in 2005 in the Assembly Row land, the company first had to resolve a lawsuit already six years into litigation. In 1999, international home furnishing retailer Ikea purchased the waterfront parcel of Assembly Square and was immediately met with opposition from the Mystic View Task Force, a local advocacy group of citizens who wanted to reclaim community access to the river and favored mixed-use development over bringing in more big-box retailers. 
"Unlike most lawsuits you see around land use, which are usually a response to antigrowth, what you had here was actually the opposite," Briggs explains. "You had a group of citizens who saw Assembly Square as the last great opportunity for the City of Somerville to develop a significant commercial tax base. What they were objecting to wasn't growth, but not enough growth."
The solution: a land swap agreement with Ikea that recaptured the waterfront for the kind of project the community and Federal Realty had in mind. "Fortunately, we had a very strong partnership with the City of Somerville and we were able to overcome all kinds of adversity," Briggs says.
The public-private partnership fostered during the negotiations, coupled with what Briggs calls Federal Realty's "patient capital" approach to investment, would allow the retail REIT to take a setback on its initial return during the great recession of the 2000s and keep the long-term, evolving vision for Assembly Row moving forward.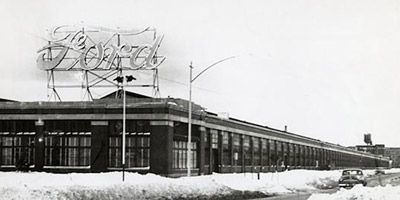 The recession challenged Federal Realty's public financing strategy and slowed the project for more than two years. Additionally, federal funding for the site's proposed T-Stop, a critical component to both fostering community support and building a higher-density development, was lost.
Together with the city and state, Federal Realty coordinated the raising of funds for the Assembly stop on the Orange Line, the first MBTA subway station built since 1987. That included more than $130 million in public funds invested into the entire development's infrastructure.
"I think having mass transit here really unlocks the value of Assembly Square in total," Briggs says. It also attracted the attention of the largest private-sector employer in the state of Massachusetts, Partners HealthCare. Partners' 800,000-square-foot office building will be one the key features of the second phase of development.
In the meantime, Federal Realty continued to arrange the site's moving parts: building Grand Union Boulevard, lining up a partnership with the apartment REIT AvalonBay Communities, Inc. (NYSE: AVB) for residential units and eventually aquiring Ikea's parcel of land in 2012 after Ikea decided not to build.
Project Details

Website: assemblyrow.com
Acquired in 2005; opened in 2014
972,000 square feet of retail space, 2.8 million square feet of office space at completion
Serviced by the MBTA Orange Line, which transports more than 200,000 riders on an average weekday
Estimated 21,000 construction jobs generated by the full buildout
Within two years of the groundbreaking in 2012, Assembly Row was on its way.
"Patient capital, the ability to have a strong partnership with local, federal and state folks, really is what carried the day," Briggs says. 
A New Model for Urban Outlet Retail
In 2014, Somerville welcomed the development and its vision of a "live-work-play" environment. It incorporated a balanced plan for 1,700 residential units, 2.5 million square feet of commercial development, restaurants, office space, a hotel, neighborhood amenities, and entertainment draws such as Legoland Discovery Center Boston and an AMC theater. The site also adjoins the preexisting 21-acre Assembly Square Marketplace, a regionally drawing big-box center.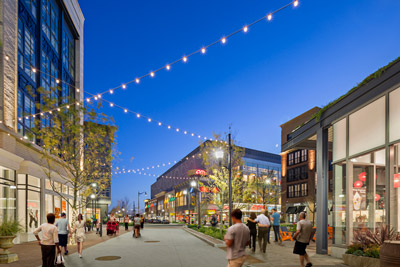 Developing the retail element of Assembly Row required adapting to changing performance models in the wake of the recession and responding to the local market. The idea: outlet shopping, but with an urban twist. Federal Realty proposed a "really well-located super retail site[...] bringing international brands and iconic brands to the site," according to Briggs.
"We weren't bringing an outlet mall into a mixed-use environment. We were going to bring outlet retailers into a neighborhood," he says.
Federal Realty also partnered with local business owners like Chris Damian, chef and owner of Legendary Restaurant Group (LRG), which operates seven restaurants in and around Boston. Damian signed the first two leases at Assembly Row for his restaurants Papagayo and Burger Dive. He credits Federal Realty with providing the infrastructure and guidance for LRG's first ground-up endeavor.
"They had as much faith in us as a partner as we had in them as a developer," Damian says.
As for public response, "the ease and access of the development makes it super efficient for anybody downtown," according to Damian. "It's become a destination."
Papagayo, LRG's Mexican restaurant and tequila bar, just celebrated its second anniversary at Assembly Row; together with Burger Drive they employ 120 individuals.
Incorporating Neighborhood Flavors
Job creation and enhancing the surrounding community are prominent parts of Assembly Row's identity. Federal Realty has partnered with the City of Somerville on local hiring initiatives and designating 56 apartments as affordable housing. Somerville residents currently hold about 25 percent of the 1,700 permanent positions at Assembly Row, not including those among the 4,700 Partners HealthCare employees set to join them during Phase II of development.
"What makes cities great aren't the buildings we build, but the people that live here," Curtatone says.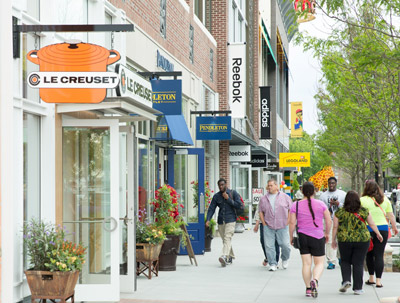 Over the course of the last decade, Somerville has attracted regional and national attention as a top urban destination in New England. It's known for its many walkable squares, quirky festivals, multicultural communities, lively restaurant and bar scenes, and its proximity to Boston and the Kendall Square technology hub in Cambridge.
"Back in 2005, Somerville wasn't what Somerville is today. It's gone through a huge transition," Briggs says. "We saw the trend line of where it was going."
One goal with the project, according to Curtatone, was to tap into the the city's new-found energy. Consequently, Assembly Row incorporates elements of a traditional neighborhood–a playground, pedestrian-infused streets, a dog park, a mini amphitheater overlooking the river, and activities like yoga by the riverfront and festivals that bring in some of the distinct, Somerville community experience.
"Federal Realty understands the importance of this project having a local flavor, of really embodying the values of Somerville," Curtatone says, "so the creativity, the originality, the diversity, the multicultural string is woven into everything you see here."
"If you were to walk around Assembly Row, you would get a sense of the soul of the place," Briggs says. 
For longtime residents like fitness blogger Dani Holmes-Kirk, who grew up in the abutting Ten Hills neighborhood, the revitalization of Assembly Row has brought a breath of fresh air to the neighborhood.
"I would think one of the biggest things that Assembly Row has brought so far is the ability for families and friends to get outside and to get active… It's really bridging the communities together," says Holmes-Kirk, who also leads a monthly running club that meets at Assembly Row.
Phase II and Beyond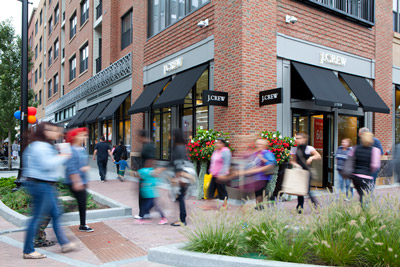 "We still have a lot of growth that's available to us," says Briggs, who foresees expansion at Assembly Row continuing into the next decade.
In addition to bringing in Partners HealthCare, the second phase of development will include an additional 167,000 square feet of retail, 450 apartments, 134 condos and a boutique hotel, along with plans for a grocery store and a third entertainment anchor.
 "I think the future of Assembly Row is intriguing," Holmes-Kirk says. "It's definitely making Somerville more attractive to a lot of different communities. I really want to see what else they can bring in."
"Assembly Row is the model of a partnership between the city, the private sector with Federal Realty Investment Trust, the community at large, and the state and federal government," Curtatone says. "The future for Somerville is strong. Without this project, our future would be in doubt. So we have a lot to thank Federal Realty and the community for."