REITs with robust sustainability programs incorporate social issues and good governance.
07/26/2017 | by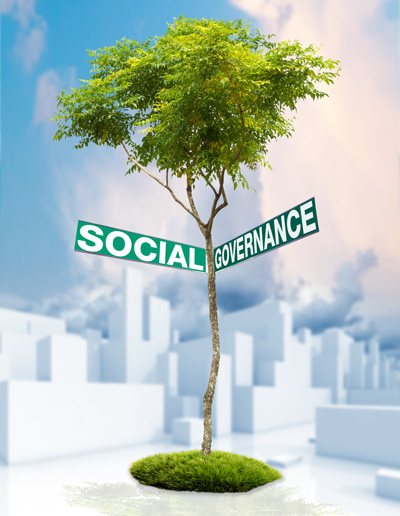 When it comes to sustainability, REITs have made significant strides over the years in terms of environmental practices. They're reducing energy and water use, lowering carbon footprints and improving waste management.
Yet, the idea of sustainability has come to encompass more than just environmental impact. More companies—and the stakeholders that monitor them—are broadening their definition of sustainability to include environmental, social and governance  factors, commonly referred to as ESG.
REITs certainly have had programs aimed at the social component, such as philanthropy, community involvement and health of employees. They've also continued to enhance their already strong governance practices over the years. Now, they are looking at how to systematize these components under the greater framework of corporate responsibility and how it aligns with a REIT's overall strategy.
The refined approach makes business sense, since good social and governance policies have a material effect on the business in the long run. "It's a matter of looking through the lens of triple-bottom line reporting and the fact that today for public companies, it's not just the financials that are important for the business to be considered run well," says Mark Delisi, senior director of corporate responsibility for AvalonBay Communities Inc. (NYSE: AVB). "Taking into account the 'S' and 'G' is table stakes for companies that are operating in the 21st century."
Getting Engaged
The major reporting frameworks for sustainability now ask for information in the social and governance areas. The Global Reporting Initiative (GRI) and GRESB have increasingly integrated social and governance issues into their questionnaires over the years. GRI's 2016 standards had 19 social categories, including areas such as employment, labor/management relations, training and education, diversity and equal opportunity, and local communities. GRESB, which is geared toward real estate companies, includes a stakeholder engagement section. Last year, it introduced a separate module for reporting on health and well-being for employees and products and services. The GRESB survey also has questions on governance practices.
The increasing focus on social and governance in part comes from investors, who are looking for a more holistic approach by companies. It's more than just spreadsheets that predict a certain return for a company, says Dan Winters, head of the Americas for GRESB.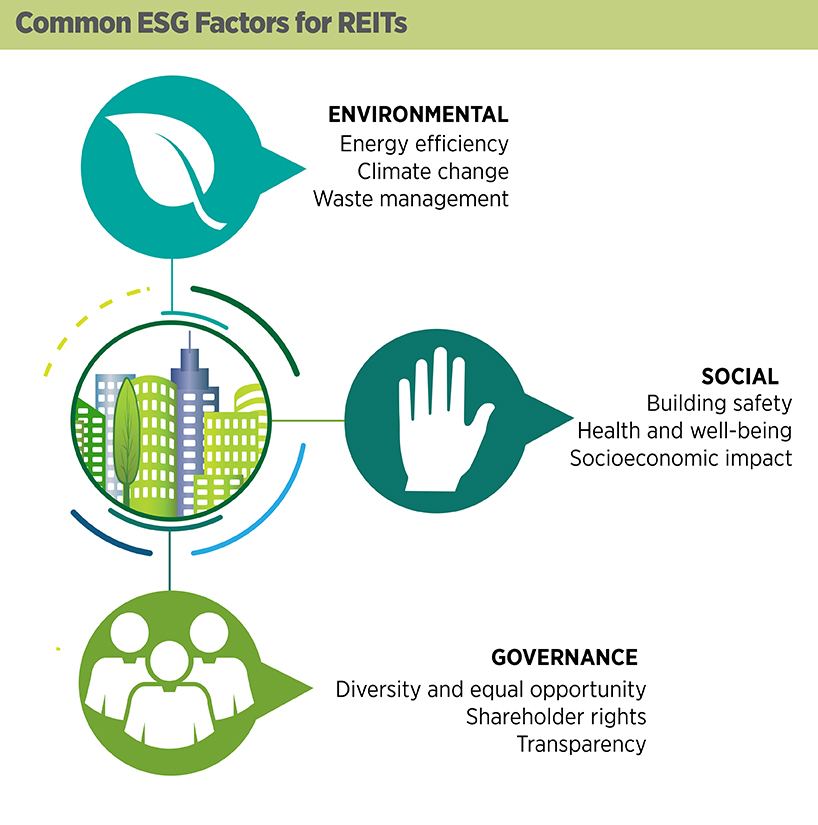 "Investing is an art not a science," he says. "You have to manage a series of often unknown and complex business risks in order to get to a long-term return projection."
Good social and governance policies will translate into better returns overall, experts say. It all starts with engaging stakeholders. Surveys of various constituents, such as investors, tenants, employees, vendors and communities, show what issues are important to them and how they see them impacting a business.
REITs are increasingly providing information on stakeholder engagement in their sustainability reports in the form of "materiality matrices," four-quadrant grids that highlight the areas that are both important and have a high impact on business. For Boston Properties Inc. (NYSE: BXP), social issues of high impact and importance include public transportation, employee health, community involvement and employee training. Similarly, access to transit and amenities, local communities ranked high in the 2016 sustainability report for Kilroy Realty Corp. (NYSE: KRC), along with governance issues such as anti-corruption, transparency, environmental grievance mechanisms and environmental compliance. 
Health and Wellness
While it's difficult to measure the effects of social initiatives, it's clear they can have a positive effect on worker productivity and, by extension, profits. One area is health and well-being.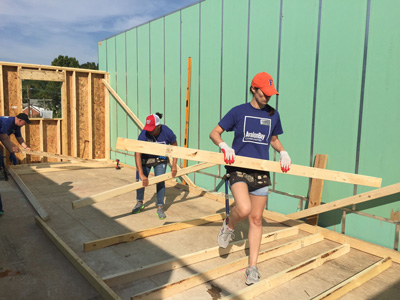 Certifications based on building "health" are gaining ground with some REITs. One of them, Fitwel, was developed in part by the U.S. Centers for Disease Control and Prevention (CDC) and the General Services Administration (GSA). It evaluates features of buildings such as access to fitness facilities, proximity to public transit, design of outdoor spaces, indoor air quality and healthy food options. Alexandria Real Estate Equities, Inc. (NYSE: ARE) and Kilroy are examples of REITs receiving certifications for some of their buildings.
"There is a lot that owners can do to improve health and well-being at their properties," says Daniele Horton, founder and president of Verdani Partners, a sustainability consulting firm that advises real estate owners.
One of the properties under development for Kilroy, a mixed-use project in San Francisco, will include features focused on health and productivity, such as open stairwells, low-emitting construction materials and enhanced filtration to maintain indoor air quality. The site, 100 Hooper, will also encourage bike transport, with showers and lockers.
These things translate to the bottom line and are more material than quantifiable energy savings, notes Sara Neff, senior vice president of sustainability at Kilroy. "The gains from productivity of your employees can dwarf your utility bill," she says. "It is the thing that tenants should be asking about, and the more sophisticated tenants are."
In fact, air quality for employees has become an important consideration for tenants. Boston Properties' 888 Boylston Street in Boston—a 17-story, 425,000-square-foot office building—has an HVAC system that provides 30 percent more fresh air and 50 percent more air changes per hour than a typical office building, without compromising energy performance.
"There is clear empirical evidence linking fresh air and daylight access with improved health and productivity," says Ben Myers, sustainability manager at Boston Properties. "We are focused on providing indoor environments that maximize the potential of our customers."  
By demonstrating leadership on ESG issues, Myers says Boston Properties is able to strengthen its relationship with the communities it serves. 
"As an owner and developer, it is useful during the permitting and approval process to have an established record of delivering sustainable projects that mutually benefit our shareholders, customers, and local community stakeholders," he says.
"By being perceived in the marketplace as a green company, a sustainable company, it helps us as we approach municipal officials, through permitting and entitlement," Myers adds. 
Aligning Social Goals to Company's Mission
REITs are also starting to focus their giving by partnering with non-profits that make sense with their lines of business. These types of social initiatives come with a sense of "shared value," Delisi explains.
"If every REIT looks in the mirror, they will see components of the 'S' and 'G' already in place," he says. "The difference now is partly the intentionality and strategy behind it and how the 'S' has moved away from check writing to real shared value."
For AvalonBay, this has meant concentrating in recent years on corporate giving for disaster preparedness, affordable housing and support for the disadvantaged.
However, the apartment REIT is taking steps beyond cash outlays. For example, AvalonBay gives to the Arlington Partnership for Affordable Housing, but it is also assisting the organization in the construction of libraries in some of its buildings, lending design expertise and helping out with book drives.
"We are getting involved with a lot of these organizations pretty deeply in terms of helping them not just with pure volunteers, but also with some of their business challenges," Delisi says. "We can bring to bear some of our development expertise, operations expertise and our design expertise to help them solve these challenges."
"We can find a way to do social investment, philanthropy, community investment and volunteerism, but have it also strategically mapped back to what is good for the company," Delisi adds. "It is not a mutually exclusive proposition. Companies can and should be social investors while still making a profit."
Good Governance Needed for Sustainable Success
While the social component of sustainability is gaining momentum with REITs, it wouldn't amount to much without good governance.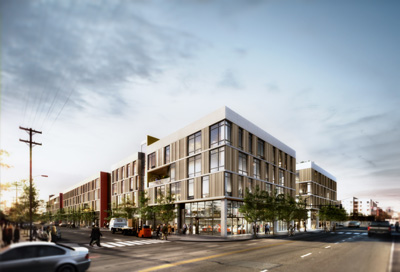 There are the general corporate governance issues: executive compensation, shareholder rights, diversity and equal opportunity, bribery and corruption, and worker rights. (These are all now part of GRESB's annual survey.) More specifically, REITs are starting to fold in governance issues with respect to sustainability in order for the "E" and the "S" to get done.
Governance with respect to sustainability can include setting the tone at the top of a firm with the chief executive, instituting a sustainability committee, and regularly reviewing the program with a company's board of directors.
Diversity is another emerging area with respect to governance. Kimco Realty Corp. (NYSE: KIM), for example, has instituted an internal talent incubator dubbed "Leaders Advancing Business Strategies." It groups teams with members across the organization. Women's representation in the program in 2016 was in the high 30s in terms of percentage; this year their share is in the high 40s. The company also recently launched a training program exclusively for 40 female employees.
While it's difficult to measure the qualitative nature of these types of programs, they do translate to the bottom line, notes Will Teichman, senior director of strategic operations at Kimco. Not all companies actively pursue them, though.
"In some cases, folks today are missing the real quantitative benefits that can come from things like employee engagement and employee retention," he says. "Every time you lose a new employee and have to go backfill that position and train the new person, there are real dollars and cents associated with that."
"If your tenants are diverse, your company leadership should also reflect that," adds Horton of Verdani Partners. "Research shows that companies that have better gender diversity and leadership have been doing better financially because they are able to better understand their different consumer groups and preferences."
Other governance measures are in their infancy for REITs. One that has gained some traction includes resiliency planning, such as preparing properties for floods and other disasters. For example, in a building under development by Boston Properties at the Brooklyn Naval Yard in New York, all critical equipment will rest 32 feet above grade. Onsite generators will provide 1,500 kilowatts of emergency power for building and tenant use.
Looking ahead, the REITs that view the "E," the "S" and the "G" as intertwined say that approach will only help with the investors they court.
"Investors understand a robust sustainability program is an indicator of good governance," Myers says. "They are still trying to figure out how to evaluate and incorporate sustainability into their models. They are not adjusting their positions distinctly because of a company's sustainability program, but they may look favorably on your company because of governance."  
Creating Dividends Through Diversity
Diane Morefield, CFO of CyrusOne (NASDAQ: CONE), sees a direct correlation between real estate companies that embrace women in leadership roles and enhanced shareholder value.
Companies that fail to recognize the essential role women play in helping to shape a broad swath of real estate-related decisions are "really missing out," she says. Morefield says she has enjoyed a rewarding career in real estate, but she still sees the number of women in leadership roles within the industry as much too low.
"I haven't seen the needle move," she says.
NAREIT hopes its new Dividends Through Diversity Initiative, which launched earlier this year and held its kick-off reception at at REITWeek 2017, will take steps to change that. Morefield is chairing the initiative's steering committee.
Bonnie Gottlieb, NAREIT's senior vice president for industry and member affairs, says the stated goal of the initiative is to promote the recruitment, inclusion and advancement of women in REITs and the broader commercial real estate industry.
To that end, the Dividends Through Diversity Initiative will foster information sharing, education and career development, mentoring and networking events, among other things.
Two half-day meetings are expected to be held in the next 12 months featuring NAREIT members and nationally known speakers on diversity-related issues and career development. In addition, the initiative will select new associates at REITs or other NAREIT member companies who exemplify outstanding leadership qualities, to attend one of two half-day meetings.
"I really hope now that in the next five to 10 years, we see the needle move, that we start seeing more women in C-level roles and on boards across the REIT industry and the related companies that serve our industry," Morefield says.
Dividends Through Diversity Initiative Steering Committee
Diane Morefield, CyrusOne; Angela Aman, Brixmor Property Group Inc; Kelly Cheng, Barclays; William Ferguson, Ferguson Partners Ltd.; Mary Hogan-Preusse, Sturgis Partners LLC; Lisa Kaufman, LaSalle Investment Management; Sheila McGrath, Evercore ISI; Marguerite Nader, Equity Lifestyle Properties, Inc.; Sherry Rexroad, BlackRock; Martin Stein, Jr., Regency Centers Corp.; Tracy Ward, Prologis, Inc.