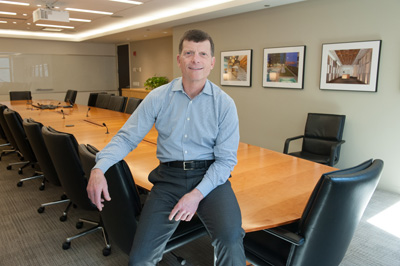 David Neithercut, CEO of Equity Residential (NYSE: EQR), says the company's mission of providing residents a "great place to live" in the country's most interesting and dynamic cities creates a sense of excitement that can be felt throughout the entire organization.
"From the top of the house to the bottom, we all understand that goal, and we all love what we do," Neithercut says. 
Neithercut joined Equity Residential Founder and Chairman Sam Zell's Equity Group Investments in 1990 and later became CFO of Equity Residential shortly after it went public in 1993. He was named Equity Residential's president and CEO in 2006. Within eight years of its initial public offering, Equity Residential became the first apartment REIT to be listed in the S&P 500. The company has also been recognized numerous times by Fortune magazine as one of the world's most admired companies in the real estate sector under Neithercut's watch, and he has been recognized several times in Institutional Investor magazine's surveys as one of the best REIT CEOs.
Neithercut also presided over Equity Residential's most significant acquisition to date following a multi-year pursuit and the receipt of a $150 million break-up fee – the $9 billion purchase of 60 percent of the Archstone apartment portfolio from Lehman Brothers Holdings Inc. in 2013. The deal allowed the company to significantly accelerate its long-term strategic goal of focusing on high-density, urban assets.
Neithercut, a former NAREIT chair, recently spoke with REIT magazine about some of the factors behind Equity Residential's achievements, the current outlook for the multifamily industry and the importance of having passion for your work.
REIT: What characteristics do you value most in the management team you have established at Equity Residential?
DAVID NEITHERCUT:  I strongly believe that we all share a sense of a common purpose. At the executive committee level, I know that we are very much aligned on everything. Our compensation program is one that has shared goals. No individual does well unless everyone else does well, so I really think that's very important.
Up Close

Age: 61
Education: BA, St. Lawrence University; MBA, Columbia University
Family: Wife of 35 years, Suzu; Daughter, Emiko, 31; Son, Ben, 30
Hobbies: Skiing, cycling and sailing
Favorite vacation spot: Northern Michigan
Favorite film: "The Godfather"
Recently read: "The River of Doubt: Theodore Roosevelt's Darkest Journey"
Professional/community activities: Board of LINK Unlimited Scholars; Board of Lurie Children's Hospital; Advisory Board of the Joint Center of Housing Studies at Harvard University; past NAREIT Chair; and the MBA Real Estate Program at Columbia University
The culture of the company runs really deep. It started with the culture Sam Zell instilled in Equity Group Investments and 24 years later we still really embrace it. You either live it or you decide to work somewhere else. It's not uncommon for people who leave here to come back because they didn't appreciate how important culture is to an organization. 
REIT: What is your proudest achievement during your 11-year tenure as CEO?
NEITHERCUT:  Looking back, I think that the single most important thing we've achieved as an organization is the total transformation of our portfolio from one that used to exist in 50 markets and substantially comprised suburban, garden apartments to one now that is focused on high-density, coastal urban and highly walkable close-in suburban markets. That's been a big change.
Our portfolio today has the highest walk scores in the public (apartment) space. As we continue to think about the jobs our economy is going to create going forward and where those jobs will be located, and as we think about the continued re-urbanization of the country, we are really excited about the repositioning we've done and where we are located today and for the future.
REIT:  EQR has been actively disposing of non-core assets. What impact has the sale of close to $7 billion in properties in 2016 had on the company?
NEITHERCUT:  It was really the grand finale that was needed to exit what we recognized were not going to be our long-term markets and to finally have our portfolio 100 percent in these coastal gateway markets. It wasn't easy to part with that much capital but it was the right thing to do for our shareholders and the timing was close to perfect.
REIT: The past decade has been a particularly strong one for the multifamily sector by almost any measure of fundamentals. Is it now heading into a more sustainable, long-term level of growth?
NEITHERCUT:  We clearly had a terrific run coming out of the great recession. The economy was improving, we had incredibly favorable demographics and very little new supply had been built. We had a three or four year run that was about as good as any of us had ever seen in the multifamily space.
Today, while the demand characteristics remain very strong, we do have more supply in these markets so things have softened a little bit. We think that supply is going to peak this year and will begin to moderate in 2018 and beyond.
That said, we think we'll continue to have a very favorable run ahead of us. The demographic picture remains strong. Within the millennial generation, the single largest age group of that segment is only 25 or 26 years old. The median age of our resident today is 34. We see this segment of the population continuing to be interested in living in high-density cities, attracted to the jobs that are being created by our knowledge-based economy. We see them marrying and having children later in life and really embracing the flexibility and optionality that rental housing provides in these great cities.
We've taken a little bit of a pause this year as a result of the new supply. We've seen a moderation in our revenue growth, and while I'm not suggesting we'll get back to where we were in 2012 or 2013, I see no reason why we won't very soon get back to revenue growth levels that are above long-term historical trends.
REIT: You have said that the focus in 2017 is on retaining residents. What steps is EQR taking to achieve that and how are the results looking so far?
NEITHERCUT: It's really about service, service and service—making sure we've satisfied our existing residents. Most of our employees work on-site, taking care of our residents and so it's really a top-to-bottom focus. It's about providing remarkable service to get them to renew with us when their leases expire and hopefully extend their stay with us and say good things about us to their family and friends and to encourage more people to live with us.
We're also spending some more capital this year on customer-facing projects like lobbies, health clubs and common areas to make our properties competitive in this more challenging market. We're very pleased that our retention rate has improved this year, at least through the first quarter compared to a year ago. It seems like everything we're doing is working.
REIT: How hard is it to distinguish between short-lived fads in the multifamily business and trends that have actual sticking power?
NEITHERCUT: When you are investing massive amounts of capital and building these assets, one has to be very cautious about short-term trends. We're building long-lived assets, and we need to be more focused on long-lived trends. One reason we like the high-density urban market is that we think that those markets will be in great demand for a long time.
Short-term fads can be very value destructive. People are doing a lot of purpose-built housing today, which is something we've stayed away from. You hear about WeWork and now WeLive and those are fads where we have no idea how long they may last. We are really focused on these highly-walkable locations in gateway cities that we believe are going to attract any demographic. While we have a lot of millennials, 20 percent of our units are occupied by those 50 and older.
There's no asset we own that is specifically targeting one demographic or another. We buy well-located properties that will appeal to every demographic in the spectrum interested in living in a high-density, walkable environment.
REIT: One trend that seems to have staying power is a shift to smaller apartments and more communal living. How has that played a role for your company?
NEITHERCUT: Indeed, we have units that are as small as 225 square feet. Residents don't actually live in those units. When they are not at work, which for many is 12 to 15 hours a day, they're in the coffee shops, bars, restaurants, health clubs and parks. They sleep in these units, store their belongings there, but they live in the city, on the rooftop, in the media room. It was a real awakening when I showed these units to my board and they realized that their idea of living in a unit is much different than that of a young, single person enjoying the big city.
The smaller units are a function of the high cost of housing in these markets. It doesn't make any sense to build a huge unit because it costs the same amount per square foot and would require rent that most people are unwilling to pay. It's an economic reality of life in the big city. 
REIT: Equity Residential has been singled out for its sustainability achievements by GRESB and NAREIT. Where do sustainability and corporate responsibility fit within the overall strategy of the company?
NEITHERCUT: Sustainability, corporate social responsibility, diversity and our employee's total well-being—their personal, financial, career, social and community well-being—are all part of our core values. Adherence to these values is one of the shared goals of our senior management team. As to sustainability, we're really focused on a people, planet, profits approach and that has served us well.
There was a time when putting LED lights in a property didn't make sense because of the cost. When those lights came down in price and it made economic sense, we hit it really hard.  Today, we've got solar panels on most of our properties that have swimming pools to help heat them. For some time, we've used co-generation systems at several assets in Manhattan in order to decrease our use of grid power. We're also very conscious about water conservation and have numerous programs that have produced incredible reductions in our water usage. We're very pleased that all those efforts have been recognized as that of a global leader in sustainability.
REIT: As an advisor to the Columbia Business School MBA real estate program, what traits do you think are important for the next generation of leaders?
NEITHERCUT:  Putting aside real estate, you need a passion for whatever you want to do. I think you have to be curious, you have to have a desire to always be learning—that's a very important trait. Today, you've also got to be agile. You need to be comfortable with change; you need to embrace it and can't be afraid of it. If you are, I don't think you're going to go terribly far.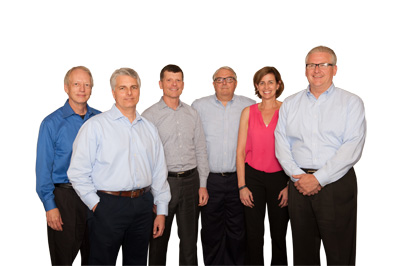 You also need to be able to work with diverse teams in a highly collaborative environment. If you've got passion and you're curious and you're agile and you've got an ability to work with teams, I think you can be successful in whatever it is you want to do. 
Neithercut emphasizes the importance of corporate culture, and believes it is important that his executive team shares a common purpose. Pictured left to right: Bruce Strohm, EVP, general counsel and corporate secretary; Mark Parrell, EVP and CFO; Neithercut; Alan George, EVP and CIO; Christa Sorenson, EVP of human resources; and David Santee, EVP and COO.