From environmentally friendly leases to better bulbs, REITs develop best practices and invest in new technologies to take their sustainability initiatives to new heights.
07/25/2017 | by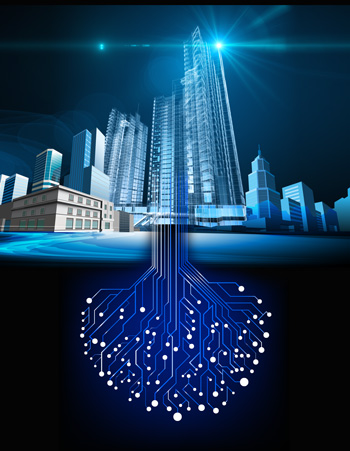 Will Teichman led the formation of the sustainability program at shopping center REIT Kimco Realty Corp. (NYSE: KIM), and he says his experience has proved to him that "sustainability is here to stay."
"It's becoming institutionalized in the business, and that's a great thing," says Teichman, a senior director of strategic operations with Kimco Realty.
However, as sustainability planning has become embedded in the day-to-day operations of REITs, companies have moved beyond the implementation stages and are looking for new and better processes and technologies. 
While returns on investment from such efforts are still being researched and quantified, stakeholders from the executive suite to tenants agree that being proactive is worthwhile.
"Our environmental challenges are becoming clear as they unfold," says Michael Mendelsohn, senior director of project finance and capital markets at the Solar Energy Industries Association, which is developing outreach materials for commercial real estate operators interested in solar power that should be completed later this year. "A lot of it is very real and very present. People and businesses want to do something now if they can and be part of the solution, rather than just ignoring it."
Here are four examples of ways that REITs are trying to take their sustainability efforts to the next level.
Green Lease Lessons
A green lease sets the parameters for tenants' use of resources. These align landlords and tenants so that they both benefit from eco-friendly measures and are now being used by many REITs.
"Green leasing falls squarely in the realm of what's next for leading landlords and tenants," Teichman says.
8,500 occupied tenant spaces in Kimco's portfolio
Consider water usage. Previously, costs associated with shared water lines would be divvied up based on square footage. A heavy water user such as a restaurant would benefit, while a shoe retailer that used less water might end up paying more than its share. Such a system provides little capacity for tenants to monitor usage – and can even stir resentment from those who feel they're paying for something they do not use. Simply, tenants see little incentive to conserve. 
Kimco Realty opted for individual metering for tenant water usage. The shopping center REIT has found that the upfront cost investment actually pays back over the long term via reduced consumption and outstanding receivables. Now, the majority of existing and new tenants have been individually metered, drastically reducing payment disputes and helping tenants to use this natural resource more wisely.
Many green leases implement a green standard for construction work. At Kimco Realty, the base version specifies low- and no-cost material and process improvements, such as paints with low levels of volatile organic compounds. A premium version costs more for additional energy efficiency improvements, which are designed to pay back in reduced energy bills during a typical five-year lease term, according to Teichman. 
Green leases don't require a dramatic revamp of the existing form. The key, Teichman says, is targeting incremental improvements. Most commercial leases already contain language that can be tweaked to encourage sustainability. "Look at key sections – such as utilities, common-area maintenance and construction-work exhibits – and try to identify ways in which you can incrementally improve upon form language," he advises. 
Solar Power Push
Energy bills take a big bite out of everyone's monthly budget. While cost-conscious home owners can turn out the lights, mall owners know retailers and shoppers need bright spaces.
Enter solar power. Although solar technologies require an upfront investment, mall operators, which have plenty of available rooftop space, can use them to protect against utility-price spikes. 
31 megawatts of capacity generated by GGP across 31 properties
In late 2012, GGP Inc. (NYSE: GGP) invested in solar power for four properties in New Jersey and its Ala Moana Center in Hawaii, one of the world's largest outdoor shopping centers. The instillations power the supersized mall's common areas and fuel about 11 percent of the Ala Moana's total electricity demand, says Brian Montague, senior vice president, energy and sustainability at GGP.
The solar power installations provided greater cost savings than expected, so GGP kept going: By the end of 2016, the company had roughly 31 megawatts of capacity installed across 31 properties.
Investors have benefitted as utility expenses declined, according to Montague, adding that the energy conservation efforts and associated reduction in expense are accretive to net operating income and funds from operations. Such investments have yielded "double-digit returns to our investors, while at the same time upgrading the infrastructure of our centers," he says.
That's why GGP says its solar push will continue. This year, the Chicago-based company is on track to add an additional 25 megawatts, with 15 more megawatts anticipated in 2018. That could place GGP within the top five or six producers of solar power among facility owners. 
For anyone looking to pursue the idea, Montague says it is vital to truly understand the impact of the load generating via solar power.
"Each respective utility may value and integrate your generation into your utility billings differently," he pointed out. "Understand your current tariff as well as other optional tariffs to determine the rate structure that allows you to maximize the value of your generation."
Fuel Cell Savings
Solar power isn't the only renewable source REITs turn to keep the lights on and avoid tapping old-fashioned (and overworked) power systems. Fuel cells appeal to real estate companies because they produce clean, reliable energy with reduced carbon emissions.
$2.4M Amount of savings Macerich Generates Annually by using fuel cells
Retail REIT Macerich, Inc. (NYSE: MAC) is working toward the ambitious "Innovating to Zero" milestone with an objective of generating no energy waste emissions, water waste or landfill impact, says Jeff Bedell, the company's vice president of sustainability. In 2013, Macerich launched its first fuel cell project in Danbury, Connecticut. It yields 750 kilowatts of power that combine with a bigger solar-power system to provide nearly half of a single mall's power. Pleased with the results, Macerich is finishing an initial implementation phase that includes five properties in California, New York and New Jersey. The fuel cells will produce a total of more than 3.5 megawatts of electricity to more than double current renewable and clean power production. Estimates show they will save more than $2.4 million in annual energy costs.
The overall project is expected to be completed in August, according to Bedell. He adds that another phase that could total five additional megawatts of production is being explored. 
Since 2008, energy-efficiency improvements have saved Macerich 225 million kilowatt hours in electricity usage and more than $30 million in operational costs. To be sure, this isn't an easy move. Companies should start with the economics and financing structures that will work, suggests Bedell, noting: "These are large capital costs, and when you consider the complexity of taking advantage of potential federal tax credits and local incentives, along with modeling the operating costs and savings, this needs some strong financial expertise behind it."
Sweating Smaller Stuff
When it comes to sustainability, a combination of measures can yield huge results. Plenty of REITs are finding success just by looking inside their boxes for areas to improve. 
That's how Ventas (NYSE: VTR), which owns nearly 1,300 senior housing and health care properties across the United States, Canada and the United Kingdom, is reducing its carbon footprint and enhancing efficiencies, says Kelly Meissner, the health care REIT's director of sustainability.
35% amount energy efficient bulbs will reduce usage
The Chicago-based company has prioritized lighting retrofits, swapping out thousands of lights with more efficient bulbs that can reduce electricity usage by 35 percent to 80 percent. Ventas has completed efficient lighting retrofits at more than 150 properties, and the health care REIT expects to complete dozens more in 2017 that will primarily be LEDs. 
Ventas says it is also taking a systematic approach to identifying energy efficiencies in its medical office building portfolio through its Lillibridge subsidiary, which conducts retrocommissioning studies on a portion of its portfolio every year. These studies evaluate the building's mechanical and control systems to identify opportunities to reduce energy consumption and produce long-term operational efficiencies to lower costs. In 2016, Ventas spent $3 million at more than 40 facilities based on study results. Improvements included controls upgrades, the addition of building-automation systems and HVAC equipment upgrades.
Ventas expects to spend a similar amount in 2017 at another 40 buildings. It also has about $500 million in active LEED development and redevelopment projects, demonstrating that the sustainability mission applies to the old and new. 
Within the next decade, Ventas is on track to cut energy and greenhouse gas emissions by 10 percent, water usage by 5 percent and waste sent to landfills by 4 percent. Meissner is working to aggregate the REIT's utility data on a centralized platform, providing better visibility into usage. That way, "we can determine the best way to minimize that impact, while also lowering utility costs," she says.