The 2002 Winter Olympics brought global exposure to host Salt Lake City, along with related business development, infrastructure investment and new jobs. Recognizing an opportunity to build on the economic momentum generated from the two-week international showcase, The Church of Jesus Christ of Latter-day Saints (LDS) began looking for opportunities to support revitalization for the long term in Salt Lake City's downtown, home of the church's global headquarters.
Leadership targeted three blocks of church-owned property in the heart of the city that were occupied by two enclosed malls and surrounding office buildings. The decision in 2003 to plan a mixed-use redevelopment on the site, eventually dubbed City Creek, touched off a 10-year project that was embraced by residents and local officials, according to Mark Gibbons, president of City Creek Reserve, Inc. (CCRI), a real estate arm of the LDS Church.
"It took a great collaboration within the community" to make City Creek a reality, he says.
The retail element of the project, City Creek Center, which neighbors Salt Lake City's historic Temple Square, is a joint venture between CCRI and retail REIT Taubman Centers, Inc. (NYSE: TCO). With more than 700,000 square feet of leasable space, the open-air center has become one of the premier shopping destinations in the western United States.
But as the LDS Church hoped, building the mixed-use property has rewarded more than just its owners and tenants.
Super Bowl Partners
Business and community leaders understood the importance of City Creek's success from the start, says Jason Mathis, executive director of Salt Lake City's Downtown Alliance, which represents more than 2,500 business and property owners in the city's central business district.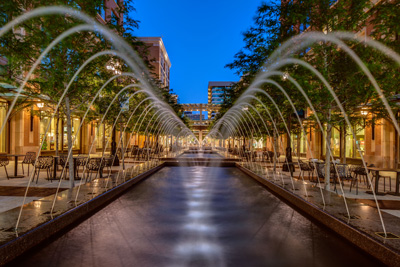 "We wanted what got built [at City Creek] to have an influence on the rest of the city," he says. "We wanted the positive energy from this space to spill out into the rest of downtown."
Gibbons recalls the early days of planning, noting that it became clear CCRI needed a seasoned retail development partner to help make the project a success.
"As we looked at the overall strategy of a mixed-use project, we wanted the Super Bowl team—someone with the strengths that we lacked," he says. "It required that our partner have a way of doing business that was consistent with ours. Secondly, we needed someone who had an extensive development background."
Equally important, notes Gibbons, CCRI was looking for a partner that had deep relationships with department stores and retailers. Taubman fit the bill.
"Taubman has been a great partner for us," Gibbons says.
Taubman Steps Up
Taubman's involvement with City Creek evolved over time. In the beginning, the Michigan-based mall REIT helped consult on the initial design of the retail center. According to Linda Wardell, general manager of City Creek Center, Taubman hoped for a larger role after learning more.
"When we saw the City Creek project, we realized that this was something quite special," she says. "The church had in mind to put something unique in downtown Salt Lake City. By partnering with Taubman, they quickly understood that they needed to build a shopping center for the 21st century."
Soon enough, Taubman was asked to handle retail leasing for the project. Later, the company took on the role of owner and operator of the retail center. City Creek Reserve is the master developer of the site, which includes substantial office and residential properties.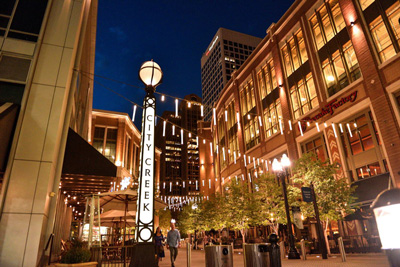 Scott Beck, the president and CEO of Visit Salt Lake, credits Taubman for working with the local community to see that the project was a success. He recalls that representatives of the company took active roles with organizations such as his and became very visible around town.
"When Taubman came to our community, they became part of our community," he says. "We all had a sense of who Taubman was and the caliber at which Taubman does development. They didn't just talk about the community and getting to know the community, they reflected the community."
Rescue from the Recession
Even before the shopping center opened in 2012, the benefits of the project were spreading throughout Salt Lake City. It took approximately 10 years to build the project, much of which took place during the great recession that began in late 2007. Local authorities credit City Creek with helping in part to keep Salt Lake City's economy afloat during the global market upheaval.
"This is one of the largest mixed-use redevelopment projects that was going on in the world at the time," Wardell says. "The heavy part of construction was in 2008, 2009 and 2010. We had about 2,000 [people] in Salt Lake City who probably would have been unemployed during that time were it not for this project."
Taubman and CCRI were "undaunted by the recession," says Beck.
"It insulated [Salt Lake City], on some level, from the enormous economic downturn because we had thousands of jobs related to the construction of City Creek," he explains.
Nearly 2,000 permanent jobs have been created in Salt Lake City in connection with City Creek.
"World-Class Destination"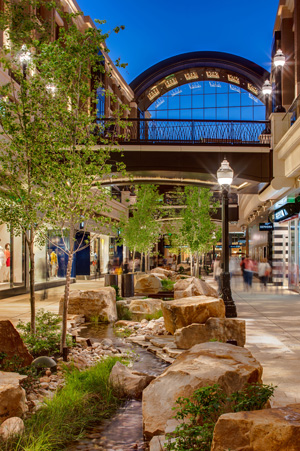 In addition to its direct economic impact, local residents say City Creek is delivering on the original vision that the project would help rejuvenate Salt Lake City's downtown. For example, retail vacancy rates in downtown are approximately 3.5 percent, according to Salt Lake City Economic Development Director Lara Fritts.
Wardell points to other nearby property development as evidence of the project's effect on the community. Approximately 2,500 Goldman Sachs employees show up to work every day at the towering 111 Main office building, which City Creek Reserve opened last year across the street from the retail center.
Next door is the newly constructed George S. and Dolores Dore Eccles Theater. The 2,500-seat performing arts center hosts touring Broadway shows, concerts, plays and more.
"We're so thrilled to see this vitality spread downtown," Wardell says. It's "really helping Salt Lake City become a world-class destination," she adds.
Besides the new businesses that have opened in and around City Creek, Fritts points out that more people are moving downtown. She says property values within a one-mile radius of the shopping center have increased 80 percent since its opening in 2012.
"Five years ago when City Creek opened, I don't think anyone could have expected the impact that it has had," she says. 
City Creek Center's Sustainability:
As a whole, City Creek Center is Silver LEED certified; some aspects of the development are Gold LEED certified. 
Plants around City Creek Center were pulled from Utah's City Creek mountain stream.
Low-flow plumbing.
The mixed-use development features state-of-the-art heating and cooling systems, including a retractable skylight roof. 
Automatic lighting systems.
Bicycle racks are located at all entrances.
Retractable roof allows the center to suspend primary HVAC functions when the weather allows.
80 percent of the steel from the demolition of the buildings previously on the site was reused in rebar and other structural elements of the City Creek Center development.