Commercial real estate giant Inland celebrates a half century.
07/20/2018 | by

Back in 1968—when bell bottoms and the Beatles ruled—four teachers looking to supplement their modest salaries decided to try their hands at real estate. Five years later, they quit teaching to focus full-time on the firm now known as The Inland Real Estate Group of Companies, Inc. 
This year, the Chicago-area based company celebrates its 50th anniversary. With more than 1,000 employees, Inland is now one of the nation's largest commercial real estate and financial groups, having conducted more than $80 billion in transactions and acquired more than $45 billion in real estate. It has represented nearly 500,000 investors by sponsoring more than 700 investment programs. Across its portfolio, Inland has owned and managed several hundred million square feet of diversified commercial real estate in 49 states. The only state missing is Alaska, "but that's not a conscious strategy," Dan Goodwin, one of Inland's four founders and current chairman and CEO, points out. "We like Alaska, we just haven't found the right deal there."
Most real estate companies are relatively simple, specializing in one type of real estate. Sure, they may dabble in something slightly related, but the model is straightforward. Not so with Inland. Over the course of the past five decades, the company has built single-family homes, managed thousands of apartments and syndicated investment products nationwide. It has managed office and retail properties—Inland was once Walmart's largest landlord nationwide—formed a private capital corporation for 1031 exchanges, and formed eight public non-listed REITs (PNLRs) with a total value of more than $35 billion. 
Inland launched its first PNLR in October of 1994. That REIT, a Midwest retail REIT, listed on the New York Stock Exchange a decade later.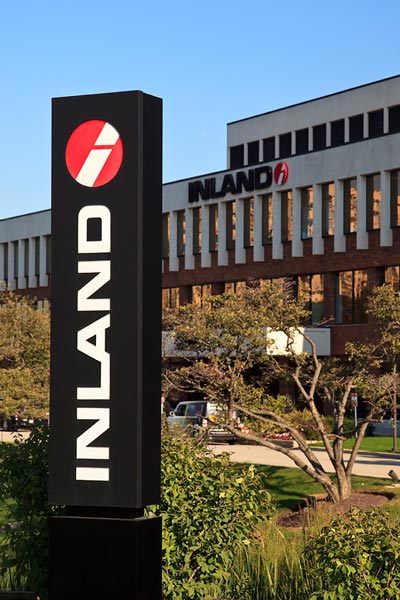 "Generally speaking, higher dividend-paying income properties, regardless of the real estate sector, make for the best PNLRs," Goodwin says, adding that they can weather ups and downs. "Since real estate sector values tend to be cyclical in nature, different real estate sectors do better during different stages of the economy." 
As a result, the industry "has become much more sophisticated and technologically driven," according to Goodwin. "In the early days, most PNLRs were sponsored by real estate developers and commercial real estate property owners. Today, there are more Wall Street firms and investment bankers involved in the industry."
Commitment to Excellence
The company's structure may seem complicated, but its mantra is simple: Inland operates on a commitment to excellence.
"Inland believes in doing business the right way and I think that is what most stands out throughout the company's 50-year history," says Gary Clayton, CEO of the Illinois REALTORS® since 1987. "When you run an organization for as long as I have, you see leaders who clearly stand apart through their commitment to excellence and their ability to make things happen. Inland has been blessed with that type of leadership for 50 years."
Further accolades come from Tony Chereso, president and CEO of the Institute for Portfolio Alternatives (IPA), a Washington, D.C.-based advocacy and education group that works to demystify portfolio-diversifying investments and counts Inland as a member. "Their ethics are legendary," he says. 
Such comments obviously please Goodwin. "To be able to make a profit and take care of your customers and help them meet their goals is extremely gratifying," he says. "There are times when we have left money on the table in transactions because we're thinking of the greater long-term benefits. While no one's record is perfect, I'd say ours stands up to or exceeds anyone else's record."
A Reliable Income Stream
None of the original four founders—Goodwin, Bob Baum, Bob Parks and Joe Cosenza—set out to create a nationally known real estate company. (Baum is now executive vice president, general counsel and vice chairman of The Inland Real Estate Group, LLC. Parks is director of The Inland Real Estate Group, LLC and Inland Real Estate Investment Corp., while Cosenza is vice chairman of The Inland Real Estate Group, LLC and president of Inland Real Estate Acquisitions, LLC.) The four public school teachers needed to supplement their $6,000-a-year salary and sought to create a reliable income stream. Figuring that real estate wasn't a fad, they pooled modest amounts of money together to begin building houses and small apartment buildings. They also opened a real estate brokerage.
Choosing a name proved the trickiest part. Their vision was for a company that was greater than the sum of its parts. Names like Federal and National were considered, but they decided on "Inland" because they were dealing "in land," Goodwin recalls. At the time, Inland Steel, a major company dominating Chicago's South Side, didn't mind that a tiny real estate startup was using a similar name. Goodwin admits the shared moniker might have helped Inland secure business meetings because people may have thought the two were affiliated.  "We have a small chuckle about that from time to time," Goodwin says. 
In 1969 came the first single-family investment home and, two years later, the first multifamily investment property and land deal. A few years later, Inland branched out into larger apartment buildings, then into shopping centers. Within five years, the four founders had quit teaching to focus on Inland full time. To diversify within the business, they opened related businesses including construction, waste removal and a coin-laundry business. After just 12 years in business, the company reached $100 million in raised capital. 
In retrospect, Goodwin thinks it would be harder to build such an operation today. "When we started in the 1960s and 1970s, real estate was one of the easiest ways to be successful. It was relatively simple for even inexperienced individuals to learn the business," he recalls. "That's much more difficult today. The business is now dominated by Wall Street companies run by MBAs."
Milestone Achievements
But the company kept growing, and the milestones kept coming. In 1982, Inland surpassed 20,000 apartments under management in the metro Chicago area, a number that was doubled just three years later. That same year, it began syndicating investment products nationwide with its first public limited partnership. In 1993, its ownership and management had extended into 40 states. The 1990s saw the first REIT and an online presence.
Things were humming along until the financial crisis of 2008 that caused millions of residential foreclosures and depressed commercial property values nationwide.
"From 2008 through the next five years, we were in the toughest down cycle for real estate that I've ever seen," Goodwin explains. "At the beginning of the recession, it was difficult to get commercial financing. The company had loans that were due and it was almost impossible to find lenders. Prices collapsed as much as 40 percent." 
Tenants demanded lower rents—and the answer wasn't automatically no. "You have to be practical," Goodwin says. "If the tenant was renting a space that would be difficult to rent, we probably would give a concession. If it was a hot property on the corner of Main Street and Main Street, then we felt we didn't have to give much of a concession." 
As the economy slowly recovered, the company managed to survive a cycle that forced many peers out of business. Inland actually helped get the real estate economy moving again, when an Inland REIT secured a $600 million CMBS loan ending an 18-month period of no CMBS financing.
Teaching Continues
Goodwin says he's still a teacher at heart. (He still budgets like one—his car is 17 years old, and he doesn't own the "toys" that a top commercial real estate executive could afford.)
"I don't think I've ever stopped thinking of myself as a teacher," Goodwin admits, adding that he loves to use meetings as a teaching tool for research, solutions, ideas, and problem solving. "I view all the meetings as educational opportunities."
Retirement from his second career, meanwhile, isn't in the cards. "People retire to do what they've always wanted to do and that's what I'm doing now." 
As for the next 50 years, Goodwin is hesitant to look too far out. "When I think back to when we started 50 years ago, I could not have fathomed the effects of the technological revolution and the changes in society that have influenced the economy." 
That said, "All signs point to our company continuing its successful operations and positioning ourselves to meet the inevitable challenges an ever-changing economy will bring. At this moment, there really isn't anything on the horizon that I can see." 
Honors and Accolades
Inland is proud of the recognition it gets in its community. In 2017, it received the Chicago Better Business Bureau's (BBB) Torch Award for Marketplace Ethics, a highly competitive honor.  Inland also won the award in 2009 and 2014.
"This sequence makes it one of only two businesses to be a triple recipient in the award's 21-year history, where hundreds of companies vie for the honor," says Steve Bernas, president and CEO for the BBB of Chicago and Northern Illinois. 
Companies that are nominated submit extensive documentation about how they incorporate their commitment to ethical business practices in their dealings with employees, customers, vendors and their communities. "Through this judging process you can tell when a company is truly excellent and ethical year after year. It really shows how they do business and how they act accordingly, from the CEO all the way down to the receptionist," Bernas says. "That's what I would say is the one thing I know about Inland. Ethics is a cornerstone, it resides everywhere. It's really about how they act internally and how they're perceived as well."
In 2014, Inland was inducted into the Chicago Association of REALTORS® (CAR) Corporate Hall of Fame—the first corporate inductee in CAR's 133 year history. In 2017, Goodwin was the recipient of the Illinois REALTORS® first-ever Lifetime Achievement Award. The awards recognize adherence to the REALTOR®'s Code of Ethics with an emphasis on professionalism. "Inland was founded by educators. The service mentality that comes from teaching school in an under-privileged area has extended into Inland's real estate business for five decades," Clayton says.
Goodwin also received the Institute for Portfolio Alternatives (IPA's) Lifetime Achievement Award. "Dan Goodwin is the embodiment of the IPA's Lifetime Achievement Award," Chereso says. The IPA's ongoing mission is to provide national leadership through advocacy, collaboration and education, he explains.  "Perhaps nobody in our industry has done more over their lifetime—both professionally and personally—to support those ideals."
Goodwin and Inland are also very active on behalf of the REIT industry. Goodwin serves as chair of Nareit's PNLR Council. Inland is also a multiple time recipient of the REITPAC Leadership and Teamwork awards, given annually to the top supporters of REITPAC.