Earlier this year, two long-time leaders in Blackstone's Real Estate group, Kathleen McCarthy and Ken Caplan, succeeded Jon Gray as global co-heads of real estate. Gray was promoted to president and chief operating officer of the investment management firm.
Blackstone has the largest real estate platform in the world with $120 billion in investor capital under management. In May, Blackstone announced its $7.6 billion acquisition of industrial REIT Gramercy Property Trust (NYSE: GPT). REIT magazine recently spoke with McCarthy and Caplan about the leadership transition and Blackstone's investment strategy.
Your predecessor, Jon Gray, has described the firm's real estate strategy as "buy it, fix it, and sell it." In that context, it sounds pretty simple, but the firm has an uncanny ability to pick properties up at very opportune times and ultimately drive extraordinary performance and returns out of them. What are some of the key metrics that you look for in asset purchases that continue to give the firm a competitive edge?
Kathleen McCarthy: Our business today is more uniquely positioned than it's ever been, given our scale and the scope of our real estate strategies. We have $120 billion of equity under management representing more than $250 billion of real estate across opportunistic, core-plus equity and debt.
This scale and positioning has given us a big competitive advantage as we get a tremendous amount of real-time information from our management teams and existing portfolios that then informs our investment focus and decisions. We can also execute on a scale that others can't.
Ken Caplan: We are conviction investors with a focus on areas where we see stronger trends and fundamentals. We look at a number of metrics at the macro, market and property level.
Blackstone's 2015 purchase of Stuyvesant Town in New York, for example, is very special. We acquired that in our core plus strategy, which is focused on acquiring more stabilized high-quality properties for longer-term holds. We were attracted to the quality of the property and our ability to invest in and improve the property and operations.
It was also a very large and complex investment that we were uniquely positioned to complete. This is a property that we expect to own for a very long time.
As co-heads of Blackstone Real Estate, you clearly share leadership responsibilities. Co-leadership has been shown to be a good decision for some organizations and a bad one for others. How will your various strengths and weaknesses play off each other for the greater good of Blackstone, its partners and investors?
McCarthy: Our partnership as co-heads is built on trust. We are constantly collaborating despite each having defined areas of focus.
Caplan: Being named co-heads was a very natural progression for us and our business. Jon Gray was running the business more and more through the two of us as his chief lieutenants as he was getting greater firm-wide responsibilities.
Prior to the announcement, Kathleen was our global COO, and I was global CIO. I don't want to diminish the co-head title as it is an exciting next step, and we are taking on greater responsibilities, but it is somewhat business as usual for our business.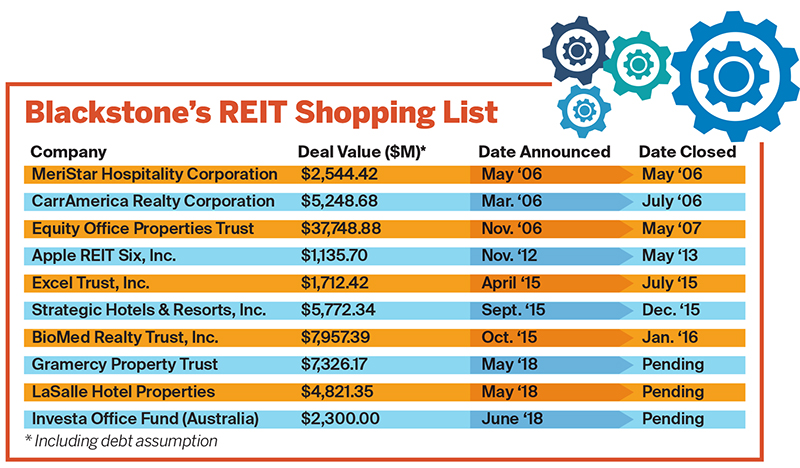 The firm's real estate investments and portfolio includes hotels, retail, office, and logistics. Why are you drawn to these sectors?
McCarthy: We are not index investors. We invest around specific, high-conviction themes that we believe in. We have the benefit of significant proprietary information to help us identify what should outperform.
Caplan: Our top investment themes of logistics, residential, and innovation cities are driven by this outsized performance and the continued strong fundamentals that we see in these areas.
Recently, Blackstone closed on 146 warehouses and distribution centers around the United States. This was a 22 million square foot, $1.8 billion deal, which has been described as a last mile strategy for deliveries from tenants like FedEx and Amazon. What does this mean for the future of traditional malls and shopping center properties?
Caplan: Logistics has been a top global investment theme for us. Since the downturn, we've acquired 500 million square feet of logistics space globally.
We continue to be bullish on logistics as e-commerce growth is driving demand for logistics space, particularly last mile locations.
Of course, this growth is happening partly at the expense of traditional retail. As a result of this and a general excess supply of retail space in the U.S., we've been more cautious on retail.
We are seeing malls redefine themselves to deliver better experiences and act more as meeting places. I think you will see this continue as malls and the shopping experience evolve more broadly.
What was the strategy behind launching Blackstone Real Estate Income Trust (BREIT), and entering the market as a public non-listed REIT? That move is credited with changing the perception of the PNLR space. How have you seen the market respond?
McCarthy: In a relatively short period of time, BREIT has grown to approximately $2.7 billion of net asset value. BREIT allows Blackstone to offer institutional-caliber private real estate to income-focused individuals. The structure brings transparency and an alignment of interests to the non-traded REIT space.
Blackstone sold its investment in Hilton: arguably the most profitable private equity real estate investment in history, and has recently agreed to purchase LaSalle Hotel Properties, which includes the Park Central in New York and the Westin Copley in Boston, for almost $5 billion in cash. What's the high-level strategy behind this purchase and where will Blackstone add the greatest value to this investment?
Caplan: Hilton, which we fully exited in May, is one of the best examples of our "buy it, fix it, sell it" strategy, and was the most profitable private equity investment ever. We purchased a high-quality company and transformed it by installing a world-class management team, expanding its footprint globally through capital-light franchise and management growth, and transforming how it operated.
The Hilton investment was made at arguably a bad time in the market, but the outcome demonstrates that we can create great value for our investors in any environment.
With Blackstone's recent acquisition of Gramercy Property Trust and the possible deal for LaSalle will we see the firm acquiring more public REITs? If so, what does Blackstone look for when determining when a public company is worth acquiring?
Caplan: We can't comment on a public company deal specifically. More generally, we look for value and quality in what we purchase, and have the benefits of both scale and vast experience with complex investments (including more than 30 take-private transactions).
Nareit's Dividends Through Diversity Initiative promotes the recruitment, inclusion, and advancement of women in the REIT and commercial real estate industries. What advice would you give a woman who is looking to make a career in real estate?
McCarthy: I would tell her to jump in feet first. The work is fun and exciting, and you get to work alongside brilliant people in markets all around the world. Don't focus on your gender. Focus on learning everything you can and improving all the time.
If you find a place where you feel you are surrounded by nice, smart people who care about your success and value your judgment and contribution, you will be happy.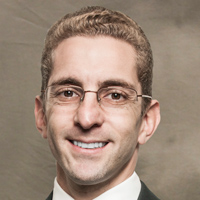 Kenneth Caplan is a senior managing director and global co-head of Blackstone Real Estate. He most recently served as global CIO of Blackstone Real Estate, and prior to that, as head of Real Estate Europe. He joined the firm in 1997.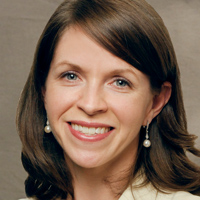 Kathleen McCarthy is a senior managing director and global co-head of Blackstone Real Estate. She most recently served as global COO of Blackstone Real Estate. Before joining Blackstone in 2010, McCarthy was a vice president at Goldman Sachs.