iStar realizes a once-in-a-generation opportunity to redevelop Asbury Park.
07/25/2019 | by
The opening of the Asbury Ocean Club Surfside Resort and Residences is the latest addition in New York-based REIT iStar's (NYSE: STAR) multi-year revitalization as master developer of 35 acres of the city's waterfront. 
"With the opening of the Asbury Ocean Club, people will see this beautiful combination of the fun, vibrant, exciting Asbury Park and the peaceful, beautiful ultimate beach lifestyle that we can deliver," iStar Chairman and CEO Jay Sugarman says.
Combining a boutique hotel with a collection of luxury permanent residences, the property designed by Handel Architects features a 17-story tower with 130 luxury condominium suites perched above a 54-room hotel, wraparound terraces, more than 20,000 square feet of ground floor retail, a full-service outdoor pool-side bar and grill, a garden pavilion with a reflecting pool, and an outdoor lounge with a fireplace.  
The club's residences feature ceiling heights of up to 10 feet, year-round climate control, and details like bleached white oak hardwood flooring. The structure's curved design showcases 180–270 degree ocean views for residents and private outdoor rooms. Within the walls and the outdoor spaces of its 54-room hotel, creative designer Anda Andrei envisioned 11-foot wood ceilings in rooms, a relaxation-focused lobby echoing the hotel's luxury spa, and The Drawing Room, a "glass house" by a reflection pool, at the core of the hotel.
Rediscovering The 'Jewel of The Jersey Shore'
An iconic turn-of-the-century seaside destination, the city of Asbury Park is experiencing a renaissance thanks to new developments like Asbury Ocean Club. But its road to return hasn't been easy.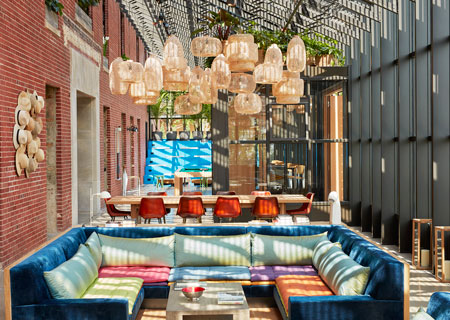 Known as the "Jewel of the Jersey Shore" during the first half of the 20th century, Asbury Park served as a tourism Mecca for families up and down the east coast. Its Victorian homes, Beaux Arts architecture, Paramount Theatre, casino, and enviable beaches made it one of the period's most popular travel destinations. But the decades preceding its current redevelopment saw an economic downturn and tourism loss, with several closures of Asbury Park's iconic businesses, boardwalk vacancies, and structural disrepair culminating in a series of riots in the 1970s. 
Despite this, the city maintained its unique identity and creative center, forever immortalized in Bruce Springsteen's 1973 debut album "Greetings from Asbury Park, N.J." Economic struggle continued as the city eagerly awaited signs of change. 
"Asbury Park—and the waterfront specifically—is an area that's been trying to redevelop itself for the past 30 to 35 years," says iStar Senior Vice President Brian Cheripka. "In the mid-1980s, the city had recognized the need to redevelop the waterfront and everyone has recognized the potential."
Seeing the potential was easy but having the ability to capitalize on it proved challenging. iStar initially took interest in Asbury Park as a lender to the project's then-master developer in 2006. Following the market's downturn, iStar made the decision in 2010 to acquire the developer's equity, in effect making the REIT the new master developer of Asbury Park and providing a fresh vision for the land.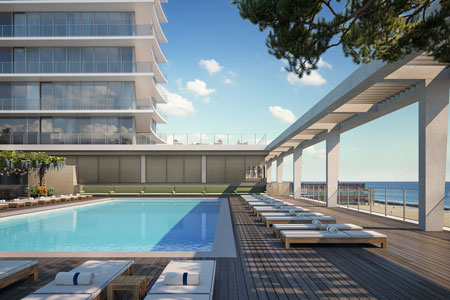 "It has a very authentic spirit and it's unlike so many of the other towns up and down the coast. We recognized that this community is special, and we believed we had the right skill set and the right team to make this redevelopment successful over the long term," Cheripka says.
 iStar's plan for Asbury Park would entail investing more than $300 million to start towards a decade-long, multi-billion-dollar redevelopment of the 35 acres that sat vacant along the city's waterfront. 
'Lifting All Boats'
To begin to execute this long-term revitalization of Asbury Park, iStar forged partnerships in creative fields, Asbury Park's government, the hotel industry, and within the local community.
"Coming into a place where redevelopment failed to occur for 30 years, there's a natural sensitivity to developers and understandably so," Cheripka says. "Our response was to build our credibility one day at a time." 
Part of their efforts to redevelop the city have included job-training programs. They have worked with their hotel partner David Bowd, CEO of Salt Hotels, to introduce training programs for future employees. This included a 10-week training program called Salt School that provided individuals in the local community with hospitality training.
"Today, more than 75% of our employees  come from the local area," Cheripka says. 
iStar's ground team has also become involved in different community organizations such as the Boys and Girls Club and local charities. "iStar has been a very good partner with the city. This has been a good product of the government and the private sector working together to not just provide what the government needs but also the community at large," says Michael Capabianco, Asbury Park city manager.
According to iStar, their ability to plan long-term progress and access to capital markets has given them a competitive advantage and fostered confidence from its partners.
"Being a REIT is an important part of our overall success story," Cheripka says. "We can make commitments to local organizations and to the governing body because we know that behind us we have the balance sheet strength, and we're not just looking 24 or 36 months out." 
A 25-year player in the REIT markets, Sugarman also serves as the founder and investment manager of Safehold Inc. (NYSE: SAFE), the first publicly traded company to focus on modern ground leases. 
"Our team has worked with the city to show them not just each individual project and how it fits, but also to share this bigger vision to create the renaissance of Asbury Park and to explain what it will do for everyone," Sugarman says. "It's not just for the folks that are new, it's for the folks that are already here, who pioneered decades ago and saw what was special here. We think this is going to lift all boats."
Sugarman has encouraged his team and partners to approach redevelopment with creativity and innovation. He also sought out creative collaborators, securing elite designers and architects from around the world such as Anda Andrei, Gary Handel, Chad Oppenheim, and Paul Taylor.
"These are names you don't usually find in communities up and down the Jersey Shore," Cheripka says. "Having that long-term vision and that commitment, allows you to think outside the box and be unconventional."
Unconventional works, according to Sugarman. "The most successful REITs are the ones that have the ability to take advantage of their scale and permanent capital and think about where the future is going and how they can be an active driver of that change," he says.
'Stay-Play-Live-Work'
iStar developed a strategic plan—the first step being to reset the residential market,  Cheripka says. Part of the plan focused on reworking the "live-work-play" philosophy of other magnet cities to "stay-play-live-work" to take advantage of Asbury Park's unique flavor and meet its needs. The city had always maintained "play" through its cultural and entertainment background, but other areas needed work. 
Six years ago, iStar began with a townhouse development called VIVE with most of the residents coming from the local area where there was a deficit of new housing construction. From there, iStar's team planned to introduce different product types at different price points to begin to attract people back to the waterfront.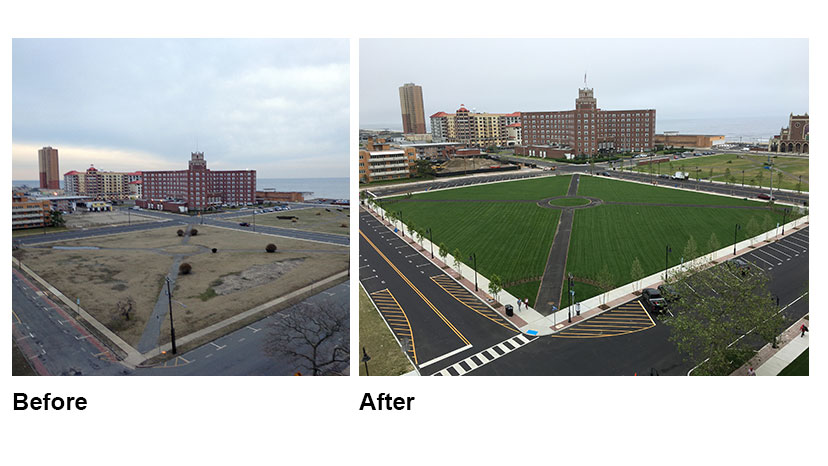 In 2016, iStar's creative collaborators transformed an old Salvation Army building into The Asbury hotel, an award-winning, 110-room boutique hotel and entertainment venue two blocks from the city's boardwalk. Next, Monroe Condominiums, a collection of 34 residences situated between the downtown and beach, offered even more residential options. 
"Preserving the past was hugely important to the city. You need to remember the past and embrace it as you move towards the future," says Capabianco. As a nod to its old-meets-new heritage, iStar reopened the iconic Asbury Lanes in the spring of 2018 with a performance by Bruce Springsteen. The retro-inspired renovation includes a music venue, six bowling lanes, two main bars, dance floor, and a full-service diner. 
"We look for those opportunities—those special moments, whether it's saving an old sign from a building that needs to be demolished or reintegrating it into the new building," Cheripka says.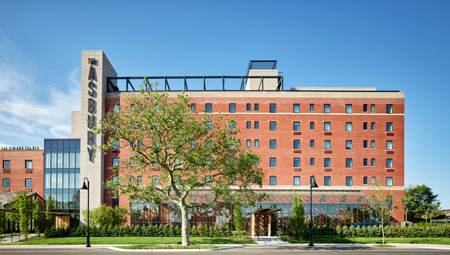 The residential, dining, boardwalk, and nightlife options now serve as an "all-day customer experience here from sunup to sundown," Capabianco says. In 2018, beach revenue surpassed $2.3 million and parking revenue reached $5.4 million. Attendance at boardwalk events has grown by nearly 300% since 2010. 
"Ten years ago, when we started our efforts as master developer, the city received $12 million of transitional aid from the state government," Cheripka says. "As we sit here today, the city receives no money from the state for this." 
Capabianco, who has been in his position with the city since 2015, echoes this sentiment. "iStar has been able to provide additional new revenue that we didn't have before and helped us secure a stable tax rate. The revenue has helped the community at large and the government to address needs that the city faces," he explains.
In addition to career training programs, these projects have led to permanent jobs. Prior to 2016, most of the jobs on the waterfront were seasonal and associated with the retail along the boardwalk. With the completion of The Asbury hotel and Asbury Lanes, the projects created 200 full-time, year-round jobs. 
"When we're talking about construction, projects like Asbury Ocean Club can have up to 300 workers on site on any given day," Cheripka says. 
"We're really trying to be thoughtful partners with the places we work," Sugarman says. "We've had great success when people work with us to see that vision, and we've been willing to put our full financial resources and talent pool behind it. Asbury Park is one of the places where we've been able to do that, and we've seen the results."

Future Opportunities
"iStar's been doing great work at Asbury Park," says Capabianco, "whether it's new construction or rehabilitation. It's been a lifeblood of the community." 
To date, iStar has developed six projects over the past seven to eight years, but its team says the ultimate measure of the waterfront's success will take shape over the next five to eight years. 
The most successful REITs are the ones that have the ability to take advantage of their scale and permanent capital and think about where the future is going and how they can be an active driver of that change.– Jay Sugarman,  iStar Chairman and CEO 
Cheripka says the company plans to bring in joint venture partners, and third-party developers to do projects on their own as well. "It's a story of working together," he says. "The two things we bring: stability and certainty. Our presence alone brings other investment capital."
The final component of iStar's strategy is "work." The REIT hopes to take advantage of Asbury Park's opportunity zone status to attract talent pools from the surrounding top institutions in New Jersey, New York, and Philadelphia.
"This is a great place for startups and entrepreneurs to attract that talent," explains Sugarman, "[opportunity zones] really give us a chance to make Asbury Park the magnet city for talent in New Jersey, and maybe even beyond." iStar plans on utilizing the remainder of its 35 acres to "do a mix of everything," including multifamily housing for families and artists lofts to attract the creative community." 
"Just giving people a blank slate to create their visions—that's the fun part," Sugarman says. They've also witnessed a shift in the housing market thanks to Asbury's newfound success. 
 "We're talking about building 2,500 homes over the course of the next five to eight years and with that we can bring 4,000 to 6,000 new residents to a city that only has 17,000," Cheripka says.
The same qualities that originally attracted iStar to the city as a lender in 2006, are still the ones that the company says drive its vision today. 
"To find a mile of oceanfront land sitting empty in a place like Asbury Park is really a once in a generation opportunity," Sugarman says.