Kilroy Realty is looking for emerging technologies that improve the environmental performance of its own portfolio and accelerate change in the broader real estate industry. 
07/24/2019 | by
Several years ago, Sara Neff, senior vice president of sustainability at Kilroy Realty Corp. (NYSE: KRC), had an epiphany while visiting the headquarters of the National Association of Realtors (NAR).
Neff was visiting Chicago for a conference and took advantage of an unplanned opportunity to tour NAR's in-house innovation lab, which was studying smart-home, renewable-energy, and other forms of technology. The little-known lab made a big impression on Neff, who is charged with advancing Kilroy's ambitious sustainability goals—including its commitment to achieving carbon neutral operations by the end of next year.
"I said to myself, 'I want to do that,'" says Neff, recalling her reaction to NAR's lab.
"I want a way to codify the fact that we believe in the importance of piloting clean technologies that are property technology."
In late 2017, the West Coast office REIT rolled out its own innovation lab, which isn't a physical space where research occurs, but rather a platform for carrying out the types of sustainability pilots that the company has been doing for some time.
Leading the Way, Taking Chances
A landlord to some of the biggest names in technology, media, health care, and other sectors, Kilroy has long believed that taking a leadership position on sustainability involves taking some chances.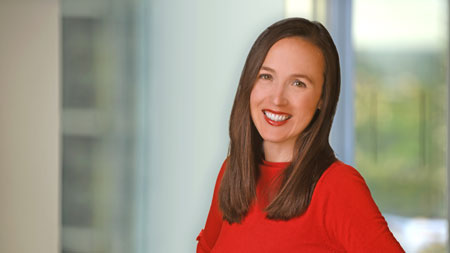 For its part, Kilroy strives to identify emerging technologies and ideas that measurably improve the environmental performance of its portfolio and, by extension, accelerate change in the broader commercial real estate market. The company's 13.2 million-square-foot portfolio has served as a testing ground for everything from "smart" irrigation controllers that reduce water use to rooftop beehive installations that promote biodiversity.
As an industry, "we're not going to get to our carbon goals just through lighting retrofits," says Neff, who joined Kilroy nearly a decade ago. "We're going to have to get creative."
Shining A Light on Sustainability
Kilroy's longtime commitment to sustainability hasn't gone unnoticed. The company is a five-time winner of Nareit's annual Leader in the Light award for the office category, and in 2018 it won the Most Innovative award for its state-of-the-art solutions to addressing sustainability challenges.
Kilroy is also included in the Dow Jones Sustainability World Index, and last year was named a global leader among all publicly traded real estate companies by GRESB, an investor-driven organization that assesses the sustainability performance of real estate portfolios.
Kilroy's innovation lab has helped to raise the profile of its sustainability efforts among important stakeholders, including tenants, investors, and employees. "We have a lot of innovation-focused tenants, and we wanted to show that we are aligned with their worldview," explains Neff, who has spoken about the lab during many public appearances.
New and Improved
Kilroy launched its sustainability program nearly a decade ago—an eternity in the realm of green building—but didn't have a formal process for undertaking pilots until the rollout of its innovation lab.
One of the first steps Neff took after getting internal buy-in for the creation of the lab was to draft what she calls a manifesto for the concept: a document that summarizes its purpose; the types of projects it seeks; options for evaluating the results of pilots; and, in Neff's words, the "rules of engagement" for companies that want to partner with Kilroy on pilots.
The lab, according to the document, is especially interested in projects that reduce energy consumption, water use, and the amount of waste sent to landfills—as well as pilots that promote health, biodiversity, and best practices in sustainability reporting and environmental stewardship of Kilroy's supply chain. It's also interested in "financial structures" that help to make fledgling efficiency technology more attractive from a cost standpoint.
The Fine Print
The lab's manifesto, posted on the Kilroy website, has helped to eliminate ambiguity about the company's upfront requirements for undertaking pilots. Thus, firms that hope to partner with Kilroy are able to self-select by reviewing the document, which states, for instance, that money-saving pilots should pay for themselves in three years or less.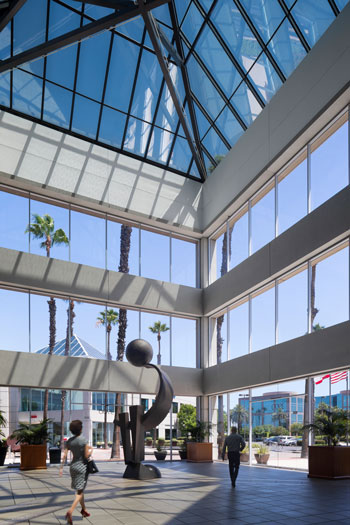 Companies whose products or services don't meet their negotiated payback guarantees must agree to reimburse Kilroy for the difference between its investment and any realized cost savings. Kilroy's green leases allow it to recover investments in initiatives that improve building efficiency.
"I thought it would save a lot of time on both sides [of the table] if my needs were stated very clearly," says Neff, who has spent a lot less time listening to ill-fated pitches for products and services since the rollout of the lab and its accompanying manifesto.
The lab has also created more structure around the question of how to measure the results of pilots. Prior to launching the lab, Kilroy began using a sophisticated software platform that regularly monitors the energy consumption of its buildings and analyzes data to identify the reasons for changes in usage patterns, stripping out the effects of weather. The software, by Gridium Inc., gave Kilroy a greater level of confidence in its ability to evaluate the results of pilots intended to reduce energy consumption.
The software, says Neff, "was one of the reasons that we felt excited about launching the lab, since we have a built-in way of measuring the savings" from pilots focused on reducing energy use.
In the past, "I had a couple of pilots where we went back and forth many times about how to measure the results. The software solved that problem," explains Neff.
Gridium's software monitors the entire building, individual tenant spaces are captured within master meter readings. For buildings with multiple meters, Gridium monitors them individually and then provides Kilroy a consolidated report, Neff says.
Curating Pilot Ideas
The nonprofit Los Angeles Cleantech Incubator (LACI), the lab's first-ever partner, has been a valuable source of promising ideas, Neff says. LACI works with startup companies to accelerate the commercialization of clean technologies, among other goals. It provides startups with expert help in such critical areas as marketing, intellectual property, and capital raising, as well as access to potential opportunities such as pilots with Kilroy.
"Our lab partners filter out technologies that aren't going to work for our portfolio for a variety of reasons. They are able to curate offerings that have a higher likelihood of success," Neff says.
"The real estate space is one of the most difficult spaces to establish new technology," says Ben Stapleton, executive director of the Los Angeles chapter of the U.S. Green Building Council and a former senior vice president at LACI.
During his tenure at LACI, Stapleton played a key role in negotiating the organization's partnership with Kilroy. The lab's sustainability pilots, he says, provide cleantech startups with an opportunity to enhance their credibility by demonstrating both the environmental and financial benefits of their products.
"In general, real estate owners want to do the right thing, but it has to make sense financially," says Stapleton, adding that startup cleantech companies often don't accurately portray the total costs of their products or understand the financial considerations of real estate owners.
"To get adoption, we have to push ourselves to the place where the environmental benefits [of cleantech] come along with reductions in operating costs," adds Stapleton, who has leveraged his experience at LACI to launch a building-technology accelerator at the L.A. chapter of the U.S. Green Building Council.
More Labs to Come?
Neff hopes Kilroy's lab serves as a model for other real estate companies that want to make a difference. Yet she cautions that undertaking sustainability pilots isn't for the faint of heart, or the uncommitted.
Despite the lab's many benefits, Neff says that finding pilots that can meet Kilroy's payback and other requirements remains challenging and evaluating the results of pilots is still time-consuming work. What's more, startup companies with promising ideas may fold, or often they don't understand the language and norms of the real estate sector, making it difficult to negotiate contracts for pilots, says Neff.
And, of course, not all pilots succeed. But that's to be expected, says Neff, adding that the lab has also helped to take the pain out of pilots that don't meet expectations.
"The word lab makes it a little more okay when things don't work out," she says.
"I've had emerging technologies that work, and some that don't. That's why we have the performance guarantee to protect us."
Neff takes the long view in more ways than one.
"It would be music to my ears," she says, "to hear other real estate companies announce they are doing something similar [to Kilroy's lab]. We really want to learn from each other."
Cool Project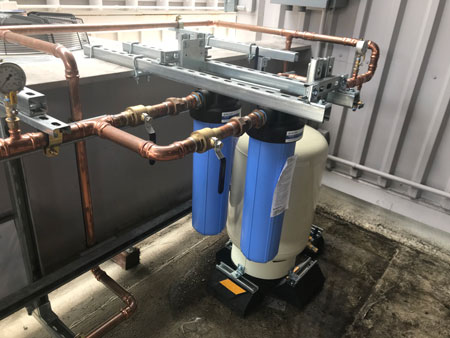 Late last year, Kilroy launched its first pilot with a company that the nonprofit Los Angeles Cleantech Incubator (LACI) had taken under its wing, installing a HVAC-efficiency technology called Evaporcool throughout a seven-building campus in Long Beach, California. Evaporcool precools air before it enters commercial heating, ventilation, and air-conditioning systems, thus reducing the amount of energy expended on cooling and lowering costs.
For Kilroy, the scope of the pilot, which ended earlier this year, was unusually large, but Neff says it made financial sense because rebates from Southern California Edison covered most of the associated costs. Kilroy will take into account its energy savings from the pilot when deciding whether to deploy the technology at additional locations.
Types of Projects Kilroy Deploys In Its Buildings Across Energy, Water, Waste, Health, And Biodiversity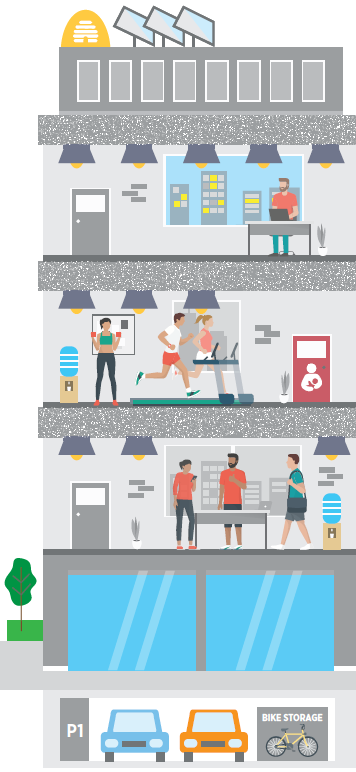 Beehives
Kilroy helped its tenant Neuehouse install a beehive in their space at Columbia Square in Hollywood. Any beehives discovered in undesirable locations are to be relocated either on or offsite in partnership with local beekeeping organizations rather than destroyed.
Efficient Lighting
Kilroy completed lighting retrofits, both interior and exterior, across 5.2 million square feet of its portfolio. This will result in approximately a 1.2 MWh reduction in energy consumption.
Window Film
Kilroy completed a significant window film installation in a 400,000 square foot building in San Francisco, which should save approximately 253,000 kWh and over $50,000 annually.
Mother's Room
A dedicated lactation room can increase productivity, decrease health claims, and absenteeism to care for sick children.
Tenant Trainings
Kilroy does in-person tenant recycling and composting trainings throughout its portfolio. It sees measurable decreases in recycling contamination and increases in overall diversion as a result of influencing tenant behavior around waste.
Reclaimed Water
Saved nearly 5.6 million gallons of potable water via its reclaimed water infrastructure. 2100 Kettner will also use reclaimed water for all of its irrigation.
Bike Storage
Bicycle storage may increase the appeal of cycling to work, which can increase levels of physical activity.
Ideas from Within
While some ideas for pilots have come from the lab's initial partners, others have come from Kilroy's own employees.
"The lab has really changed how my company views itself," Neff says, adding that Kilroy recently completed a successful pilot of an energy-saving window film that was brought to her attention by a member of the company's engineering team.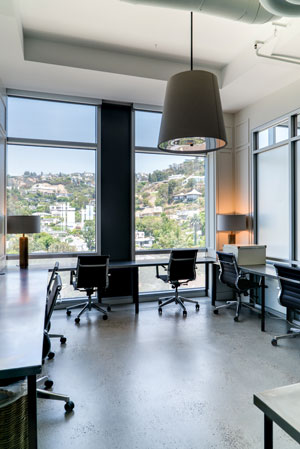 The lab "really empowered him" to pitch the idea, especially because he was confident that the pilot would meet Kilroy's stated requirements, Neff explains.. One such requirement is that products must not "muck up the aesthetics" of buildings or cause other types of damage, she says.
"We own our assets for a very long time. So, we want to make sure we aren't doing anything that's going to damage our buildings. It means we have to be very thoughtful" about the kinds of products we deploy, Neff says.
Kilroy tested the film on a single pane of glass at a property in Los Angeles and found that the treated pane was indistinguishable from untreated ones. In addition, special instruments were used to measure heat gain through the treated glass versus untreated panes.
Having secured an agreement with the product's vendor that includes a cost-savings guarantee, Kilroy now plans to use the window film throughout the initial pilot site. If it's satisfied with the results of the larger trial, Kilroy may use the window film at additional properties.
"I want everybody [at Kilroy] to be empowered to find projects," Neff says. Because of time constraints, "I can't be the only one to do it."