After growing up in sports, CEO Lisa Palmer has made leadership and community involvement a winning combination for Regency Centers Corp.
07/28/2020 | by
Retail REIT Regency Centers Corp.'s (Nasdaq: REG) top priority throughout the COVID-19 pandemic has been communicating with and keeping employees safe across its 22 offices nationwide. Headquartered about 25 miles south of the Georgia state line in Florida's most populous city of Jacksonville, the REIT also has more than 400 U.S. shopping centers that remained open and in operation during the spring and summer.
But long before the worries of the coronavirus, when Lisa Palmer moved to Jacksonville almost 25 years ago to work at Regency, both the city and the REIT were small but mighty. "I really got in on the ground floor," she recalls.
Palmer grew up in a modest home in Bristol, Pennsylvania, about 20 miles outside of Philadelphia, in a very sports-minded family. Her father was a Philadelphia Eagles football season ticket holder, and Palmer remembers going to Philadelphia Phillies baseball games as a family. She began playing sports at a young age and continued all the way through the collegiate level, pitching for the University of Virginia Cavaliers softball team from 1986 until 1989.
"There's no question that becomes a really big part of who you are, and also teaches you the benefits of hard work," she said.
Palmer set school records for wins, innings pitched, complete games, and games started, and to this day holds the UVA single-season records for wins, shutouts, and assists. Almost 30 years later, Palmer's dedication to her school and team hasn't subsided. Backed by a leading gift from Palmer and her mother Frances, the University of Virginia was able to break ground in 2018 on a state-of-the-art softball facility, named Palmer Park in honor of the school softball legend. The ribbon cutting ceremony for Palmer Park was held in March just before Americans everywhere began sheltering in place because of the coronavirus, and it may have been fortuitously timed as both a kick-off for a new era for UVA softball, and one last great weekend for 2020.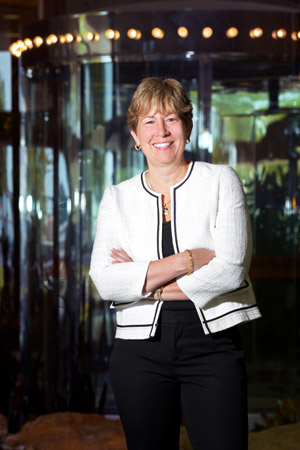 "Lots of people are coming back that I played with, from high school even," Palmer told REIT magazine in advance of the ribbon cutting. "I think there's some Regency people that are surprising me too."
Beyond her exceptional time at the University of Virginia, Palmer also graduated with an MBA from the Wharton School at the University of Pennsylvania, all of which ultimately led her to Regency Centers. Today, Regency Centers is an S&P 500 company with a strong focus on community partnership, and at the beginning of the year, Palmer stepped up from her role as the REIT's president into the CEO position as well.
Palmer recently spoke with REIT magazine about what sports have taught her about teamwork, what it was like to grow up with Regency Centers, and why the REIT's commitment to community is more important today than ever before.
What led you to Regency Centers?
After I completed my MBA, I went to work for Anderson Consulting in Atlanta. My parents moved to Jacksonville, Florida, in 1990, and I would visit them for major holidays. I realized that Jacksonville was a great city with a great quality of life, and I wanted to be closer to family. I asked my dad how I could think about getting a job in Jacksonville. He's a really bright man who served in the Coast Guard, later graduated from La Salle University, and went on to be CEO of a couple different companies. He suggested that I use my University of Virginia network, so I called Albert Ernest, who was president of Jacksonville-based Barnett Banks Inc. and also served on Regency's board, and I essentially found my way through networking.
Regency was a very small company at the time. Given that I had worked for General Electric and Andersen Consulting, two really large companies, I was intrigued with Regency. The total market capitalization for the company at the time was only $300 million versus our $15 billion today; the company had 30 to 40 employees, and we're close to 500 today. In my little time that I spent interviewing with Bruce Johnson (the former CFO), Hap Stein (the former CEO), and Jim Thompson (COO), I really liked the people as well. That was in the fall of 1996, and here I am 24 years later.
The company has changed a lot, but it sounds like you've changed together.
Yes. Over the past 24 years, the company has had tremendous growth, and we did it through a series of mergers and acquisitions. Through that time, the culture of the company remained consistent. People will talk about culture all the time, but it's difficult to understand it and feel it unless you live it. Regency is a special place. The culture is a combination of truly caring about our team members as individuals and not just as employees, but also the culture of autonomy and encouraging people to grow, take risks, and learn. That's an important part of who we are. We really like to work together to get results.
Regency is also very transparent, very honest, and very direct, and that's always what kept me here. There is a kindness at Regency, too—a culture of providing service to all and treating all with respect. It's a tribute to the leaders before me who were able to sustain that, because it's not easy to do.
With such a long legacy of strong leadership that you've been able to watch firsthand, how does it feel to now take over as CEO?
It's really exciting. I am truly honored to have the opportunity to lead Regency because it is such a great company. So much is already in place here because Hap Stein did such a fantastic job that I need to be sure that I continue to nurture it and let it grow. He always uses the phrase "from good to great," and I truly can continue the journey for this company and push it forward on that path from good to great. I'm surrounded by great people, a great company, and a great culture. It's a fantastic opportunity and there are not many people who get this kind of opportunity.
What makes Regency Centers stand out from its competitors?
Regency is the preeminent national owner-operator and developer of shopping centers. We have more than 400 neighborhood and community shopping centers throughout the U.S. in the top markets, and we have offices in 22 of those markets. We're very decentralized and have local sharp shooters. We are constantly looking for new opportunities to grow the company, whether it be acquisitions of existing centers, redevelopments, and densification of what we already own, or new ground-up developments.
You'll often hear us talk about our four key strategic advantages. One is our high-quality portfolio of 400 shopping centers across the country in attractive trade areas. Two is our national development team and sharp shooters—the best in the country for open-air shopping centers. So much of what happens is on the local level and in having those local relationships. Three is a really strong balance sheet that we are able to use to capitalize on opportunities but also to fund our development. We generate a significant amount of free cashflow. We have a low payout ratio, so our dividend growth has been consistent and it's safe. And finally, our fourth differentiator is our people. They're such an important part of who we are.
Regency's has a number of core values, including connecting with your communities. How does that work in practice?
We come at it from a number of different angles. Our corporate responsibility and community engagement manager coordinates our efforts so that we're very strategic about giving back as a company. She helps coordinate with our local offices, because with more process and strategy, the impact can be greater. For example, corporately, we support the United Way, and we allow each of our major regions to select other charities.
It's not just about raising the dollars. We encourage and incentivize Regency's employees to give their time and to do it together as an office outing. Every office across the country has a United Way volunteer day. We encourage them to take videos and pictures, and we share it all in a company-wide wrap-up.
Another angle is from our property management group—Regency's boots on the ground, responsible for maintaining our shopping centers. They really have the relationships with our tenants. We have a program called Fresh Look that creates ideal locations with best-in-class retailers representative of the communities we serve through different prongs, including merchandising, placemaking, and connecting. We'll do events at our shopping centers to connect the communities and be a part of them.
Have you had mentors along the way help nurture you into the person and leader that you have become?
Mary Lou Fiala was Regency's president and chief operating officer from 1999 to 2009, a formative time in my career. She was never my direct boss, so she served as a mentor-coach, giving me constructive criticism, good feedback, and helping me grow and pushing me. I still keep in touch with her today. She's a great influence in my life and such a great role model.
I was also really blessed to have a tremendous boss. Bruce Johnson hired me. He was our CFO at the time, and I worked for him from 1999 until 2012 when I succeeded him as CFO. When it's the direct supervisor relationship, it's a little bit different, but he was certainly my champion and I learned so much from him from direct observation. Just watching how someone can be a tough negotiator and a good businessperson and still treat people kindly—there's no question that I learned that from Bruce. And all of that ultimately stems from Hap Stein. I've just had tremendous people to observe and watch.
And, of course, I wouldn't be the person I am without my parents, and specifically my mother.
In 2014, you worked with your mom to co-endow a full scholarship at the UVA awarded annually to a Cavalier softball player who exemplifies leadership and hard work. Recently, you worked together to open your namesake, Palmer Park. Did your mom also play softball?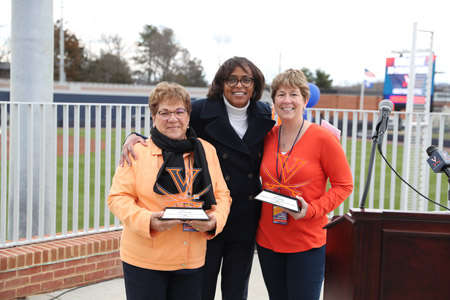 My mom was very athletic. She played sports in high school and then played semi-professional field hockey. But more than that, from the time I started playing sports at seven years old, my mother never missed one of my games. The University of Virginia is almost a five-hour drive from where I grew up in Pennsylvania, and there were probably some midweek games that she didn't make, but essentially, she was at every game. She even followed our bus when we drove to Florida for spring break. She was part of the team. I appreciated it then, but I probably didn't tell her or show it very much. As I became an adult, I did tell her and we have been so close since. She's one of my best friends today.
Since she was such a big part of that time of my life, we wanted to work on the scholarship together. I stopped playing softball after I graduated from UVA and I always joke that my mom missed it more than I did. She's been my biggest cheerleader my whole life.
What's the best career advice you've ever received?
Every year in my annual review, Bruce Johnson would ask me two questions: What are you doing for yourself, and what are you doing for your community? When you're in your 20s, you don't necessarily think about the importance of that, but Bruce drove that home for me. Because of that and because of him, I've carried that on. It's important to ensure that you're taking care of all aspects of your life and not just getting consumed with work. If you are happy in your broader life and giving back, it makes you a more productive contributor at work.
Something I learned from Mary Lou Fiala was to push myself outside my comfort zone—to say yes to those things, because that's really how you grow. When you challenge yourself to do something that you're either afraid to do or think you can't do, and then you do it and you do it well, you gain confidence and it's a virtuous cycle.
Sports have been a big part of your life. Is that part of what led Regency to become involved with the Jacksonville Jaguars NFL team?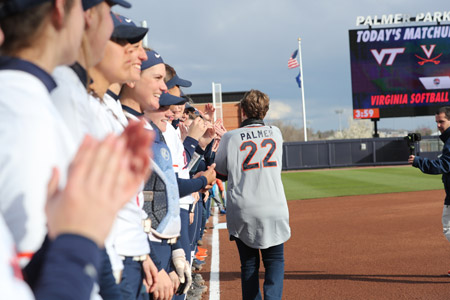 Regency really encourages giving back and the connection to community, so we are a sponsor of the Jaguars Foundation. We want to do that in a way that we're bettering our community though, so the sponsorship is of the student section at TIAA Bank Field (the Jacksonville Jaguars football stadium). The Jaguars provide tickets for local students at discounted rates, and at every home game, it will say that Regency Centers is a proud sponsor of Jacksonville's students. It's a way of connecting us with the local schools here in Jacksonville.
What did playing softball teach you about the person you wanted to be?
I believe that it taught me how important it is to work together and how you need everyone to perform well in order to get results—individual performance is less important. I also learned that you are going to fail at times—you're going to lose—and the most important thing is to learn from that and win the next time. There's no question that becomes very much a part of who you are and teaches you the benefits of hard work. When you look around at others who aren't working as hard as you are, you'll see there's a direct correlation in terms of performance and effort.
What are some of Regency's goals over the next five to 10 years? What about your personal goals for the company?
I want to make sure that I continue the progress of the company and that we are always evolving and adapting. The retail real estate industry is changing at a faster pace than it's ever changed before, so we strive to perform for all of our stakeholders and generate shareholder returns that are at or near the top of the sector. We have a track record of doing that, so that's the ultimate goal.
My personal goals for the company are to ensure that we are looking ahead, being strategic, and innovating, improving, and adapting. It's like that famous Jack Welch (the former CEO of General Electric) quote: "If the rate of change on the outside exceeds the rate of change on the inside, the end is near." That is so apropos for our industry today. That will be my focus this year, next year, and the next five to 10 years. We have to continue to adapt, evolve, and innovate.
How has Regency been responding to the pandemic as it evolves over recent months?
One of the main focuses at Regency has always been on the health of our tenants and the safety of our shoppers. From the very beginning, our property operations teams worked tirelessly to cmmunicate individually with those seeking help, and were instrumental in making sure our centers could safety operate for those that remained open. Our marketing and communications teams also hosted a webinar for our retailers, in tandem with an organization whose specialty revolves around the government aid programs, to help them better access these funds. As soon as states began lifting restrictions, we organized around how we can support the merchants that call our centers home to help them successfully reopen.  
What does an increased focus across the country on racial justice mean for Regency in the coming months and years?
Since our company was founded in 1963, we have maintained an unwavering commitment to a strong set of core values. They serve as the guiding principles for how we do business, holding ourselves to a high standard every day. The culture of Regency is rooted in doing what is right and simply caring for our people and our communities. Today Regency is committed to being part of a necessary change as we strive for equality and justice. We also remain committed to a diverse workforce. A variety of backgrounds, cultures, and mindsets are crucial to any company's success. It is beyond tragic that it takes such horrible circumstances to have racial justice become a wider topic of conversation, but we are stalwart in our dedication to not only the important discussions that need to be had, but also to the action that must come as a result.