From renovation to spotlighting local heritage, Washington Prime solidifies Pearlridge Center's place in the community.
07/27/2020 | by
For decades, Pearlridge Center in Aiea, Hawaii served as a convenient place for local residents to shop and gather, but it lacked any recognition of its unique location's heritage and it wasn't a place that sought to connect with the community. Washington Prime Group Inc. (NYSE: WPG) set out to change that.
"The playbook that had been used had no respect for the demographic constituency that it served," says Washington Prime CEO Lou Conforti. "It's such a beautiful cultural heritage that Hawaiians have expressed through poetry, music, and art. That was missing at Pearlridge before."
Pearlridge Center, the largest enclosed shopping center in Hawaii, is located off the Kamehameha Highway and offers views of Pearl Harbor and the Arizona Memorial. Pearlridge was built in 1972 and acquired by Washington Prime in 2015. The expansive shopping center consists of two major shopping areas formerly known as Pearlridge "Uptown" and "Downtown," with two smaller components of "East" and "West." The two major shopping areas are connected by the only monorail system in Hawaii.
In February, Pearlridge celebrated the one-year anniversary of its $33 million renovation and rebranding focused on the former Downtown wing, renamed as Wai Makai (the uptown area was renamed Mauka.) The renovation included new interior and exterior finishes, updated entrance ways and restrooms, and the addition of a revamped, contemporary dining space. Since its completion, Pearlridge has welcomed a host of new tenants, both local businesses and national retailers.
"You can see the transformation. It's so much brighter and more vibrant. The feeling of aloha really impacted the renovations," says Rose Vierra-Schoening, manager of T&C Surf Store at Pearlridge.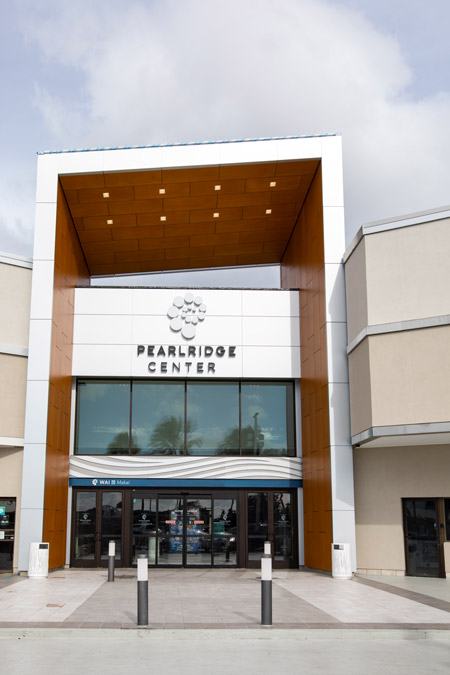 Even more dramatic than the physical transformation though is the strengthened relationship with the local community, following a reconceptualized space focused on the area's heritage.
Working with local Hawaiian cultural experts, community leaders and its landowning partner, the Kamehameha Schools, Washington Prime's dedicated on-the-ground team researched and incorporated Hawaiian cultural elements into the design and also made a huge shift by renaming each of the sweeping center's designated shopping areas to traditional Hawaiian words that speak to local history and heritage.
According to indigenous cultural expert Kehaulani Lum, Wai Makai's artwork and design motifs now tell the 500-year-old story of Chiefess Kalaimanuia and the life-sustaining fishponds of her ancestral lands.
"The renovation of Wai Makai perpetuates the land, culture, and heritage of our people. It reminds us where we come from, who we are, and where we are headed," says Lum, who serves as president of Ali'i Hawaii Civic Club and a member of the Aiea Community Association.
Refocusing On Local
Pearlridge sits on land owned by the Kamehameha Schools, creating a built-in local partnership, and Pearlridge's renovated food court, Nehu Market, is a popular meeting place for students.
Established in 1887, the mission of Kamehameha Schools is "to create educational opportunities in perpetuity to improve the capability and well-being of people of Hawaiian ancestry." Conforti describes Kamehameha Schools as "an amazing partner."
Pearlridge had long been a fixture of Aiea, but a disconnect with the culture of the local community remained, despite being a multi-generational gathering place. "When I was growing up, there wasn't really a deep relationship between family and community and this space. It was just a place to shop," Lum recalls. "There was little mention of the indigenous heritage and history of this sacred place in Oahu culture."
Previously, neither Pearlridge's tenancy nor design truly reflected the heritage of the area.
"About 500 years ago we had a queen named Kalaimanuia and she governed over the entire island of Oahu from the land that is under our feet for 65 years in peace and abundance," Lum explains. "Until this renovation, most residents had no idea who that person was. It's a renovation but it's actually a restoration of the soul of our community."
The center's interior now features historic and cultural images throughout the redesigned downtown section of the mall. Wai Makai established a Heritage Center, a visitor concourse that explores this history of Aiea through art and storytelling. Washington Prime, meanwhile, collaborated with local artists to commission artwork. The images are not positioned as side decor, but rather "standing tall" on central pillars. Each pillar depicts revered ancestors in various forms.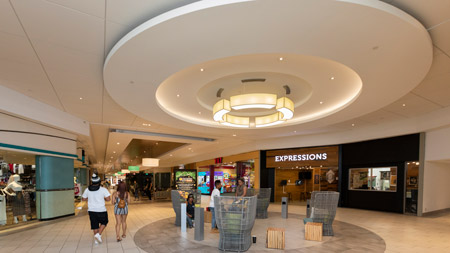 "Native Hawaiian people have seen a lot of caricatures of who we are and who our ancestors were but when you walk into this space, Washington Prime took such care to really honor our ancestors both in their human form and in their deified animal form," Lum says.
"Washington Prime showed us their designs and asked 'How does it make you feel? Are we on the right path? Does this resonate with you?'" Lum says. "This is important because normally we don't have that kind of relationship with people who come into Hawaii and try to create spaces like this; it's really just an afterthought for them." The mall's on-the-ground team then incorporated this feedback into the final designs.
Washington Prime identified local artists who could sit in the space and "through their prayers and their reconnection to the ancient stories, reveal these beautiful images," Lum says. "They're not just art, they are sacred images."
Harinani Orme is one artist Washington Prime found to bring the stories of Kalauao, the name for the ahupua'a —an ancient Hawaiian land unit running from mountains to the sea— on which Pearlridge stands, back to public consciousness. Works include mosaic tile creations on the floors, paintings, and etched drawings in wood on columns.
From Downtown to Wai Makai
Changing the name of all of Pearlridge's components to Hawaiian words that reflect the heritage helped enfranchise the local community further. "Uptown" became Mauka, which in direct translation means mountain; "West" became Ko Makai, ko a reference to local sugar cane; "East" was renamed Awa Makai, a nod to the adjacent Pearl Harbor; and "Downtown" became Wai Makai.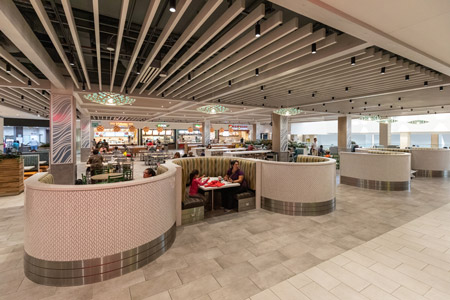 According to Lum, wai serves as "a precious treasure, it is the manifestation of fresh water." She adds, "When you live on an island of saltwater, wai is how you survive—it is life." Makai means "towards the sea" and relates to the water flowing from the heights of the mountain down to the harbor and into the sea. "That's where you have freshwater and saltwater meeting together. These places were called muliwai before and they are the richest places for creation."
"When you say Wai Makai to me, it is restoring this treasured place that brings life. It's much more profound than 'downtown.' That was a huge shift for our community," Lum says.
A key component of the redevelopment focused on renovating the food court and renaming it Nehu Market for nehu, a type of fish valuable to the local people as bait. According to tradition, Chiefess Kalaimanuia used nehu fish to catch the larger aku fish (skipjack tuna) to feed her people. Lum calls Nehu Market a meeting place where "different communities come and go just like fish in and out of the pond."
Washington Prime's team has seen the effects of these changes. "It's a truly holistic effort in which we work with local artists, artisans, architects, and consultants. We were lucky to have a great local management team that, as natives and longtime residents, have immersed themselves within the locale," Conforti says.
Diversifying Tenancy
To become a true town center, Pearlridge also needed everyday amenities like a DMV, medical facilities, and grocery shopping, that further solidified it as a community gathering space.
"We've realized that Pearlridge is really a lifestyle destination and to support our community we have diversified our tenancy to meet those community needs over the years," explains David Cianelli, general manager of Pearlridge Center.
Washington Prime ensured a mix of local tenants and business owners. "If you are populated with only national retailers, it shows a lack of respect for the locale in which we are operating," Conforti says. Many of the tenants, like Vierra-Schoening, have seen an increase in foot traffic since the renovation and rebranding.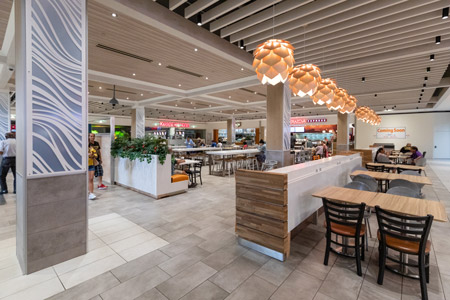 "We're a local company. Pearlridge attracts so many people. We're in the middle of everything, where we can cater to east and west sides, locals and tourists," says Vierra-Schoening, who also serves as president of the center's merchant association.
The renovated space has also boosted local employment. "It's increased the number of jobs at Pearlridge by about 6%. It's one of the preferred places to work in our community," Cianelli says. Through its operations and tenancies Pearlridge now employs 2,500 local citizens. "We are a major contributor to tax revenue. The reciprocal benefits are not only to the municipalities involved but also to the guests, and to us," Conforti says.
The updated design has attracted tenants like the fitness chain F45 Training and the popular Gen Korean BBQ House, that further boost guest visit numbers. "The multimillion-dollar renovation was a big catalyst to showing our national and regional retailers, as well as our prospects, that we are committed to improving the shopping center," Cianelli says. The center has also added entertainment options geared towards children and families, like Pups of War, a foam dart arena, as well as Funtastic KidsZone.
Pearlridge has also incorporated a new focus on hosting both one-time and ongoing community events to attract local residents. According to Cianelli, more than 200 events are hosted at Pearlridge annually. These include concerts by local artists, butterfly conservatory events for families, a "Ready 2 React" emergency preparedness workshop, a weekly farmers market, and events like T&C Surf's "Go Big" bodyboarding event to launch the Mike Stewart bodyboarding invitational event. "Community events sponsored by Pearlridge have a great impact on the tenants," Vierra-Schoening says. "They bring in foot traffic, teach the community new things and bring families together."
"It's a combination of a truly local venue and one catering to tourists. It occupies an interesting niche, so it was incumbent on us to really curate and find that optimal mix to diversify tenancies," Conforti says.
WPGs Placemaking in Action
Formed in 2014 following a spin-off from Simon Property Group, Inc. (NYSE: SPG), Washington Prime acquired Glimcher Realty Trust in 2015. The REIT maintains its focus on retail, with an eye on placemaking and careful curation of tenancies.
"We focus on creating dominant town centers that primarily cater to the local constituencies, as well as tourists. They combine lifestyle, tremendous food and beverage offerings, and are both open air and enclosed," Conforti says.
Creating and redeveloping town centers requires access to permanent capital and Conforti credits its structure as a REIT with making this possible. "[Being a REIT] provides discipline. Since REITs were created by Congress in 1960, they have been tried and true vehicles for not only the aggregation of real estate but also for the delivery of current income," Conforti explains.
Pearlridge is a good example of what the portfolio offers investors, Conforti notes. "Pearlridge Center is a quintessential WPG asset as a town center and it's only going to get better from here," Conforti says. "You don't stop after the grand opening. That's one thing we've been adamant about throughout our very large portfolio."
Conforti categorizes future improvements as "activation-oriented." Ideas include a rooftop component overlooking the watercress farm that sits between the two main Pearlridge assets, as well as implementing an expanded concert series and showcasing some of the company's unique ventures like its ecommerce platform Tangible, which connects shoppers in the mall to online-only brands. "There should be something interesting and dynamic going on all of the time," Conforti says.
Pearlridge has received positive feedback from the community and indigenous town elders, according to Cianelli. "For me, that's a real satisfaction. Having town elder support has made us feel good about what we've accomplished," he says.
Lum agrees. "I don't think we express what this means to us enough," she says. "To be able to inhabit a place that feels like us, looks like us, and reminds our children who we were and who we can still be. That's family—ohana—and that's what makes Pearlridge different from other places."
Stepping Up During the COVID-19 Crisis
Retail and all interior parts of Pearlridge Center were shut down completely due to government mandate in the latter half of March. Only essential businesses that had an exterior entrance separate from the center's entrances were allowed to remain open, which included about 40 tenants. Pearlridge reopened on May 15, under special hours, as part of Hawaii's Phase 1 of reopening.
The Pearlridge team quickly activated several initiatives to help out its local community during the pandemic. Those efforts included help to feed those in need at a time when many organizations who care for the homeless were shut down due to a lack of funding. The Pearlridge team prepared and donated more than 350 individual sack lunches to The Institute for Human Services (IHS) for distribution. By the end of the closure, more than 1,300 individuals had been fed.
Pali Momi Medical Center, a tenant at Pearlridge Center, reached out to the management team at the very beginning of the pandemic, asking about the possibility of using its parking lot as a site for a respiratory clinic. The team quickly agreed and swiftly prepared the parking lot for the hospital's testing equipment and medical staff.
Meanwhile, the Pearlridge Farmers Market format was reconfigured so guests could safely drive through and pick up their pre-ordered produce. The farm-to-car FarmLovers Express market launched on April 18 and will continue its curbside pickup offering every Saturday morning. The center is also partnering with a non-profit organization called, "Help is on The Way," to deliver produce from the market directly to kupuna (elderly) homes.