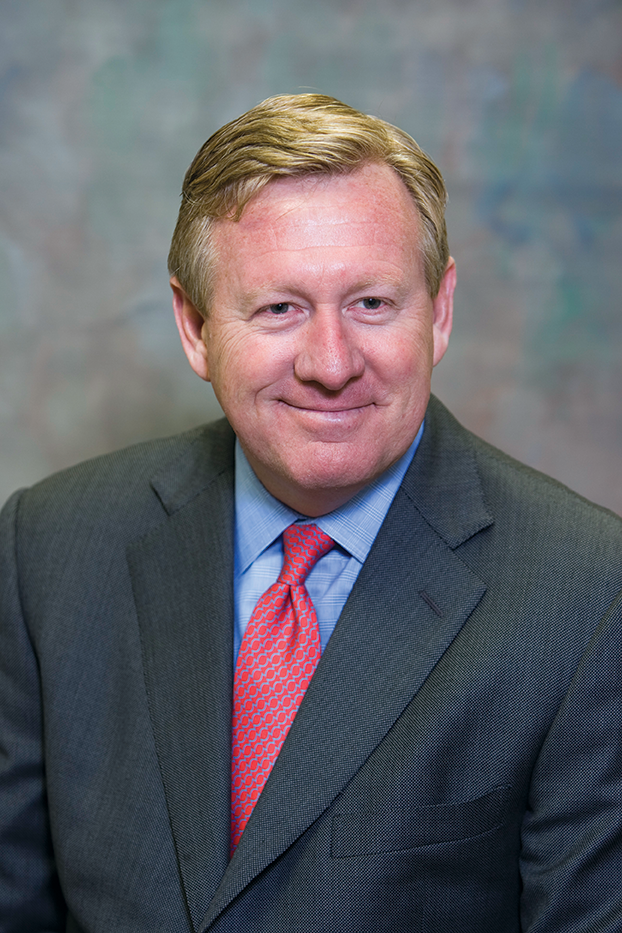 Class is always in session at EdR (NYSE: EDR). As cash-strapped universities face challenges in meeting the residential needs of their students, EdR, for­merly known as Education Realty Trust, is filling a niche to meet the growing demand for student housing. The company currently owns or manages 60 student communities in close to 25 states, and it expects that number to grow in 2012.
The Memphis-based student housing REIT recently hit a milestone as it became the first company outside of a public institution to negotiate a deal to operate the entire student housing on the campus of a major university. In December 2011, EdR was selected by the University of Kentucky to possibly manage more than 9,000 residence hall beds over the next 10 years. The university's board approved the first phase of the deal to develop a $25.8 million freshman honors housing community. Once a final agreement has been reached regarding phase two, the deal would become the first time a major university has outsourced its entire student housing portfolio.
EdR President and CEO Randy Churchey says that the company is looking to buy more student housing communities across the country as opportunities become available.
"We don't really focus on a particular geographic region," he says. "We're all the way from Syracuse, N.Y. to California and in between."
EdR
Address: 530 Oak Court Drive, Suite 300
Memphis, TN 38117
Phone:901-259-2500
Website: www.edrtrust.com
Management Team: Randy Churchey, President & CEO; Randall Brown, EVP, CFO, Treasurer & Secretary; Thomas Trubiana, EVP & CIO; Christine Richards,SVP & COO
Churchey says the company tries to focus on college campuses with a growing enrollment. He adds that EdR typically likes campuses with a backlog of students who want to attend.
EdR's focus is on assets that are either on a college campus or within two miles of it. EdR's portfolio is diversified and includes everything from the more traditional dormitory-type products and freshman living-learning centers on campus, all the way to upscale off-campus apartments, according to Churchey.
Since 2000, EdR has developed more than 33 privatized housing communities and has completed more than $2.4 billion in collegiate housing transactions both on campus and off campus. The company also has more than 34,600 beds spread out among more than 11,200 units.
"The latest forecast that we have seen shows that enrollment in United States colleges and universities is going to increase 1 percent each year through 2019, so the demand side is great and was steady, even during the Great Recession," Churchey says.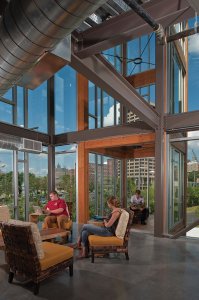 A History of Firsts
EdR's predecessor, Allen & O'Hara, was founded in 1952 as a local construction company that grew into a national developer.
"We have a long history in the business, which is very advantageous when we talk to other universities about various aspects of the student housing business," Churchey says. "Universities like working with an experienced company of people they can rely on to listen and provide a solution that will work for them."
In 2011, the company renewed its contract on Granville Towers, the first privatized student housing project in the country. EdR has been operating the1,000-bed dormitory at the University of North Carolina-Chapel Hill since the company officially introduced what was called the "student hotel concept" back in 1964.
EdR expanded and pioneered many other firsts in the industry, including being the first to introduce individual leases, full-service off-campus student apartments with amenities, the co-ed living concept and "dine anytime" food service in residence halls.
In 2005, as the market continued to grow for student housing, EdR decided that it was a good time to go public.
"The great thing about being a public company is that you typically have better and cheaper access to capital than the private players," Churchey says. "What our investors expect is that we're going to be a growing company. Our access to capital does allow us to do things that might not avail themselves to the private players."
To coincide with its rapid growth, EdR unveiled its new brand and logo in January.
"Being known simply as EdR and launching a new brand and logo will help alleviate any confusion in the  marketplace and unite the company's different service lines and departments—financing, development, construction and management—under one name," according to Tom Trubiana, EdR's chief investment officer.
Susan Jennings, vice president of corporation communication and marketing, said many people, both internally and externally, already refer to the company as EdR.
"The 'D' became lower case because it did not represent a separate word, but was part of education, and our new logo was born," Jennings says.
She adds that the color green is a nod to the company's financial services and dependability, as well as the focus on creating sustainable buildings and operations.
Campus Housing Coups
While several higher education institutions have initiated public-private partnerships recently to replace some of their student housing stock, the deal to run Kentucky's housing program garnered national attention for EdR.
Carried out in phases, the first step will be the development, design and construction of a 600-bed, on-campus undergraduate honors housing community, to be available for occupancy by August 2013. Once completed, EdR and the university have the option of entering into new agreements for EdR to assume management of the university's 6,000-bed housing stock and to demolish older student housing buildings and construct new ones which could bring the university's on-campus housing up to approximately 9,000 beds.
EdR is proposing to use its "ONE Plan" to finance the deal. Under the ONE Plan (or On-campus Equity Plan), EdR provides its own equity investment and debt responsibility for a development. Once completed, EdR owns a leasehold interest in the building and improvements for the term of the ground lease while the university retains ownership of the land.
Some industry experts see the Kentucky agreement as the beginning of a trend.
"I think it's a great thing for EdR and a good thing for other publicly traded student housing REITs," according to Carol Kemple, analyst with Hilliard Lyons. "I could see more universities looking into this going forward. This deal could become the role model for similar partnerships."
Acquisitions made by EdR within the past few months include collegiate housing communities at Texas Christian University, the University of Notre Dame, the University of Colorado-Boulder and the University of Mississippi. Additionally, EdR completed the purchase of campus housing communities adjacent to St. Louis University and near the University of Oklahoma in Norman in 2012.
Kemple says she anticipates there will be more opportunities for EdR to continue to grow.
"There's still plenty of room for development and acquisition opportunities for the company," she says.
Supply Versus Demand
Fundamentals in the student housing space are strong, according to industry executives and analysts. As college enrollment is expected to trend upward, budget constraints have prevented higher education institutions from updating their campus housing.
"The supply-demand dynamic is in great condition, and then on top of that, college and university housing stock is very old," Churchey says. "In many cases, lots of it needs to be replaced."
Kemple agreed that the student housing supply on many campuses is in need of renovations.
"A lot of the supply that is out there on university campuses is outdated," she says. "There's a demand for modern amenities."
With schools getting squeezed by state budget cuts, higher-education institutions have been slow to replace their student dormitories. As a result, more are starting to look at private companies for assistance with housing.
"We do think the supply-demand dynamic is in good shape for student housing for the next few years, so we will be an acquirer of assets," Churchey says. "With the Great Recession we had and the credit crunch, construction financing has been and continues to be difficult to obtain, except for the very well-capitalized companies like EdR."
Churchey says he isn't necessarily worried about new competition in the student housing business. As long as the industry is healthy, there will be more competitors, according to Churchey, and he welcomes them. He adds that whenever a particular sector is doing well, it means more competitors will come to the table.
"The great thing about us and our other two public company competitors is that our experience in student housing, our size, and our national footprint is difficult for the new entrants in this market to overcome," Churchey says.
Not Your Parents' Dorm
Both parents and students today possess certain expectations for the dorm life experience. This is especially true after the initial freshman experience, Churchey says. While it used to be acceptable for two students to live in a 10×10 room with common bedrooms and showers down the hall, it's not necessarily so anymore.
One of EdR's recently completed projects was a four-story building at Mansfield University, the company's 16th project in the state of Pennsylvania.  The 312 fully furnished units provide 634 beds within a variety of two- and four-bedroom floor plans and were designed to appeal to freshmen and sophomores.
The building blends in with the campus' historical architecture, and EdR says it comes with a host of modern and popular amenities. They include a multi-purpose room and a social lounge to promote a community atmosphere for the underclassmen who live there. Study lounges on each floor have glass walls to present spectacular views of the mountains surrounding the university.
In Baltimore, EdR plans to have a 572-bed building completed in the summer of 2012 for students at Johns Hopkins University and other nearby colleges. The one- and two-bedroom units will each have premium amenities such as faux-wood flooring, stainless steel appliances and granite countertops. Residents will have access to exercise facilities and a garden rooftop terrace.
Sustainable Student Housing
EdR also touts sustainability as being an important aspect in some of its student housing developments.
The company recently broke ground on a new student housing development at the State University of New York College of Environmental Science and Forestry (SUNY-ESF) in Syracuse. The Princeton Review identified it as one of the nation's most eco-friendly campuses.
EdR was also an early proponent of geothermal heating and cooling in its buildings. The company says the National Building Museum in Washington, D.C., selected EdR's on-campus housing project at the California University of Pennsylvania as the only university project in the nation to be included in a special exhibit of sustainable communities from around the world.
EdR is also focusing on a different kind of sustainability that includes sustaining its student housing business for the long term.
Churchey says the number one challenge is market saturation—that new supply doesn't get ahead of demand growth.
"Fortunately, the outlook for supply is muted for the next two or three years still," he said.
When it comes to winning deals with universities, Churchey anticipates that momentum will continue. Being a publicly traded REIT certainly helps, he says.
"The university can be sure that they know the company and the financial condition, and know that we have the experience to meet their needs and are in the student housing business for the long term," he said.