DDR's Dan Hurwitz thrives in the ever-changing retail market
11/06/2012 | by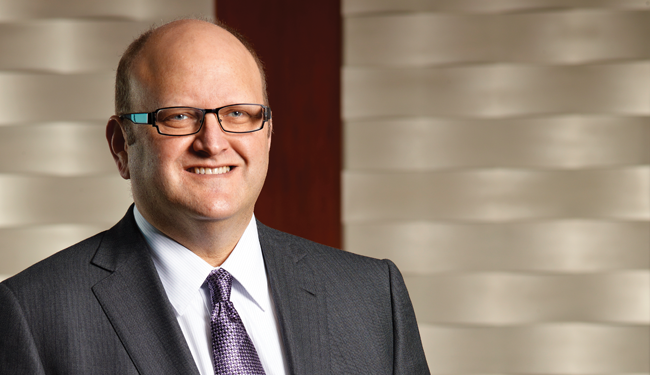 There probably isn't much in the retail real estate business that Dan Hurwitz, president and CEO of  Ohio-based retail REIT DDR Corp. (NYSE: DDR), hasn't already seen.
Hurwitz worked his way up DDR's company ladder, starting with the company as an executive vice president of leasing in 1999. He was promoted to senior executive vice president and chief investment officer in 2005, and two years later was named president and chief operating officer. Finally, in 2010 he took the helm as president and chief executive officer. Before joining DDR, he worked for Boscov's Department Store as senior vice president and director of real estate and corporate development, and mall developer Shopco Group, where he learned both the retail and real estate businesses hands-on.
Despite his extended tenure in the retail sector, Hurwitz's approach to the business is anything but old-fashioned. Hurwitz recently spoke with REIT magazine about his experience in the retail sector and where he and DDR are headed in the future.
REIT: Looking back at your extensive history in the retail sector, what is it that has kept you engaged in this area of the commercial real estate world?
Hurwitz: One thing that makes this business unique is that relationships still matter. I think this industry is replete with very interesting, smart, and trustworthy people who not only become business associates, but personal friends as well.
Up Close
Family: Married 18 years with a son and daughter
School: Colgate University, B.A. in history, 1986; and the Wharton School of Business Management Program at the University of Pennsylvania, 1993
Industry Involvement: ICSC Board of Trustees Executive Committee, ICSC Political Action and Government Relations Committees, and NAREIT Board of Governors
Community Involvement: Colgate University Board of Trustees, Hawken School Board of Trustees, Leadership Council for the Neurological Institute at the Cleveland Clinic, and Rock and Roll Hall of Fame Board of Trustees
Also, retail is an ever-changing business, and retail real estate is not a commodity product. Therefore, people in our sector find challenges every day.
REIT: When the economy starts to falter, we always hear about concerns for retailers. In your opinion, is the retail REIT sector actually more susceptible to an economic downturn than other REIT sectors? How does the sector's behavior relative to the economic cycle affect your long-term planning for DDR, especially given all of the fluctuations since the financial crisis?
Hurwitz: No, I don't agree. At the end of the day, I think the sector is incredibly resilient. The credit quality of most large- and medium-size tenants in the retail sector is very strong and consistent. The difference between retail and other sectors is that we tend to have more public visibility, and everyone has their own unique personal experiences with retail on a frequent basis, which does create volatility. If a national or regional retailer goes bankrupt, you read about it. If an office building tenant or an apartment unit renter moves out, you don't hear about it.
The beauty of retail is that investors and landlords don't have to guess who the winners and the losers are in the sector. Most of our tenants are large public companies, and you know from reported data who the consumer prefers and who the consumer does not prefer. It is obvious coming out of the recession who the winners and losers are, and where market share is moving. We've aligned ourselves with the clear winners.
REIT: In the fall of 2011, DDR formally announced a re-branding initiative. Can you give us a little background as to what went into that decision?
Hurwitz: The former name, Developers Diversified Realty, did not accurately reflect the strategy of the company, nor did it reflect the operations of the company.
While we will continue to be a developer, it isn't our first and foremost priority. Also, we focus on a single asset class,
so diversification is not accurate. In our effort to simplify our business strategy and simplify our capital structure and our overall asset class interests, the time was right to simplify our name as well.
"In our effort to simplify our business strategy and simplify our capital structure and our overall asset class interests, the time was right to simplify our name as well."
REIT: In the last 18 months, we've seen a lot of activity from DDR in terms of restructuring its portfolio, and DDR's deals have taken a variety of forms. Can you give us an idea of some of the strategy behind the moves you're making?
Hurwitz: The strategy is pretty simple. We're focused on enhancing the quality of our prime portfolio.
The way we've executed this strategy is by taking the capital from the disposition of non-prime assets and investing it into prime assets in more desirable markets with higher credit quality tenants. It's a capital-recycling program to dispose of assets that don't have the best long-term viability and invest that capital in assets that give us the best opportunity to enhance shareholder value going forward.
REIT: DDR announced a new joint venture partnership with Blackstone in January to acquire EDT's portfolio of nearly 50 shopping centers. Do you anticipate entering into more JVs in the near term?
Hurwitz: The transaction with Blackstone is a transformational event for DDR. Blackstone is a well-capitalized and highly respected real estate investor and we are very pleased to have partnered with them on this recent transaction.
DDR Introduces ValuText
DDR has made technological innovation a major component of its overall business strategy. For instance, earlier this year, DDR rolled out ValuText, a mobile marketing application intended to help tenants inform consumers of real-time offers and deals.
Here's how it works:
If shoppers opt in, ValuText sends text messages to their mobile devices once they enter a "geo-fence," a virtual space around one of DDR's prime assets. The texts include details on offers from tenants to keep consumers up to date on sales and promotions at the shopping center. Unlike other mobile-oriented marketing programs, ValuText doesn't require subscribers to download a new application or print out a coupon, making it more user-friendly.
These types of transactions are driven by opportunistic circumstances. If we see other opportunities that meet our long-term strategic objectives, we will look into those opportunities. Right now, though, it's not something that we're as focused on, because similar opportunities in the market are limited. Our primary focus continues to be the execution of our capital recycling program to acquire prime assets on a one-off basis that meet our strict underwriting criteria. EDT was unique given our long history leasing and managing the assets, and the off-market pricing that we achieved with Blackstone.
REIT: You've placed a big emphasis on small-shop leasing, including technology initiatives like ValuText (see sidebar) FranchiseConnect and Set Up Shop. Can you talk about these programs?
Hurwitz: We want to be incredibly forward thinking and innovative when it comes to ensuring that our assets are well leased. We have been very successful consolidating small-shop space where appropriate. We also want to provide the best shopping experience possible, and so we have recently launched a number of programs aimed at supporting smaller businesses and entrepreneurs.
ValuText provides DDR tenants the opportunity to market to shoppers when they are physically on site through mobile technology.
FranchiseConnect is a new online platform we designed to match franchisees with franchisors in pre-approved locations within our shopping centers. This is made possible through a combination of long-standing relationships with our franchise establishments and an incredibly sophisticated data gathering and filtering system.
Another noteworthy program we've recently launched to promote small business is our Set Up Shop initiative. Set Up Shop is a pilot program in 24 Atlanta-area shopping centers where we've simplified our standard lease structure and terms to promote entrepreneurship and help incubate small businesses.
REIT: What else does the future hold for DDR?
Hurwitz: We remain focused on executing the strategic objectives outlined to the market at our investor day in March of 2011. We will continue to increase occupancy; we will continue to dispose of non-prime assets and re-invest capital to grow our prime portfolio through disciplined investments and a rather large and robust redevelopment pipeline; and, we will continue to improve our balance sheet with aspirations for consensus investment grade credit ratings and ultimately a lower and more competitive cost of capital.
Additionally, we remain keenly focused on building and maintaining a prime organization to differentiate ourselves within the REIT space. We are committed to fostering industry leaders through our culture of mentorship. We will continue to introduce innovative ways to compete in an ever evolving environment. And, most importantly, we aspire to be held in the highest regard amongst our key constituents – our employees, our tenants and our shareholders.