Name: Richard Florida
Title: Founder of the Creative Class Group, a global advisory firm based in Washington, D.C., and Professor of Business and Creativity and Director of the Martin Prosperity Institute at the University of Toronto's Rotman School of Management
Experience:Florida is a best-selling author whose books include "The Rise of the Creative Class" (Basic Books, 2002) and "The Great Reset: How New Ways of Living and Working Drive Post-Crash Prosperity" (Harper, 2010). He earned a bachelor's degree from Rutgers College and a Ph.D. from Columbia University. He was a senior scientist at the Gallup Organization and professor at Carnegie Mellon and George Mason universities. He has been visiting professor at MIT and Harvard's Kennedy School of Government. Florida's Creative Class Group counts Starwood Hotels and Resorts, the United Nations, IBM and the U.S. Department of Labor among its clients. Florida was named a senior editor for the Cities channel at The Atlantic in 2011.
Dump your house, get out of your car, and embrace the future of mega-regions and high-speed rail. Though not without his detractors, urban theorist, college professor and best-selling author of the "Creative Class" series of books, Richard Florida is a force, nonetheless. Florida has championed walkable suburbs, street car lines, the repurposing of abandoned retail and public amenities for edge cities, as well as other ideas that are now staples of urban economic development planning.
Florida's latest book, "The Great Reset," argues that the financial crisis of 2008 will bring new patterns of living, working, and consuming that will require novel real estate solutions over the next 20 to 30 years. This column takes Florida's theories at face value and asks him to turn them into actionable advice for REIT executives and investors.
REIT: What are you working on now?
Florida: Presently, I am finishing up my new book, which is a revision and update to "The Rise of the Creative Class," which was published 10 years ago. The book is more than an update of the previous book. In the new book, we explore how the concept of the Creative Class has been adopted across the world, its impact, and the future implications given the current reset in the global economy.
REIT: What actionable advice do you have for REIT executives and investors?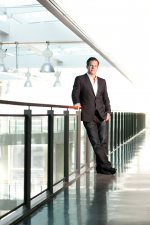 Florida: We must transition our housing market to encourage more and better rental housing. Multifamily housing is one of the few profitable bright spots in a ravaged housing industry. There are thousands upon thousands of unsold condos and foreclosed homes that can and should become rental properties.
I would encourage REIT executives and investors to look to how we can continue to change the housing market, particularly focusing on increasing different rental options.
The rate of homeownership in America is already starting to fall back on its own. From a high of almost 70 percent during the bubble years, homeownership has fallen to roughly 67 percent. Slightly less than 39 percent of Americans between ages 18 and 35 own their own home, down from 43 percent. The Urban Land Institute projects that homeownership may fall to 62 percent over the next decade or two.
In addition, owning a home may actually be a drawback given the economic flexibility required to power long-lasting recovery. The cities and regions with the lowest levels of homeownership—in the range of 55 to 60 percent like Los Angeles, New York, San Francisco and Boulder, Colorado—had healthier economies and higher incomes. They also had more highly skilled and professional work forces, more high-tech industry and, according to Gallup surveys, higher levels of happiness and well-being. When the economy rebounds, it may be easier for cities to attract new workers if there is an abundance of high-quality, affordable rental housing.
REIT: Should economic development officials be offering tax breaks and subsidies to get businesses to relocate?
Florida: Absolutely not. Time and time again, tax incentives have proved not to provide a good return on investment. The same goes for large capital projects like stadiums and convention centers. As I outlined in "The Rise of the Creative Class" and revisit in the new book, the three T's of economic development—Talent, Technology and Tolerance—represent the only comprehensive strategy for organizations, cities, regions and countries to compete and prosper in the creative age.
Talent: The driving force behind any effective economic strategy is talented people. We live in a more mobile age than ever before. People, especially top creative talent, move around a lot. A community's ability to attract and retain top talent is the defining issue of the creative age.
Technology: Technology and innovation are critical components of a community or organization's ability to drive economic growth. To be successful, communities and organizations must have avenues for transferring research, ideas and innovation into marketable and sustainable products. Universities are paramount to this and provide a key hub institution of the creative age.
Tolerance: Economic prosperity relies on cultural, entrepreneurial, civic, scientific and artistic creativity. Creative workers with these talents need communities, organizations and peers that are open to new ideas and different people. Places receptive to immigration, alternative lifestyles and new views on social status and power structures will benefit significantly in the creative age.
REIT: What, if anything, can you share about your work for Starwood Hotels and Resorts, Stockwell Property Management in Australia and other commercial real estate clients?
Florida: What we've learned from our work with terrific clients—corporations and communities alike—is that quality of place matters.
Communities and cities have to be unique and authentic to their character. All cities and communities are unique. Different types of people will be attracted to communities and regions for an array of reasons. For some, the choice may be made for economic opportunity while, for others, the selection is made because the community provides access to restaurants, city streets, the outdoors, urban amenities—nightlife, arts and culture—or good schools. Whatever the reason, authenticity plays an overarching role. Creative workers—the innovative engine of our future economic prosperity—select cities that have all the features of a complete authentic community.
REIT: What opportunities do you see for REIT executives and investors over the next 20 to 30 years in burgeoning "mega-regions" (Boston to D.C., Chicago to Pittsburgh, San Francisco to San Diego, etc.)?
Florida: Without a doubt, talent is concentrating more than ever before, and we're seeing the battle for creative human capital intensify. As I wrote about in "The Great Reset," economic activity is really concentrating in only 40 significant mega-regions in the world. These mega-regions produce two-thirds of all economic output and nine in 10 new innovations while housing only 18 percent of the world's population.
These regions will not only spawn population growth, but, more importantly, economic and innovation growth. Also, with the rise in mega-regions, access to transportation, connectivity and infrastructure will be critical. I see a greater need for a flexible housing stock that provides access to convenient mega-regional transportation.
REIT: Should REIT executives and investors simply give up on locales outside of mega-regions, or are there reasonable strategies they could pursue beyond major corridors in coming years?
Florida: Not necessarily give up, but smart investments will be those made in areas that have access and connection to a mega-region.
REIT: What is the relationship between your creative class theory and wealth creation?
Florida: The Great Reset has underscored the importance and need for a focus on creativity, innovation and human development to ensure future economic prosperity. I still believe every single human being is creative. Economic growth is driven by creativity, so if we want to increase it, we have to tap into the creativity of everyone.
This should be the single point of focus for all economic development policies, both local and federal, moving forward. As the economy resets, we will see organizations, businesses, and communities assigning a greater value to human creativity. Therefore, we have to create the support structures and systems to elevate our workforce and skills sets.
For the first time in human history, the basic logic of our economy requires the further development and use of human creative capabilities if further economic development is to be achieved. The great challenge of our time is to find ways to tap into every human's creativity.