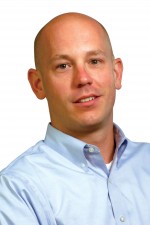 I was predominantly raised by my working mother. I have two protective older sisters. I have two beautiful young daughters. I have seen first-hand, every day of my life, proof of the fact that there is nothing that a man can do that a woman can't. And as my wife often tells me, there are many things women actually do much better.
On the other hand, it is well documented that gender equality has failed to translate into Corporate America, especially at the C-suite level. The most recent census statistics released last September revealed that women's earnings were 77 percent of men's earnings in 2011 (a slight decrease from 77.4 percent in 2010). The National Women's Law Center extended that figure over a longer period and found that a typical woman who worked full time, year round would earn $443,360 less in a 40-year period compared to a typical man due to the wage gap.
I like to think I don't view people based on their gender, or make any judgments based on any other one single factor. But as I was looking through past issues of this magazine, it is hard to ignore that the vast majority of executives we profile, analysts we interview and promotions we announce are males.
However, as the article in this issue illustrates, there are some encouraging signs that progress is being made. Some of the industry's top executives happen to be women, as were two recent NAREIT chairs.
It is hard to ignore that the vast majority of executives we profile, analysts we interview and promotions we announce are males.
There is a similar refrain that emerges in the female REIT executives we interviewed for the article. They all believed in their abilities, were willing to take risks and didn't buy in or accept any pre-conceived stereotypes about women in the workplace.
Lisa Payne, vice chairman and chief financial officer at Taubman Centers (NYSE: TCO), acknowledged the pay discrepancy that women—especially young women—often encounter. However, her advice was not to let it slow you down. "Don't worry about titles and your first year's compensation," she said. "Worry about what your opportunity is and what your experience is going to be."
And thanks to the paths being forged by female CEOs like Ventas' (NYSE: VTR) Debra Cafaro and BRE Properties' (NYSE: BRE) Connie Moore (among others), women entering the industry have shining examples to point to when shaping their own careers. Hopefully, by the time my girls enter the workforce, the only glass ceilings they will encounter will be skylights in their corner offices.

Matthew Bechard
Editor in Chief
Sign me up for a FREE print subscription of REIT magazine.