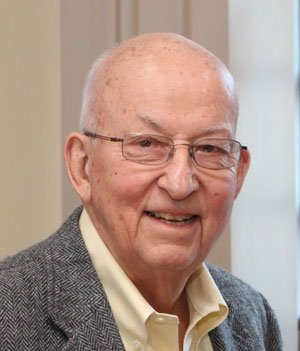 Broadstone Real Estate Co-Founder Norman Leenhouts Dies at Age 81
Broadstone Real Estate, LLC announced the death of co-founder and senior advisor Norman Leenhouts. Leenhouts, who died at his home on Jan. 7, was 81. In 2006, Leenhouts co-founded Broadstone Real Estate with his daughter, Amy Tait, and her husband, Bob Tait. He served as chief investment officer of Broadstone Real Estate and as an officer and director of the firm's two private REITs, Broadstone Net Lease and Broadtree Residential, from their inception until 2015.   
Leenhouts and his twin brother, Nelson, founded real estate development company Home Leasing Corp. in 1967. The brothers went on to form and lead Home Properties as a public REIT in 1994, operating as co-CEOs until 2003.
DDR Corp. (NYSE: DDR) named William Ross as COO. Ross previously served as executive vice president of asset management for Forest City Realty Trust (NYSE: FCEA).
EdR (NYSE: EDR) promoted five individuals within its leadership team. Olan Brevard was named executive vice president of acquisitions and off-campus development. Bob Earwood was promoted to senior vice president of construction and engineering services. Scott Barton was promoted to senior vice president of acquisitions and development. Agnes Webb assumed the role of vice president of tax compliance. Patrick Parsons was named vice president of development.
GGP Inc. (NYSE: GGP) promoted Shobi Khan to president and COO.  Khan joined GGP in 2011 as COO to oversee all aspects of asset management and investment activities.
Tom Herzog was named CEO of HCP, Inc. (NYSE: HCP). Herzog previously served as CFO since rejoining the company in June 2016. He also served as the company's CFO from 2009 to 2011. Justin Hutchens, executive vice president and chief investment officer, was named as president. HCP also said Peter Scott will serve as executive vice president and CFO.
InvenTrust Properties Corp. appointed Adam Jaworski as senior vice president and chief accounting officer. InvenTrust also said Neil Soskin has been appointed senior vice president for portfolio management. 
UDR, Inc. (NYSE: UDR) named Joseph Fisher as CFO. He previously served as a member of the Deutsche Asset Management real estate securities team since 2007, most recently as co-head of the Americas and co-lead portfolio manager.
Welltower Inc. (NYSE: HCN) extended the tenure of Thomas DeRosa, CEO since April 2014, for an additional three-year period through April 2020. 
Gino Sabatini has been promoted to head of investments at W. P. Carey Inc. (NYSE: WPC). ToniAnn Sanzone, interim CFO, was named CFO. The company also noted that its COO and head of asset management, Thomas Zacharias, will retire on March 31.  He will remain a consultant for the balance of 2017.