Experts say the applications and opportunities for PropTech are as broad as the real estate industry itself, and things are only just getting started.
03/20/2020 | by
The real estate industry has always created a lot of data, but the process of harnessing all that information and understanding the value that it can create has undergone significant change in recent years with the rise of PropTech. Experts say the applications and opportunities for PropTech are as broad as the real estate industry itself, and things are only just getting started.
PropTech refers to technology and tech ventures that are targeting the real estate industry, including planning, construction, property management, marketing, and finance, Dror Poleg, author of Rethinking Real Estate and the co-chair of the Urban Land Institute's Technology and Innovation Council in New York, explains.
The parameters of PropTech, though, are clearly fluid. "In some cases, PropTech overlaps with FinTech," he says, referring to the wave of technical innovation within the financial sector. "For example, companies that help finance rental deposits or streamline mortgage applications. In other cases, it applies to companies that are not necessarily 'tech' but are using venture capital to reinvent the way real estate is operated and marketed, such as WeWork."
Blake Liggio, a partner in Goodwin's Real Estate Industry group, says PropTech generally encompasses all the cross-industry technology applications that are aimed at innovation in the real estate industry and are changing the way properties are researched, transacted, operated, and managed.
"The core objective is to optimize real estate management and operation, in many instances by reducing friction costs," he says. [Friction costs are the direct and indirect costs associated with a financial transaction].
ave Bragg, managing director of Green Street Advisors, says interest in the impact of tech on real estate has increased dramatically over the past couple of years, which is evident by the number of tech professionals being hired by REITs and real estate private equity firms, and a flood of venture capital activity.
Bob O'Brien, partner and global real estate sector leader for Deloitte & Touche LLP, defines PropTech broadly, and includes technologies impacting all aspects of real estate, including how real estate is identified for investment or leasing; developed and constructed; underwritten and financed; valued; leased; managed and operated; and ultimately utilized.
"Real estate is a huge industry, impacting nearly every aspect of a person's life and commanding trillions of investment dollars," O'Brien says. "Accordingly, it is not surprising that entrepreneurs and venture capitalists saw an incredibly large opportunity to disrupt the real estate industry, and the number of PropTech startups and the amount of venture capital supporting them have exploded in recent years."
Poleg notes that technology investors are constantly looking for new industries that can be reshaped by technology and that has led to a quick rise in PropTech.
Impact on REITs
Commercial real estate companies today that are not looking closely at incorporating tech innovations are now the exception and are viewed by industry experts as those that likely aren't going to be successful.
Many real estate companies are turning to technology as a means of gaining an advantage. Liggio notes one of the best examples of that is in data and analytics, which has helped real estate companies better manage existing properties, research acquisition targets with more precision, and gain more insight into vacancy rates and the ideal use of property.
"It's all furthering the optimization of bottom-line results," Liggio says. "It's caused most if not all REITs to take a close look at tech and how it might help grow the business."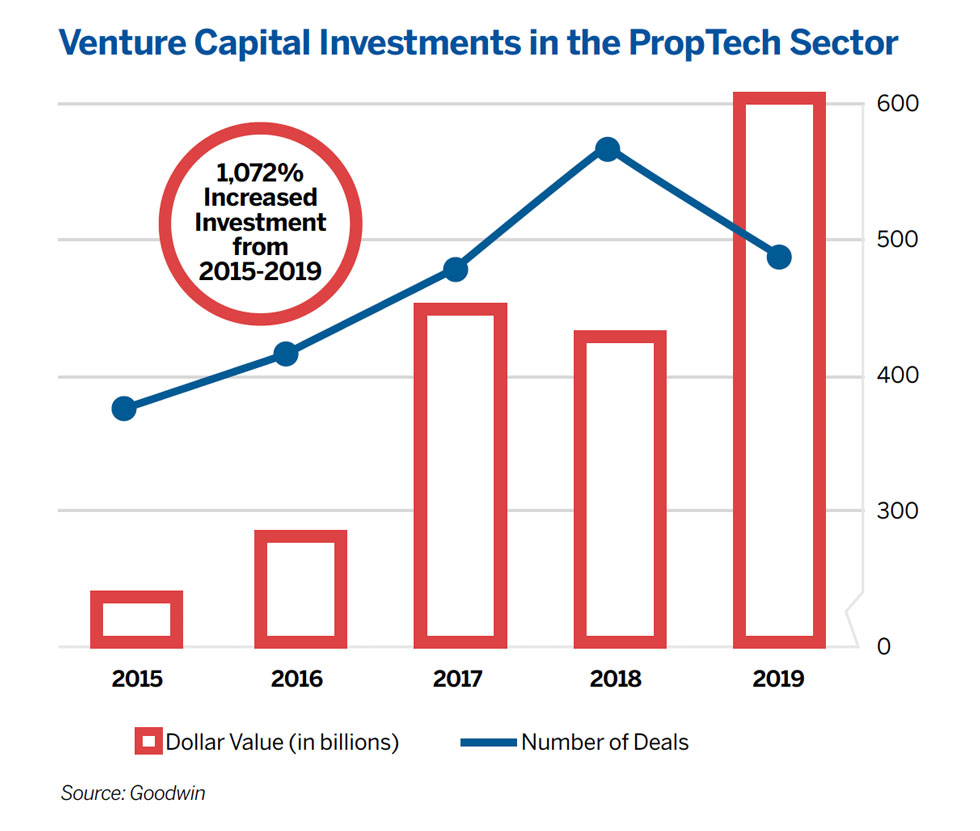 O'Brien sees REITs becoming more data driven in their approach, leveraging internal and external data to make key investment and operating decisions, both at a property and portfolio level.  
"They have become better at capturing data, housing it, and leveraging increasingly sophisticated analytic tools to support decision making," he says. "PropTech is playing a wide variety of roles in supporting that evolution, including providing data, developing tools such as sensors and other technology to capture internally generated data, and establishing analytic capabilities to utilize the data to make intelligent decisions."
There are many examples of how this data driven revolution is impacting REITs, including obtaining and utilizing market data to screen and evaluate investment opportunities; managing the investment underwriting process, as well as evaluating post-investment performance to assess the original underwriting; and supporting the leasing process, as well as the lease administration process.
Additionally, O'Brien notes the influx of data provides additional insights about tenants and how they utilize their space, enhancing tenant relationships and the value equation for tenants, and allows for operation of buildings more efficiently and in a more sustainable way, with sophisticated building management systems utilizing sensors to capture data and analytic tools to predict tenant needs, whether that be elevator usage or heating/cooling.
Range of Options
The rapid rise in the number of PropTechs, the broad range of their involvement in the real estate sector, and the number of competing players in each space make it challenging for REITs to determine who to utilize and support, O'Brien says.
"Many PropTechs have developed great technology but lack insight into how the technology can actually impact a REIT's business, much like the proverbial hammer in search of a nail," he says. "REITs will need to carefully evaluate which PropTechs show the most promise and may wish to collaborate with other REITs and PropTechs to help promising PropTechs further develop their tools to optimize the impact they can have on the REITs' businesses."
Poleg notes REITs have always used different software and hardware solutions to improve their operations, but the difference in the current wave of innovation is that investors are funding companies that are competing directly with REITs. This includes co-living, coworking, and short-term rental companies that are providing solutions directly to tenants, and not just developing tools for landlords.
For REITs, this poses a dilemma on how to respond to these new models, Poleg says. "Should REITs copy them? Partner with them? Invest in them? Or maybe they should ignore them?
Proptech in Action
Lately, O'Brien has seen numerous examples of REITs developing better insights about how tenants and their ultimate consumers, be they shoppers, employees or customers, utilize real estate and then using those insights to significantly enhance tenant relations and tenant value.   
For example, in retail real estate, REITs are leveraging PropTech-developed technologies to capture information about customer traffic and movement, which helps them better understand shopper needs and patterns, and what drives tenant sales. "REITs then utilize this information to more scientifically lease space to tenants that will enhance traffic flow, generate sales for tenants, and create a positive experience for customers," O'Brien says.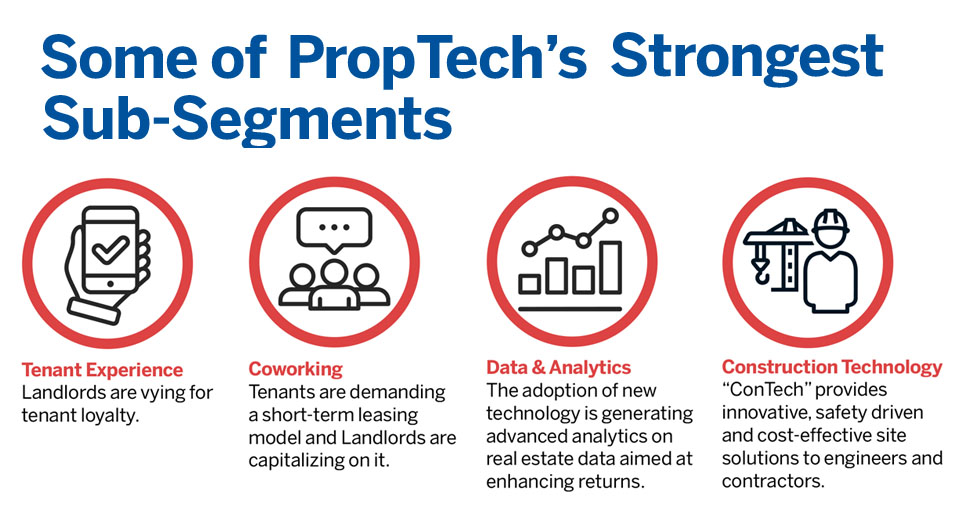 According to Poleg, investors are also scrambling to squeeze more yield out of existing assets given the length of the current economic cycle.
"Everyone has adopted many of the innovations of the previous wave, such as revenue management systems and property management software," he says. "Now, owners and operators are adopting new tools that tend to be more focused on the experience of the individual within the building." This includes tenant community and engagement apps, new customized services such as package delivery, dog walking, or even fridge replenishment, and other tools that empower individuals to monitor and control the environment in which they live and work.
Traditional owners and operators are facing tenants that expect more, are used to getting everything on demand, and at the same time are less willing to sign long leases or put up with traditional procedures. Technology helps bridge the gap between what tenants expect and what many buildings currently offer.
For example, PropTech firm VTS was founded in 2012 and developed a web-based solution that helps landlords streamline their leasing process. Blackstone tested VTS's solution for eight months and decided to roll it out across its massive commercial portfolio.
Leasing data used to be a lagging indicator that investors review only a few months after deals actually happen, sometimes only at the end of the year, Poleg says. With a system like VTS, portfolio managers can track leases in real time, see what has been signed, how much has been paid, what type of tenants are more active at which cities, and identify real-time trends, he adds.
Blackstone was so impressed with VTS that it decided to invest in the company and help it grow to new markets, Poleg says. "As a result, VTS is now becoming an industry standard."
Looking Ahead
Bragg notes that because the PropTech space is highly fragmented, many concepts will fail while others will display negligible impact on asset values, but there will be some that can be big and valuable.
"As operators sift through myriad new offerings that may slightly improve margins, property investors must cut through the noise to identify the concepts that could ultimately be most impactful," he says. "For the potential game-changing ideas, a productive exercise includes an exploration of the implications should the disruptive technology succeed."
Poleg notes real estate is becoming more branded, more serviced, and more flexible, and technology is redefining the meaning of location, visibility, accessibility, and zoning laws.
Over the next few years there will be continued outside capital funding "audacious entrepreneurs" who are looking to transform the way office, residential, hotel, and industrial space is delivered to end users, he says. Many of the new ventures will provide great tools that help landlords run their existing business. But some of these ventures will challenge landlords directly and force them to provide new services, employ different people, and possibly even adopt new corporate structures in order to finance new activities, he adds
In the next few years, O'Brien believes there will continue to be many new PropTechs forming, and ultimately, he expects to see some consolidation in the space as PropTechs combine capabilities to be more relevant to REITs and the broader real estate industry.  
"Like any area of startups, the PropTech space will have winners and losers, and the active involvement of REITs in this space will help determine who the winners and losers are," he says. "PropTechs will have an increasing impact on REITs in the future and forward-looking REITs should actively engage and work with promising PropTech players."
Liggio says that despite the tremendous activity the industry has seen over the last five years, PropTech is really just in its nascent stages and he expects to see a lot more growth in the pipeline and more returns on investment from continued innovation.