The TWA Hotel at JFK Airport is MCR's homage to the golden age of air travel.
03/24/2020 | by
The rebirth of the once-defunct TWA Flight Center at JFK Airport as the new TWA Hotel is more than just the latest project for MCR, a private REIT—the $265 million undertaking is a symbol of what vision, passion, and persistence can produce.
Opened in May 2019, the TWA Hotel pays homage to the 1960's, a period that MCR Chairman and CEO Tyler Morse calls the golden age of aviation and travel. This rich history is evident from every mid-century curve, down to the smallest details like penny tile floors, retrofitted vintage Western Electric 500 rotary phones, and elevator buttons from Manhattan's iconic Seagram Building.
"This building was intended to express the excitement of travel. And that's what it does. Every little detail contributes to that," Morse says.
With amenities like a rooftop infinity pool, runway room views, and Mad Men-era details, the hotel's throwback style and exuberant optimism are contagious.
 "It makes it relevant for nostalgia buffs, but it also makes it relevant for new young families and for people who want to experience history," explains Jim Steven, program director for JFK Redevelopment for the Port Authority of New York and New Jersey. At the same time, the hotel also echoes the functionality of its former life as an airport terminal by offering direct connection to Terminal 5 (T5) for Queens-based JetBlue Airways Corp.
Creating this monolith to the golden age of aviation took risk and vision. From its sixties' origins to its rescue from demolition and its current reimagining, bold individual efforts helped inspire extensive collaborations for an end-product nothing short of historic.
Monument to Jet Age Travel
MCR created the TWA Hotel from the headhouse of the original airport terminal, which opened in 1962. Two new wings, which house 512 guest rooms, sit behind the historic building.
A Howard Hughes-led TWA had envisioned the center to serve its line of  stylish Lockheed Constellation "Connies" propeller planes. "Hughes never value-engineered the project. He wanted the greatest airport terminal the world had ever seen. That's how you get a piece of art like this," Morse says.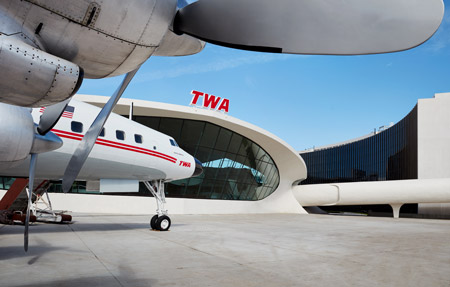 Sparing no expense, Hughes commissioned Eero Saarinen, the Finnish-American architect of the Gateway Arch in St. Louis. With TWA's iconic wings as an organic inspiration, Saarinen designed the futurist roof over the main terminal along with huge windows overlooking the runways, combined with tube-shaped departure and arrival concourses.
"It was really a piece of art, more so than a functional building. Every architect on earth studies this building," Morse notes. Inside, the space served mid-century modern aesthetics and the once-luxury comforts of casual air travel with the goal of inspiring travelers from around the globe.
As it turns out, one of those travelers was a young Morse. "I flew TWA with my dad and landed at JFK a couple of times," he says. It was the beginning of a love of aviation for Morse, a one-time baggage handler for Delta Airlines at LAX airport.
Preserving a Landmark
The TWA Flight Center was both ahead of its time and narrowly behind. The introduction of larger Boeing planes would render the center obsolete by 1970. Its early visionaries would depart—Hughes eventually relinquished control of the company, while architect Saarinen died in 1961.
The landmark building's future remained uncertain in the decades that followed. The terminal itself closed with the demise of TWA in 2001. Multiple ideas for redevelopment fell flat. The terminal's main center structure was nearly bulldozed twice—once in 1994 and then in 2004—and was narrowly saved thanks to the preservationist community's rallying.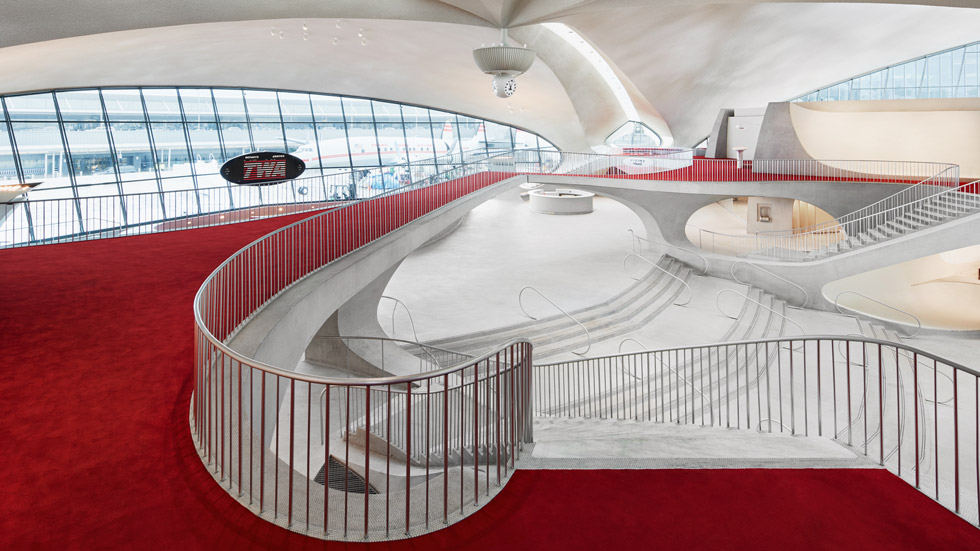 In 2005, the National Park Service listed the TWA Flight Center on the National Register of Historic Places, ensuring its safety without a specific vision for it in mind. "We didn't know what we wanted, but we knew it had to be adaptively reused," Steven explains.
Yet the same preservationist concerns that had saved the building from destruction also made it more of a challenge for traditional development.
One request for proposal (RFP) after another failed, according to Morse, who watched with interest from the sidelines. "I said 'this is my shot. I've got to get involved in this project," he recalls. "I knew what this could be. It's really the opportunity of a lifetime to get involved."
Morse, from his position at the helm of the New York/Dallas-based REIT and the fifth-largest hotel owner-operator in the country, finally had the opportunity to do just that. He says MCR's REIT structure offered "the perfect vehicle for taking on the long-term redevelopment of the flight center.
A Contagious Spirit
According to the Port Authority's Steven, Morse had "a deep understanding of the costs, the site limitations, and land use agreement challenges, all evident in his business plan. Things like that made us recognize that he had the best proposal and the best deal. And then it was his excitement."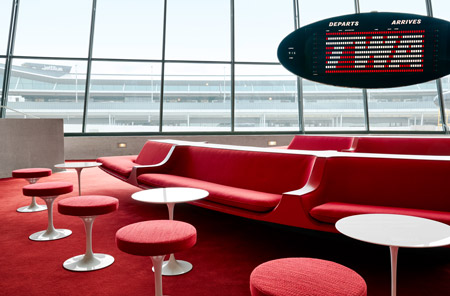 In 2015, New York Governor Andrew Cuomo announced that the TWA Flight Center would have a second life as a hotel thanks to a 75-year lease agreement with Flight Center Hotel LLC, a partnership between MCR and JetBlue that would remake the TWA Flight Center and its nearly six-acre site into JFK's only on-airport hotel.
"Some people met the news of a hotel onsite with some skepticism. A hotel here was a kind of anomaly and a really good one I think," explains Thomas Grech, president and CEO of the Queens Chamber of Commerce.
The advent of JetBlue had already helped breathe new life into JFK Airport with the construction of the T5 terminal in 2008. "JetBlue is New York's airline. They're based in Queens and got their start here. The fact that there's a connection between the TWA Hotel and the JetBlue terminal is unique and special for Queens residents," says Grech.
Coordinating the various permitting, planning, and construction tasks required monumental effort. MCR worked with 22 government agencies, 176 different consulting firms, and nine law firms because of the extensive amount of intellectual property involved in recreating the authentic experience of mid-century travel. (Morse managed to trademark both the phrase "experiential hotel" and the year "1962".) Each organization had their own set of objectives, requiring compromise and coordination at every stage.
"It takes a lot of passion. Our team came together and worked hard to make this happen," Morse says.
From groundbreaking to ribbon cutting, Grech and the Queens Chamber worked closely with the MCR team to tackle the many layers of bureaucratic paperwork. Wherever MCR needed to go to get approvals, "we were there to help because of the importance of the salvation of this building," he says.
Morse also found willing partners at various levels of local and state government. "People wanted to see this building brought back to life. The city, Port Authority, and the FAA were all great partners. All of the government agencies came together to make this happen," he says.
Reimagining an Icon for the 21st Century
Designed by Lubrano Ciavarra Architects with Beyer Blinder Belle Architects and Planners, LLP overseeing the restoration, the hotel boasts creative new amenities that fit seamlessly alongside the mid-century designs. Authentic period touches like David Klein posters and tambour walls complement the modern clean lines of its guest rooms designed by the New York-based firm Stonehill Taylor.
A rooftop infinity pool overlooks flights taking off on the runway, while the Sunken Lounge serves retro cocktails. The hotel has multiple dining options, a 10,000-square-foot modern fitness center, New-York Historical Society-curated exhibits, and a seasonal  ice skating rink centered around a decommissioned 1958 Lockheed Constellation "Connie" airplane that now serves as a 125-seat cocktail bar.
"These kinds of ideas really inspire people to come and enjoy and participate in something you don't have any place else," says Steven.
All of this works together to highlight the beauty of Saarinen's original design. The building has no right angles. "It's one long sinuous curve that's very pleasing to the eye," says Morse, who will eagerly describe the many facets of the structure's complex design process in detail, like the 30-hour continuous concrete pours required to create the structure's iconic shells. The Saarinen structure has 66,000 square feet of column-less space, the largest column-less volume in the world, with only four points of contact with the ground.
Boost to the Borough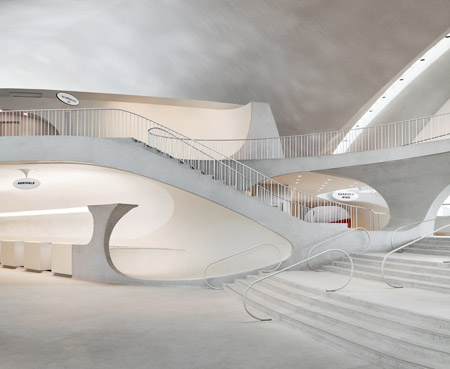 The TWA Hotel is one segment of JFK Airport's extensive redevelopment plan. "As part of the redevelopment of Kennedy airport and paving a path to significant growth over the next 30 years, one of the things we have been focusing on is the customer experience—trying to reduce stress, making wayfinding intuitive," says Steven.
The $13 billion plan includes two new terminals,  a unified and interconnected airport system with best-in-class passenger amenities, centralized ground transportation options, and extensive improvements to roadways. It is projected to increase the airport's capacity by at least 15 million passengers a year.
"It's a meeting point. All roads lead to JFK airport," Morse says. "There are 3.5 million people that live east of JFK and about 6.7 million live outside of Manhattan in New York City, so there's a great gathering point with plenty of parking and public transit access."
The hotel has already provided a boost to the borough. The project created 4,000 jobs, both permanent and construction-related, with many of the employees hailing from the Queens neighborhood. "It's really a shot in the arm to the borough," Grech notes.
Grech credits the hotel's connectivity as central to the airport's reimagining. Upcoming collaborations with both the U.S. Open tennis and golf tournaments are in the works, and several on-site museum exhibits are planned. "You're going to see things at an airport that have never been done before. We're excited not only for the jobs portion, but also for the unique nature of flight and what's going on in our world right now," he adds.