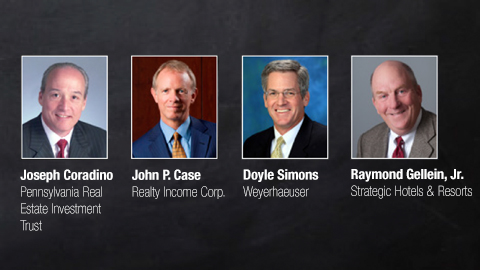 Over the last year, a handful of the nation's largest real estate investment trusts underwent a changing of the guard. A new generation of chief executives is carrying out the mandates of their predecessors to focus on growth, expansion and profitability. Along the way, these new leaders have been bringing their unique style and vision to the job, steadily earning the confidence of shareholders and employees.

The chief executives of Strategic Hotels & Resorts Inc. (NYSE: BEE), Weyerhaeuser (NYSE: WY), Realty Income Corp. (NYSE: O) and Pennsylvania Real Estate Investment Trust (NYSE: PEI) have each been at the helm of their companies for roughly a year or so. While they say they have enjoyed relatively seamless transitions, they haven't been free from some growing pains.

Tackling debt-laden balance sheets, changing the company culture and communicating their leadership philosophies to shareholders and their employees were some of the challenges that the chief executives say they overcame during their early months of leadership.

ON THE CASE AT REALTY INCOME
"I was fortunate to have stepped (into the role) as part of an orderly succession process," says John Case, CEO of Realty Income, a net lease REIT based in Escondido, Calif., that focuses on freestanding, single-tenant commercial properties, most of which are retail. Case became the company's third chief executive in its 45-year operating history when he succeeded Tom Lewis in September 2013.

Case previously served as the company's president and chief investment offi cer, where he played an integral role in executing the company's strategy. "It's certainly helpful to be part of a senior management team that has an average tenure of 16 years," he says.

Nevertheless, one of Case's fi rst actions as chief executive was to increase staffi ng at the company as it moved away from solely retail properties into the industrial and distribution segments.

PULLING THE RIGHT LEVER(AGE) AT PREIT
While the other newly minted CEOs also benefi tted from the backdrop of a robust commercial real estate recovery and a REIT market that has gained in popularity among yield-hungry investors, some say they had to tackle lingering balance sheet problems left over by
the brutal national downturn.

"At the time, we had one of the worst balance sheets in our sector and the highest leverage," says Joseph Coradino, chief executive of Pennsylvania Real Estate Investment Trust, commonly known as PREIT, since June 2012. "Balance sheet strength and reducing our leverage was one of the goals of the company."

Coradino was a long-time veteran at the retail developer and owner, including serving as its president before his promotion. To build investor confidence, Coradino also focused on improving performance and fostering a renewed culture of accountability at the company.

At the time of his appointment, "everyone was in a much better frame of mind than they had been three years earlier," he says. "As I looked at the company, though, we weren't keeping pace with that momentum."

Among Coradino's first steps as CEO was rewriting the company's vision statement, which sits on every employee's desk. He also hired an independent company to conduct a survey on the perception investors had of the company. "You're not always going to get the response you want," Coradino says, but he explains that an honest appraisal was well worth a potential blow to the ego if it could improve the bottom line.

This is Coradino's first time ever serving as a chief executive, a role that he says he had strived for during most of his career.

"This has really been for me almost a realization of a dream," Coradino says. "I grew up in a rowhouse in South Philadelphia, and neither of my parents finished high school."

STRATEGIC LEADERSHIP
Raymond "Rip" Gellein, Jr., who was appointed chief executive of Strategic Hotels in November 2012, says the top to-do item of his agenda was to pay down the company's debt, partly by selling key assets such as its Four Seasons Punta Mita Resort in Mexico.

"We… had some balance sheet issues, (and) it was important for us to delever the company, which was a big part of our strategy," Gellein said. He noted the lodging sector was still in the midst of a strong recovery when he moved into the executive suite.

Gellein says also faced the challenge of putting his own stamp on his position.

"What is really critical is to create the relationships and the culture that is… uniquely the CEO, if you will. You have your own style, you have your own value system," he says.

Joel Beam, a portfolio manager at the Forward Select Income Fund, in San Francisco, Calif., says Gellein has presented himself as a good businessman who is straightforward and in command of the facts. "For me that resonated and augured well for a stock that was under pressure and didn't pay a dividend," he says.

Beam says there is still value in Strategic's shares. Yet, the company's biggest challenge moving forward is building on its modest cash flow and market capitalization, while having limited ability to raise capital because it doesn't pay a dividend.

That could mean major changes for Gellein and his company, according to Beam.

"My sense is that Strategic Hotels is one of the more likely names that will experience a real change in the assets that are in its portfolio," he says.

THE NEW WAY AT WEYERHAEUSER
Capturing the benefits of major portfolio changes underway at Weyerhaeuser, one of the world's largest timberland owners, was a key challenge for its president and chief executive, Doyle Simons, who was appointed in June 2013.

For instance, one month after he was appointed, the company, based in Federal Way, Wash., acquired Longview Timber for $2.7 billion. In the months that followed, the company sold its homebuilding unit to Tri Pointe Homes Inc. for $2.7 billion and exited that line of its business.

"We're also changing our culture based on clear and consistent feedback I heard from employees and other stakeholders," Simons says. "Changing culture is one of the hardest things to do at any company, and it doesn't happen overnight."

Simons was on Weyerhaeuser's board for a year before becoming its CEO.

"Mr. Simons has laid out a deep and relatively specific plan to improve profitability at each of Weyerhaeuser's major businesses," says Brian Jones, a co-portfolio manager for the real estate securities group at Neuberger Berman. "I've been impressed with the details on specific cost savings and efficiencies he believes are attainable within the different business lines."

Jones notes that while the company was in decent shape before Simons' appointment, Weyerhaeuser needed a CEO with a "clear strategic vision on how to either improve the various segments within (the company) or potentially consider strategic alternatives," such as the sale of businesses that may not produce attractive returns on capital.

"He is uniquely qualified to address some of the challenges under the Weyerhaeuser corporate structure," Jones says of Simons.

Moving forward, Jones says it will be important for the company to make quantifiable improvements in its operating margins across the different businesses. "For businesses that can't show improvement… or are not fixable, then they should be sold or divested in one manner or another," he says.

WORDS OF ADVICE
Although being the chief executive of a company comes with a set of unique experiences, these executives agreed that having served in various leadership roles within the company, and at other firms, is the best preparation for the job. It is instrumental when it comes to identifying the priorities, goals and concerns of shareholders and employees from the start, they say.

Gellein had been chairman of the board at Strategic for two years and was already in line to replace the former CEO, Laurence Geller, in an established succession plan.

"Laurence Geller actually encouraged me to spend time with his key direct reports. I understood what their basic business issues were (and) had more exposure to them than the average board member," Gellein says. He also served as chief executive at other public hospitality companies for more than 20 years, including being chief executive at Vistana Inc. during the mid-1990s before it was sold to Starwood Hotels and Resorts.

Simons has spent his entire career in the forest products industry and was chairman and chief executive for four years at Temple-Inland prior to his tenure at Weyerhaeuser. He says his stint on Weyhaeuser's board gave him tremendous insight into the company's assets, employees and potential.

His most valuable preparation, he says, occurred during the first 50 days after he joined Weyerhaeuser.

"I used that time to tour our operations all over North America and talk with people at all levels of the organization. I also met with many of our investors," Simons says. "The first thing you do is listen really hard and ask people: what does the company do well, and what do we need to do better. I got a lot of open, honest feedback that really helped me work with our senior leaders to shape the path forward for Weyerhaeuser."

Coradino says that although being a long-time executive at the company greatly aided in his smooth transition into top leadership, he wanted to start with a "clean sheet" when he became CEO of PREIT.

"I didn't want to be in a position," he says, "where what happened before me was going to drive strategy…or the culture of the company."

The biggest, single piece of advice that the new chief executives have for their peers preparing to follow their path to the big executive suite: Establish strong lines of communication and outreach with staff and shareholders.

"First and foremost, I would advise someone taking on this role to listen to your team and learn," Gellein says. "Also, it is critical to create relationships with key shareholders and your operating (and) brand partners."

Simons says feedback and building a strong leadership team are also of paramount importance.

"Take time to understand what makes a company tick and get feedback from all levels of the organization," he says. "Secondly, move quickly to get the right people in critical leadership roles. You can't drive change without the right people on the bus."

A.D. Pruitt is a regular contributor to REIT magazine.