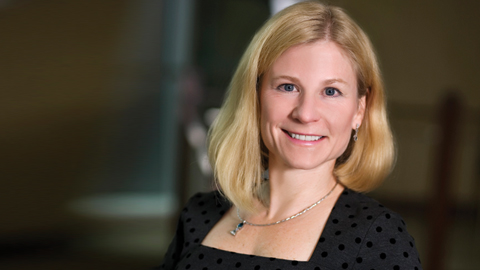 SHERRY REXROAD HAS more than 25 years of experience in the real estate investment business. She became chief investment officer, Americas of the BlackRock Global Real Estate Securities Group in 2012.

Rexroad previously served as a senior portfolio manager with the global listed real estate securities team of Aviva Investors. Prior to that, she was a managing director and portfolio manager with ING Clarion Real Estate Securities. Other stops along the way have included AEW Capital Management, the U.S. Environmental Protection Agency and the General Services Administration.

REIT magazine interviewed Rexroad on the mechanics of managing a real estate securities
fund both domestically and abroad.

REIT: You've worked in the real estate investment business for more than 25 years. Is this an industry that has always interested you, or did you happen into it by chance?

SHERRY REXROAD: In college I was an urban studies major. I interned for an architect and I really liked the tangible aspects of real estate, but I didn't like the detailed drafting that I had to do. I started to think about ways that I could have a career that was related to buildings.

When I got out of college, I did construction management and asset management for office
space, but then the financial aspect intrigued me. I got a degree in finance and public policy from the Wharton School of the University of Pennsylvania, and that's when I made the transition within real estate from a direct to an investment management perspective. I've been doing that ever since.

REIT: Can you give us an idea of how your work schedule breaks down? For example, how much
time do you spend in the field visiting companies?

REXROAD: There are two different types of "in the field." There's actually looking at properties, and that's as much as 10 percent of my time—to actually go on property tours and meet people from the companies who aren't in the C-suite but in the field managing the properties.

There's another 10 percent that is meeting with senior management, whether that's going to their offices and seeing the depth and breadth of the team or when they come into my office—really getting to know the team across the disciplines. Then there's probably 20 percent of my time that's more about the global picture. As chair of our investment committee, I need to be aware of what's happening with the CIO in each of our regions. I have to structure the process for everyone, making sure that our investment process is consistent. Another 10 percent is business development. We have to figure out where the company's strategy is going and how we're going to develop clients and investors.

The other half of my time is really looking at the portfolio construction and the individual stock selection. That can be working with my analysts and looking at the models and talking them through their different investment ideas—working those ideas from an idea in somebody's head to a full-fledged and thought-out investment thesis that we're ready to implement as a team.

REIT: What are the biggest challenges of managing a global fund versus a domestic investment portfolio?

REXROAD: If I wanted to be really simplistic about it, I would say the time differences (laughing). I spend a lot of late nights and early mornings on calls. I think the biggest thing is truly that you have people on the ground. Having late-night and early-morning phone calls is a small price to pay for having those people on the ground in the markets
that they're following. You just can't know the management teams, the properties, and the micro and macro factors that influence stocks when you're sitting across the world from where they are.

REIT: The spectrum of industries represented under the REIT banner is wide and deep. How
has this impacted your job?

REXROAD: I actually love the deepening of the sector. In terms of exploring the different types of real estate that are becoming part of our world—single-family rentals and data centers, for example—I think these are part of the evolution of real estate and something
that, as a portfolio manager, I need to stay on top of, be aware of and be educated about.

REIT: In your dealings with clients, what are some of the primary reasons that they give for
wanting to make stock exchangelisted REITs part of their retirement portfolios?

REXROAD: I think the reasons are timeless: diversification, liquidity, and income with capital appreciation.

REITs are the only way individuals and many smaller institutions can gain access to the commercial real estate market.

REIT: What are the constants that you look for in the companies that you target for investment?

REXROAD: I have a quality bias. I always am drawn to quality management teams that have the
depth and breadth of experience that I believe is necessary to manage a forward-thinking company.

That also goes for property quality from both a location and an asset quality standpoint.

REIT: Do you have any tips for investors who are hoping to begin investing abroad in real estate?

REXROAD: If it's an investor looking to hire a manager, you need to look for a team that has people on the ground.

We have chief investment officers in three different [geographic] regions, but we have a common process that we use collectively. If our CIO in the Asia-Pacific region wants to make
an investment, he is using the exact same valuation system and process that I use in North America. He can walk me through all of the valuation parameters in the same apples-toapples
comparison that I use.