With a mega-merger in the rear-view mirror, Essex Property Trust is building up its portfolio out west.
05/19/2015 | by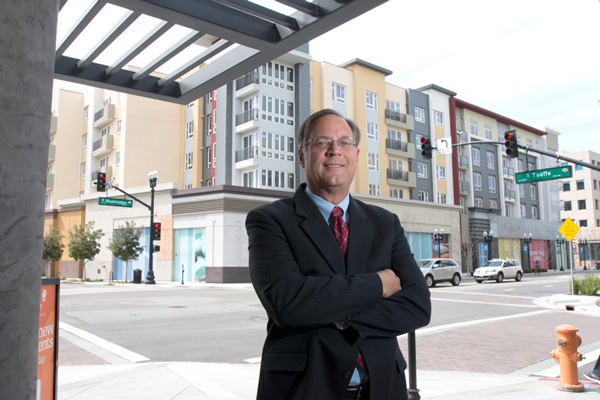 After closing a major merger last year, activity at Essex Property Trust, Inc. (NYSE: ESS) hasn't slowed as the company hones its strategy of pursuing transit-accessible urban and suburban apartment opportunities within its core coastal California and Seattle markets.
Palo Alto, Calif.-based Essex, an S&P 500 Index company, paid approximately $4.3 billion to buy its former West Coast competitor BRE Properties in 2014. 
Michael Schall, Essex's president and CEO, led those merger efforts. Schall was promoted to his current position in 2011, having previously served as the company's chief operating officer and chief financial officer.
Analysts describe Schall and his executive board as one of the best management teams in the REIT industry. Analysts estimate that Essex shares trade at a premium of more than 10 percent to net asset value (NAV).
"They are very highly regarded; they seem to never miss a beat," says Ryan Meliker, managing director at MLV & Co. "That is something that is well-understood and why the stock is as high as it is. It's expensive for a reason." 
Three-Phase Merger Integration Process
Schall says phase one of the three-part BRE merger integration process is now largely complete. With the "heavy lifting" of consolidating offices, staff, and converting to a single property management platform now accomplished, Essex is moving ahead with phases two and three. 
Essex Property Trust At A Glance

Address: 925 East Meadow Drive, Palo Alto, Calif. 94303-4233

Phone: 650-494-3700

Website: https://www.essexapartmenthomes.com

Management Team:
Michael Schall, President & CEO
Michael Dance, EVP & CFO
John Burkart, EVP, Asset Management
John Eudy, EVP, Development
Craig Zimmerman, EVP, Acquisitions
"Many benefits from phase one, such as improved occupancy and pricing practices, will likely continue to bear fruit in 2015 and beyond," says Tom Lesnick, analyst at Capital One Securities.
"They've done a very nice job from the outside looking in of combining these two companies," says Richard Anderson, analyst at Mizuho Securities USA Inc. "They're through some of the low-hanging fruit. Now it's time to peel back the onion more deeply."  
For his part, Schall describes the next phases of integration as "fundamentally about improving the company in a variety of ways," including bringing the BRE properties onto the Essex redevelopment platform, adjusting the BRE portfolio pricing mechanism, integrating websites, and collectively managing properties.
"Re-energizing the BRE platform will be an important factor to watch," according to Anderson.
Merged Company Offers "Unique Franchise" 
The merged entity, Schall notes, offers a "very unique franchise" to investors as it is the only stock exchange-listed multifamily REIT focused exclusively on coastal California and Seattle. These core markets, he points out, rank among the top 10 economies in the world.
"It's a great place to live...these markets have a diverse and deep job base combined with limited supply, which are ideal for owning apartments," Schall says.
Anderson underscores the importance of the technology sector to Essex's prospects in Northern California and Seattle. "I expect they'll continue to do extremely well there as long as the technology industries maintain the trajectories they are on," he said.
Meanwhile, Essex's exposure to Southern California provides diversification to the portfolio since the region is less tethered to the tech sector, he adds.
West Coast tech markets "are on fire right now," Meliker says. While he sees no signs of that trend slowing anytime soon, "it's unlikely that they can continue at the same growth rate we've seen over the past couple of years in perpetuity."
In addition to choosing areas with good quality of life and solid job prospects, Essex strives to be in locations where high prices for single family homes make the transition from renter to homeowner a challenging one.  
According to the National Association of Realtors, four of the five most expensive housing markets in the fourth quarter of 2014 were located in California, led by the San Jose metro area, where the median existing single-family home price was $855,000.
With home prices at these levels, "the transition to homeownership is difficult – that's good for us," Schall says.
Significant Supply-Demand Imbalance
For 2015, Essex is forecasting market rent growth of 5.6 percent. That reflects the fact that supply for all housing in Essex's core markets—both rental and for sale—is expected to increase just 0.8 percent, while projected job growth remains robust at 2.5 percent, Schall explains.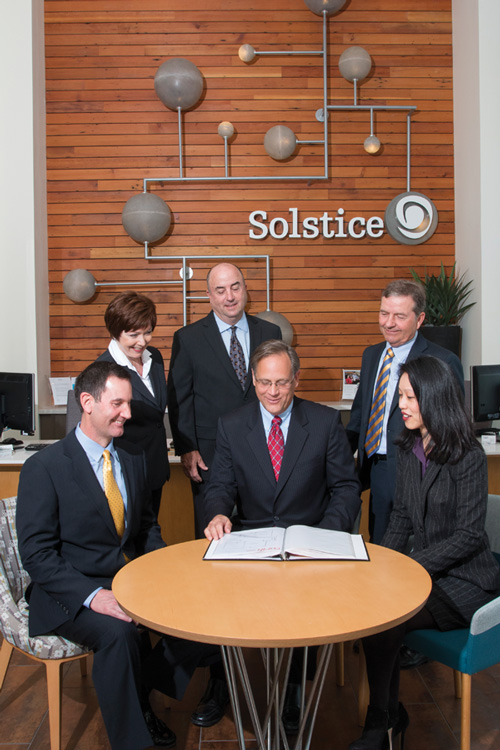 "That's a pretty significant supply-demand imbalance," says Schall, noting that this is the fifth year in a row that housing demand has exceeded supply.
A recent report from California's Legislative Analyst's Office (LAO) states that "community resistance to housing, environmental policies, lack of fiscal incentives for local governments to approve housing and limited land" are working to constrain new housing construction in the state. The LAO says that while the number of new housing units California needs to build is uncertain, "the general magnitude is enormous."
Meliker says supply-demand dynamics should remain favorable for Essex "at least through 2016, so there's some nice runway for them." 
With low supply pushing up rents in the West Coast's major metropolitan markets, excess demand is spilling over into the suburbs, Schall says. He stresses, however, that Essex is focused only on "very commutable suburban markets" in light of the gridlock problems on the West Coast. That makes access to transit a key in these markets. 
Indeed, Essex's focus on transit-oriented markets is in line with a change in direction on the West Coast regarding the future of transportation, according to Schall. "There is a tremendous effort underway here to improve transit systems," he says.
To underscore this, Schall points to new laws on the books in California, AB-32 and SB-375, attempting to focus housing development in proximity to office and retail venues that are accessible by public transit systems. Schall says he expects this new way of thinking to constrain housing development in its core coastal markets for several more years at least.
Portfolio Taking a More Suburban Tilt
Looking ahead, Schall predicts that the company's portfolio will take on more of a suburban tilt. "It would be very difficult for us to get more than one third of our properties in the urban core, just by virtue of how many properties there are in the market," he says.
Anderson notes that the inclusion of both urban and suburban properties plays into Essex's overall strategy of diversification. "That's an important anecdote for the long-term viability of Essex's story," he says. 
A recent example of Essex's suburban shift is its purchase of the 12-acre Station Park Green development in San Mateo, Calif. Located on the site of a former Kmart, Station Park Green has been planned as a model transit-oriented village that will allow residents to connect directly to San Jose and San Francisco.  
"San Mateo is a high-quality city with expensive single family homes. That makes it the optimal development site in a more suburban area, with proximity to a major urban core," Schall says.
Two other recent deals, meanwhile, show that Essex remains highly engaged in sought-after urban markets.
Stock Synopsis

Ticker: ESS (NYSE)

Equity Market Cap.: $14.82 Bil.

Share Price:$226.78

52-Week-High: :$243.17

52-Week-Low: :$168.50

Dividend: :$5.76

Yield: :2.5%

(Data as of April 22, 2015)
In February, Essex announced the purchase of a land parcel in the Transbay Center District Plan area of San Francisco for $43.6 million. Essex, which will hold a 50 percent stake in the venture, plans to develop a 42-story apartment community that will include ground floor retail space.
The new Transbay Transit Center, due to be completed by fall 2017, will create a modern regional transit hub connecting eight Bay Area counties and the State of California through 11 transit systems. The center is being dubbed the Grand Central Station of the West.
Essex also announced in February that it paid $200 million for an apartment community in downtown Los Angeles. The property, like the Transbay site, is condo-mapped, meaning that Essex can convert rental units into condos if there are appropriate premiums for sale at a future date. "It's another theme that we are focused on," Schall says. 
Fierce Competition for Assets
Competition for assets in Essex's preferred urban and suburban infill areas is "fierce," according to Schall: "These are the markets that most investors want to be in, and there is no shortage of funds seeking assets." Schall says Essex's competition is coming from other REITs, pension funds and foreign investors.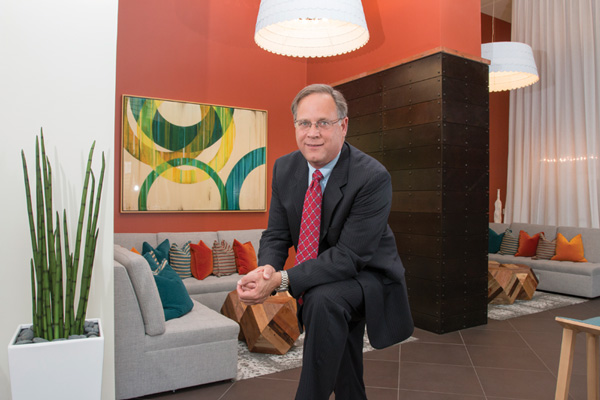 Essex's attractive cost of capital helps it compete for sought-after properties, according to Meliker, who notes that the firm has "arguably the best cost of capital in the space, certainly from a publicly traded REIT standpoint." With its stock trading at a premium to NAV, according to Meliker, Essex "can use that stock as currency and make a deal that's more accretive than others."
For 2015, Essex expects to spend about $500 million on acquisitions. Meanwhile, the apartment REIT is outlaying $1.3 billion for development projects to be launched in 2015 and 2016.
Anderson notes that relative to the size of the company, Essex's development platform is "very manageable and likely to become more manageable as they balance the risk and reward of taking on development opportunity."
However, Schall says Essex's development plans will start to moderate going forward.
"We think we are somewhere in the fifth inning, that midzone of the economic cycle, so it seems prudent for us to have a significant development presence," he says. "However, we will look to scale that back as we approach what we perceive to be the top of the economic cycle." 
Note: Capital One Securities, Inc. has managed or co-managed a public offering of securities for and received compensation for investment banking services from Essex Property Trust, Inc. within the past twelve months.
Sarah Borchersen-Keto is REIT magazine's associate editor.