Straight-shooting CEO Don Miller has overseen Piedmont Office Realty Trust's growth since its listing on the NYSE five years ago. 
05/20/2015 | by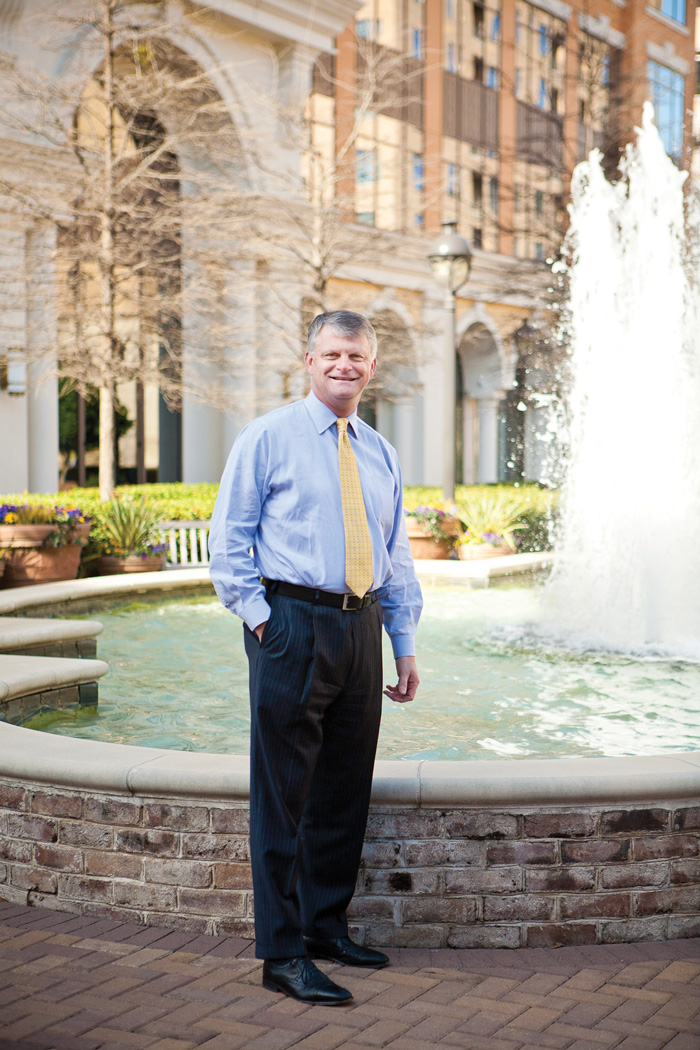 Five years ago, Donald A. Miller underwent a significant shift in his career, even though he did not change companies or even his title. Miller, president and chief executive officer of Piedmont Office Realty Trust (NYSE: PDM) since 2007, successfully navigated the public non-listed REIT's listing on the NYSE in early 2010. 
In doing so, he became one of the few REIT CEOs who has worn both the public non-listed and exchange-traded REIT hats and guided an organization through that transition, says Jed Reagan, an analyst with Green Street Advisors. 
Since listing in February 2010, Piedmont has strengthened its presence in some of the largest U.S. office markets. It has sold assets in secondary locations and redeployed capital into acquisitions. The Atlanta-based firm now owns and manages a 21-million-square-foot portfolio valued at more than $5 billion. 
In addition to overseeing a portfolio repositioning, Miller has worked to build an organization that he calls "second to none" from an operational perspective. Among other things, Piedmont has decentralized its operations, putting "boots on the ground" in each of its major markets. Among REITs, Piedmont now has the largest number of buildings with the BOMA 360 designation, according to the company. More than 75 percent of its portfolio, based on annualized lease revenue, is Energy Star rated and about 40 percent is LEED certified.
In the past five years, Miller has come to be regarded by many Wall Street analysts as a straight-shooter. He is also credited with having shored up a portfolio that faced a large number of lease expirations in recent years, positioning it for better days ahead. Last year, office REITs saw fundamentals improve in a meaningful way thanks to stronger job growth.
With a lot of heavy lifting behind him, Miller is now looking at opportunities to turn Piedmont into an even bigger player in the office REIT sector. He recently spoke with REIT magazine about topics ranging from his outlook for the American job market to Piedmont's next steps.
REIT: What have you learned during the past five years as CEO of a listed REIT?
DON MILLER: Certainly, running a publicly traded company is quite a bit different than running a private real estate entity. As a public company CEO, you are spending a lot of time with investors and managing the operation of the business itself, rather than being as involved on the direct real estate side of the business. But it is still critical to keep your hand closely connected to your various markets so that you are able to address questions effectively when dealing with investors. 
REIT: What were your goals for Piedmont at the time of its IPO? How much progress has the company made in terms of meeting those goals?
MILLER: When we went public, we had a portfolio that had been assembled in a public non-listed REIT environment. As a result, we had some fairly substantial objectives with regard to adjusting the strategy of the organization to become more multi-tenant focused in markets that are strategic to our goals and with regard to placing boots on the ground in each of those markets. 
There were a number of objectives that we laid out from a geographic-ownership perspective; in terms of embedding people into local markets; and from an operational-excellence perspective. We feel as if we have achieved virtually all of those goals in the five years since we've come public.
REIT: Lately, we've seen some positive news with regard to job growth. Do you think the American job market has finally shifted into high gear?
MILLER: Clearly job growth has improved dramatically, and that has had a very positive impact on most of the markets in which we operate. We have seen job growth translate into very strong office absorption in most of our markets. Although wage stagnation is still a real concern for people who do what I do, the fact that we have seen fairly strong job growth in office-using sectors has been very positive. That improvement has bypassed Washington, D.C., and there is certainly some room to be concerned about the markets dependent upon the Energy Patch going forward. 
CLOSE-UP

Age: 52

Education: B.A., Furman University

Hobbies:Spending time with family; church; golf.

Professional Activities:Member of NAREIT's Advisory Board of Governors; member of Urban Land Institute; member of NAIOP, the Commercial Real Estate Development Association; member of board of directors of Pacolet Milliken Enterprises.
The bigger risk we see is that, longer term, there are complicated issues around the educational challenges we have as a country. We constantly hear our tenants complaining about not being able to find good people to fill high-paying roles, whether that's because of immigration issues or issues related to the U.S. educational system.
REIT: What are the risks with regard to wage stagnation?
MILLER: The consumer drives a big part of our GDP. If wages aren't growing, consumers aren't able to buy as many products. That impacts GDP growth, which impacts demand for office space.
REIT: What are your biggest worries when it comes to issues that threaten to undermine the recovery?
MILLER: The near-term issues that give us a lot of concern are poor political leadership and the regulatory environment. Many of our customers tell us that the reason they are not spending more money and investing in more jobs is because of the regulatory and political environments. 
The bigger, longer-term concern is the level of U.S. government debt and the impact that could have on interest rates, on the balance sheet of government and more broadly across the economy.
REIT: Piedmont's core markets include Atlanta, Boston, Chicago, Dallas, Houston, Los Angeles, Minneapolis, New York and Washington, D.C. Which of those markets have really shined during the recovery?
MILLER: Those that have the greatest level of technology exposure. In our portfolio, Boston has been a bright spot. Dallas has been the next-biggest bright spot for us. More recently, we are seeing some of the other corporate markets, like Atlanta and Phoenix, really start to rally.
REIT: Washington, D.C. has been stuck in neutral, owing to downsizing and inactivity on the part of the federal government and to a push by law firms to reduce the amount of space they use. Do you agree with that assessment and, if so, do you see any signs that the market is improving? 
MILLER: Yes and yes. In our view, we are bouncing along the bottom in D.C. right now. Demand levels are picking up a little, but clearly concessions have been driven much higher in that market. Face rental rates are holding up fairly well, but the concessions are driving down net effective rents fairly substantially. We do see improvement in the level of activity, but that hasn't started to drive net effective rents back up yet, and we are not optimistic that will happen in the near term. 
We have a very high-quality portfolio in mostly infill areas of Washington, D.C. So, from a long-term standpoint, we are very confident with the quality of our portfolio there, and we have little or no debt on that portfolio. So there is no reason not to continue to plug away, because to panic and exit a market wouldn't be in the long-term best interest of our shareholders. 
REIT: Piedmont has a development underway in Houston's Energy Corridor. Given the recent pullback in oil pricing, what is your outlook for that market?
MILLER: Any time there is a shock to the system in a market, it can take a while for things to sort themselves out. We are starting to see the first indications that some of the larger oil tenants are putting sub-leased space on the market and/or landlords are getting a little more aggressive in pricing their product. But it is a bit too early to get a real strong sense of what's happening there.
Although our exposure in this market is fairly limited, it would be naïve to think there isn't going to be an impact on pricing in the marketplace from a capital markets and leasing perspective as we move forward.
REIT: Piedmont recently hired Jones Lang LaSalle to market Aon Center in Chicago. You were quoted as saying that the sale of Aon Center would be "a little bit more of a company-changing event" than other planned dispositions. Is that just because of the size of the property? 
MILLER: It really is. Aon is over 10 percent of our portfolio by square footage, so it becomes a very lumpy asset. As a result, it has a disproportionate impact on us, both pro and con, when things are either going well or not. From a risk perspective, lowering our exposure to an asset of that size in one location would be wise. We are going to be evaluating whether we try to sell the property outright or look to joint venture it, 50-50, with an investor. We are open to both alternatives.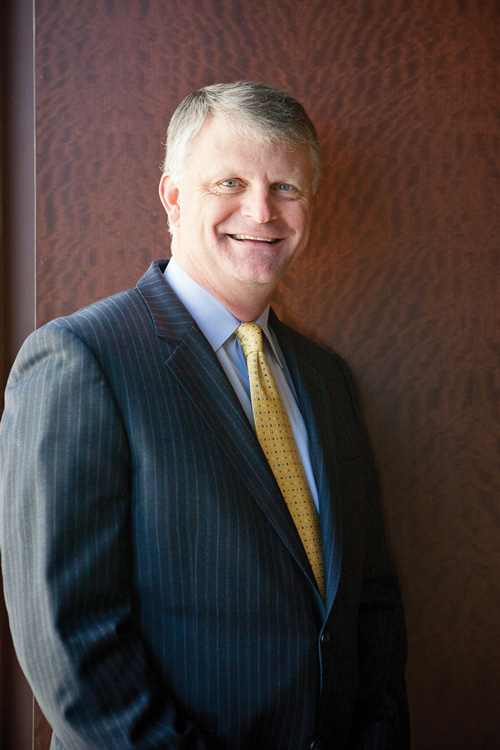 REIT: In the next three to five years, how do you expect Piedmont to be different than it is today?
MILLER: I think there could be opportunities to find scale in the marketplace, whether it be through combinations with other organizations or buying larger portfolios. Size and scale is a benefit.
Obviously, if you become too big, it becomes hard to move the battleship. But at a larger size than what we are today, you probably get more attention from the investor space and, as a result, potentially a better valuation to the business. We will look to grow the organization from that perspective, but we won't grow just for the sake of growth.
It will also be critical that we continue to reinvest in our buildings to make sure that we continue to attract that class of tenants looking for creative office space. In particular, it is important to continue to make sure that the paths of travel in our buildings – the lobbies and other common areas – are attractive to tenants looking for that kind of space. 
REIT: You have been in the commercial real estate business for more than two decades now. What advice would you give to young professionals hoping to follow in your footsteps?
MILLER: As much as the commercial real estate business has changed, moving up in the business comes back to fundamentals: You work your tail off; you follow up thoroughly on things that your boss requests; you are creative and solve problems. 
It just comes back to the blocking and tackling of being a great employee and making good career decisions, not just jumping around for the sake of making a couple thousand dollars more. So often I see resumes for kids that are 26 years old and already on their fourth job. When they come in for an interview, I usually say to them, "You know, I'm on my fourth job, and I'm 52 years old." 
It worries me greatly that so many kids are making so many changes because I don't know that doing so allows them to embed within an organization and really learn. Instead, they are just jumping around and not getting the kind of mentoring they need to be really great employees. I've got a college sophomore who is probably going into the real estate business, and I try to stress that with her every day.