Mall Pioneer Taubman Dies at 91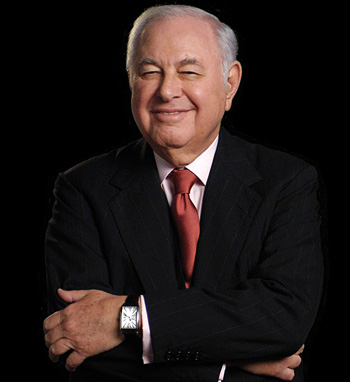 A. Alfred Taubman, the founder of Taubman Centers, Inc. (NYSE: TCO) who is widely credited with inventing the concept of the indoor shopping mall, died of a heart attack in his home in Bloomfield Hills, Mich., on April 18. He was 91.
Taubman started retail real estate development firm The Taubman Company, which eventually became Taubman Centers, in 1950. The innovative initial public offering (IPO) of Taubman Centers in 1992 touched off a wave of REIT IPOs that changed the face of the real estate industry in the United States.
Taubman donated hundreds of millions of dollars over the course of his life to a range of philanthropic and civic initiatives. Taubman also served as a director of a number of major U.S. corporations.
He is survived by his two sons, Robert and William; his daughter, Gayle Taubman Kalisman; his stepchildren, Christopher Rounick and Tiffany Rounick Dubin; and his wife, Judith Mazor Rounick.
American Realty Capital Properties, Inc. (NASDAQ: ARCP) named Glenn Rufrano CEO. Rufrano joins ARCP from O'Connor Capital Partners, a real estate investment firm specializing in retail and multifamily residential properties, where he had been chairman and CEO since 2013.
Camden Property Trust (NYSE: CPT) ranked 10th on FORTUNE Magazine's 18th annual "100 Best Companies to Work For" list. This marks the eighth-consecutive year that Camden has been included on FORTUNE's list.
Carter Validus Mission Critical REIT Inc. and Carter Validus Mission Critical REIT II Inc. said their respective boards tapped Michael Seton to succeed John Carter as president. 
Chesapeake Lodging Trust (NYSE: CHSP) promoted D. Rick Adams to executive vice president and COO. Adams joined Chesapeake's executive management team in 2009, initially as the company's senior vice president and chief investment officer and later as executive vice president and chief investment officer.
Luke Petherbridge was appointed CFO of DDR Corp. (NYSE: DDR). Petherbridge joined DDR as senior vice president of capital markets in December 2011. Most recently, he held the role of executive vice president of capital markets and treasurer.
Equity One Inc. (NYSE: EQY) named Matthew Ostrower as CFO. He most recently served as managing director and associate director of research in Morgan Stanley's European research department.
Michael Walsh was named as executive vice president, CFO, and treasurer at Paramount Group, Inc (NYSE: PGRE). He replaces David Spence.
Shawn Weidmann, senior vice president and COO at Public Storage (NYSE: PSA), resigned in order to take on the CEO role at a privately held educational company.
Ryman Hospitality Properties, Inc. (NYSE: RHP) appointed Mark Fioravanti to president. Fioravanti will continue to serve as CFO, a position he has held since June 2009.
Spirit Realty Capital, Inc. (NYSE: SRC) appointed Phillip Joseph, Jr. as CFO and named Spirit's former CFO, Michael Bender, to the newly formed position of chief accounting officer.
Starwood Waypoint Residential Trust (NYSE: SWAY), said Doug Brien, has been appointed CEO. Brien previously shared the CEO role with Gary Beasley, who resigned. 
Vornado Realty Trust (NYSE: VNO) said Wendy Silverstein resigned as executive vice president and co-head of capital markets and acquisitions. Silverstein had served in that position since November 2010.