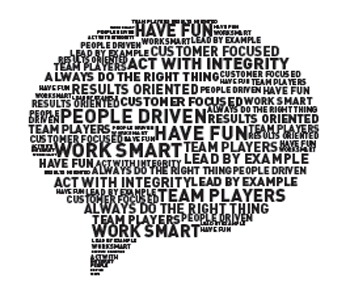 Over the past 25 years, Camden Property Trust (NYSE: CPT) has grown from a fledgling multifamily company with a handful of assets in Texas to a publicly traded REIT with 53,000 apartment homes across the United States and an enterprise value of $10 billion. The company has been recognized for its growth, innovation and ability to adapt and respond to a dynamic real estate market over that time. But the one thing that has remained unchanged over the years is Camden's passion for building a healthy corporate culture based on values, integrity and, of course, having fun.
Camden President and co-founder Keith Oden and I recognized early on that happy employees lead to happy families and communities and, ultimately, to happy customers and shareholders. When we founded Camden, our goal was not just to establish a financially viable company, but to create a truly great place to work. We encouraged teamwork, open communication, and most importantly following the nine core values that continue to guide our decisions today: customer focused, people driven, results oriented, team players, lead by example, work smart, act with integrity, always do the right thing, and have fun.
Our commitment to sharing information with and listening to our associates has greatly enhanced the trust and respect amongst us. While we try not to overwhelm our employees with data, we are sure that more information – honest, relevant, helpful and often entertaining – is always better than less.  And we make sure that we take the time to listen and respond to questions, concerns and feedback from our team, often taking actions based on our employees' input and ideas.
We strive to be approachable and "down-to-earth" and ensure that we are building rapport and camaraderie with all of our Camden team members. Our many company events provide opportunities for sharing key messages, celebrating accomplishments and cultivating our relationships with all employees across our 15 geographic markets. Examples include our Annual Management Conference (attended by more than 400 Camden associates), Achieving Camden Excellence ("ACE") employee award ceremonies, Camden Cares volunteering and community service efforts, Lagniappe Lunches with employees at the corporate office and many other great events.
We also take pride in sharing our stories and experience and in sharing the wealth.  We know that the many accomplishments and the long-term success of our company would not have been possible without the hard work and extraordinary dedication of our employees. We are proud to continually give back to our team and recognize their efforts with special bonuses, employee appreciation days, and raffles for items such as tickets to concerts and sporting events.
The Camden team has also given back to us in many ways, consistently applauding our company for its excellent work environment and corporate culture. We are honored to be recognized by FORTUNE magazine for the 10th consecutive year as one of the "100 Best Companies to Work For" in America based on the feedback and praise given by Camden's employees.
Maintaining a great corporate culture requires time and commitment from all levels of our management team. We have always believed that people are our greatest asset and that having the right team united and committed to achieving common goals is the best way to ensure success for Camden and all of its stakeholders.
Ric Campo has served as chairman and CEO of Camden Property Trust since 1993. He co-founded Camden's predecessor companies in 1982. He also sits on the NAREIT Advisory Board of Governors.