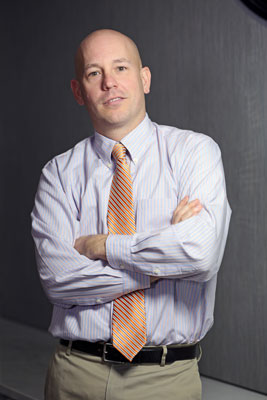 It is a parental obligation to frequently remind your children how much more difficult life was when you were growing up. When I tell my three kids stories about life B.I. (before the internet), I am usually met with some combination of eye rolls and exasperated sighs. Some struggles just don't transfer across generational gaps.
Long before the Griswold clan piled into their classic station wagon bound for Walley World, road trips have been a source of family bonding (and dread) from coast to coast. As a kid, I remember hours upon hours spent crammed in the backseat of a Subaru hatchback with my two sisters driving through northern Maine.
Over spring break, my wife and I drove our three kids from Maryland to Florida to see their grandparents—and thousands of strangers at Universal Studios. In-car DVD players, satellite radio and mobile games have certainly made passing the time on America's highways more tolerable for kids today—and peaceful for their parents in the front seats.
Over the nearly 16-hour drive along Interstate 95, the only sounds we would hear from the backseat were periodic shouts of "the movie is over" and "I have to pee." The next most common phrase, to my wife's chagrin, came from me: "that's owned by a REIT." It is one she has become accustomed to as a byproduct of having her husband work for NAREIT.
However, most folks driving on that highway are oblivious to the REIT-owned assets all around them. There were shopping malls and outlet centers, hotels and office buildings. You drive by numerous warehouses and self-storage facilities. There was even a REIT-owned billboard advertising a REIT-owned health care facility. Too busy checking your email to look at the window? Well, all those REIT-owned cell towers nearby are making that possible.
In total, REITs own nearly 200,000 real estate assets across the country, representing nearly $2 trillion in gross asset value. If you want a better sense of the breadth of their portfolios, I encourage you to visit the interactive map NAREIT created at REITsAcrossAmerica.com.
While REITs help house the U.S. economy by providing much of the real estate where we live, work, shop and spend our leisure time, that is only part of the story. On a more local level, REITs are helping to shape local communities through new development or renovating existing properties that have fallen into disrepair. REIT development projects can mean new jobs, better infrastructure, increased economic activity and other enhancements to the quality of life for the surrounding community.
These projects are regularly highlighted in REIT magazine. In this issue, we spotlight the positive impact GGP's (NYSE: GGP) Ala Moana Center has had to the local community in Honolulu and the state of Hawaii by providing more than 3,000 regular jobs in addition to numerous construction jobs and millions of dollars in tax revenue to the state. On top of that, it is the largest, and one of the most visually stunning, open-air shopping centers in the world.
In fact, better tell the kids to charge their iPads; I think I have an idea for our next family trip.