The Southern Florida town of Dania Beach sees the redevelopment of a former industrial wasteland by Kimco Realty Corp. (NYSE: KIM) as the key to raising its profile among its better-known neighbors.
"Kimco is creating the most exciting asset for Dania Beach, which we believe will help transform the city from a 'pass-through' city to a 'destination' location in South Florida," says Dania Beach Mayor Tamara James of the changes coming to her city with the new Dania Pointe development. For years, much of the 102 acre-site along I-95 had sat idle, a hodgepodge of parcels and ownerships.
Developing the new Dania Pointe presented a unique opportunity for the city's partner—New York-based REIT Kimco —to expand within the Florida market. Kimco already had years of experience operating successful retail and business components—Oakwood Plaza and Oakwood Business Center—just across the road from the proposed site. "When this opportunity was brought to our attention, we immediately understood its value," says Paul Puma, president of Kimco Realty's southern region.
In 2014, Kimco entered a joint venture partnership with local developers Terry Salzman and Robert Shapiro, and plans for the site began to take shape.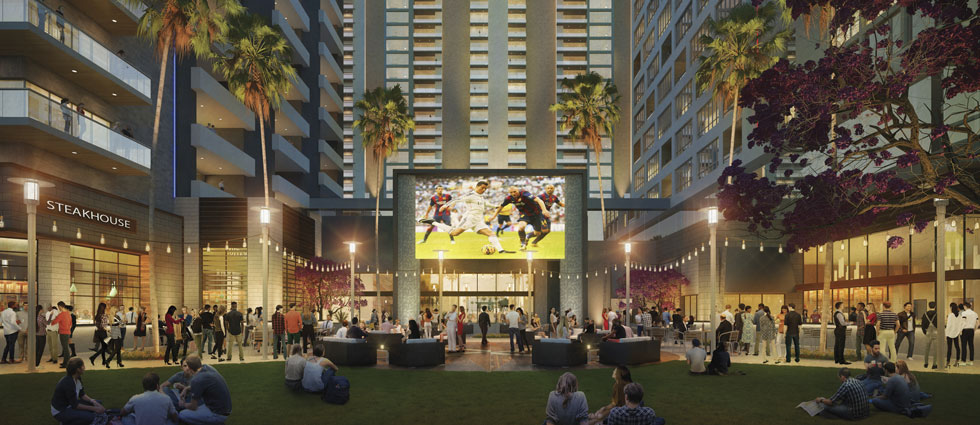 The vision: Dania Pointe, a mixed-use development community encompassing nearly a million square feet of retail and restaurants, two hotels, class-A office space, and a community main street area. The project, located two miles from the Fort Lauderdale-Hollywood International Airport and four miles from the Port Everglades cruise port, will include 1,600 linear feet of frontage along I-95.
With construction underway and Phase I slated for a fall 2018 opening, Dania Beach officials anticipate a further boon to Broward County's growing tourism market, as well as tax benefits, job growth and improved infrastructure for the local community.
Assembling the Acreage
Mayor James, who was born and raised in Dania Beach, recalls that before Dania Pointe was a destination in the making, industrial remnants and failed businesses dominated its landscape.
"The southern area of the site along Stirling Road was an unsightly industrial sand plant that had been operating for 50 years or more," she explains. The view included industrial buildings, forested underbrush and the construction debris of a multi-tenant warehouse project never completed. The sand plant's owners resisted the city's earlier attempts to rezone part of the area as a commercial Regional Activity Center (RAC), and the lack of road and utility infrastructure further hindered redevelopment.
The land to the north boasted an unusual sight—the Hurricane—an independently owned decommissioned 3,200-foot wooden roller coaster. Located at the former Boomers! Amusement Park, the coaster had become both an eyesore and a landmark to commuters driving along I-95. The first challenge was negotiating and uniting all 102 acres. "The diversity of ownership was a hindrance to any integrated development of the property until the Kimco joint venture assembled each of the parcels," says James.
"There were 17 parcels and about nine different owners plus the ground leasing," explains Peter Flint, Kimco's senior director of development for the Southern Region. The process took just under two years.
Creative Zoning
While assembling the parcels, Kimco collaborated with the city on a creative solution to the preexisting zoning problem.
"We're currently in a community redevelopment agency (CRA) as well as a regional activity center (RAC) plus it's a brownfield redevelopment site," explains Flint. "Several different agencies had already identified this as a redevelopment area so there was some assistance within the code that allowed us to do a mixed-use on this property." Flint worked closely with Marc LaFerrier, Dania Beach's director of community development, to help Kimco navigate the process.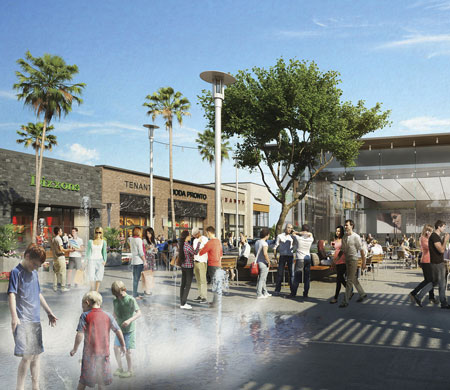 Through the partnership with the city, they created a new zoning category: Planned Mixed-Use Development (PMUD), which would allow them to create the live, work, play environment they envisioned. "That zoning was created through a great working relationship between Kimco, the city's residents and the government of Dania Beach," explains Puma. "They understood what we needed, they understood what was right for the property and they worked with us to remove obstructions within the city processes."
"The commission indicated its total support of creating a new PMUD zoning classification to accommodate as much density as could fit on the site," James said. The city, meanwhile, set up a special permitting office for projects exceeding $25 million in order to expedite permits.
"All of this was done with the goal of expediting the opening and the eventual jobs and income that it will generate for the municipality and the population," Flint says.
Ground-up Improvements
Kimco and Alabama- based contractor Hoar Construction overcame multiple design hurdles and undertook substantial infrastructure improvements to the area as part of its ground-up development of the site. "From the onset of the project, we learned we had some significant engineering challenges," explains Joe Denis, Kimco's vice president of construction.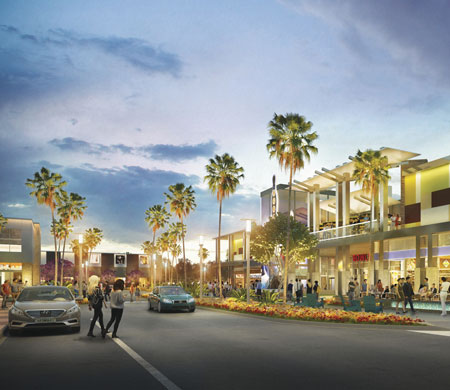 Case in point, 44 acres of the site were once pond areas, he notes. Over the years, the 40-to-60-foot deep ponds had been filled with construction and demolition debris, which created serious geotechnical engineering challenges for redeveloping the site.
Together with its longtime civil engineering partners Kimley-Horn, Kimco utilized a process called deep dynamic compaction to create a solid platform for building construction. It involved repeatedly dropping a 15-ton weight from 50 feet in the air to the ground on a 7.5-foot grid over the entirety of the 44 compromised acres. The process was then repeated again to fill the gaps between those grids, and took eight months to complete.
The project incorporated major water, sewer and drainage infrastructure improvements, undertaking the largest exfiltration stormwater management project in the state of Florida. "Kimco plans to install 6,000 linear feet of sanitary sewer pipe which will also be available for other redevelopments in the city to tap into in the future," adds James. The REIT has also undertaken the installation of new lanes, roads and traffic signalization improving access to Dania Pointe and the local area.
Placemaking at the Pointe
With a solid foundation, Dania Pointe's construction and leasing are fully underway. Recent progress has brought Kimco and the city one step closer to realizing their shared vision for a vibrant community and destination at Dania Pointe.
"It will be a place where people will do business, and the apartments and condos will make it a thriving community where people live," explains Puma. MCG Architecture and Kimco divided the project into two phases to accommodate its scale and designed layers of placemaking.
Phase I of Dania Pointe's development focuses on discount retail with restaurants and services. According to Kimco, the success of neighboring Oakwood Plaza and the list of tenants looking to expand or enter the market has made Dania Pointe an attractive asset. "Well over 90 percent of our spaces are leased in Phase I," Puma says.
The roster of tenants moving in includes: BrandSmart; TJ Maxx; Shoe Carnival; Ulta Beauty; Five Below; Starbucks; Verizon; Aspen Dental; Padrino's Cuban Cuisine; TooJay's; Men's Wearhouse; and Outback Steakhouse. Kimco has finalized a lease with Lucky's Market to open a 30,000-square-foot grocery store. Phase I includes 325,000 square feet of retail, comprising roughly 35 percent of the entire 102 acres of development and looks to begin retail openings in fall of this year, carrying over into 2019.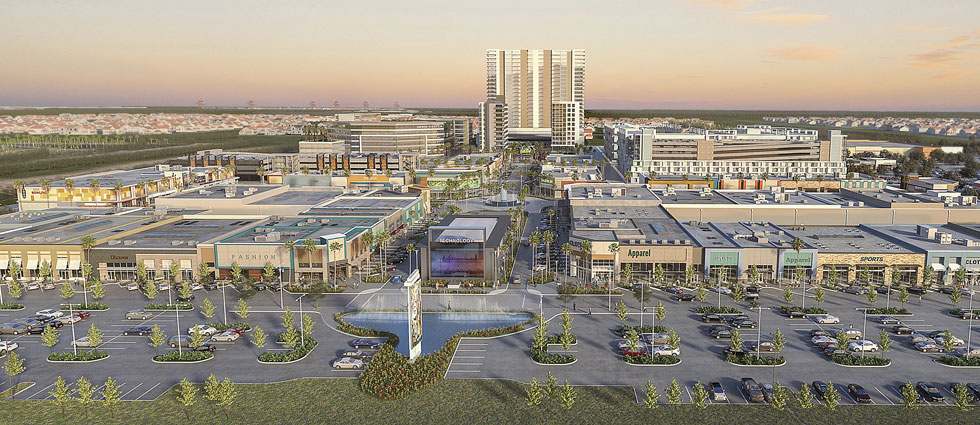 Kimco expects Phase 1 of the project's retail openings will begin this fall.
Phase II will bring lifestyle, entertainment, and main street components to Dania Pointe. The project will boast an additional 425,000 square feet of retail, roughly 500,000 square feet of premium office space, two hotels totaling 350 rooms and approximately 1,000 residential units. Plans also include more than 18 restaurants—both national brands and local chef-driven establishments. Puma estimates a significant percentage of the lifestyle portion will be preleased before breaking ground. Phase II openings are anticipated to begin in late 2019 and continue through 2020.
"It's also going to be a hub for people vacationing because we are two miles from the airport and four miles from the cruise port," says Puma. The developer for the hotels has received franchise commitments and is looking at a 2020-2021 opening. Kimco has signed a ground lease with another developer to construct 600 apartments and is also in talks with condominium interests regarding potential unit design.
A 'Linchpin' of Growth
Dania Beach—whose new motto is "Sea it. Live it. Love it." —expects the project to attract roughly 2,500 new residents to the city's existing 31,000 population and add to its thriving community as the oldest city in Broward County. "I can see Dania Beach growing and turning into a place to be," says James, who credits Dania Pointe as the "linchpin for a complete renaissance of the entire city."
The city and Broward County have already experienced increased development interest, construction job growth and tax revenue while construction is underway. "The city expects to receive upwards of $5 million of permit and impact fees during construction, and ultimately $5-$6 million of additional ad valorem taxes annually," says James. "With the additional tax revenues generated by Dania Pointe, the city will be able to upgrade many of its roads and neighborhood infrastructure, benefiting many parts of the community," she adds. So far, Dania Beach has received roughly $2 million of these permit and impact fees.
Munilytics, an independent consulting firm hired to study Dania Pointe's impact, estimates it will generate $43 million for the state of Florida in sales taxes and other assessments, and add approximately $800 million to the tax base of the city and county and roughly $6 million in ad valorem tax credits. "This will add 25 to 30 percent to what is currently approximately $17 million of current ad valorem taxes received annually by the city," says James. The study also estimates the creation of 6,500 direct permanent jobs and more than 13,000 direct and indirect construction jobs over the course of Dania Pointe's full build out.
"This will be a signature property for Kimco for many years to come," Puma says.