Outfront Media Inc. (NYSE: OUT), a New York-based company, is part of a generation of REITs that puts a modern twist on commercial real estate. Instead of owning sprawling campuses or super-tall office towers, it owns, permits and leases real estate to advertising tenants and wireless carriers on structures ranging from highway billboards to train platforms. While everyone may not have heard of Outfront (formerly CBS Outdoor America), tens of millions of Americans encounter its ads multiple times in any given week. 
Outfront boasts a major presence in the 25 largest markets in the United States. Its portfolio includes more than 42,000 billboards, with the largest holdings in Los Angeles,  Miami, Orlando, and across New Jersey, as well as more than 450,000 transit displays in commuter-heavy cities including New York, Washington, D.C., Boston, Atlanta, and San Francisco. 
"If you think of the streets of New York and Times Square and think about the various media that you see, we're absolutely part of society," says Jeremy Male, the company's chairman and CEO. "From an advertising point of view for our tenants—you can't turn the page, you can't turn the channel, you can't avoid us by watching the programming on an ad-free platform. We have enormous reach." 
Out-of-Home
Outfront is one of the nation's largest players in what's known as "out-of-home," or ads that are seen on physical displays by people when they leave their home or office. While ads on television, radio and in print have seen effectiveness wane in the digital era, Outfront has found ways to stay relevant with tailored locations and changes to the classic billboard model that has been around for decades—or longer. "Some of the original cave paintings were advertising, that's how old we are," Male says. "We're the oldest medium in the world."
But Outfront's success has been tied to modernizing and adapting. In addition to iconic settings that include San Francisco's Bay Bridge, New York's Times Square and various locations along Sunset Boulevard in Los Angeles, Outfront also has exclusive multi-year deals with municipal transportation networks that put advertisements before millions of commuters in top markets in large cities across the U.S. and Canada.
Driving Demand
The company touts the ability to build large-scale national brand campaigns as well as drive hyper-local traffic to a business just down the street. It is also working to get into consumers' hands—at least via their ever-present smartphones—to push mobile ads to consumers within a pre-defined radius around a corresponding billboard display or other designated advertising location.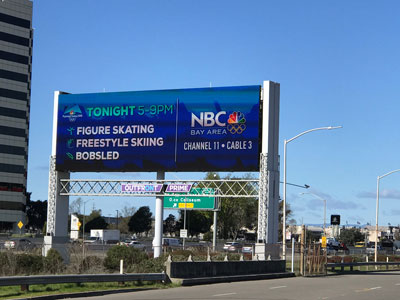 Essentially, once someone leaves his or her home—where the competition for eyeballs is shifting from print and audio to online—Outfront wants to be able to reach them. 
"Our audiences are growing and we've actually managed to grow our market share, even when there's been this huge seismic shift in the media landscape with this growth in online, particularly driven by Google or Facebook," says Male, who was born in England and has spent 25 years in the industry. "Out-of-home and, within that, the billboard industry, has fared significantly better than most other traditional media."
Signs of Success
While billboards have been a part of the American landscape for generations, it is a relatively new segment of the REIT landscape. 
In 1996, a predecessor of CBS Corp. acquired TDI Worldwide Inc., which specialized in transit advertising, and, three years later, acquired Outdoor Systems Inc., representing the consolidation of the outdoor advertising assets of several large national operators. According to Male, who joined CBS from global out-of-home operator JCDecaux, CBS then decided to focus on its content-based business, making the billboards "non-core." Male said the company realized that real estate was more valuable as a stand-alone REIT. 
In 2014, Outfront held its initial public offering and converted to a REIT, a change that was likely unnoticed by tenants, but put it in the REIT industry's next generation. 
These REITs own real estate including cell towers, data centers, manufactured homes and other unique business models that need access to capital that being a REIT could provide, says Dirk Aulabaugh, managing director of Green Street Advisors. They tend to be made up of operators that were once fragmented before being rolled up or aggregated and then run by professional leadership teams instead of 'mom-and-pop' players. For investors, this offers a chance to easily and quickly diversify. 
"Having access to all kinds of real estate is important," Aulabaugh says. "It's good to have a choice and be able to benefit and invest alongside these dynamic industries through a public REIT." 
Hard-to-Replicate Model
Outfront's model is relatively simple: It generally owns the billboard structures, holds the permits for displaying and leases the underlying sites. The billboards aren't overly costly to run: Maintenance is less than half of total capital expenditure, according to the company.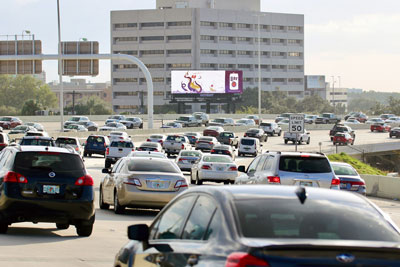 While some REIT models are vulnerable to competition from new supply, billboards aren't such an easy build thanks to a 1965 law that limited new construction along federal highways and grandfathered existing inventory. As a result, 75 percent of Outfront's U.S. billboards are labeled "legal nonconforming," meaning they were built legally under laws in effect when they were built, but could not be constructed today.
"These structures are often located in areas where it is difficult or not permitted to build additional billboards under current laws, which enhances the value of our portfolio," according to the company. Outfront says it has about 21,500 leases with more than 17,300 property owners who are unlikely to remove the billboard.
For its fourth quarter, Outfront reported adjusted funds from operations (AFFO) of $82.8 million, an increase of 6.7 percent from the prior year. About 10 percent of the business is a taxable REIT subsidiary that includes international operations and U.S. mobile transit assets, notes Greg Lundberg, senior vice president of investor relations. "Any advertisements that are on something that physically moves, like a bus or a rail car, are not part of the REIT. Ads that are on stationary platforms, and our billboards, are all in the REIT," he explains. 
Diversified Revenues
Outfront's revenues are generated from billboards, which account for 70 percent, and transit franchises, which account for 30 percent. New York has the fewest number of billboards, but it makes up the largest revenue contributor—22 percent—through its large transit business. The company's second-largest revenue contributor is Los Angeles, where the largest number of billboards can be found as well as extensive transit assets. 
The company also has a diversified tenant base that buffers it as consumer preferences and advertising budgets change. No industry makes up more than 8 percent of revenues. The retail sector accounts for 8 percent, while health care/pharmaceuticals also contribute 8 percent. Other sectors include television, automotive and financial services. Within those industries, no single company makes up more than 2.5 percent of revenues.
Outfront does not detail specific tenants in its financial filings. However, investor presentations detail a long-term relationship with tech-giant Apple. Other large tenants highlighted by the company include Google, MillerCoors, Warner Brothers, Verizon, and McDonalds. National tenants like these represented 57 percent of revenues in 2017, while 43 percent came from smaller local tenants.
The company's ties with local advertisers are worth noting, says Marci Ryvicker, who covers the company for Wells Fargo. "Local is within Outfront's control with its own sales people and its own pricing, etc.," she wrote in a client note. "We think the strength of local is testament to Outfront's strategic decisions these past few years. They are dominant in their major markets, which is not an easy fit given the competitive environment across all media."
Growth Ahead
Outfront may not be able to construct many new billboards, but that does not mean it isn't growing. This year, it expects to convert at least 100 of its billboards to digital, which draw revenues about four times higher than a static board. (While more than 15 percent of billboard revenues come from the digital billboards, they make up only 2 percent of inventory). "Suddenly we can show multiple messaging, and we can be much more creative and timely: espresso in the morning and decaf in the evening," Male says. 
To better gauge the effectiveness of its methods, Outfront is refining its data technology that will allow advertisers to have a clearer picture of who is viewing their ads and where, and what they do after they see the ads.
Meanwhile, billboards can also be used to lease space to wireless carriers that provide recurring rent under a long-term lease that requires no capital expenditures. While still a nascent business, Outfront has entered into agreements with wireless operators to lease long-term space for their transmitting equipment on up to 25,000 of Outfront's billboard structures.
The company can help wireless carrier tenants improve the capacity in their current and future networks. Outfront's structures are, by their very nature, in highly congested areas and often where no traditional tower is available because of zoning. 
Reaching Consumers
Outfront has shown it knows that advertisers want more than one way to reach today's fickle consumers. 
"Brands have not opted for digital over analog, social media over events, or online over print—instead, they have found ways to integrate all of the above into a cohesive campaign that stretches across public relations, branded content and advertising to bring more interactive, immersive and undeniably targeted campaigns to their audience," explains Suzanne Rosnowski, CEO and founder of Relevance International, a public relations firm with numerous real estate clients. "Signage and billboards remain as one of the strongest drivers of sales, because they are inherently disruptive in a very good way."
That's why the company also isn't ruling out acquisitions of old-fashioned billboards. And there is opportunity: While Outfront and fellow REIT Lamar Advertising Co. (Nasdaq: LAMR) make up nearly half of the out-of-home industry's revenues, more than one-third is comprised of roughly 125 smaller independent U.S. companies, according to financial filings. While it is easy to consider billboards the advertising model of yesteryear, the sector is thriving for REITs. According to Male: "It's a very vibrant industry where all sorts of innovation and creativity are happening."