Real estate pioneer Sam Zell cuts to the chase on the evolution of REITs, Trump, activist investors, international opportunities, and more.
05/07/2018 | by
Sam Zell isn't known as subtle, but that's exactly how one might describe the entrance to his office tucked in the heart of a bustling Chicago office plaza. There are no ornate signs to alert visitors that just beyond the routine lobby coffee shops lies the headquarters of Equity Group Investments and a visionary who has helped transform the REIT space into a mainstream asset class with an equity market capitalization in excess of $1 trillion. 
Back in the early 1990s when most of the traditional sources of capital for the real estate industry had dried up, the public capital markets were the only place to turn. But, in order for the modern REIT era to take hold, real estate's Wild West reputation had to change. Enter Zell, who became a highly vocal and active champion of the listed REIT approach to real estate investment. Zell championed the transparency, predictability, and accountability that REITs bring to the industry—cornerstones that remain selling points for investors today. 
It was Zell's then public Equity Office Properties Trust that became the first REIT added to the S&P 500 in 2001, a tremendous milestone and validation for the industry. In 2007, Zell received an offer he couldn't refuse and sold Equity Office to the Blackstone Group for $39 billion, the largest leveraged buyout deal to that point. 
History has shown Zell's timing to be impeccable as the deal closed shortly before the financial crisis. However, Zell, a former Nareit chair and past recipient of Nareit's Industry Leadership Award, has continued to maintain an active presence in the REIT industry.
Equity Residential (NYSE: EQR), the $22 billion apartment REIT Zell founded and still chairs, is one of the largest apartment owners in the U.S. The company has delivered a return of approximately 13 percent to shareholders since going public in 1993, compared to an average return of approximately 9.8 percent for the S&P during that same time period.
Equity LifeStyle Properties (NYSE: ELS), the manufactured housing and resort REIT Zell founded and still chairs, is the largest public REIT in its sector and has generated an average 17 percent return since going public in 1993. 
Zell's fourth and newest listed REIT, Equity Commonwealth (NYSE: EQC)—which Zell agreed to chair after shareholders won a takeover battle in 2014—has effectively pared its portfolio of disparate assets and is poised for its next opportunity. 
People who have spent far more to accomplish much less might make sure their name shines brightly in the Windy City's skyline. But that's not Zell. When it comes to business deals, he's outspoken and blunt. But when it comes to people, he's known as an inspiring leader who engenders loyalty and longevity from his dedicated employees, something detailed in his recently released book, Am I Being Too Subtle?: Straight Talk From a Business Rebel. 
REIT magazine met up with Zell, who was wearing his trademark jeans, at his Chicago office filled with unique artwork and brimming with reading material. Zell's office overlooking the Chicago skyline opens to a deck that is home to two beloved pet ducks that waddle around and swim in a heated pool. Zell sat in his office's cozy sitting area and discussed everything from the state of the real estate industry to his least favorite job.
Tell me about the state of the REIT industry.
The industry has made tremendous strides in the last 27 years—and it's been done with probably the least amount of scandal and irregularities as any industry growing at that speed. 
At the same time, we've created a whole cadre of new leaders. They have different characteristics than the industry leaders when I started. Today, they are much more professional and institutional than developer-oriented. In most cases, the CEOs who run the REITs today are different than those who took the companies public.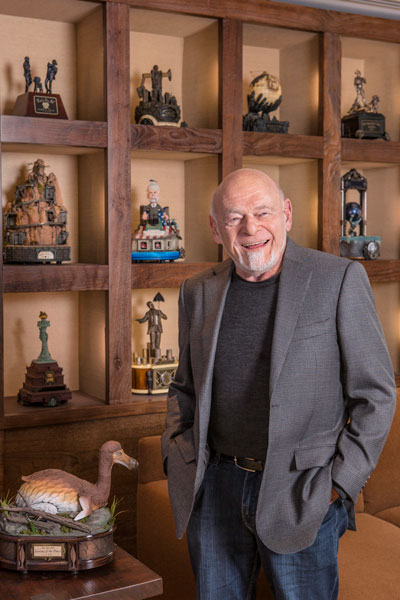 Where do you see it in five years? 
I would suspect that in five years the industry will be 20 to 25 percent higher in value than it is today.
By market cap?
Sure. When I first started selling real estate to the pension funds, they didn't even have real estate as an asset class. We're finally a significant part of the investable universe.
That's evident by the creation of a new Real Estate Sector in the Global Industry Classification Standard (GICS). You helped make that happen. How does that make you feel?
Our generation was required to educate the public on the relevance of liquid real estate. In one form or another, that's all we did. The GICS decision proves that we were right. 
What should real estate companies do today to "be the lead dog"—a phrase taken from your book—in an era where tech stocks are loved? 
I don't think real estate stocks should be compared to tech stocks. Each of them represents different opportunities for investors. REITs are all about income stability, predictability, and transparency. The appeal of tech stocks is high growth, which means higher risk. One doesn't preclude the other. It's not a zero-sum game. 
Shifting to the political climate, do you have any thoughts on the current administration?
The current administration is probably best rated as incomplete. I think the steps that they've taken in deregulation, passage of the tax bill, and in changing the business community's outlook should be recognized as extraordinarily beneficial. 
However, the methods of communication, and the choice of language often leaves something to be desired. In the end, I don't know how you make an analysis without focusing on what got done, rather than on what was said. 
What are your thoughts of the tax reform legislation and its effect on commercial real estate? 
Based on what I know so far, real estate was treated very well. Considering how we were treated in 1986 during the last big tax overhaul, which eliminated much of the historic incentives of real estate investing, I guess we were owed this. 
The REIT industry, like many others, is wrestling with diversity issues. However, you have a long track record of promoting female executives within your companies. What is your advice to the industry?
My attitude hasn't changed. I live in a meritocracy. I've always just looked for the best person. It never even occurred to me that making Sheli Rosenberg CEO (of Equity Group Investments) in 1990 was groundbreaking. She was just the best qualified.
Talk to me about the international landscape and REITs. 
I think REITs are advancing around the world. What's going on in Latin America and Mexico is very positive. India just passed a REIT law that they're about to test with the first company. South Africa, Kenya, Mexico, Japan are all recognizing the value of cash flow through REIT assets. Even China is working on REIT legislation. 
Any guesses where the next opportunities are?
I don't know the specifics, but there's little doubt in my mind that the issue of supply has been on the back burner since the Great Recession. We're being confronted with significant new supply in every asset class, and the scale and how the participants exercise their options will determine the future. 
What areas are you watching the most?
Multifamily, office, hotels. Generally speaking, the kinds of transactions that take a long time, so you can get a sense of movement. I'm also pretty focused on what's going on in the suburbs, where there's a lot of land, a lot of demand, and a lot of development. That's usually a dangerous combination. 
What about the industrial sector? There's a lot of discussion about warehouse space today.
I deliberately didn't include it. Warehousing generally doesn't take a long time to build; it's relatively simple. I think the risk of supply and demand getting out of balance is much less in that arena than in others. 
You mention in your book that you spotted early on that people were delaying marriage and sticking close to urban cores. What do you see as the next major demographics shift?  
I don't believe that millennials have genes that are far different from their parents. I see millennials having children. I see millennials beginning to move to the nearby urban cores. But I don't see them ever repeating the exurban migrations that were prevalent particularly in the 80s and 90s. 
Do you think that will continue with generation Z? 
I think that the focus on 24-7 cities will not abate, nor will delay of marriage change.
So, you're still going to have an enormous group of people with high disposable incomes and no children wanting to live in an urban core. The attraction of the urban centers, the attraction of job opportunities and lifestyle, are going to continue to impact how our urbanization grows. 
I believe we'll see more and more "fringe" growth, right on the edge of the city. Close-in markets will continue to do well and exurbia will continue to be obsolete.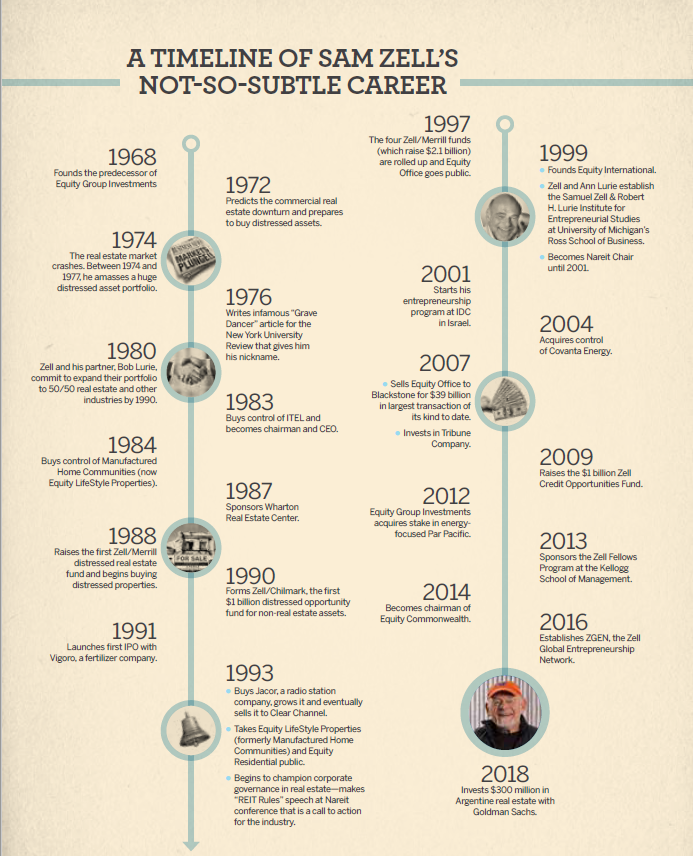 What is your opinion of activist investors?
Activist investors certainly play a role in public companies. I'm proud of the real estate industry in that, to a large extent, we have retained our discipline, and we have run a very transparent industry. I think the activists represent a guarantee that that will continue.
How about passive funds?
I have a great deal of difficulty believing that passive funds should do anything but be passive. Since their mantra is "passive," that should include voting. They should be required to vote as the majority of shareholders has voted, rather than use their ownership to implement policy. 
ETFs? 
Too much, too fast. Scary. 
The "death" of retail?
Near term, likely to be painful. It is already. Longer term, retail needs to downsize and develop new methodologies to generate traffic. The old model of the department store as the traffic generator is obsolete. 
And the future is going to require very different kinds of attractions, like major medical centers in the middle of malls.
OK. Let's have a lighter question. "The Grave Dancer" is a headline that you'll always be associated with. What is your headline today? 
Patience. I think it's difficult to make a case for significant investment in real estate today. Speaking generally, I think that assets are being priced to perfection. History says that's not likely to continue and that with patience there will be opportunities.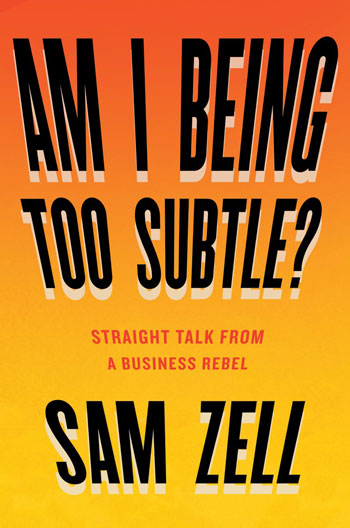 Why did you choose now to write a book? 
I had been thinking for some time about writing a book to share the lessons I have learned and applied over my career, and I finally got around to it. 
Your book credits your ability to exponentially grow your organization with the culture you created. Can you explain?
We have a meritocracy that is based on accessibility, transparency, and accountability. I've always believed that the farther from me a material decision is made, the higher the risk. So, anyone on our team can walk into my office for a quick answer or discussion. 
We have a saying, "no surprises." That encourages everyone to bring problems to me early on. I've always been confident enough to believe that if I find out about a problem early enough, I can fix it. 
Your employees have unusually long tenure. I read that the average for your senior managers is 20 years, and for employees overall, it's 10 years. To what do you attribute that?
Opportunity and culture. We are always expanding and doing new things, so there is always room for our people to stretch and grow. And we have structured our world so that every investment person has a piece of every other's deal. That helps keep everyone aligned.
You're most often known associated with real estate investment. But your history and portfolio is a fun adventure spanning various industries that include oil & gas, energy-from-waste, hospitals, and agriculture. Looking back, what do you view as your biggest successes and failures outside of real estate?
We had great success in the radio business, the drug store business, and in rail car and container leasing operations. We obviously didn't do as well in the media area, as evidenced by the Tribune Co. deal (Zell led an employee acquisition of the media company for $8.2 billion in 2007). 
When you step back and look at all of our investments, we were driven by logic and the assumption that we would have enough time to implement our strategies. When we lost that runway, we had a problem. 
You got your start in managing property in college. What did you learn from that endeavor that you still use today?
I learned that manual labor was against my religion, and that my initial job, which included maintenance, could be much more effectively done by somebody else. 
What was the worst maintenance job? 
Unclogging toilets. 
Looking back, when it comes to your roughly quarter of a century involved in the REIT industry, what would you do different, if anything?
I can't imagine a better result. I think we've created liquid real estate, we've unmasked the mystery of real estate. We've created a much more disciplined industry, a much more transparent industry, and a much more relevant industry to the U.S. economy.
Do you envision a time when you would walk away and retire? 
Retire from what? I love what I do. I like the thrill of new opportunity, the challenge of problem solving, and mentoring the leaders within my organization.