Ryman Hospitality Properties is a proud and innovative custodian of Nashville's cultural heritage.
05/07/2019 | by
Nashville's mother church of country music, the Ryman Auditorium, prepares for a two-night show by John Mellencamp. A few blocks away, aspiring musicians command the stage at the multi-level entertainment venue Ole Red. It's a typical weekday for two Nashville assets owned by Ryman Hospitality Properties, Inc. (NYSE: RHP), and one that showcases its ability to integrate past and present, while providing new experiences for the city's growing number of visitors.
The same mix of past and present—and future—is evident a few miles away. Ryman's Grand Ole Opry House, which has housed the namesake weekly showcase of county music since 1974, is minutes away from SoundWaves. Ryman opened the $90 million waterpark, attached to its 172-acre Gaylord Opryland Resort & Convention Center, last year. With the indoor portion now complete, an outdoor section opens this spring.
Much is happening at Ryman Hospitality Properties these days. "This is a very interesting time for our company. We're very excited about the growth that we're seeing. I think the next three to five years is going to be a very fun time," says Colin Reed, the British-born chairman and CEO who has led the company since 2001.
Still A Young One
Ryman Hospitality Properties' history as a REIT only began in 2012. Prior to that, the company was known as the Gaylord Entertainment Co. (and before that, Gaylord Broadcasting Co.), a media conglomerate that had owned a slew of assets over the years. The Gaylord Hotels brand was sold to Marriott just prior to the REIT conversion.
On the hotel side, Reed says Ryman Hospitality Properties has carved out a niche for itself by targeting the "26,000 large groups" that hold conventions throughout the year. "We build a relationship with a customer and move them from market to market, while providing world-class service and entertainment." 
Despite some initial investor trepidation prior to the conversion, Reed couldn't be happier with how it has all turned out. "We're a far more profitable business today," Reed says. He notes that the company's guidance for 2019 is "hundreds of millions of dollars higher than when we converted to a REIT."
A key ingredient in that growth is what's been happening in Nashville. Reed points to the $1 billion expansion project currently underway at Nashville International Airport as evidence that the city is drawing more and more music lovers from all over the world. Indeed, British Airways is introducing daily service between Nashville and London this summer.
Nashville is becoming, on a global basis, the epicenter of music, so all the things we're doing [here] are a consequence of that," Reed says. He points out that technology has played a significant role in connecting the sounds of Nashville to a global audience. As a result, demand is outstripping supply in the Nashville market, he says: "It's a wonderful thing. That's what's driving our company's strategy, our development and growth here."
Where It All Started
Reed describes the Ryman Auditorium in downtown Nashville as the Taj Mahal for country music devotees. Built by steamboat captain Thomas Ryman as the Union Gospel Tabernacle, the building's name changed to its current version after Ryman's death in 1904. Originally designed to provide a place for Nashvillians to gather and worship, the building began to feature cultural offerings starting in the 1920's. 
The Grand Ole Opry came to the Ryman Auditorium in 1943, and the live radio and television show brought the likes of Elvis Presley, Hank Williams, Johnny Cash, Marty Robbins, Minnie Pearl, and Patsy Cline to the stage and into living rooms nationwide for 31 years. When the Opry changed venues in the early 1970s, the Ryman began to fall into disrepair and was almost torn down. It was purchased by the Gaylord Broadcasting Co. in 1983, and exterior renovations began by the end of the decade. The Ryman reopened in June 1994 as a premier performance hall that continues to draw headline names.

Since taking over as CEO, Reed says Ryman Hospitality Properties' strategy toward the auditorium is "essentially to revere the place." The company spent $14 million in 2015 on an exterior expansion project, bringing in additional retail and food and beverage opportunities and expanding restrooms. Reed stresses that the expansion was done in a "very dignified way." The interior has been left untouched, Reed says. "It's acoustically perfect."
Holding the Torch
Bill Cody, long-time host of WSM 650 AM's "Coffee, Country & Cody" and a Grand Ole Opry announcer/host, describes the Ryman as "maybe the most special place on earth related to country music." Ryman Hospitality Properties owns WSM, and Cody broadcasts his daily show from the Gaylord Opryland.
Cody says Ryman Hospitality Properties is "holding the torch" as it preserves Nashville's heritage for current and future generations. He points to his own radio show as a rare example of "personality radio" that still exists in the age of post-deregulation broadcasting.
Jeff Syracuse, a metro council member representing Nashville's 15th District, agrees that Ryman Hospitality Properties plays a special role. "What they've done for this city is extraordinary. As everybody knows, Nashville is on the map worldwide, and I think Ryman Hospitality Properties has a huge role to play in that," he says. "There is no other company that, I think, brands Nashville better than Ryman Hospitality Properties—both past, present, and future."
Syracuse describes Ryman Hospitality Properties as a "great partner with the community locally, and for the entire region of middle Tennessee."
According to Reed, the partnership goes both ways. He says the city and state have been "tremendous partners" in many different ways, with numerous mayors and governors showing strong support for the music scene.
Something Unique
Reed, who claims to be from the South (the South of England, that is), says Ryman Hospitality Properties' businesses are "true, iconic" representations of the music industry and ones that are completely unique to the city. 
"We're putting this authentic form of entertainment in front of these millions of folks who are coming to this town in droves. It's very unlike what you see anywhere else across America," he says. 
One of the newer entertainment options to open in Nashville is Ole Red, Ryman Hospitality Properties' $20 million, 26,000-square-foot entertainment venue in the heart of Nashville's Lower Broadway. The company teamed up with recording artist and Opry member Blake Shelton to launch the venue.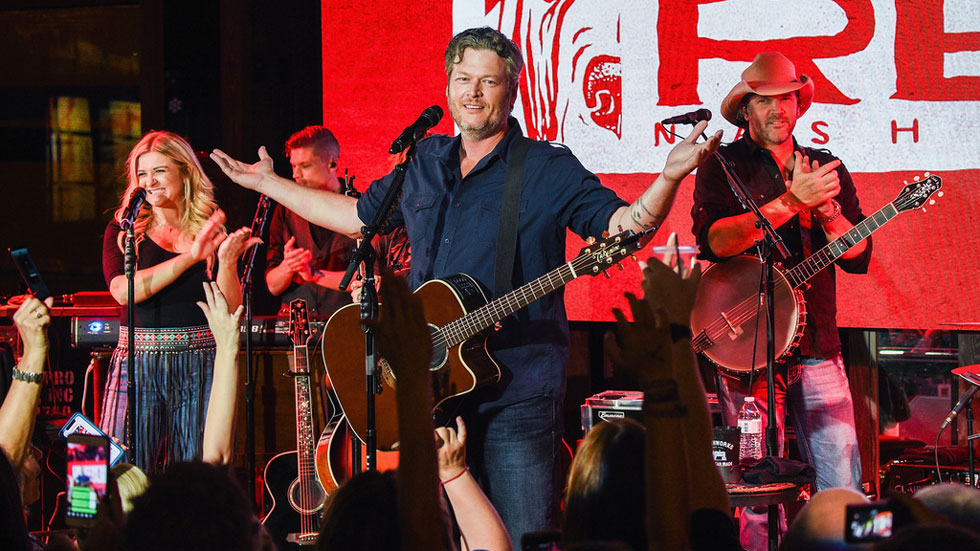 "Blake has got 9 million Facebook followers and 20 million Twitter followers…We have a very unusual opportunity to communicate with so many of these country lifestyle consumers," Reed explains. A Gatlinburg, Tennessee location of Ole Red also recently opened. "We're very happy with what's going on in Gatlinburg," he adds.
Reed says the company's bigger objective on the entertainment side is to build relationships with the approximately 120 million "country lifestyle" consumers in the United States. "We believe, because of the assets we own, that we can build a very special relationship with these consumers. Because of the history, we have a tremendous relationship with the artist community. Most of the artists in country music revere the Grand Ole Opry."
Ryman Hospitality Properties is currently in a renovation phase at the Grand Ole Opry, enhancing its tour and VIP experience with state-of-the-art audio/visual capabilities. This follows retail and parking renovation projects. "It's simply because we are trying to keep pace with the demand that we're seeing," Reed says.
Riding the Wave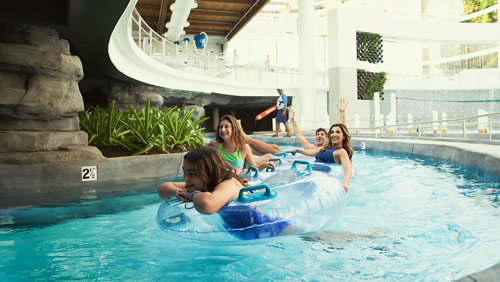 Ryman Hospitality Properties' response to that growing demand is nowhere more obvious than at SoundWaves, its gleaming new waterpark. It spans four acres and features 111,000 square feet of indoor attractions, dining, and amenities. Arranged vertically on three separate levels, rides are intertwined with living walls and plant beds, in keeping with nine acres of garden atriums that make up the adjacent 2,888-room Gaylord Opryland.
"SoundWaves has been a very interesting development for our company. You don't see indoor waterparks and soon-to-be outdoor waterparks that have the scale that this has," Reed says. The reason Ryman Hospitality Properties initiated the project, he explains, is the sharp change in demographics evident in Nashville today compared to a decade ago.
"We're seeing a lot of millennials, a lot of affluent folks coming to this town. As a consequence, we're seeing the length of stay go higher and higher and higher. This used to be a drive-in market," Reed explains, with visitors coming for the day and perhaps staying the night.
SoundWaves, according to Reed, gives customers added reason to stay in Nashville longer. "It's another form of entertainment we put in there and we're seeing customers now stay three, four, five, six days with us. We're very, very happy with how it's performing."