Simon's culture of innovation reinforces long-term success.
05/09/2019 | by
Simon Property Group (NYSE: SPG), one of the largest REITs in the world, hardly acts its size when it comes to innovation. Its outlook resembles that of a smaller company, where size and bureaucracy aren't obstacles to idea generation. Innovation efforts underway at the nation's largest mall REIT include a steady stream of initiatives geared to getting more people to stay longer at its properties, as well as the active conversion of malls into mixed-use destinations that include entertainment, office buildings, hotels, and apartments.
"Innovation is embedded in our culture, and we proactively encourage creative, disruptive thinking," says John Rulli, Simon's president of malls and chief administrative officer. "By continuously investing in all aspects of our business, staying ahead of retail trends, and anticipating the future needs and wants of our communities, we'll continue to reinforce our long-term success."
Simon has turned its size into an advantage, building an internal culture to help marshal innovation, including an in-house creative agency dedicated to elevating Simon centers as modern, dynamic destinations. The team, called the Simon Innovation Group, is staffed by executives in areas such as marketing, omni-channel retailing, customer service, and loyalty program marketing. The group includes Mikael Thygesen, chief marketing officer; Andy Hutcherson, senior vice president of innovation and customer experience; and Chidi Achara, senior vice president and chief creative officer. It also includes Natalie Hwang, the head of Simon's venture capital arm, Simon Ventures. The team meets regularly with other senior management to monitor its innovation progress across all of its business practices, Achara notes. 
"We're single-mindedly focused on developing, implementing, and scaling a range of innovative concepts that create best-in-class experiential destinations, encompassing shopping, dining, entertainment, living, and working," Achara says. 
At a time when many mall operators are struggling, Simon shows that it's not just about having the best locations and massive scale. Its work to engage consumers serves as an example of what mall owners need to think about in order to position themselves for rapidly changing consumer demand trends and the continued, relentless rise of e-commerce. 
"There is a need to proactively make those investments to be the top dog in each market, because in certain markets there's overcrowding," says Melina Cordero, global head of retail research at CBRE. "If you wait too long, you are going to lose."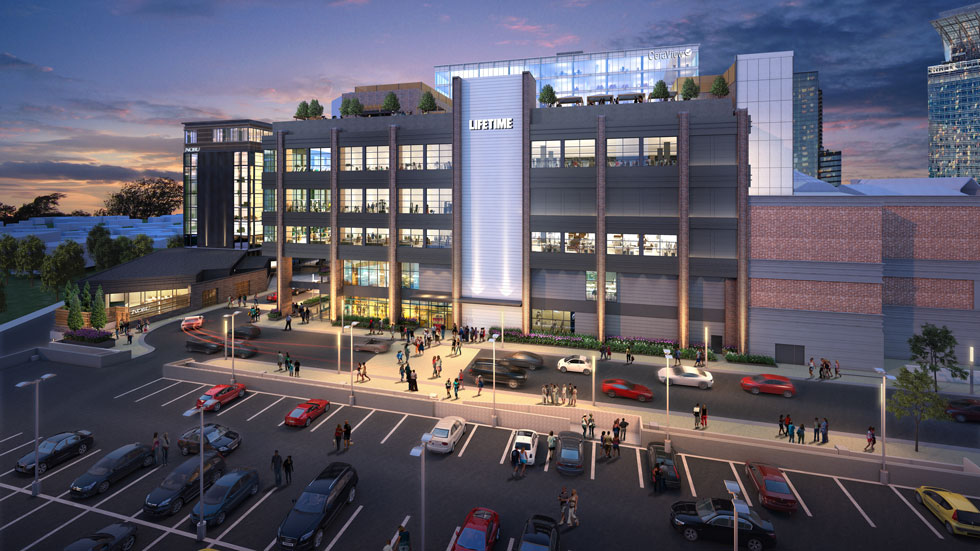 Mixing It Up
Simon's efforts to revamp its portfolio through redevelopment have had the most material effect on its operations. Over the past five years, Simon has invested roughly $1 billion a year in its portfolio to create the "live, work, shop, and play" destination, Achara notes. "Simon is at the leading edge of creating the mall of the future," he adds.
Simon broke ground in October 2018 on a redevelopment of Phipps Plaza, a mall in Atlanta. The project will include a Nobu hotel and restaurant, a 13-story, 350,000- square-foot office building, and a 90,000-square-foot Life Time athletic club, which will replace the vacated department store. While other malls nationwide have signed up Life Time as a way to convert old department store shells, the club in Atlanta will take it up another notch to include a rooftop pool, beach club, and bistro. 
For Simon's Northgate Mall in Seattle, the REIT has plans to tear down about 60 percent of the structures and build 500,000 square feet for retail and commercial use, 1,200 apartments, and a park. The redevelopment will also feature 800,000 square feet of office space and will serve as the headquarters of a new NHL hockey franchise, which will begin playing in the fall of 2021, with practice rinks on site for the team. In a similar vein, last September Simon announced the opening of Homewood Suites by Hilton at Southdale Center, its mall in Edina, Minnesota. It follows a 232-unit luxury apartment complex, which opened there in 2015. At year-end 2018, Simon's costs of all new development, redevelopment, and expansion projects currently under construction were roughly $1.3 billion, according to its 10-K filing for 2018.
Overall, Simon's renewal efforts translate to real value. Historically, redevelopment across the portfolio typically yields 6 to 10 percent, according to the company's 10-K. In all, Simon's development pipeline had 19 projects in early 2019, up from 11 in 2018, according to discussion during its year-end earnings call in January.
"We don't feel compelled to do it," David Simon, chairman and CEO, said during the call. "We do it with the lens of what the consumer expects, what the retailer wants, and what the value of that asset is in our minds. And that's when we pull the trigger." 
Wall Street appears to like the approach. "There's this constant activity of redevelopment going on in their portfolio, because with today's mall, you can't sit on your hands," says Haendel St. Juste, an analyst with Mizuho Securities. "You have to make sure you bring in the newest concepts, making the best use of the land [and] square footage, inside and outside of the mall."
Recruiting E-Retailers
In conjunction with its revamping strategy, Simon has ramped up recruitment of innovative e-retailers. At six malls, the REIT has debuted a concept dubbed "Launchpad by Simon," where it uses space to showcase emerging technology-oriented products from wholesalers around the globe.
"Savor"—essentially a rebranding and upgrade of the food court, a now-taboo phrase—was rolled out in two malls, featuring trendy dining options such as Shake Shack, Sweetgreen, Little Beat, and Mighty Quinn's. Simon also expanded its Happy Returns service, where customers can bring back e-commerce orders from select online retailers to Simon guest services for immediate refunds.
While many of the initiatives are hard to measure in terms of bottom-line relevance, they all show a Simon that's always testing and experimenting. Its website lists 24 initiatives to "elevate and reinvent the shopping experience." That kind of spirit is a key trait for any company to have, especially in retail real estate, where transformation is vital just to survive, let alone thrive.
Simon is also leveraging its vast footprint to court e-retailers that are expanding rapidly into brick-and-mortar locations. Its malls now house popular internet names such as Warby Parker, Bonobos, Fabletics, Indochino, and UNTUCKit. Simon is working with roughly 40 brands, according to discussion during the earnings call. 
"These retailers value the ability to offer new shoppers a physical expression of their brand experience," Achara says. "They typically benefit from both the additional sales in their physical locations and increased online traffic and sales in the surrounding market." He notes that the Innovation Group is currently developing bespoke new platforms to help Simon's tenants bridge the physical and digital worlds in more cost-effective and efficient ways.
Many retailers are eager to tap brick-and-mortar, because physical locations can offer better margins, given the high return rates of e-commerce. "They are realizing they can only grow so much market share by selling purely online," says James Cook, Americas director of retail research at Jones Lang LaSalle.
Simon can attract the best e-brands, given its size and reach of its national platform, Cook adds. "Simon is in a great position to partner with these retailers and say, 'Hey, there's all kinds of different high-traffic, high-end shopping locations that we own across the U.S. Wherever you want to go, we can do it,'" he says.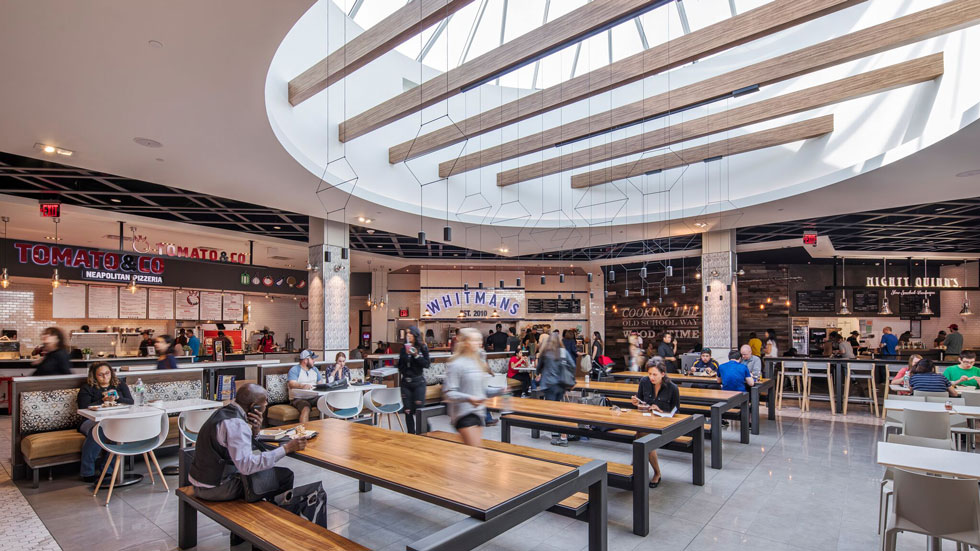 Savor takes the traditional mall food court concept to a new level.
Curating for Customers
Simon is also looking to other ways to harness the latest retail trends. With Launchpad, items that sell well can migrate outside of the dedicated space, and items that don't are removed. More popular products have included 360-degree cameras and robotic dogs, Achara notes. "It's a place to discover and enjoy fun, new, fresh merchandise from around the world," Achara says. 
Similarly, The Edit @ Roosevelt Field, a retail incubator, uses a store space at Simon's Long Island mall in Garden City, New York, to showcase emerging brands. Recent retailers featured include EGG New York, a children's clothing boutique, Revtown USA, a men's casual-wear brand specializing in denim, and Winky Lux, which sells natural-based cosmetics. The concept offers emerging brands a unique opportunity to grow their business by tapping shoppers at one of the nation's most productive and highly-trafficked shopping destinations, while shoppers "gain access to new and exciting apparel, beauty, and lifestyle brands before they would typically have a presence in a shopping center," Achara says. 
And Simon is willing to embrace entirely new retail categories. In February, the REIT signed a deal with Green Growth Brands to open as many as 108 kiosks at 95 malls that will sell about 40 beauty and personal care products with cannabidiol, a chemical found in cannabis that was recently legalized by Congress. Green Growth is led by Peter Horvath, a veteran executive of retailers among Simon's portfolio, such as Victoria's Secret, American Eagle Outfitters, and DSW.
Meanwhile, the list of innovative ways to engage customers goes on. Over time, Simon has rolled out service add-ons such as a parking reservations app, a Facebook Messenger bot, and more powerful electric vehicle charging stations. Simon teamed up with Booster to allow shoppers at Great Mall in Milpitas, California, to have fuel delivered to their cars while they shop. In addition, Simon has tapped Apple Maps and Mappedin, an indoor map platform, to help customers navigate to the retailers they're seeking. 
While Simon might not hit on everything it tries, its focus on innovation should bode well for its future in an ever-changing world of retail. "We believe that a creatively-curated tenant mix, cutting-edge marketing, compelling programming, and digital technology all combine to ensure our centers remain thriving gathering places for communities around the world," Achara says.  
ShopPremiumOutlets.com Marks Simon's Innovative Entry into e-Commerce, with an Omnichannel Twist
Simon recently announced the beta launch of Shop Premium Outlets (SPO)— a new online outlet shopping platform designed to drive incremental business both online and in the stores of participating retailers. SPO will enable the highly engaged Premium Outlets customer base to shop 24/7 for their favorite fashion, luxury, and lifestyle brands, all in one place.