Ed Pettinella Steers Multifamily REIT Adept at Repositioning
01/28/2013 | by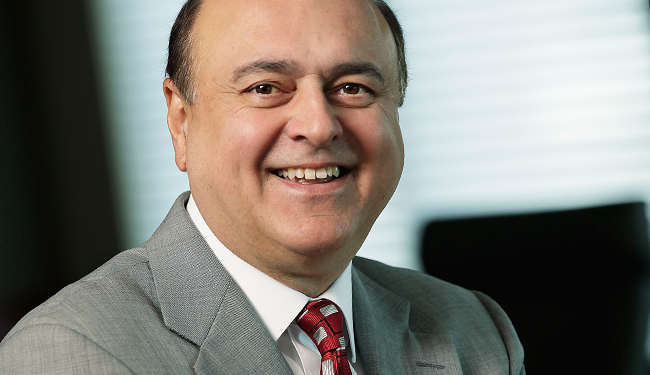 As the home-buying market tries to regain its footing, it's a good time to be a multifamily REIT. And Home Properties Inc. (NYSE: HME) has found success by carving out a unique niche in this space: buying, rehabbing and repositioning B- and C-class properties.
Based in Rochester, N.Y., Home Properties operates mainly in growth markets located in the Northeast and Mid-Atlantic markets. With $7 billion in assets, it is one of the largest redevelopers in the multifamily sector. Because of its affordable rents, Home Properties benefits from stability among its middle-income residents, resulting in solid financials that allow the REIT to remain on par with its peers that own more upscale properties.
Edward J. Pettinella has been president and CEO of Home Properties since 2004.  He joined the REIT in 2001 as an executive vice president, brought in by twin founders Norman and Nelson Leenhouts, who tapped Pettinella to take over their business. Pettinella, a banking-industry executive, hadn't heard of a REIT at the time, but he quickly learned the ropes at Home Properties, which grew out of the Leenhout's original company, Home Leasing Company. During his tenure, Pettinella has steered Home Properties' acquisition strategy, managed its development pipeline and remained focused on maintaining the REIT's reputation as a strong property manager that provides quality customer services to its residents.
Today, Home Properties owns more than 44,000 apartment units in 127 properties. With 97 percent of those units located in high-barrier markets with growth opportunity along the East Coast, Home Properties seems well-positioned for future earnings growth. REIT magazine recently spoke with Pettinella about the multifamily sector, his own career trajectory and the road ahead for Home Properties.
REIT: How would you describe the overall trends in the multifamily sector?
Ed Pettinella: The trends are very positive right now. I've told our board of directors and our investors that, back as many as three years ago, I thought the 2011-2013 period would be a great era for the industry and Home Properties. And it does seem to be playing out. Furthermore, we believe 2012 could be the pinnacle year in terms of performance. That's not to say that 2013 won't also be an outstanding year. But '12 will be the peak, and '13 will be very good for the industry moving ahead.
REIT: What are the reasons for this strength?
Pettinella: There are a number of reasons for it. Occupancy is strong. With the choppy recovery, people are being more conservative, not buying homes. Banks are not lending as much as they did prior to the Great Recession and certainly not on terms that are as favorable as they were back then. The sentiment to rent versus own is more positive. These are some key factors that have created wind to our backs, helping the multifamily industry to perform better.
REIT: Do you plan to continue to push rents because of the strength of the market?
Pettinella: Yes, the fact is that we have unprecedented levels of occupancy, and that's once again due to more
"We have unprecedented levels of occupancy, and that's once again due to more residents staying with us."
residents staying with us. Our turnover ratio is extremely low – about 38 percent, the lowest in the industry by a substantial margin. Those two factors alone led us to push rents in many markets at 3 percent to 8 percent during the peak summer leasing season and into the fall. Of course, increases are dependent on each property and submarket.
REIT: How have you seen Home Properties evolve over the years?
Pettinella: The growth has been prolific. We started in the 1990s with 3,900 units, and today we have more than 44,000 units. Our stock price went from $19 to $67.  We were in two states, and we're now in nine states. Our total market cap went from $150 million to over $6.5 billion. We're now an S&P 400 company, and we just continue to grow.
These are key statistics and a bellwether of where we've been versus who we are today. We've seen tremendous growth, and our growth strategy has been fueling our performance, our revenue and our stock price.
REIT: And you attribute that to your growth strategy?
Pettinella: Yes, our strategy of buying and upgrading C and B properties has been a major contributor to our profitable growth. We're a major repositioner, probably the largest in the public sector. And we bring in anywhere from 25 percent to 35 percent of our same-store NOI from the rehabbing component of our business.
Up Close
Family:
Two sons – Ryan, 28, professional basketball player; and Cory, 25 years old, banking professional
Age: 60
Hobbies: Sports and community involvement
Favorite movie: "The Godfather"
Favorite recent book: "Good to Great" by Jim Collins
Professional Activities/memberships: Board of Directors of Manning & Napier Inc. (Chair of the Audit Committee and a member of the Compensation and Nominating Committees); board member of Rochester Business Alliance, Greater Rochester Enterprise, Syracuse University School of Business, National Multi Housing Council; member of the Urban Land Institute and the National Association of Real Estate Investment Trusts.
Favorite Vacation Spot:  Delray Beach, FL
REIT: What is the key to being successful in this space? Is there an art to adequately rehabbing properties?
Pettinella: You used a key word – it's an art form.  There are very few people who do it on the scale that we do. You need to have enough mass in a particular region, and we feel that, until you get to between 5,000-10,000 units, you can't quite get the expected return on cost. In most of our markets, we're at that level. It involves developing relationships with outside contractors who do a lot of the construction work.
Each property is different, and there are always constraints that we need to take into consideration. It isn't the same cookie-cutter approach for each property. It's one by one, and we look at what we need to upgrade for our residents and also for bottom-line profitability. We've been doing this since our IPO in August of 1994, so we really developed a niche that separates us from other public and private companies that are in the business. We spend a lot of money, anywhere from $80 million to $100 million a year, on the upgrading component of our business. And that creates a lot of our same-store NOI.
REIT: What kind of talent do you have to execute your strategy?
Pettinella: A lot of our properties are 30 to 40 years old. Because of their age, there can be a lot of maintenance that needs to go on. Over the years, we've developed skilled managers. We have a whole team of people who specialize in upgrades. We do a lot of evaluation of what we're dealing with and what needs to be done in what order. We have schedules for each property. We get very aggressive with upgrading kitchens and bathrooms, since this usually produces the highest return on capital.
The great news about this as a business versus development is that when we find a soft spot in the market, we can easily stop doing it. Some players in the market will shut down and rehab whole buildings, but we do it unit by unit. This allows us to turn the spigot higher or lower, depending on market conditions. We are lucky to have employees who are highly skilled in design, landscaping, construction, purchasing and all the components that make our strategy successful.
REIT: How is technology transforming your business?
Pettinella: In the last five to seven years, it has helped the entire industry. Revenue enhancement systems, financial accounting systems, marketing programs and encouraging our residents to use more online services have helped. There's been a tremendous movement. These technology advancements have helped create some further efficiency in our industry and helped with cost containment.
"Capital access through Wall Street sources continues to get better quarter by quarter."
REIT: How has Home Properties beat out the competition in this area?
Pettinella: We've never been at the leading edge of technology.  I would say once programs are at a point where they are proven and cost effective you will find Home adopting them.  We're not cutting edge, but we're not a laggard either in terms of pacing.  We adopt the technology we need that benefits the company and fits our resident profile, which is not necessarily the same as that of A property companies.
REIT: What is your take on M&A in the multifamily space through the end of the year and in early 2013?
Pettinella: My sense is that M&A going forward will start to pick up for a couple of reasons.  One reason is the industry's proven success.  Secondly, I think the balance sheets of potential acquirers are stronger.  Capital access through Wall Street sources continues to get better quarter by quarter, so it's becoming more attractive for M&A.
REIT: How would you describe your leadership style?
Pettinella: I'd say very participative-management oriented. I've had broad experience in operations and strategic planning, and I try to work with the team and board of directors to formulate policies with some heavy doses of input from our senior staff. They like to have the accountability, and I like it that way, too. I believe that style of management produces the best all around decisions. Furthermore, what I've learned is that, if you bring everybody to the party and give them some say, they're more willing to support the strategies that you ultimately pursue.  It leads to better execution of the strategy.
REIT: How did you end up at Home Properties?
Pettinella: I've been at public companies for almost 40 years, first at Ford Motor Credit, then, for the bulk of my career, at two banks before entering the real estate industry. The founders of Home approached me in 2000, and I wasn't even certain that I knew what a REIT was back then!
Once I learned more about what Home wanted to be, I decided to join.  And it's been a great decision. At that time, the company was run by two world-class entrepreneurs, twin brothers Norman and Nelson Leenhouts. My background was public companies and, in particular, corporate finance, strategic planning and operations. The three of us worked together for the first few years before I actually took over. And it's been a good marriage. I was able to learn the real estate business, and, conversely, I brought unique public company experience to Home Properties.
REIT: What do you personally find appealing about this industry?
Pettinella: Looking back over the years, I'm happy I'm in real estate versus banking or the auto industry today. Those two industries have been much more difficult since the days I was involved with them. I've really enjoyed working in real estate; I think it's an exciting business. Home is a growth business, and we're making good money for our shareholders. What's not to like about the REIT business and the apartment business in particular? The apartment sector continues to outperform the other sectors, so it's a great place to be.
REIT: What does the road ahead look like for Home Properties?
Pettinella: After being in a business setting for 40 years, I believe if it ain't broke don't fix it.
Our results are the culmination of a lot of work by a lot of people in the company: changing the company's geographic footprint, enhancing technology, improving the skill sets of an already talented staff, eliminating one or two businesses to focus on what we do best. And I think we're there now. We're dominant in our market niche and have the propensity to grow more.  We're performing very well. We have 97 percent of our portfolio in high-growth, high-barrier markets, up substantially from 2000 when it was only 55 percent.  This has produced stronger earnings and a higher stock price with a lower beta.
I believe we know what the optimum strategic plan is for us today – buying and upgrading mature garden-style apartment communities in targeted geographic markets. We know what markets we want to be in, and we've been very efficient. With our secret sauce, the business model of repositioning multifamily communities in prime apartment markets, we have the ingredients that continue to differentiate us from other multifamily operators.