11/1/2012 | By W. Edward Walter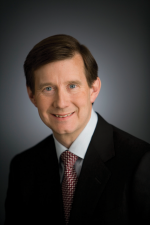 November marks NAREIT's annual election and the beginning of the terms of service for the next group of the association's officers, Executive Board and Board of Governors members.  I am pleased and honored to serve as NAREIT's chair for 2013, and I look forward to building on the achievements of my predecessor, Don Wood, and all of the prior NAREIT chairs who have done so much to help drive the REIT industry forward.
For NAREIT, promoting the REIT approach to real estate investment is a daily priority and is carried out in two primary ways. First, by ensuring that our elected representatives, both on the federal and state and local levels, understand REITs and the role they play in the economy and in the investment marketplace. This is done through fostering ongoing communication as well as monitoring, scrutinizing and advancing new legislation and regulations.
Especially important in today's world is highlighting the key role REITs play in retirement savings
Especially important in today's world is highlighting to elected officials the key role REITs play in retirement savings at a time when retirement security is a major issue facing our country.
As part of these policy-related efforts, NAREIT also maintains active dialogue with regulatory bodies to ensure financial standards in place are fair, reasonable and useful; and to make sure that credit and capital markets are appropriately open to REIT-based real estate investment.
The second key avenue for promoting REIT-based real estate investment involves engaging the investment community directly and at all levels, reaching out to non-dedicated mutual funds, pension plans and endowments, to defined contribution plans and product providers, and to investment advisors and their clients. Members of NAREIT's leadership and Investor Outreach team meet regularly throughout the year in hundreds of meetings with key investment stakeholders outlining the case for REITs.
Maintaining an effective Investor Outreach program requires a strong program of internal and sponsored research to provide the basis to help investors understand the characteristics and benefits of REIT investment, and to tell the REIT story in a credible and compelling way.
All of these initiatives, and others like them, are critical to the goal of supporting and promoting the REIT approach to real estate investment. In the coming year, my own goal will be to work with our members and the NAREIT staff to move these important programs forward.

W. EDWARD WALTER
NAREIT Chair
President & CEO,
Host Hotels & Resorts, Inc.
Sign me up for a FREE print subscription of REIT magazine.