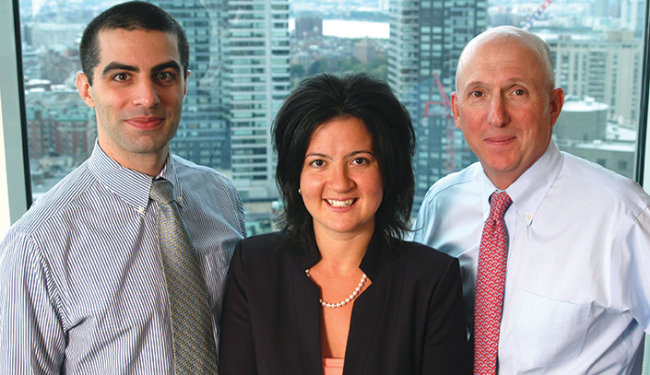 The Business
The Tuckerman REIT Team has portfolio management responsibilities for all of the public real estate investment strategies at State Street Global Advisors (SSgA). As a sub-advisor to SSgA, the REIT Team serves as the portfolio manager for 30 investment funds and client separate accounts, and is responsible for $9.4 billion in assets under management. Tuckerman-managed REIT portfolios encompass a wide array of investment vehicles to accommodate investor and market requirements including defined benefit, defined contribution and target date applications.
The Tuckerman Group
REIT Team Managers: Amos J. Rogers III, Sophia V. Banar, Tristan Cunha, CFA
Location: Boston
Formation: 1998
Total REIT Assets: $9.4 mm
Exchange Traded Funds: SPDR Dow Jones Global RE (RWO), SPDR Dow Jones International RE (RWX), SPDR Dow Jones U.S. REIT (RWR)
Mutual Fund: SSgA Tuckerman Active REIT (SSREX)
Assets are managed across a range of domestic, global and international portfolios, including customized strategies designed to address specific market opportunities and client needs.
Investment Strategies
Passive Investment Strategies
In response to investors' demand for current income, portfolio diversification and risk management, and competitive total returns, Tuckerman has created a number of passively managed investment alternatives. Key among these is a series of liquidity-enhanced global and regional investment strategies that offer investors flexible and liquid exposure to the public real estate market. Increasingly, these strategies are utilized for defined contribution platforms and target date glide paths to provide access to the real estate asset class.
The SSgA/Tuckerman Active REIT investment process is anchored in Tuckerman's direct real estate expertise combined with the fundamental securities expertise of SSgA. The strategy combines both "top-down" macro-economic analysis with "bottom-up" company-level research.  The portfolio is fully invested at all times and is strategically positioned across property sub-sectors and geographic regions.
Active Investment Strategies
Active REIT Strategy
Bottom-up fundamental security evaluation
Top-down market assessment to define sub-sector preferences
Long-term investment horizon and low annual turnover
Balanced positioning by geography and property sector
Focused on valuations, earnings growth and competitive advantage
Consistent risk monitoring and decomposition
Global Liquid Real Estate Securities Strategy
Broad and liquid global exposure to core commercial real estate
Geographic and property type diversification
Low turnover, consistent tracking, low cost implementation
Technically constructed global "liquid" real estate index
Top Active Positions

 
Sector
Overweight
Simon Property Group
Regional Mall
2.37%
Digital Realty Trust
Industrial
1.54%
Home Properties, Inc.
Apartments
1.50%
Kimco Realty Corp.
Strip Centers
1.48%
Boston Properties
Office
1.39%
The Tuckerman Group Assets Under Management

Standard Strategies
Global
$3,885
Total: $7,693
U.S.
$3,808
Custom Strategies
Custom Weighted
$494
Total: $1,740
Global & Regional Liquidity Enhanced
$1,246
Note: $ in 000s.
 
Total All Strategies: $9, 433
Sign me up for a FREE print subscription of REIT magazine.