Legendary real estate investor Sam Zell opens up about the REIT industry and prospects for the future.
01/29/2014 | by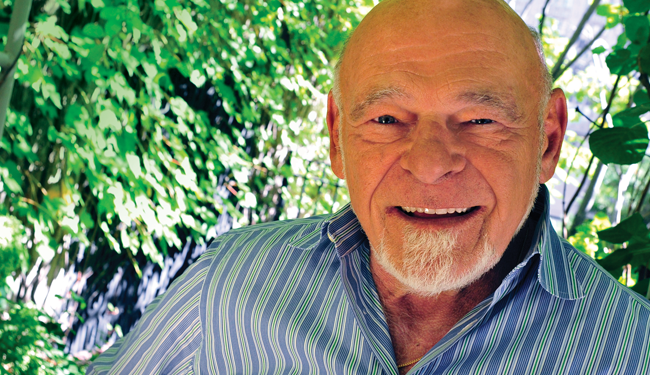 Sam Zell is, inarguably, one of the foremost thought leaders of the Modern REIT Era.
The 72-year-old Chicago resident founded Equity Group Investments (EGI) in 1964 with partner Robert Lurie, who passed away in 1990, after the two had run an apartment management business together while attending the University of Michigan. The pair quickly built EGI into the gold standard for investing in income-producing real estate. Soon they expanded their business into multiple segments within the industry and beyond.
Over the years, Zell has invested in many different types of businesses ranging from energy to bioproducts. But real estate has always been at his core.  His understanding of the nuances of the real estate market and its cycles was on display in 2007 when he sold Equity Office Properties to the Blackstone Group for $39 billion, the largest real estate leveraged buyout in history.
The passing of age hopefully won't reduce my level of curiosity or my desire to make one plus one equal six.
The noted contrarian has ventured outside commercial real estate in the last two decades, a period that included the ill-fated purchase of media giant Tribune Co. in the 2000s. While an estimated 70 percent of his current holdings fall outside the real estate space, a number of his recent investments have brought him back to his roots. This includes the $16 billion acquisition of multifamily owner and developer Archstone in a deal with AvalonBay Communities (NYSE: AVB). In 1999, EGI launched Equity International in a bid to become a player in commercial real estate on a truly global scale.
Back at home, Zell remains a prominent figure and powerful voice both in and on behalf of the real estate community. Zell, who served as NAREIT chair in 1991 and 2000, gave a famous speech at NAREIT's 1993 annual convention in New Orleans that set the tone for the maturation of the Modern REIT Era. Twenty years later, REIT magazine spoke with the always opinionated mega-investor and capital allocater par excellence about his interpretation of the events that have defined his career and his thoughts on the future of the real estate business.
Up Close
Age: 72
Education: B.A., University of Michigan; J.D. University of Michigan Law School
Hobbies: Motorcycling, traveling
Professional Activities: JP Morgan National Advisory Board, President's Advisory Board at the University of Michigan, Visitor's Committee at the University of Michigan Law School, former NAREIT chair
REIT: You've never really confined your business to one particular industry. You have holdings in media, real estate, energy. Do you have a favorite? Is there one field that you find more interesting than the others?
Sam Zell: From my experience, it has always been the transactions that have been most interesting, not necessarily the industries. But I'm a real estate guy from the beginning, and I would imagine if we had to identify where my core really existed, it's there with real estate.
REIT: You founded Equity Group Investments 45 years ago. I know plenty of people—myself, for one—who would be on a beach in Tahiti or somewhere if I were in your shoes. What still keeps you so involved with businesses and professional organizations such as NAREIT?
Zell: Each one of us has our own answers for that kind of a question. I guess I would begin by saying that I don't play golf.
I'm interested in what I'm doing; I'm challenged. As far as I'm concerned, the passing of age hopefully won't reduce my level of curiosity or my desire to make one plus one equal six. As long as I'm healthy and challenged, I can't imagine doing anything other than what I'm doing.
REIT: OK, so you don't play golf. What do you do in your free time? Do you even have free time?
Zell: Sure. I travel very extensively. I ride my motorcycles all over the world. I read very extensively. And I spend time with my wife. That's a good program.
REIT: What are you reading right now?
Zell: A book by Jeffery Deaver. I read escapist mysteries and stuff like that. I love it when I'm reading it, and then I forget about it afterwards.
REIT: Are there any CEOs or other executives in business today who you really admire or study really closely?
Zell: I'm sure there are numerous people who I would admire in various capacities. I don't think of people as CEOs or anything like that. I'm intrigued by people and respond to them. There's a lot to be learned from everybody else.
REIT: What would you say has been the greatest challenge or most difficult time period in your career?
Zell: When you've had a career as long as mine, there certainly have been crises and events that have both affected me and everybody else. I don't think that I could identify a specific event or a specific period.
It's nice to talk, but every now and then, you've got to act.
Certainly the early 1990s, when the real estate business was in total shock and destruction–that was a very difficult period.
REIT: Twenty years ago in New Orleans, you gave a famous speech in which you said, "When it comes to being transactionists, nobody holds a candle to the real estate community. Unfortunately, when it comes to being conceptualists, it's like the Mojave Desert." Do you still view the industry in the same light?
Zell: Oh, yes. What I meant by that was that if I needed to get a deal done and I wanted somebody to figure out all the ups and downs and rights and lefts, the guys like me in the real estate industry, that's all we've ever done. When it comes to transactions and negotiating a deal, the real estate industry has spectacular talent that is extraordinarily well-honed.
How good are they at looking around the corner? How good are they at predicting and conceptualizing the evolution of your business? Frankly, their track record sucks.
Maybe, in most cases, you can't be both. I think that I'm as close as I know of to somebody who can play in both fields. That's probably because I was never a developer. When I got out of school, I thought I was going to be the General Motors of the housing industry. I built a couple of projects, but I didn't understand the risk-reward ratio. I spent the rest of my life buying other people's issues.
REIT: You also said at the time that you were encouraging businesses to stay simple and maintain standards of good governance. How do you think the industry has fared in that respect?
Zell: Up until now, I think the industry has performed extraordinarily well. When you think of an industry that has gone from a $7 billion market cap to a $700 billion one, with an amazingly low number of bad actors, that's pretty incredible.
I do get concerned when I start to see A and B shares and events like this whole battle for control where somebody controls [a company] by contract and not by investment. Those are not good signs. It's very disturbing to see companies come public with two classes of stock and, in effect, create perpetual management control.
REIT: Looking at the REIT industry over the last 20 years, have there been any surprises about how the industry has evolved?
Zell: You have to understand that I am an optimist. I am a true believer. As we put the new world together in the early '90s, I was amazed to see how much demand there was. The more I saw the demand coming from all kinds of places, the more I felt the sky was the limit. So, I'm not surprised that it has grown as rapidly as it has, because it really provided a clear and simple way in which to participate in the real estate industry.
One thing that is so different today: Twenty years ago NAREIT was really a trade association that focused on maintaining the REIT structure without any attempt to grow it or figure out where to go from there. To me, the growth of NAREIT has been a major factor in the growth of the REIT industry. Real estate guys had a long history of not paying attention to Washington—at their peril. Clearly we've been paying attention. We've got a lot of changes made—all for the positive.
REIT: What do you consider your greatest success in the real estate business? What was most rewarding?
Zell: I don't know if rewarding is the right word, but if you're talking to me, it's very hard not to cite the sale of Equity Office Properties in February 2007.
It's nice to talk, but every now and then, you've got to act. Selling "my baby" that I created from scratch was, obviously, a challenge. On the other hand, I kept reminding myself and anyone who would listen that the day you go public is the day you change the rules. You have a fiduciary responsibility to everybody else.
EOP was a true test of that, but that was my job, as difficult as it might have been to do that at the time.
REIT: What about the deal that got away or a disappointment? Do you have any of those?
Zell: Oh, sure. We had a chance to buy the General Motors Building three different times. Each time, no matter how we assessed it, we couldn't get there. And we were wrong.
Obviously, that would have been a great asset for the front page of the EOP annual report.
REIT: What do you want your legacy to be? What do you hope people are saying when they look back at your career?
Zell: I don't know. I guess I'd like people to think that Sam had a pretty unique ability to understand trends and execute accordingly. I think that's true both on the corporate side and on the real estate side. And that I had the ability to be a leader and make a difference.
In the REIT arena, I think I have achieved those objectives so far and hope to make more progress in the future.
REIT: In the next 20 years, what's going to be the big story in the REIT industry?
Zell: I wouldn't be shocked if, in the next 10 years, we saw the creation of truly international REITs.
The REIT industry outside the United States has suffered from lack of scale. I wouldn't be shocked if over the next 10 or 15 years somebody, or a series of countries, figures out how to create an entity that is borderless. That would create a true opportunity for investors to bet on real estate worldwide.
 Carisa Chappell is REIT magazine's associate editor.