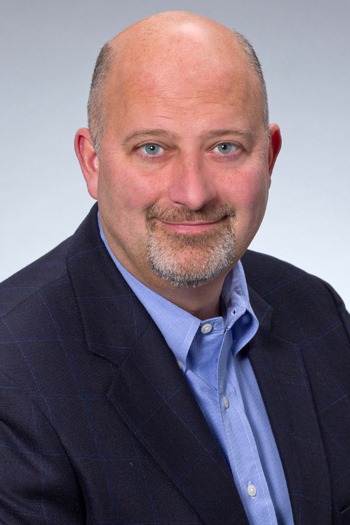 When data center REIT CyrusOne, Inc. (NASDAQ: CONE) was starting out about a decade ago, the process of convincing a chief information officer of a Fortune 500 company to outsource the company's data center could take years. Today, the process is considerably shorter. 
"The sales cycle has reduced dramatically since we first started," says Gary Wojtaszek, CyrusOne's president and CEO. "We're able to deliver a product and a service at a price point that an enterprise company just can't achieve on its own. No one at this point thinks that building and managing their own data center is a competency that they need to have in-house."
That change in attitude among customers combined with the projected increase in data creation bodes well for the future of the Carrollton, Tex.-based REIT. 
Large Untapped Market
While executives have become more comfortable with the outsourcing concept, there is still a vast amount of untapped potential. Wojtaszek estimates that only about 10 percent to 15 percent of the entire data center market today is outsourced, which he says translates into a "huge opportunity" for companies like CyrusOne to capture the remaining portion. With data usage doubling about every two years, the pressure on companies to outsource will only increase, according to Wojtaszek.
As companies continue to boost their data center outsourcing, Wojtaszek is confident that CyrusOne's current customer base, which includes companies in the financial services, health care, energy and media sectors, among others, will remain loyal. He points out that between 50 percent and 70 percent of new revenue growth every quarter comes from existing customers.
A case in point is the firm's facility in Sterling, Va., which CyrusOne opened in the first quarter of 2015. The first phase sold out in a couple of months, and about 80 percent of tenants are existing customers. "The demand we are seeing has been phenomenal," he says.
Every time CyrusOne engages a customer, it's expected that they will grow over time. In fact, many of its top customers average 20 percent growth annually, according to Wojtaszek. CyrusOne's low customer churn rate of about 5 percent a year, also sets it apart from other types of real estate.
"It's not a commodity business, and you can develop long-standing relationships," Wojtaszek says. He stresses that about 40 percent of the value of each customer comes from the business that's yet to come after day one: "It's the most powerful metric in this business."
Rapid Growth of Portfolio
Beginning with one data center in 2001, CyrusOne's portfolio now includes more than 30 enterprise-class facilities across three continents. 
"The mid-size market is where CyrusOne fits nicely. They've got a very nice mix of business. They're not too heavily focused on one industry," says Barry McCarver, managing director at financial services firm Stephens Inc.
In addition to providing more than 3 million square feet to house IT infrastructure, CyrusOne also provides support services for that infrastructure and networking capability. 
"They have purposefully striated their product to cater to different applications and different tenants. It's their niche," says Jordan Sadler, an analyst at KeyBanc Capital Markets Inc.
CyrusOne At A Glance
Address: 1649 W Frankford Road
Carrollton, TX 75007
Phone: 855-593-1045
Website: www.cyrusone.com
Management Team:
Gary Wojtaszek, President & CEO
Kevin Timmons, Chief Technology Officer
Kimberly Sheehy, Chief Financial and Administrative Officer
Tesh Durvasula, Chief Commercial Officer
Scott Brueggeman, Chief Marketing Officer
CyrusOne began offering networking services, which allow customers to share their data with other data center users or external users, about two years ago. Wojtaszek says networking is growing at three times the rate of the base business, showing year-on-year gains of 30 percent.
"We're certainly seeing a lot of cloud companies wanting to locate in CyrusOne data centers. That's probably stimulating more network activity," McCarver says.
At the same time, CyrusOne has been focusing on increasing the duration of its leases and inserting escalator clauses. At the time of its initial public offering (IPO) in January 2013, the average lease was around 28 months. Lease durations have averaged 70 months since the IPO, and as the company continues to do bigger deals with larger customers, Wojtaszek says he expects that to hold up. Meanwhile, about 40 percent of the portfolio now has lease escalators, compared with less than 10 percent at the time of the IPO.
Plugging Gaps in the Portfolio
The most recent addition to the CyrusOne portfolio was the acquisition of Cervalis Holdings LLC, a privately held operator of four data center facilities and two work area recovery facilities. Cervalis mainly served the financial services industry and gave Cyrus One a foothold in the New York metropolitan area.
"Having size and scale matters from both a balance sheet perspective, but probably more importantly from a commercial sales perspective," Wojtaszek says.
As he looks across the rest of the CyrusOne portfolio, Wojtaszek says he would like to plug gaps in geographic coverage, including the Southeastern U.S. and the area from Chicago westward. McCarver stresses the importance of data center companies offering services in multiple markets.
"CyrusOne has the advantage of being in multiple big markets. There are companies that are in more markets than they are, but they continue to expand out," he says.
In terms of industry gaps, CyrusOne is devoting a lot more time to the health care sector, where it already has a foothold. 
"Going forward, about 15 percent of the data that gets created in this country is going to be health care related," Wojtaszek says. "Having a presence in that industry makes a whole lot of sense for us."
CyrusOne is also targeting the media and entertainment industry. "As more and more content gets digitalized, that will be another big area for growth," Wojtaszek says.
As for the balance between acquisitions and development, Wojtaszek observes that the company is not targeting a specific split: "We evaluate each expansion opportunity, whether it be organic or an acquisition, from both a strategic and financial viewpoint focused on maximizing shareholder value." Wojtaszek adds that CyrusOne will continue to invest more than $200 million a year in building out current facilities and looking at expansion in new markets.
Fighting Misperceptions About Business Model
While CyrusOne has taken significant steps in expanding its business model, the process of educating investors about the data center model is still a work in progress.
Wojtaszek observes that although "tremendous progress" has been made in terms of educating the general REIT community, "there are a lot of misperceptions about the business being a high-tech, high-risk business. We're still in the second or third inning of this game."
Wojtaszek predicts that, given time, more and more real estate investors will become comfortable with data centers as a real asset class: "All of the companies in the space will command a much bigger portion of the REIT index."
Wojtaszek adds that the increased number of deals completed in the data center space during the past year is another positive sign, as it highlights that the industry is becoming more mature and focused.
"I expect those deals to continue to come to market," he says. "There are a lot of small data center operators and it's still a fairly fragmented industry." 
Sarah Borchersen-Keto is REIT magazine's associate editor.