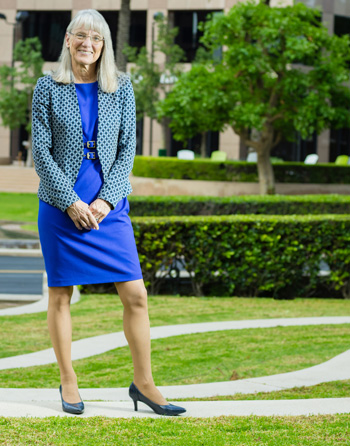 Lauralee Martin, president and CEO of HCP, Inc. (NYSE: HCP), traveled a unique route to the health care REIT's c-suite.
When HCP's board of directors hired a new CEO in October 2013, it opted for a fresh start with someone from outside the REIT world. Enter Martin, who at the time was a member of the company's board while serving as chief executive for the Americas division of real estate services firm Jones Lang LaSalle.
Now steeped in the health care business two years later, Martin maintains the benefit of her fresh eyes outweighed whatever background she lacked in the industry at the time.
"When I come into a new situation where I don't have direct experience, I always look to find the strengths of the organization," Martin says. Instead of fretting over the learning curve, Martin says she focused on playing up those strengths.
For this edition of "One-on-One," REIT magazine spoke with Martin about those early days of her transition to the CEO's chair, HCP's adjustment to life under Obamacare and managing a business that is involved in every facet of the health care system.
REIT: Coming directly into the CEO position without prior experience working at a publicly traded REIT, do you think that was a net positive or negative in terms of what you brought to the job?
Lauralee Martin: HCP's expertise as a REIT is deep, with investment and transaction structuring expertise, strong portfolio and asset management capabilities, and knowledge of our investors and analysts. I didn't look at the situation as my learning curve, but rather, how to utilize the talents of HCP effectively. My role is to look at where I can challenge the company on new ways of thinking to take us to an even higher performance level.
Net-net, I believe that if you play to the company's strengths and challenge it to take advantage of opportunities, it has to be positive.
REIT: The primary issue hanging over the health care industry as a whole since President Obama was elected in 2008 has been the buildup to the passage of the Affordable Care Act and its contentious implementation. What would you say have been the biggest effects of Obamacare on health care real estate owners and operators?
Martin: The impact that the Affordable Care Act is having is significantly broader than the intention of President Obama and the supporters of the legislation. It has accelerated a commercial approach to health care, with a focus on how to get the best outcomes at the lowest cost and how to create transparency. The consumer drivers in the marketplace are going to make these goals happen.
In that sense, it really comes back to picking the best operators, the operators that are strategically focused on meeting the demands of that new marketplace and ensuring their real estate portfolios help them deliver those results. I think we at HCP are doing that very effectively.
REIT: Given that health care reform will likely remain a hot-button political issue for the foreseeable future, does the possibility of more changes, or even the unwinding of Obamacare, raise any concerns for you?
Martin: I think it would be very difficult to unwind the Affordable Care Act. Do I think Congress will make changes to the program? Absolutely. 
If we just think about the demographic demand for health care, it comes from two places. One is, obviously, an aging population, and second, quite honestly, we're not a very healthy population in terms of lifestyle.
Very high demands for health care means costs will go up without a different approach to care delivery. Need is going to drive people to find the lowest-cost environment that can also deliver the best care, and the government reimbursement programs will naturally follow. Cost will drive change, but I think that change is needed.
And when change happens in business, capital is required. We at HCP are here and ready to support the care providers in meeting the new demands.
REIT: One of the defining features of HCP is that it has a diversified portfolio across multiple segments of the health care industry. How tough is it to manage essentially five different businesses under one umbrella? What are the advantages of that kind of strategy versus more of a pure play model?
Martin: The advantage of a pure play can be replicated in our diversified model. We're experts in each of the specialties of health care and we also have the scale in each of the diversified products to match the focus of a pure play. Putting our diversified portfolio together means we also can create a cost of capital advantage to our operators.
Up Close
Family: Married for 42 years with two children.
Hobbies: Avid environmentalist committed to public trails and open spaces through support of the Greenbelt Land Trust. Enjoys long trail walks on the weekends.
Currently Reading: Jane Austen (again)
Favorite Vacation Spot: Exploring any river and its history.
Additionally, the most important part of diversification is that it allows us to allocate capital into the best investment opportunities in any given market at any given time.
REIT: In terms of expanding HCP's existing businesses, how do your growth strategies differ between segments?
Martin: In the life sciences and medical office segments, one of the more favorable investment opportunities today is new product development. In the fragmented international markets, we're aligning with operators who want to roll up and be consolidators. In senior housing, we've formed a joint venture with Brookdale Senior Living in the continuing care/retirement community space, where a full continuum of expertise requires a best operator.
We believe it is important to evaluate where each product market is at any given time and make a capital allocation decision as to where the best investment can be achieved. Our opportunities today could be very different tomorrow.
REIT: Where do you see the best potential for growth?
Martin: We've made a significant investment in senior housing this year by buying a portfolio from Chartwell, a Canadian REIT that wanted to exit the U.S. marketplace. We liked the opportunity because Chartwell had underinvested in the portfolio, which meant we could make capital investments to get what we believe will be better returns than other alternatives.
We've done a fair amount of international investing this year, where market consolidation has created favorable opportunities.
The other place where we've achieved strong growth this year is in our medical office business. We recently made an investment in the Memorial Hermann Health System's on-campus medical office portfolio in Houston. Memorial Hermann wanted to partner with someone who understood their business and was committed in the long term to owning the real estate. That provided us an opportunity to make an investment supporting the growth of a very strong hospital system.
REIT: So what's next for HCP? Five years from now, what do you see being different about the company? What will stay the same?
Martin: The same: We will be financially strong. How do I define financially strong? We will have an investment-grade balance sheet and be an S&P 500 Dividend Aristocrat strongly supported by portfolio diversification. (Note: Dividend Aristocrats are S&P 500 constituents that have increased their dividend payouts for 25 consecutive years.)
What will be different? HCP will continue to show that it knows how to innovate in using our capital to support a changing industry. We believe that industry operating dynamics will be much more important in our investment decisions, and we will be working with our operators to make sure we both are changing strategically to stay successful.
We have strong operating experience in our medical office teams and development expertise in our life science teams, but we will be adding more operating experience in both senior housing and post-acute skilled.
You'll see us continue to be innovative in how we deliver the best investment performance to our shareholders and stay a leader in the health care space.